Eventing Nation's coverage of the 2021 USEA American Eventing Championships is brought to you by Kentucky Performance Products. We want to share the joy of eventing this week, so we invite you to nominate an AEC rider for our "Kentucky Performance of the Week" contest, happening now in partnership with Kentucky Performance Products. Learn more here.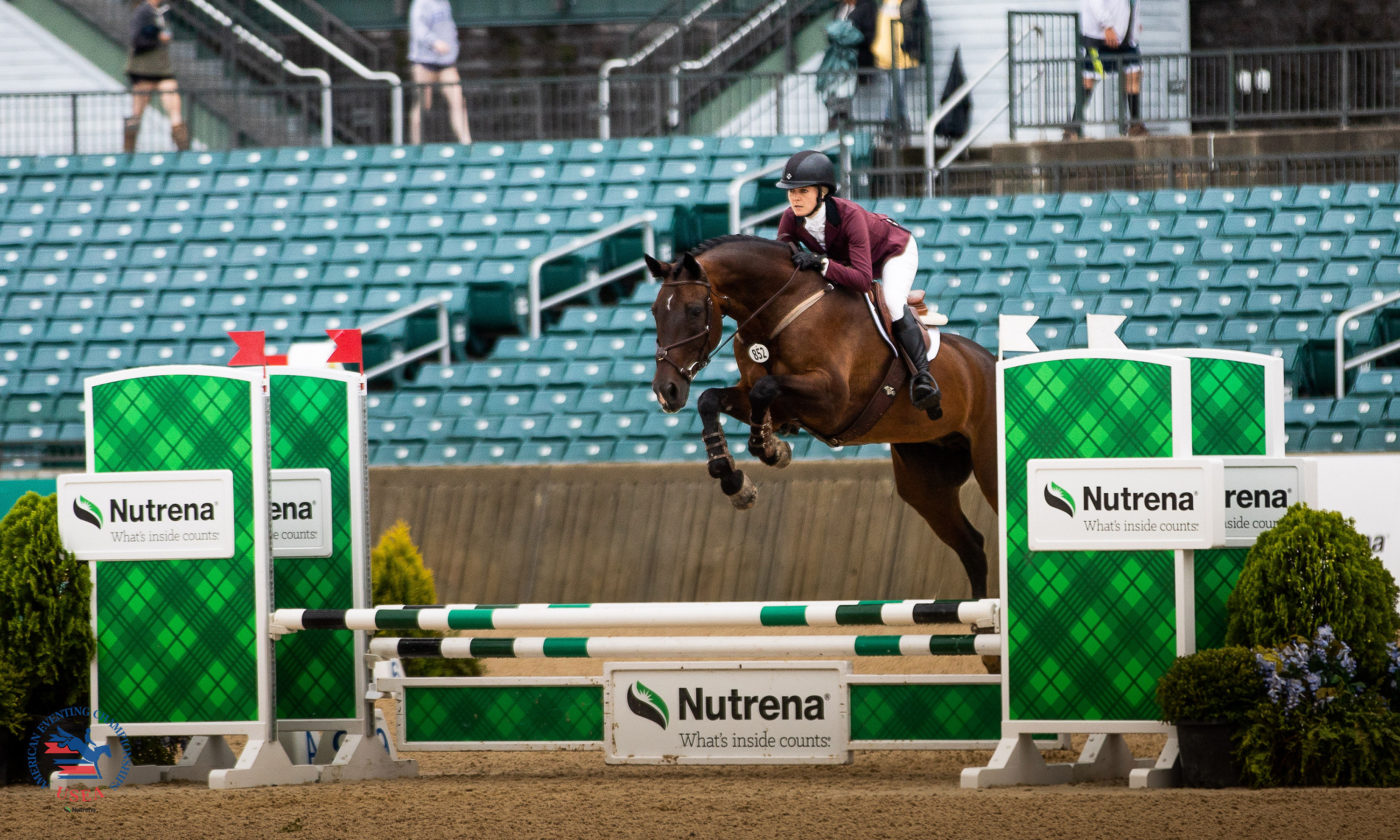 For Immediate Release: The final competitors of the 2021 USEA American Eventing Championships (AEC) presented by Nutrena Feeds geared up for the last day. Taking place in the Kentucky Horse Park's iconic Rolex Stadium, riders from all six Beginner Novice divisions put their best foot forward in the show jumping phase. Endless prizes were handed out, the champions were decorated with tri-color ribbons, the Adult Team Champions were named, and several special awards were distributed throughout the day.
Beginner Novice Horse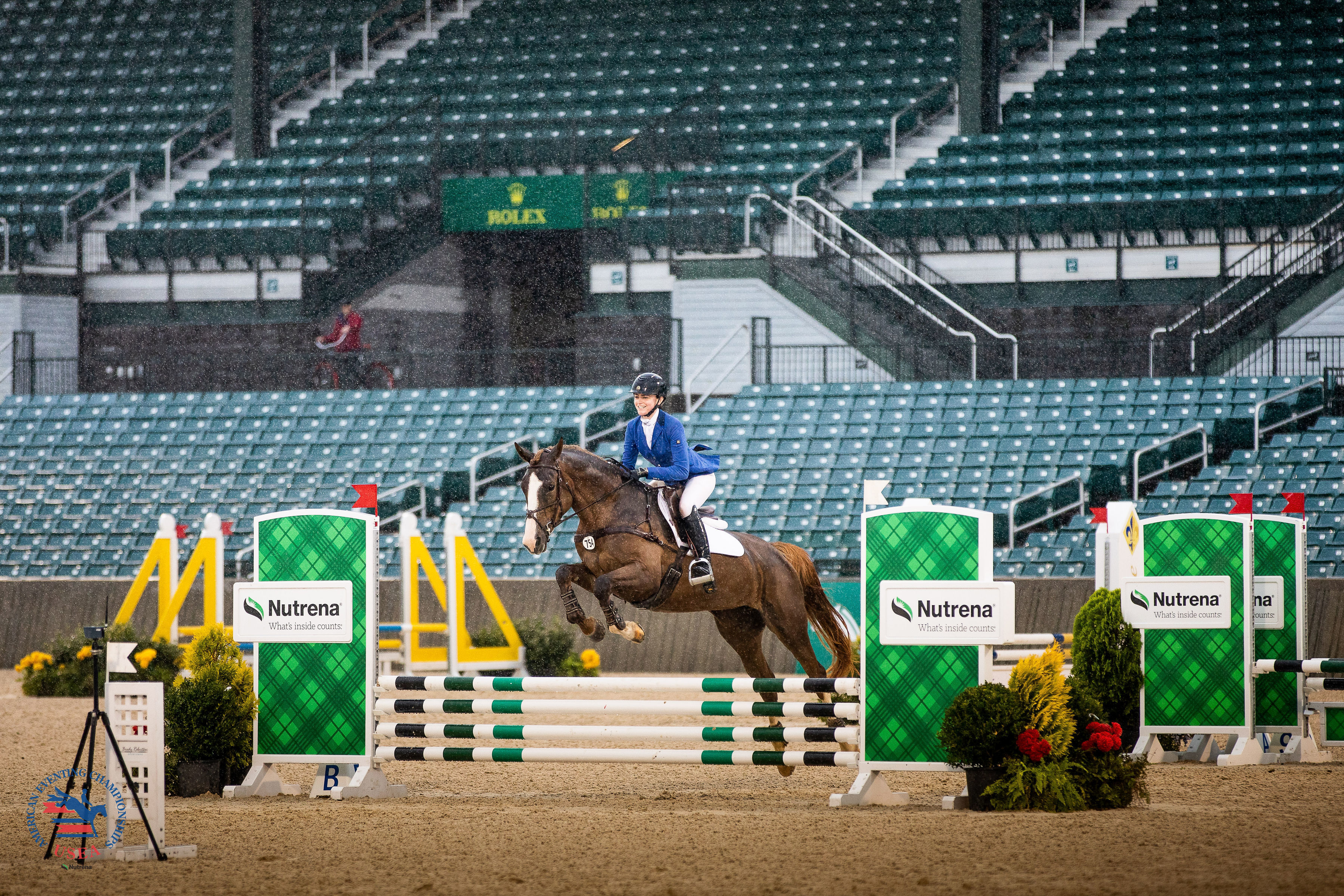 Thirty-five competitors from the Beginner Novice Horse division were the first of the morning to kick off competition bright and early. Coming into the last phase of the event, Hugo, Minnesota's Kristine Burgess, and her own Marisol proved they were going to be hard to beat. The pair had not picked up any faults in the previous day's cross-country phase and entered the stadium on only 25.5 faults. The 5-year-old Trakehner mare by United States put on her final performance of the week in style and left all rails standing within the time allowed to take the championship.
"This is only her fourth show so it was kind of an unknown of how she would handle all of the atmosphere because none of our other events have been anything like this," Burgess explained. "She just took everything on and handled every new situation so well; I'm extremely proud of her."
The mare was purchased for Burgess' mother Lianne, but with Kristine's prior experience training various young horses, she took the reins.
"I always say if she was the first young horse that I was able to train, I would think that I was just the best trainer in the world," she laughed. "She is so level-headed about everything and so willing to try and do the right thing all of the time. I always say her job is to see the jump and jump the jump and she has really gotten that down now."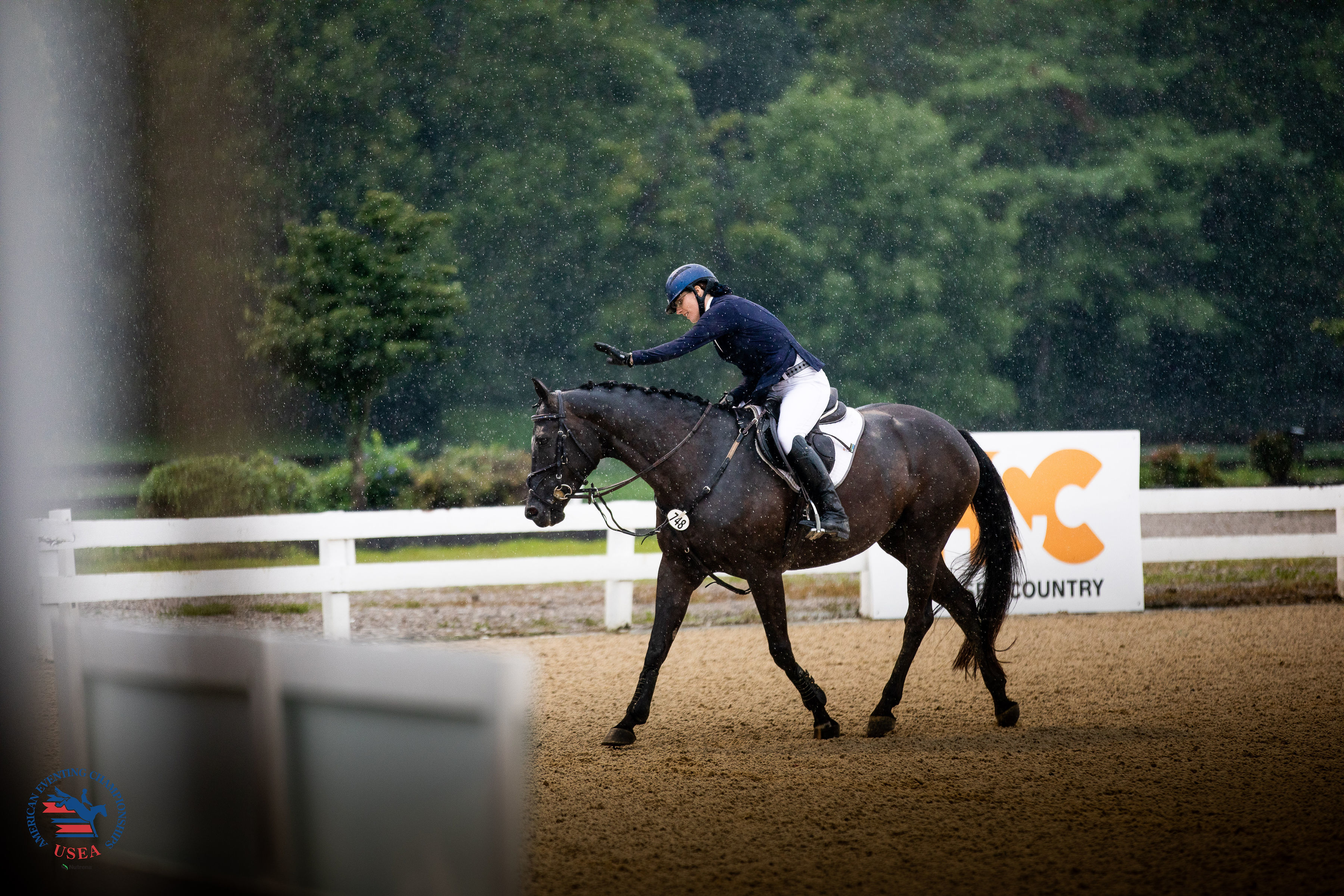 Reserve-placed Laura Kosiorek-Smith maintained her standing on Star Quality CSF in a fault-free round that left her and Chrissteen Miller's 7-year-old Canadian Warmblood mare (Schwarzenegger x Garcia) with a final score of 28.0. The mare was originally purchased purely for dressage purposes with her owner but under the tutelage of Kosiorek-Smith it was quickly discovered she had a natural knack for hacking out and jumping.
"Whenever I start a new horse in my program I always take them out and teach them how to jump even though her owner only wanted to do dressage with her," she explained. "She's had a bit of a break because of COVID but once I took her back into my program her owner agreed to let me event her. She placed very well at some recognized horse trials earlier in the year so I just said 'why not do Kentucky as well' and the rest is history!"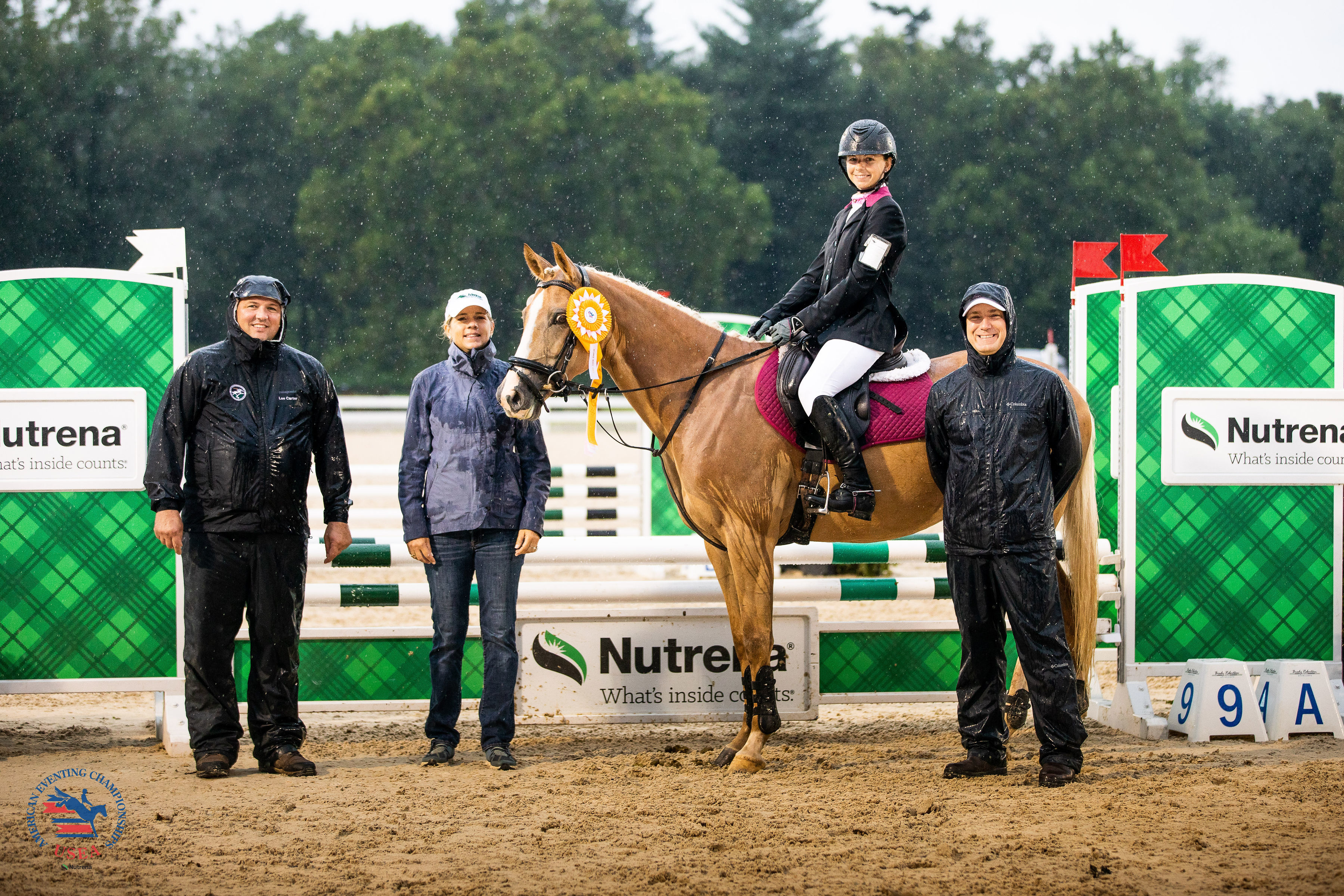 It was all girl-power at the top of the podium as Kalie Beckers navigated her self-bred 6-year-old American Warmblood mare (Carush x NA) Calla GBF into another clear round for the yellow ribbon only 0.3 points behind Kosiorek-Smith. However, the sailing was not always so smooth for the pair.
"Getting here was actually a bit crazy because I live in Louisiana and we had to evacuate for hurricane Ida three days earlier than we had planned on leaving to come here originally," Beckers described. "Luckily, this horse park is a great place to be and we were lucky to get to settle in here.
Beckers produced the young filly by of her previous Young Riders Grand Prix dressage stallion Carush; she is the first home-bred and self-produced baby of the farm so the win is extra special for Beckers.
"This is a huge win for us," she gushed. "She is definitely her father's daughter in that she got his 'palomino stallion' attitude even though she is a mare, but she has really matured this year and handled this whole event very well so I'm really proud of her."
The Thoroughbred Incentive Program awarded Rebecca Lee and the 9-year-old Thoroughbred gelding (Congrats x Touch Me Once) A Proper Villain with the honors for the division as the pair held the lowest qualifying score of 30.5.
Beginner Novice Master Amateur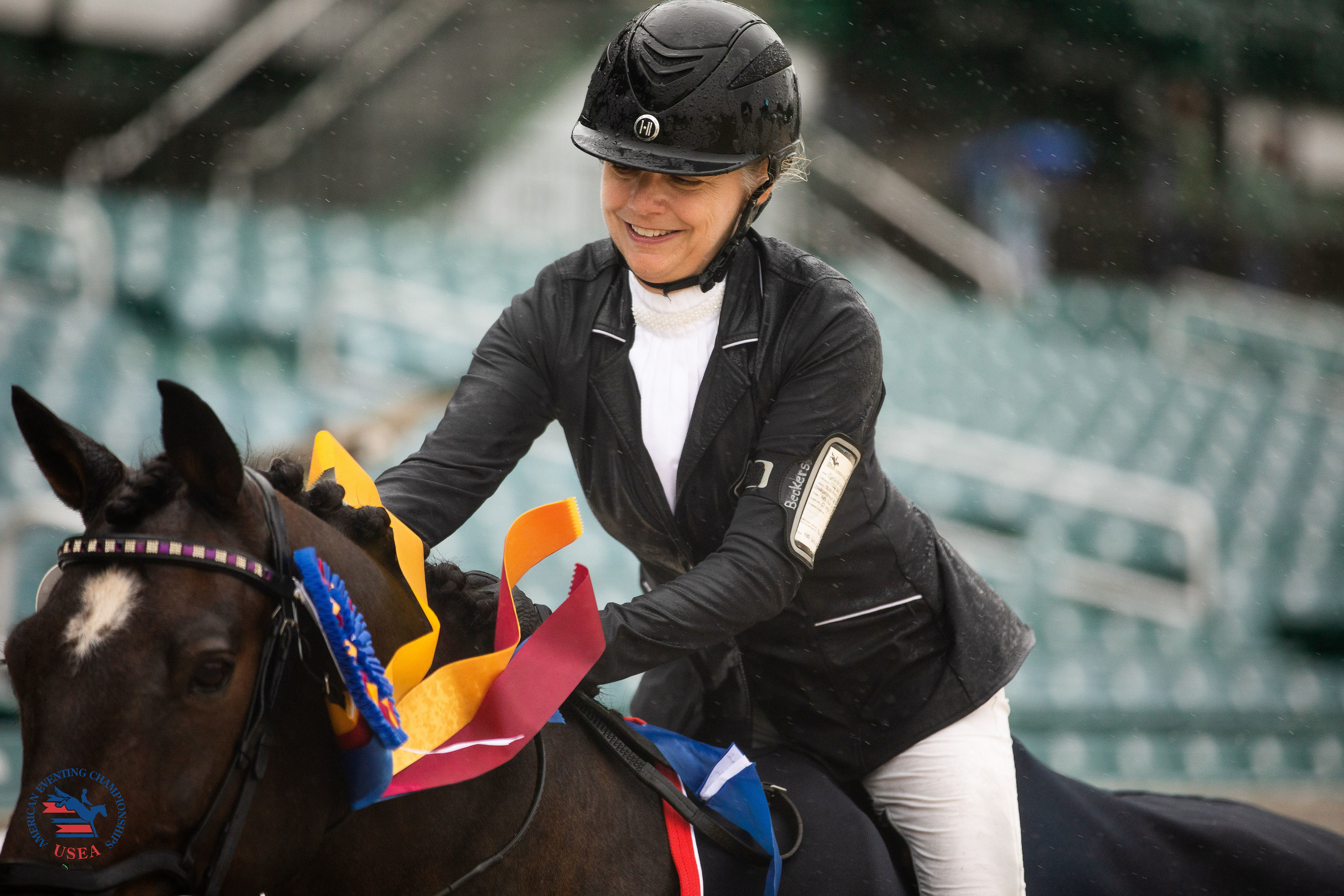 In an exciting turn of events for the Beginner Novice Master Amateur division, Gerlinde Beckers had the show jumping round of her life to jump from fourth to the first and earn the championship. Beckers and Roscommon Fagan, the 17-year-old Connemara gelding (Balius Malachi x Lasrachai's Blue Oak Dunlaith) have taught each other the ropes of the unique sport and sat in fourth place with their dressage score of 28.5 prior to the final phase. After what Beckers described as her 'first-ever' clear round in the show jumping phase, the duo totaled only the 28.5 which was enough to secure the tricolor win.
"I always have a rail, so I just figured it was coming. I am fairly new to the sport of cross-country and frankly jumping terrifies me," laughed the primarily FEI dressage rider. "When I acquired this gelding, his breeder gave him to me because she wanted him to have a good forever home, and I didn't want him at the time but I am honestly so grateful because he has given me so much confidence and made this fun for me."
The trek to AEC was not one Beckers was even sure was possible till the middle of the week. Her private farm in Independence, Louisiana was one of many affected by hurricane Ida and she refused to leave before the storm had passed.
"It wasn't until Wednesday morning that I even decided to make the trip because I had to see if the roads would be clear enough to get a horse trailer through," she explained. "My husband is still at home doing things like filling generators and keeping the farm operating and my daughters ended up coming with me to help here so I am really just so grateful to everyone who made it possible to even get here."
The day was doubly special for Beckers whose daughter, Kalie Beckers had just received the third-place honors in the Beginner Novice Horse division with her self-produced mare Calla GBF.
"My daughter competed in Young Riders for many years so I have walked her down the ramp to the Rolex Stadium many times; for her to be the one walking me down that ramp was incredibly special," she finished tearfully.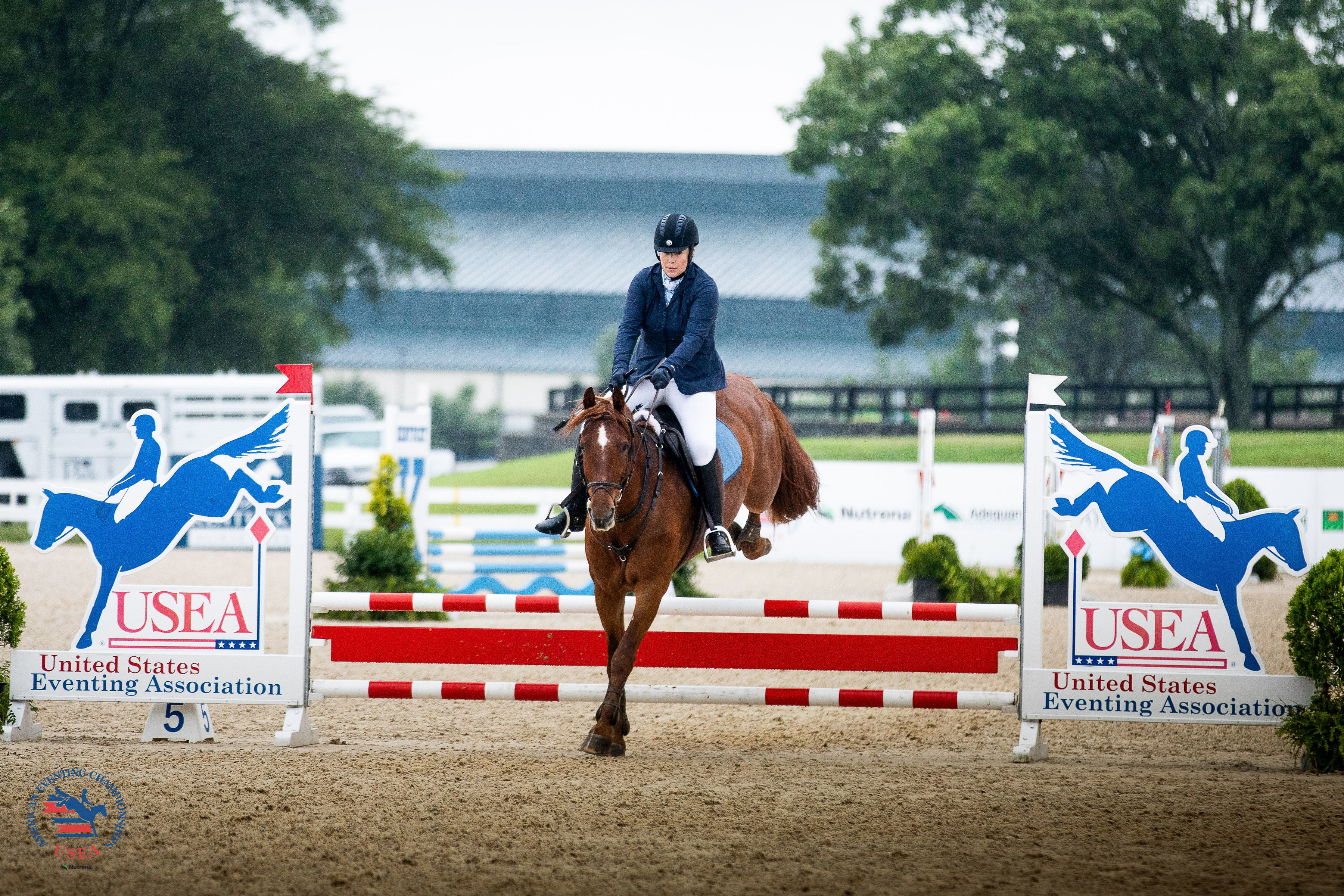 An emotional victory was also had by Livingston, Montana resident Michelle Cameron Donaldson and her 20-year-old Percheron gelding Danny Boy. Cameron Donaldson sat tied for fifth place but she and her long-time partner pulled off a storybook finish to overtake the reserve position on 29.9. The gelding gave the performance of his life for what Cameron Donaldson says was one of his last events; according to her, Danny Boy is Kentucky-bred and she felt it would be poetic for his final few performances before retirement to be held at the iconic venue. Cameron Donaldson had a late start to her riding career, only picking up the sport in 2011 and spending a portion of her time in the hunter/jumper discipline before switching to eventing.
"I had wanted to event for a while but there were certain aspects of it that made me think I would never be able to," she described. "One day a very good friend of mine pulled me aside and said to me 'you are good enough to do, now go find yourself a horse' and so I began looking.
"I only rode Danny for about 20 minutes and I just knew he was the one," she recalled. "I have been so blessed with the best partner and team around me; I am just so grateful to everyone that has been part of this journey and encouraged me to keep going even on days I wasn't sure I could do it."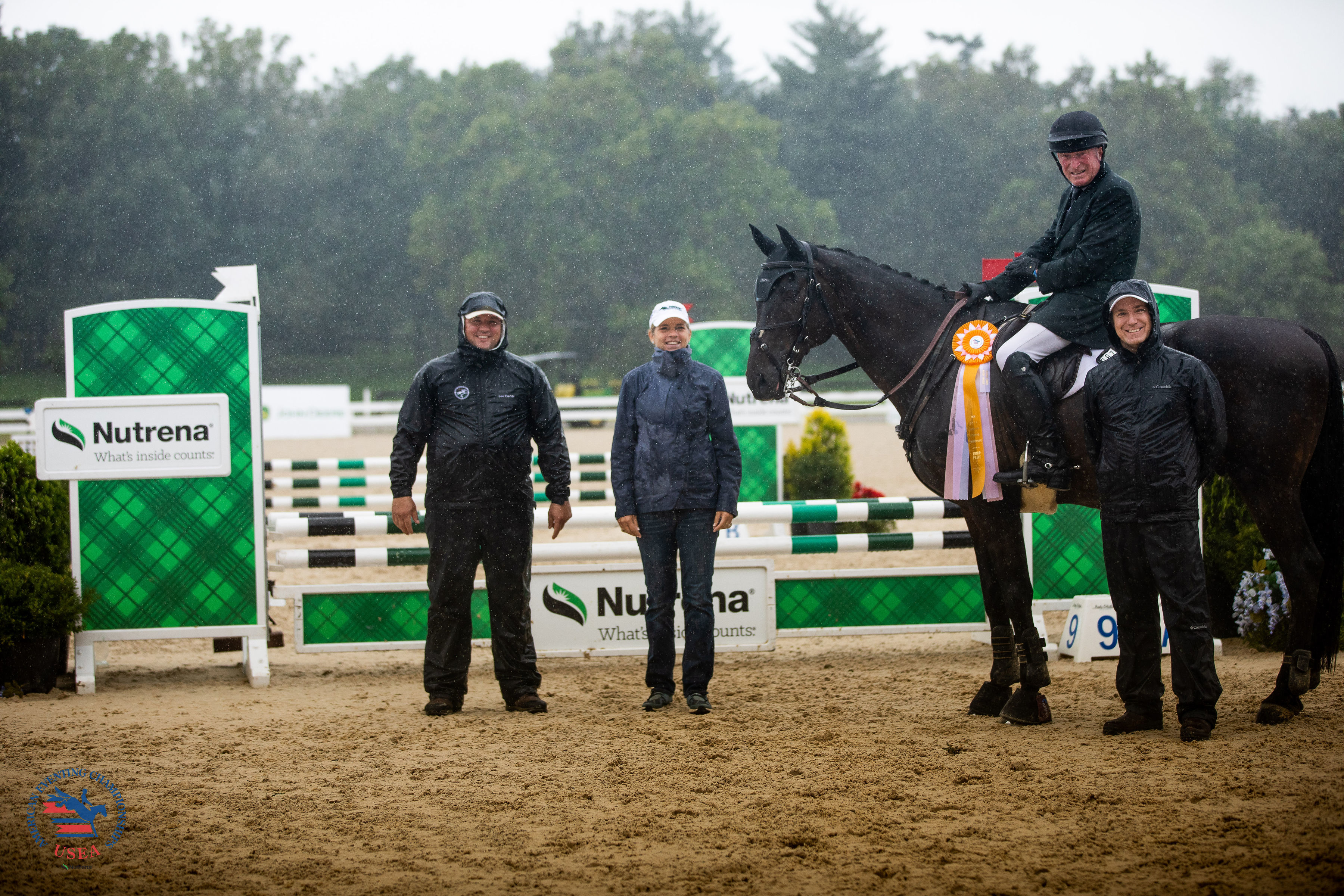 Stephen Fulton of Full Moon Farm based in Finksburg, Maryland rounded out the top three with his own 15-year-old Holsteiner gelding DB Cooper. The pair skyrocketed from seventh to third place in the final few moments of the division as they crossed the timers without penalty to end with their dressage score of 30.0.
Fulton, originally a jumper rider in his earlier years, switched to the eventing track when he met his wife who was already competing in the sport at the time and now functions as the farm's trainer.
"I have been competing in this discipline now for about 35 years, and my wife also competes, and my daughters ride so it's really wonderful to be able to enjoy the sport as a family," he said. "We have been to the AEC about 10 times at least and we just love it. To be a part of this event at Kentucky Horse Park has been so cool, I have always said that one day I wanted to ride in the stadium and see my name on that giant Rolex billboard and now that vision has come true."
The TIP award for the Beginner Novice Master Amateur division was won by Emily Slaven with her 10-year-old Thoroughbred gelding (Leelanau x President's Woman) Senator Lee.
Beginner Novice Amateur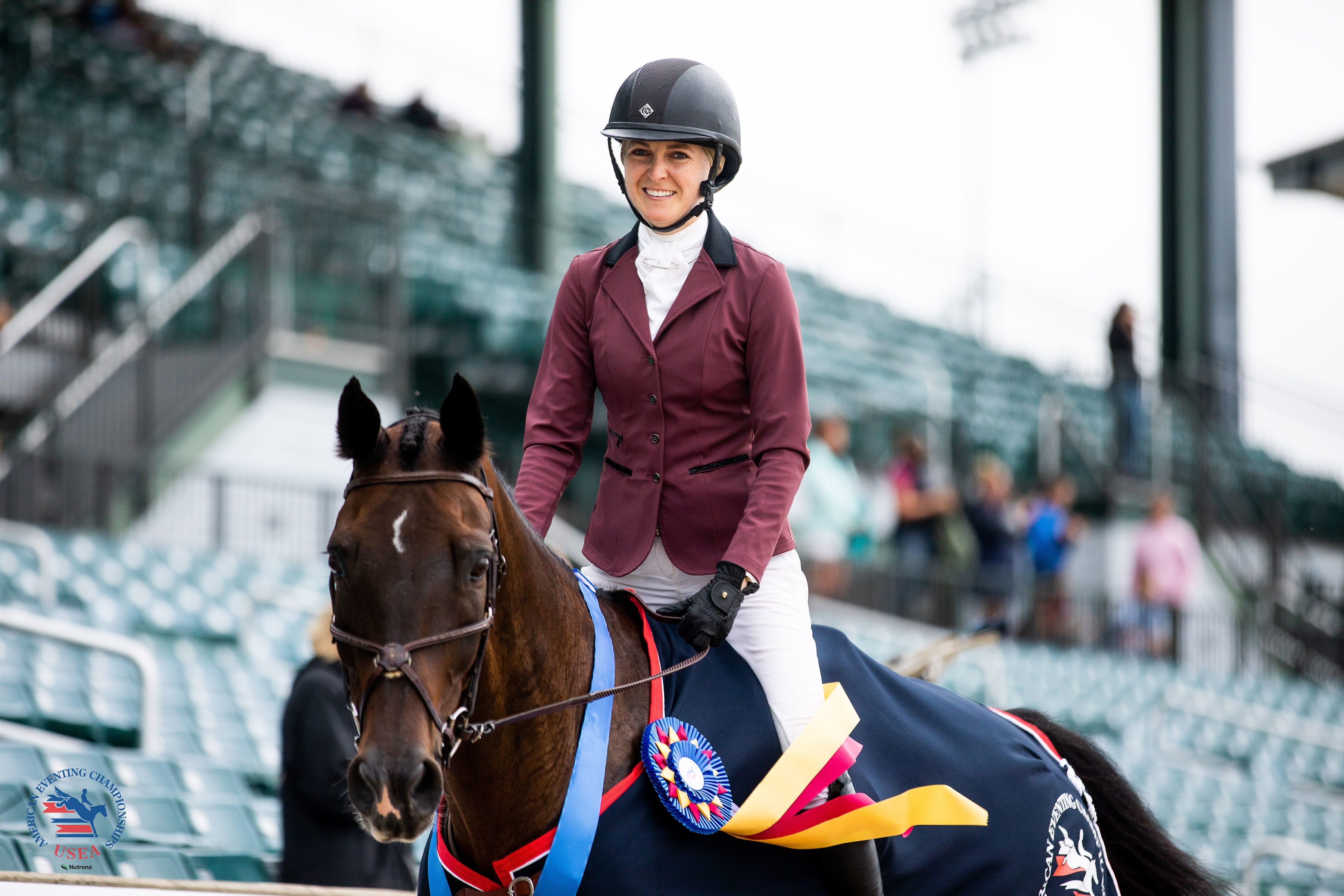 Just under 50 horse-and-rider combinations contested the show jumping course designed for the Beginner Novice Amateur division in the Rolex Stadium on Sunday afternoon. Overnight leader Cami Pease used her and her horse Vibrant's former equitation experience to flawlessly navigate the track and seal the deal for their victory with only their dressage penalty of 24.8.
Although the pair started off their partnership as an equitation team, they have been no stranger to success in the event field having won the last six of their events together. After the 21-year-old Belgian Warmblood gelding (Orlando x Fatima Van De Heffenk) tore his meniscus in what Pease expected to be a career-ending injury, he managed to successfully recover fully in a little over a year and was introduced to the eventing discipline.
"The barn we moved into did eventing and I just kind of thought it would be something fun and different for us to do since we probably wouldn't be competing in the equitation anymore after his injury," Pease explained. "I wasn't really sure how well he would take to it but we did our first event in 2017 and he has been fantastic about it ever since. I think he actually had an easier time with the transition than I did because It took me quite a while not to get nervous about the cross-country fences and reconfigure my body position to sit a bit taller and have more of a seat and leg ride."
"I don't think I'm ever going to have another horse like him and because of his age this is where he is comfortable," she added. "So to have an event like this that makes us Beginner Novice people feel just as important as the more upper level competitors is very nice; I really appreciate it."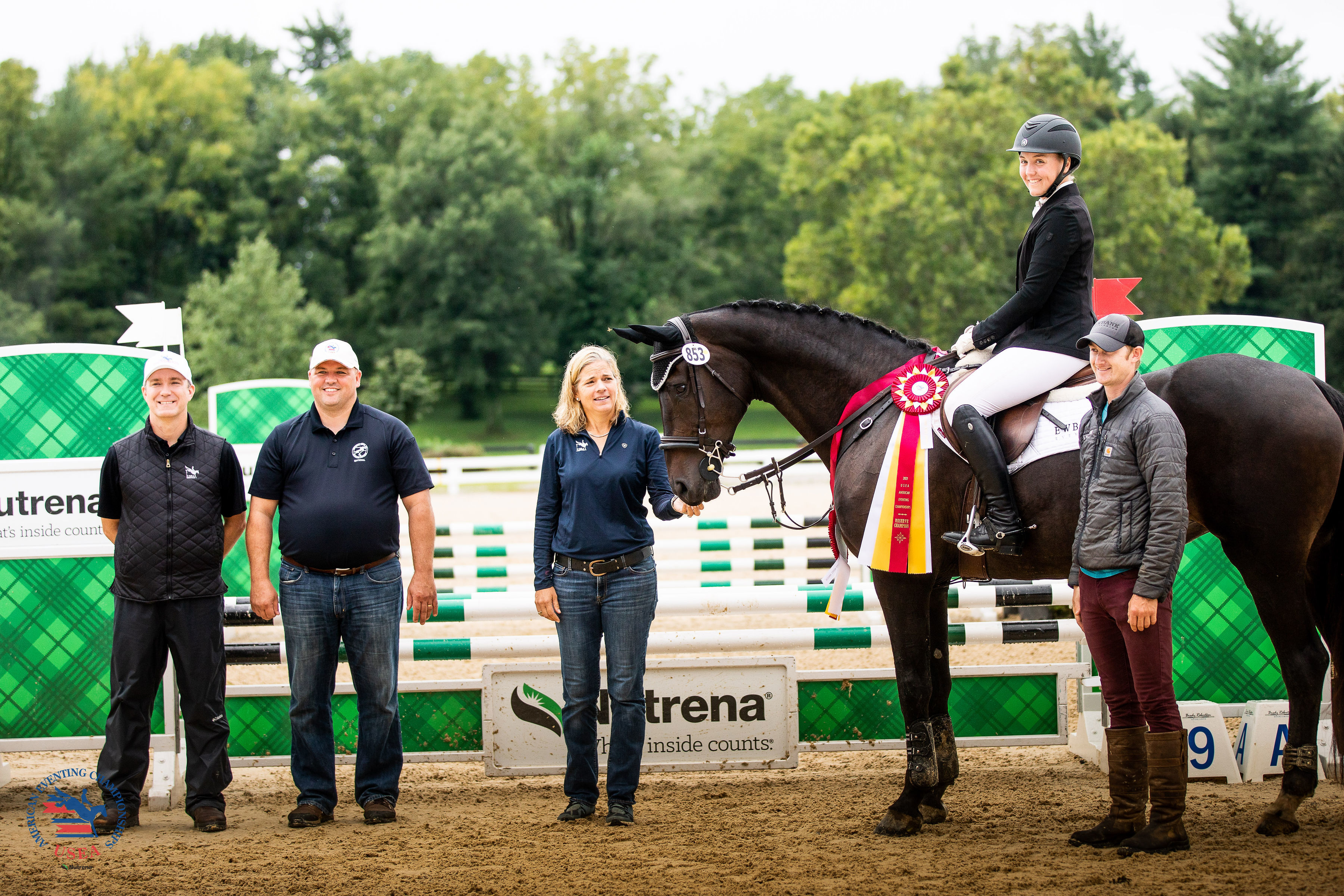 Sophie Ann Stremple of The Plains, Virginia overtook the previous class reserve with Shannon Davis' 15-year-old Hanoverian mare Dolly by going fast and clear in 27.3. In her debut at AEC, Stremple piloted not one, but two horses throughout the week.
"This horse is a bit of a new relationship for me but she is really great and her owner, Shannon Davis, has been wonderful as well to give me the opportunity to ride her," Stremple said. "I was firmly a hunter/jumper rider and then because my grandfather had dressage horses he ended up getting me into dressage, but then I missed the jumping so once I found out about eventing it was like the best of everything!"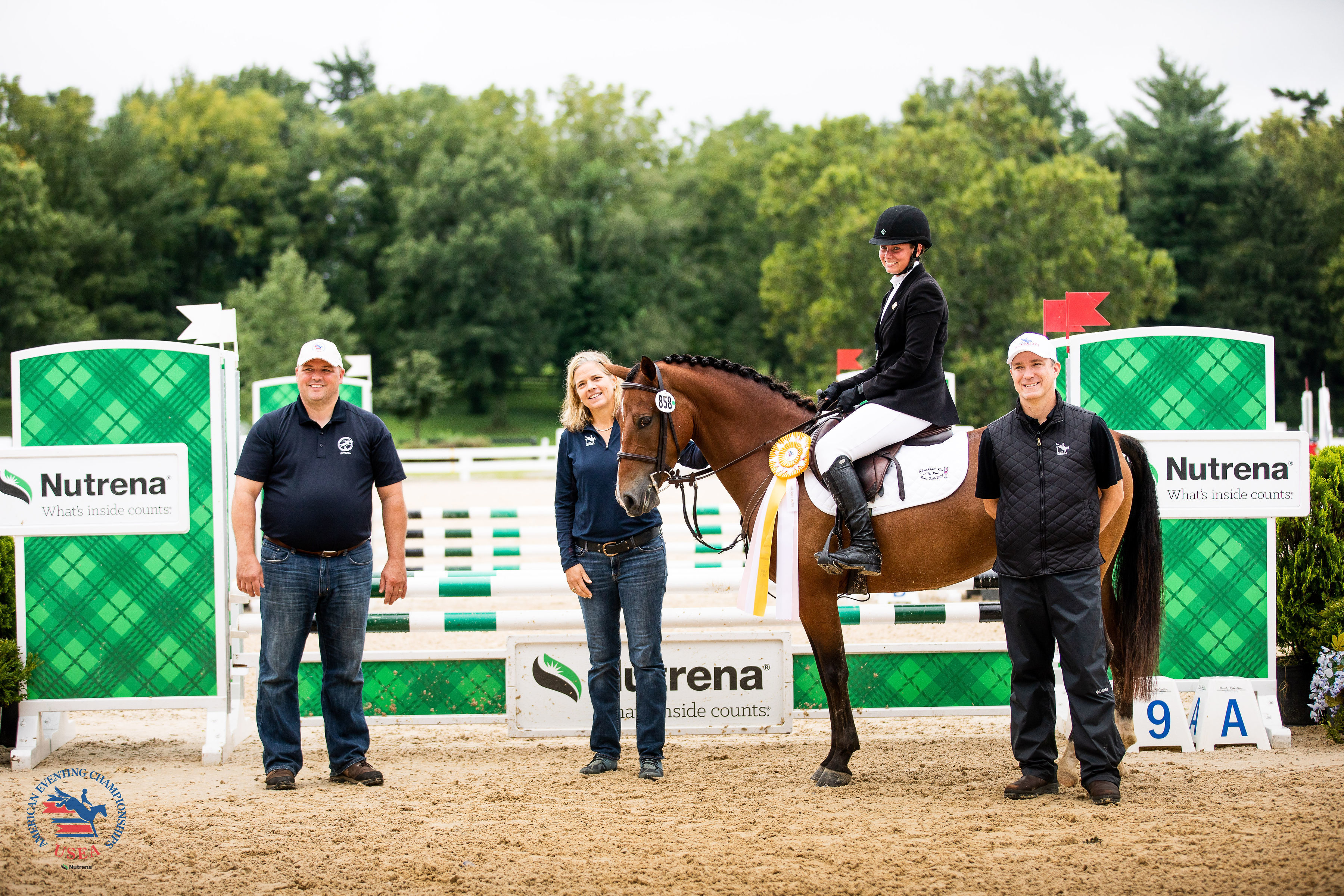 Third place honors went to Hannah Reeser by producing a fault-free effort once again on the final day and leaving their original dressage score of 27.4 untouched. Reeser takes extra pride in the day's end result as Ltl Ireland Summr Soldier, her 7-year-old Morgan mare (October Fox x Abby Darling) is home-bred and self-produced.
"We have been together since the very beginning, so to see her come all this way and place well against the big warmbloods and fancy-moving horses has been a truly great experience."
Reeser and her family run a small breeding operation specifically focused on one line of Morgan horses. "We aren't a big breeding facility but we found one line we especially liked and we really like the attitude of the Morgan breed," she detailed.
Fourth-place finisher Emily Nichols and her 9-year-old Thoroughbred mare (Trifecta Scott x Blue Muse) Galway Girl were the division's TIP winners on 29.5 points.
Beginner Novice Rider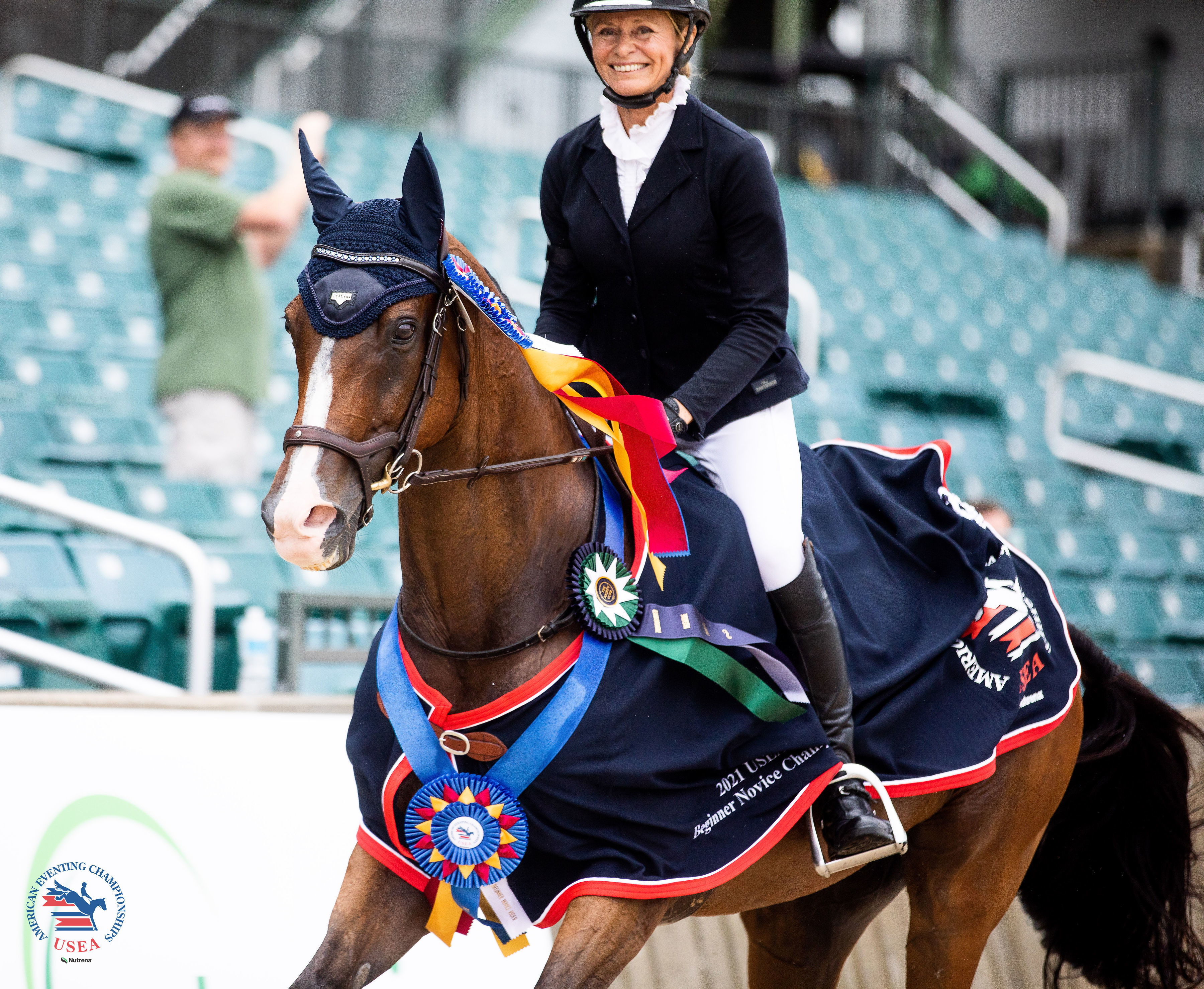 The Beginner Novice Rider division saw a shakeup in the final results when the formerly second-place combination of Leigh Wood and Dollar Mountain flawless round gave them the edge and bumped them to the lead on 27.1.
Wood partnered with the 16-year-old Thoroughbred gelding (Forestry x Formal Tango) after a long search for her next partner following the retirement of her previous horse. "Parker" as he is affectionately called at home, had raced up till his 7-year-old year and had only been restarted for under a year when she picked him up.
"I trotted him for about three steps and I looked at my trainer and said 'yep, he'll work," she laughed. "I have had amazing help from the people at Rebecca Lee Farm to bring him along and he is just my best friend and dream horse. No matter what phase we are in, he just goes to work when he gets in there."
The event is one Wood has had on her bucket list for years, stating that she even has a notebook she keeps with pictures from previous AEC events. With injuries and pandemics, Wood was unsure if she would ever truly make it into the Rolex Stadium.
"It has been an amazing, wonderful experience and I just can't thank everyone who has put this on enough, including my husband and my entire fantastic team," she explained.
The win at the iconic event today is even more meaningful for Wood as she revealed the inspiration behind her career.
"As it is almost the 20th anniversary of the attacks on September 11, 2001, I am overwhelmed to have won this today and I'm dedicating it to my late friend Jennifer Lewis," she tearfully confirmed. "She and I were both flight attendants for American Airlines as well as fellow equestrians and we lost her on flight 77 that day. I keep a photo of her in my tack trunk and she rides with me every day now. I call my horse Parker Lewis in honor of her and I know she was here with us in spirit today."
Wood's partner, her beloved Parker, was also the recipient of the TIP award for the division.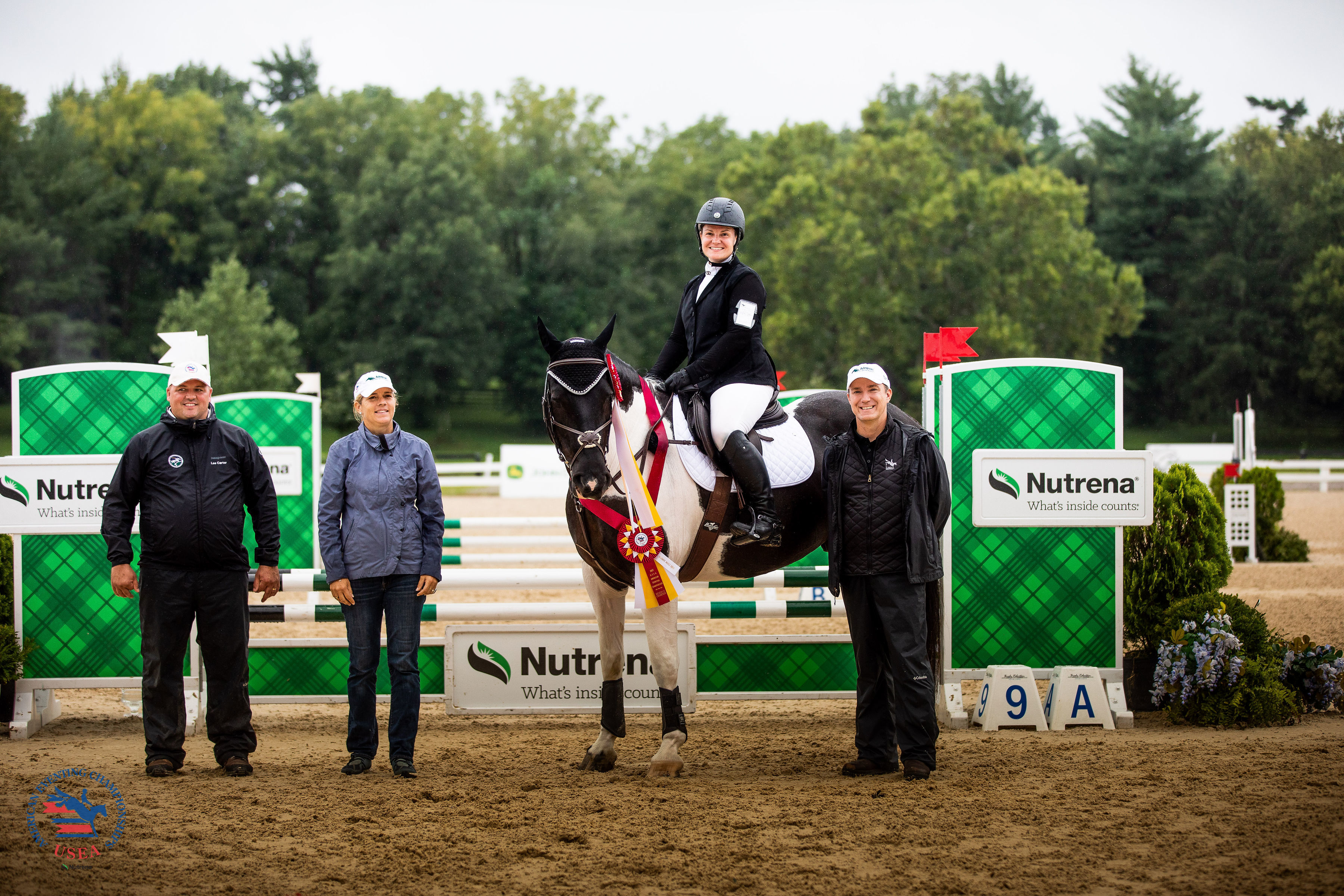 Katherine Rutherford took the weekend away from her position as a small animal veterinarian to pilot her 13-year-old Paint gelding Amazingly Lucky into the runner-up result with a final score of 29.4 carried over from the dressage and cross-country phase.
"It was a real team effort to have a positive and successful weekend here," Rutherford credited to her trainer, husband, and horse. "I get nervous so easily but thankfully my horse is very much a steady-eddy."
Although Rutherford started off her experience with horses in the hunter/jumper field, she admitted she has always had an interest in eventing.
"As a kid, it was not something that locally was available to me but I was always curious about it and I even competed in a few unrecognized events with my hunter. I took a few years off of riding for school and work and when I did decide to get back into it I was in an area where I was able to do it more."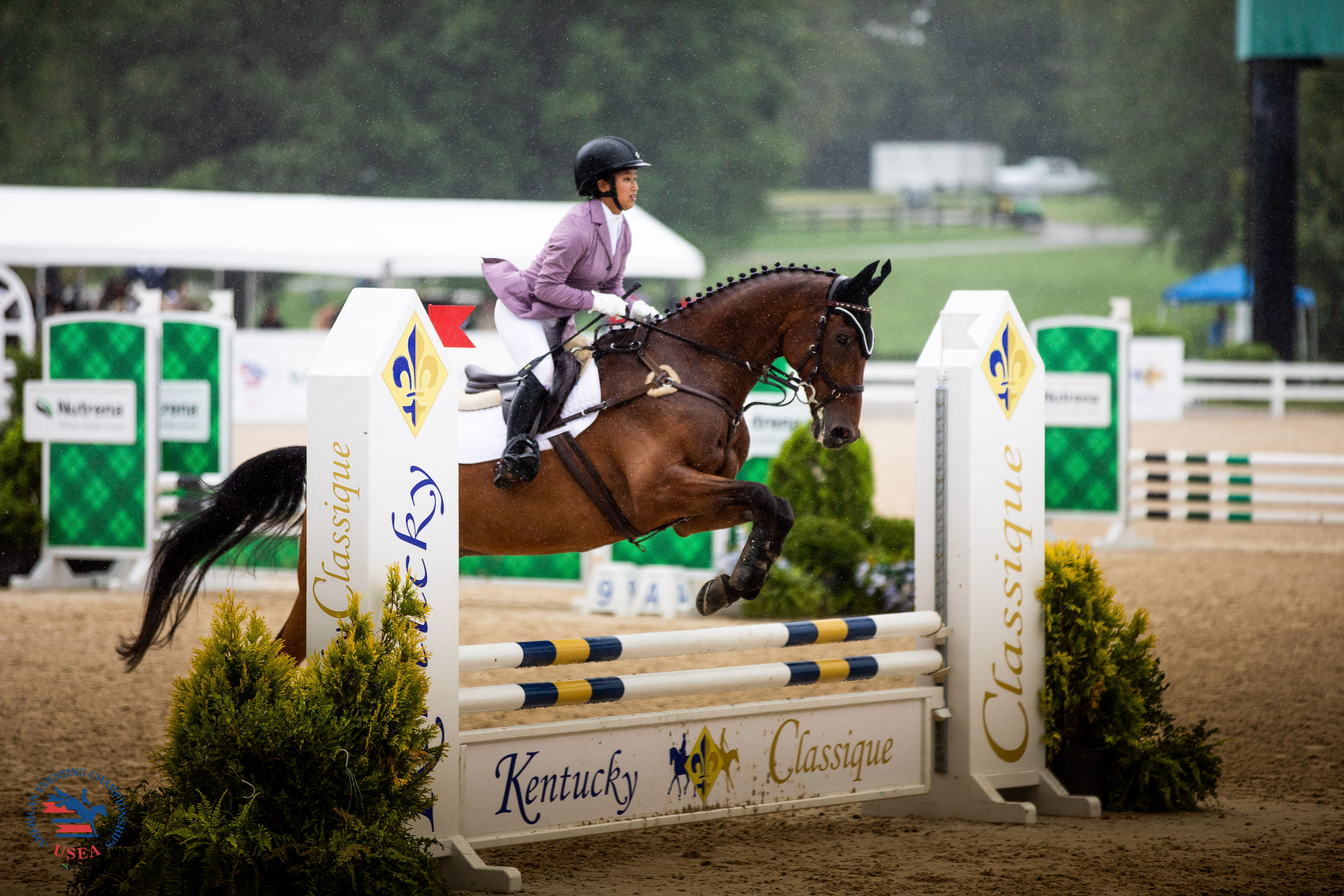 Anna Hendey was in complete awe as she and her own Sheldon rode for ribbons as the third-place winner and reserve champion of the TIP award. Hendey and the 13-year-old Thoroughbred gelding ( Victory Gallop x Complete Spring) rose from their original sixth place position by producing one final fault-free round o finish with only 0.4 more penalties than Rutherford.
"I am in complete shock and I may start crying," Hendey admitted. "This has been an incredible experience for me; I didn't think I was ever going to come here with my horse being the way that he was for many years."
For Hendey, the goal of the whole event had been just to not get disqualified. She has worked tirelessly to produce him to this level despite his hot-headed demeanor. The inspiration behind her determination is her late friend Ashley Stout.
"Two years ago, my friend passed away in a riding accident at my barn," Hendey explained. "After she passed away, I really got myself together and started riding for her; she is always with me and I just wish she could've been here in person today."
Junior Beginner Novice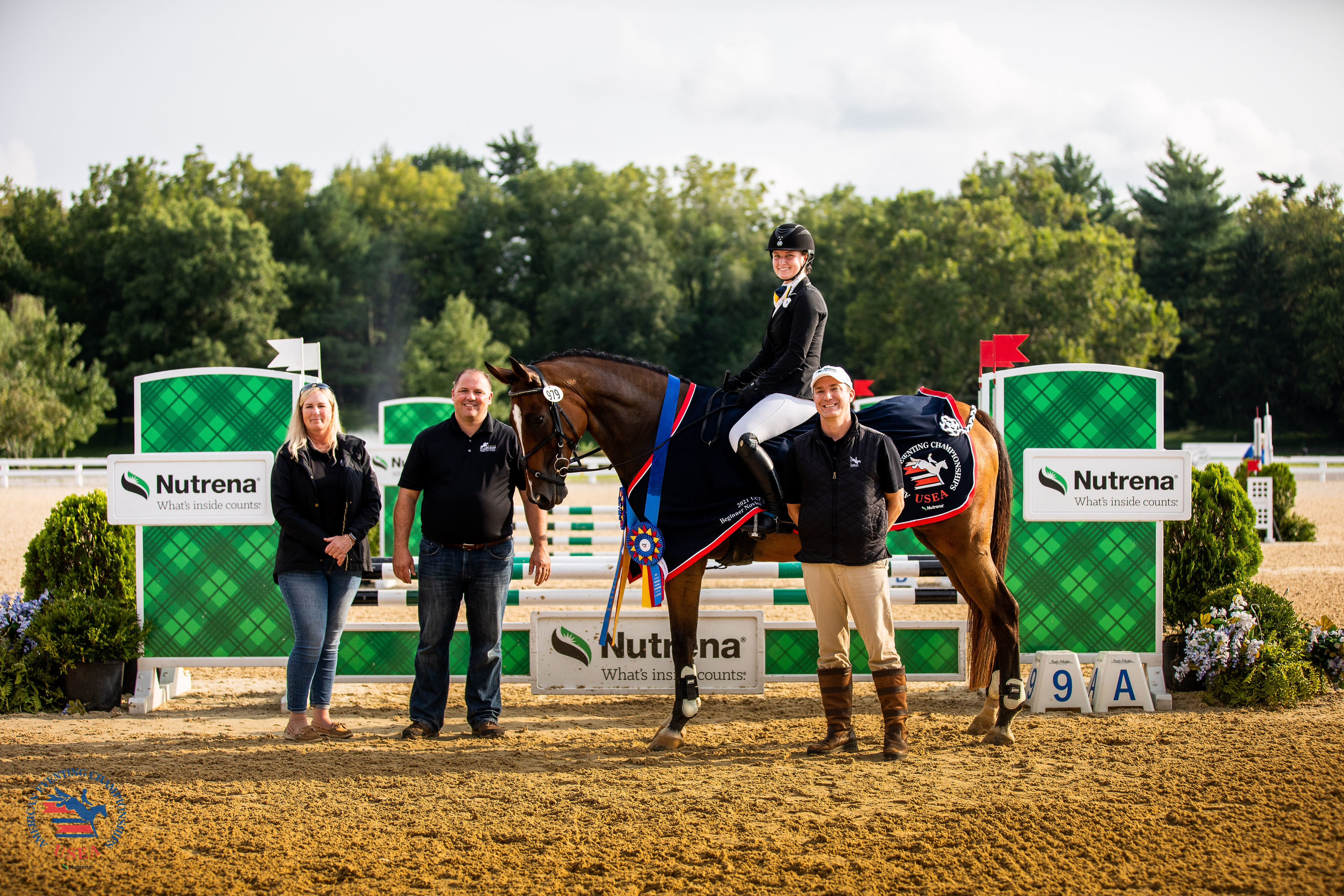 In the penultimate and largest division of the AEC, 64 entries consisting of young competitors and their mounts vied for the top spot in the Junior Beginner Novice division. In a record-breaking moment, Erin Buckner of Woodstock, Georgia cleared the final jumping timers fault-free to finish first on the lowest score in Beginner Novice AEC history.
Buckner and the 17-year-old Hanoverian gelding (Paparazzo x Lady Lily) Picassi set the bar unbelievably high from the start of the competition as they clocked the lowest dressage score of the division to date on 18.5. Two flawless jumping phases later and the young rider made history.
"I never could've expected to get that low of a score," Buckner admitted. "We qualified in 2020 but then it was canceled so we basically had a year to prepare. I knew he had the potential to have a really great dressage phase if we could get him more fluid, so we've worked extensively over the last year on that and keeping him forward in all of our phases."
Buckner took over the ride for her sister after she hung up her boots and the pair have worked their way up from smaller jumper classes to now. The day was a 'redemption tour' of sorts for her as she explained that her 2019 experience at AEC did not go as planned.
"This weekend has been fantastic, and definitely a whole 360 degree turn from our last time here," she laughed. "Two years ago we were sitting in third and then had a very unfortunate refusal which knocked us into dead last, so this has definitely been satisfying."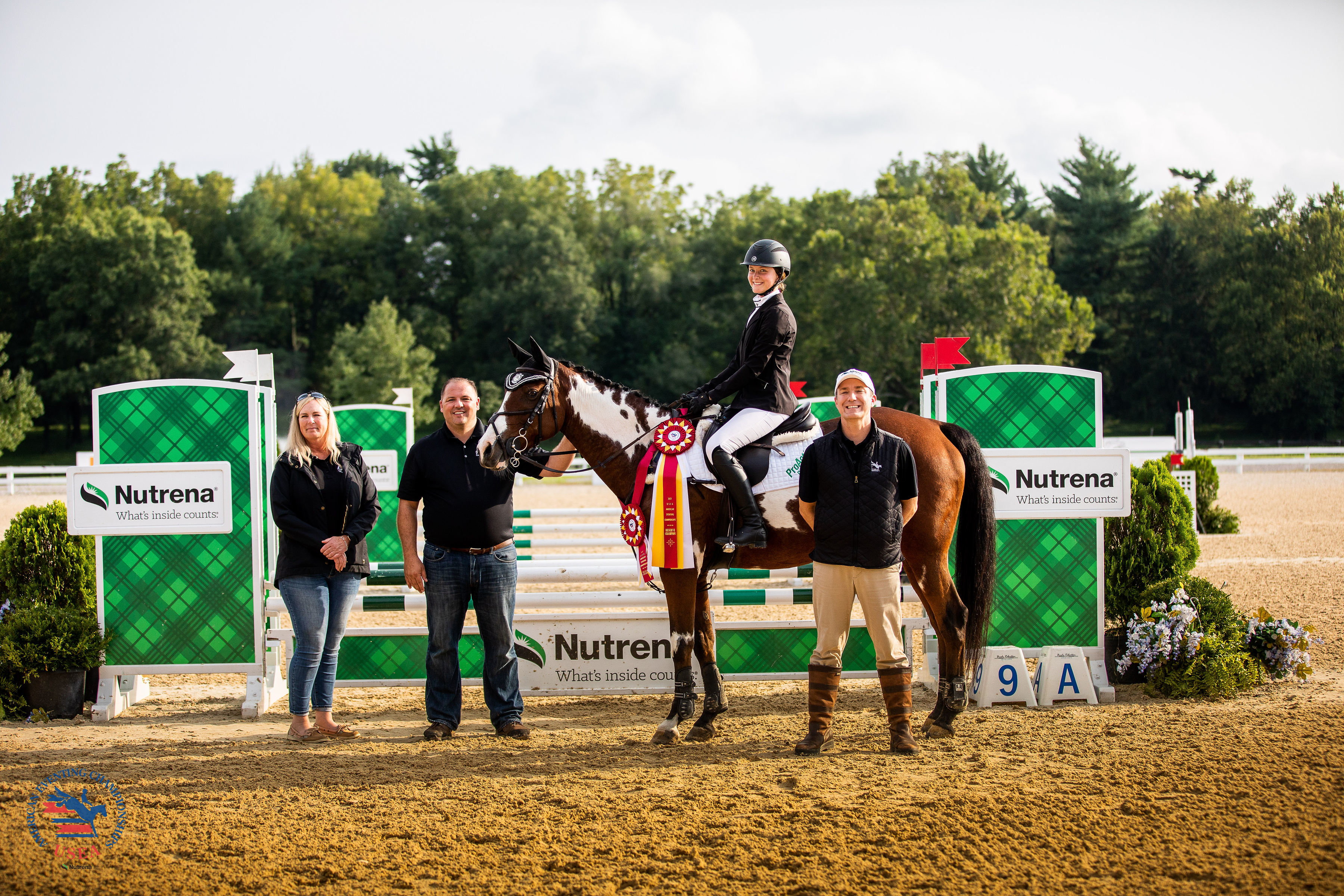 Anneka Williams and Juneaux broke their own personal best with a first-day dressage score of 22.4. After a successful cross-country phase, the pair headed into show jumping in the third but an unfortunate rail for a competitor and another clean round produced by Williams secured her the reserve position instead.
"I have had the best weekend ever," she exclaimed. "To score so low in dressage was a terrific feeling for me because it was our personal best. I loved the cross-country course here as well, I think that was one of my favorite parts.
Of the 14-year-old Appendix Quarter Horse mare, Williams said "she actually competed in show jumping until I took over the ride on her but she is doing really great and we are learning together.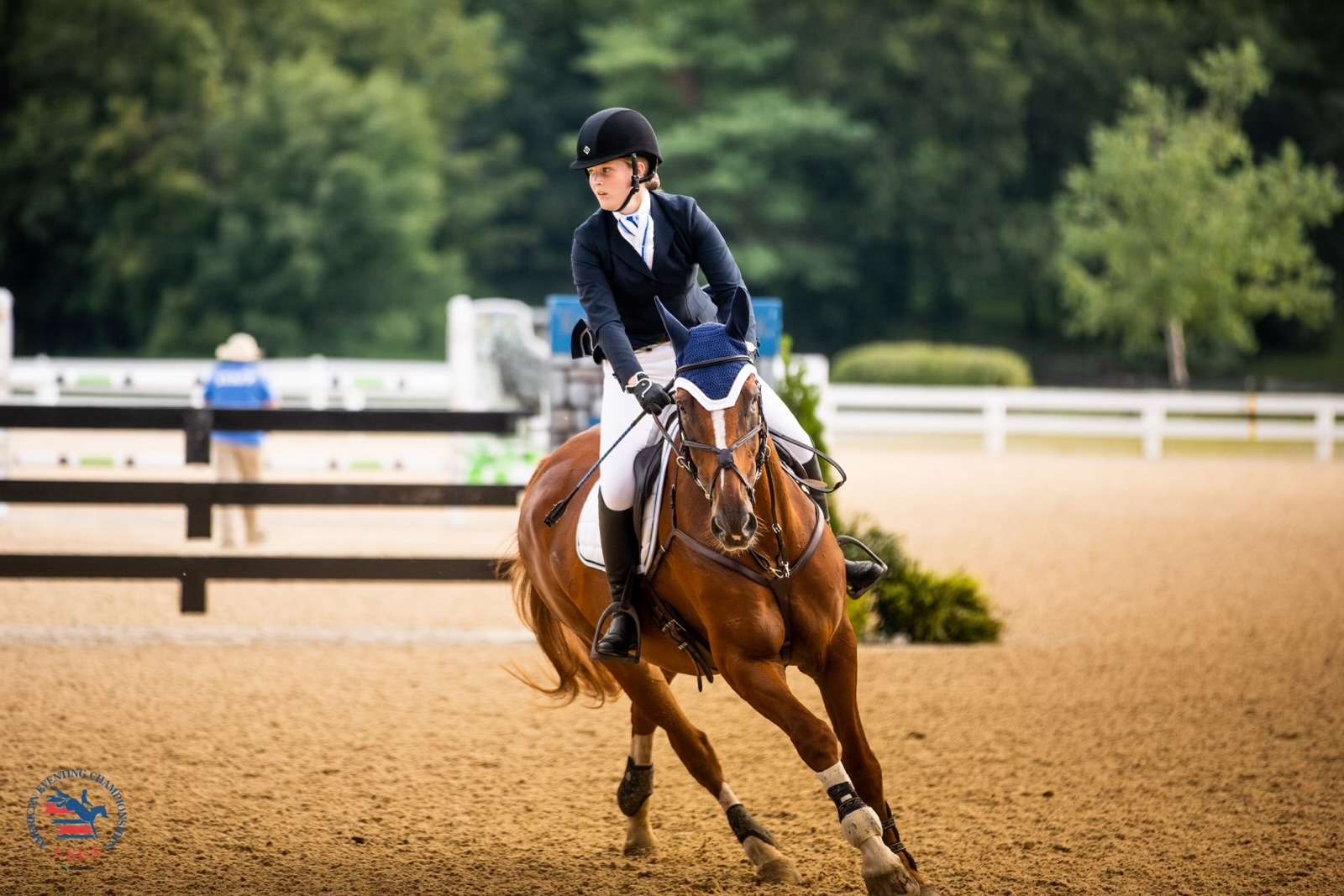 Dallas, Texas' Caroline Burkhardt jumped from fifth to third place to finalize the top three. She and the 18-year-old Dutch Warmblood gelding (RaMexico x Odyssey) My Mexico carried over a first phase score of 23.6 but left all rails standing in show jumping.
"This horse just lights up when he knows it's time to compete and takes me to everything," Burkhardt detailed. "We both definitely enjoy the cross-country phase the most because he is just so excited to go and he has competed up to Preliminary before so he knows how to get across the course."
Annika Foley and her 7-year-old Thoroughbred gelding (Atlantic Beauty x Kitten's Joy) were the division's TIP leaders and the leaders of the entire Beginner Novice section with only 23.9 penalties.
Junior Beginner Novice 14 & Under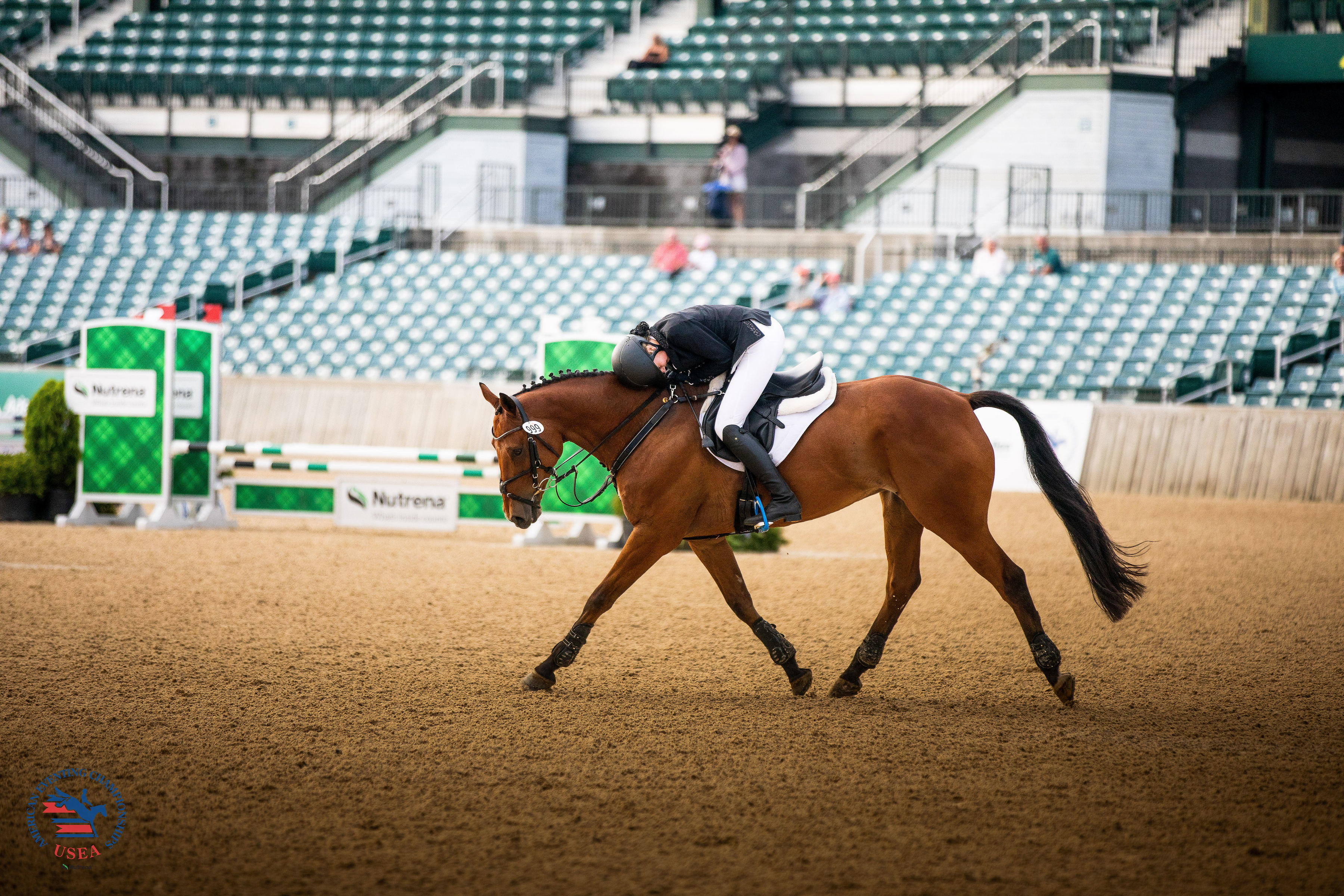 The 2021 AEC concluded with 27 of eventing's up and coming stars closing out the competition in the Rolex Stadium as part of the Beginner Novice Junior 14 and Under division. Laura Voorheis reigned supreme throughout the course of the three days adding nothing to her dressage score of 27.1.
Voorheis partnered with the 7-year-old Irish Sport Horse gelding (Dilshaan x Queen Judy) Hillcrest Hop after trainer Tom Dugan selected the mount from Ireland.
"Once he came over from Ireland I tried him out and I just loved him," she gushed.
"We have been working a lot on the show jumping phase and just keeping him from getting strung out," she continued, "but my favorite phase this weekend was our dressage probably because it was one of our best tests."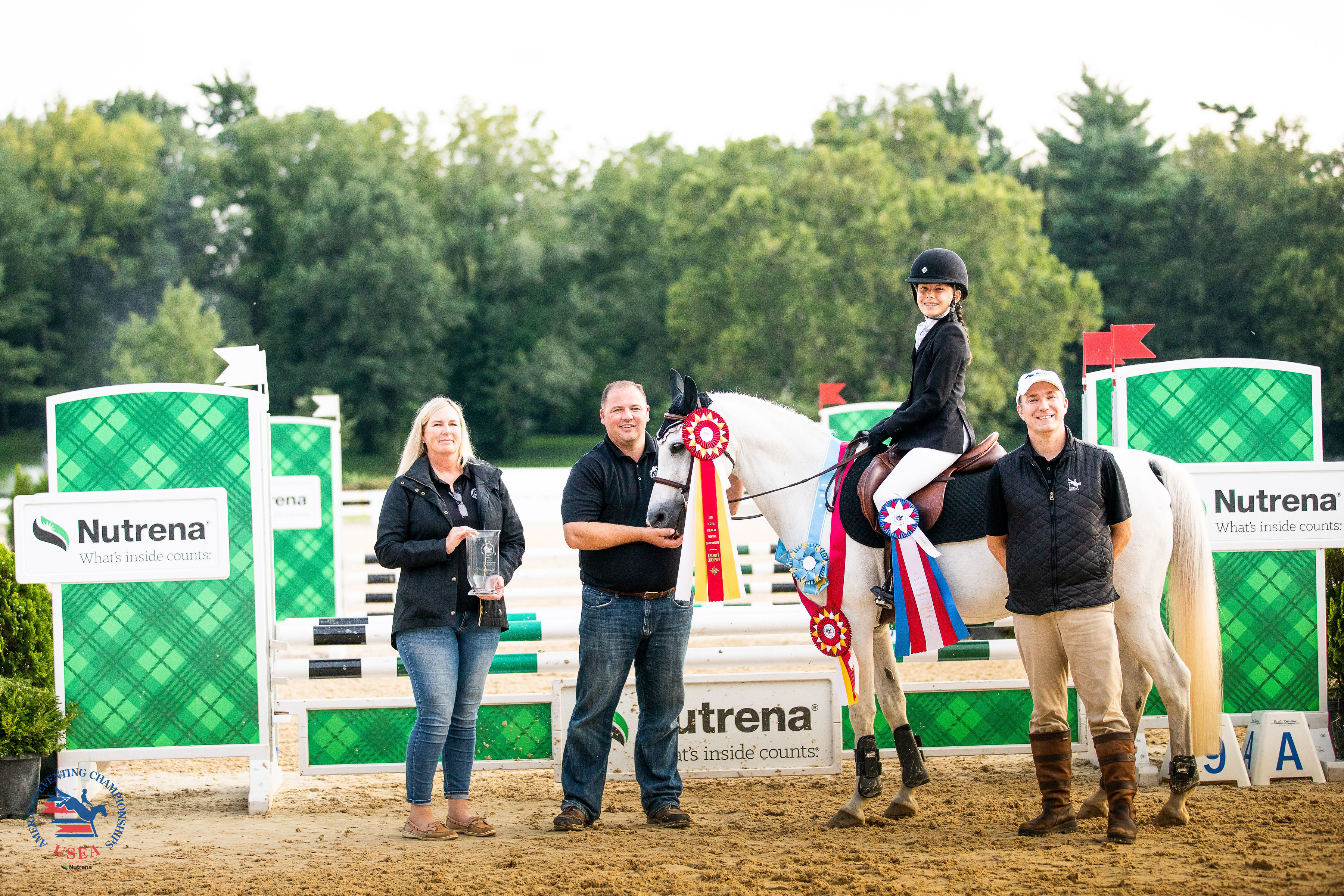 Crestwood, Kentucky's Larkyn Hendren and her rescue pony, Sandy also held tight to their podium position in second place having produced fault-free efforts over the two jumping phases to finish with a score of 29.0.
The 20-year-old Arabian mare was a happy accident for Hendren who had not seen the pony before she was shipped to the farm from a rescue in Alabama in hopes of finding a home.
"Our partnership was a bit rocky at first but I think we have figured each other out pretty well now," she explained. "I have never been here to AEC before and to be able to make it this far with an older rescue pony has been very special."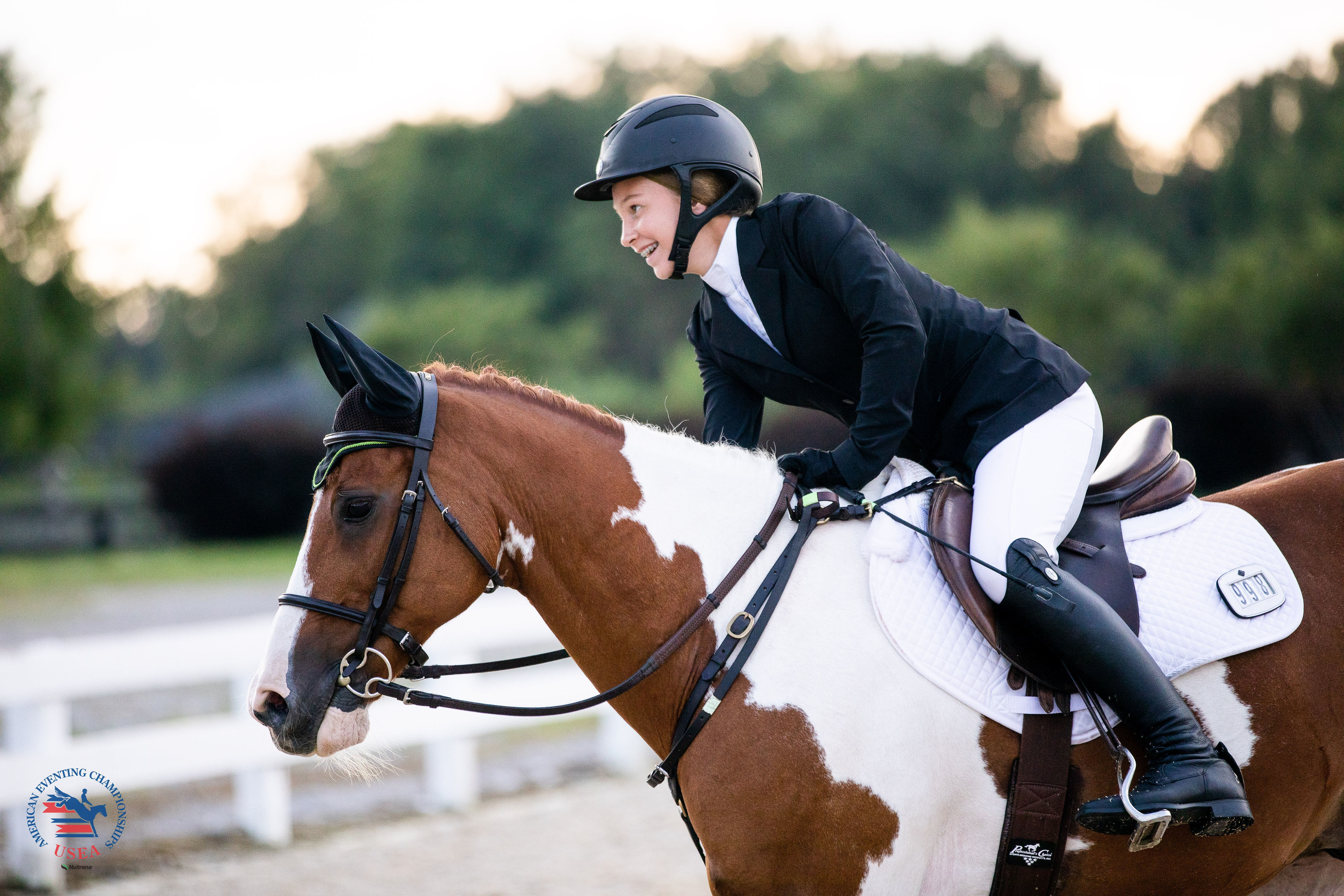 Westminster, Maryland's Carla Lindsay and her 14-year-old Paint gelding Paint Misbehavin' broke out of their tie for fourth to instead ride for ribbons as the third-place recipient.
"Finishing the cross-country phase was a huge accomplishment for me because sometimes he can be so wild it gets iffy," Lindsay stated. "To have been able to finish that successfully and to be here in this position now is just so amazing."
Abigail Walker and The Perfect Storm MK (Comet Shine x Danse Don't Fight), an 18-year-old Thoroughbred gelding were the recipients of the TIP award with their score of 34.1.
Adult Team Championships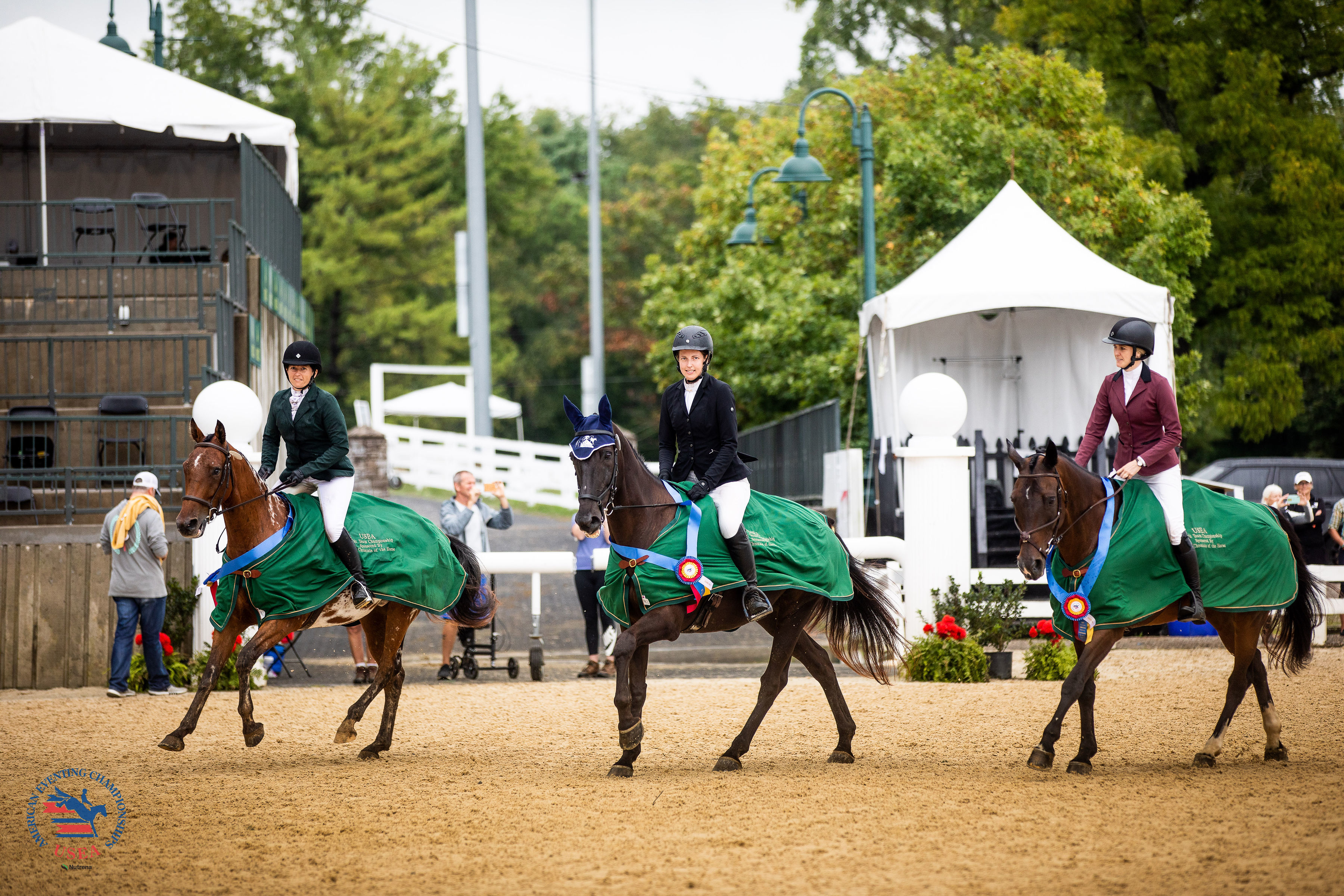 The Beginner Novice Adult Team Championships were won by The Only Neigh is Up on a 97.4. The team consisted of Cami Pease and Vibrant, Jodie Potts and Cat's Confetti, Arielle Orem and Beorn, Sharon Church and Ruffan's Run.
#AEC2021: Website, Final Scores, EN's Coverage, Twitter, Instagram
Comments