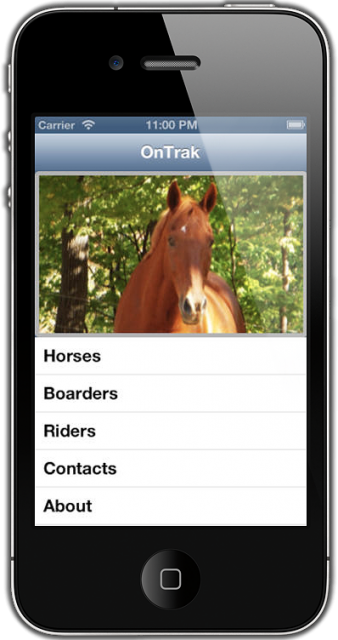 I love finding ways to make life more convenient. Anyone who knows me is aware that I usually have my phone in or very close to my hand; it's really more of an extension of my body at this point. When I was given the opportunity to review the latest in equine apps, OnTrak, I jumped at the chance.
OnTrak is a horse management app for iOS designed by Christy Lee Sami. Christy's main goal with designing this app is to create a user friendly interface for barn managers, enabling them to keep all of their important information in one place. Details such as the ability to sync appointment reminders with your phone's calendar, input fields for equine vitals, and spots for boarder, rider, and horse information make this app an easy one-stop shop for all of your management needs.
Let's start with the Horse section of the OnTrak app. All of the sections that are able to be filled in within the app are similarly designed, which lends itself easily to being user friendly. Users are able to input specific information for as many horses as they would like. Information such as markings, tattoos/brands, vital signs (at rest/at work pulse, temperature and respiration), breed information, and farrier, dentist, and veterinarian contact information are all default settings within this section. For barn managers who handle boarded horses who may all have different people responsible for their care, this feature is quite handy. Of course, owner information can also be put into this section for each individual horse, and the app even allows the user to "Quick Call" the owner if needed. Much handier than trying to remember what human goes with what horse, if you ask me.
The Boarder and Rider sections are similarly designed, with input fields for contact information, emergency contacts, and revenue amounts or prices all available. Again, this makes it easy to keep each individual's information in the same place, and is easy to read quickly to find the piece of information you are looking for. The "Quick Call" option is also available in these sections, so this app can also be used as a "second contacts list" on your phone so that your riders and boarders are more easily reached.
There is also a catch-all Contacts section within the app, where you can input people who may not otherwise fit into another category. I would imagine that farriers, veterinarians, suppliers, etc. could be filled in within this section. I know from personal experience that it can be taxing to scroll through my contacts trying to find my vet's name, so this solves that problem by keeping all horse-related contacts in one, consolidated place.
As I mentioned before, the app is able to sync with your phone's calendar. This is an extremely handy tool to have, as you can easily track the appointments in your calendar from this app. OnTrak is also able to hold information on equine innoculation schedules, which can assist you with knowing which horses are coming due for their vaccinations or wormings without digging through mounds of paperwork.
Overall, the app is simply designed and flows well in order to be user friendly. In today's technology age, being user friendly is one of the most important attributes to any app. I consider myself to be fairly technology savvy, but even I come across apps that make zero sense to me, so my philosophy is "the simpler, the better." OnTrak manages to keep things simple while still allowing for the input of a lot of important information.
While OnTrak is only available for iOS at this time, Christy does have plans to make the app available on the Android platform at some point in the future. "I plan on making this on a larger platform so the United States Pony Club and many other organizations can use it as an educational tool to teach people how to properly organize and care for their horses through the use of technology," Christy said of her future plans for OnTrak.
Thumbs up to Christi and the OnTrak team for creating a great app for the equine masses. You can download OnTrak on the iTunes store for $1.99. For more information on OnTrak, be sure to check out the Facebook page.
Comments