The West Coast is the best coast according to the Area VI squad. With phase one of the 2019 Adequan North American Youth Championships in their dust, they carry on to cross country with a decisive 11-point lead.
They're led by Charlotte Babbitt who currently tops the individual standings with her own 2 A.M., a 7-year-old Dutch Warmblood (Sheraton x Regina K, by Ahorn). She and "Abe" delivered a 24, which is the best International dressage score of their career thus far.
Second place is currently shared between Elizabeth Henry and Meg Pellegrini both on a score of 24.9.
Riding for Area VIII, Elizabeth was delighted with her own Charlotte La Bouff, an 11-year-old Oldenbrug, after the first phase.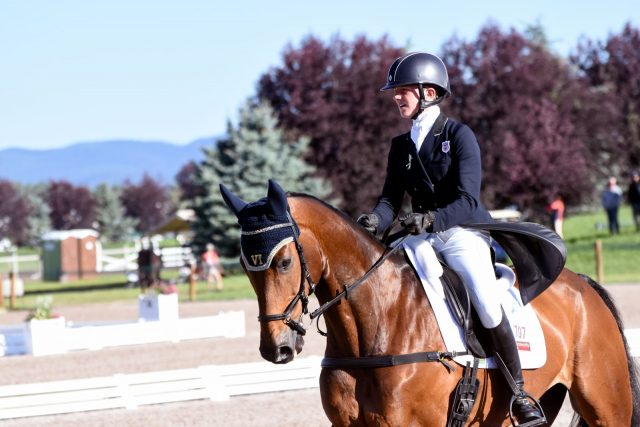 The experienced RF Eloquence, a 14-year-old Holsteiner gelding (Contender x D-Ginger, by Grundyman xx), loaned Meg Pellegrini a wealth of knowledge about high performance in the morning session, and their execution today adds another valuable mark to the Area VI team score.
Also on the Area VI team is Taylor McFall with her mom, Jennifer McFall's, High Times in sixth place (27.3), and Savannah Gwin with her own Glock Pullman in 37th (41).  Early in the competition, the Area VI girls are already thick as thieves, and the chemistry between them is evident. They've also been diligently practicing their signature move: a group chest bump.
Fourth place was earned by Ben Noonan with his own Keep Kitty, an 8-year-old Hanoverian mare (King Julio x Emelie, by Escudo I) on a score 27.
Check out what they had to say in this afternoon's press conference:
These guys head out on the cross country course tomorrow at 1:20 p.m. local/3:20 eastern. Click here to watch it all live.
Go eventing.
The Event at Rebecca Farm: Website, Schedule, Rebecca Farm Ride Times & Live Scores, NAYC Ride Times & Live Scores, Rebecca Farm Live Stream, NAYC Live Stream, EN's Coverage