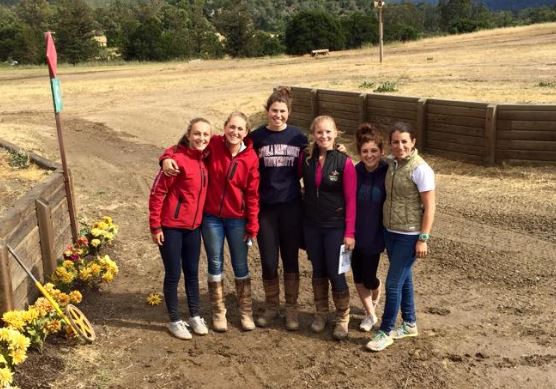 Summer must be coming, because Young Rider teams are starting to be named! Despite not being formally named until June 1, Area VI's Young Riders kept a lid on the news that they found out Saturday, and we're excited to introduce them to you here. This team is full of up and coming stars who have achieved quite a lot at a young age. Coached by Brian Sabo, the team is ready to make a splash, work hard and have some fun. The whole team was happy to answer a few very important questions for EN in between finishing school and attending graduations. Without further ado, let's meet the team.
Madelyn Holtzman is 18 years old and is thrilled to have made the team in her last year of qualification for the one-star. Coached by Robyn Fisher and riding the bay gelding Footlight's Ollie, Madi qualified last year at the final CCI* at Galway Downs. She first started riding Ollie in 2012 and has ridden him from Novice to the one-star level. First thing she plans to do after arriving at the Kentucky Horse Park: "Give Ollie a good graze! Grazing is definitely his favorite pastime (other than laying in the sun)." Favorite food: "Definitely sushi!"
Madison Temkin is 14 years old and has already twice been named to the USEF Eventing 18 program. She qualified for Young Riders last year at Galway Downs on Kingslee, who she has been riding since June 2014. The pair has been making a name for themselves on the West Coast (and here on EN!), finishing 12th in the large CCI* division at Galway last fall, 2th at the March Galway CIC*, and most recently eighth in the highly competitive Preliminary Rider Challenge at Woodside. How she found out: "Madi Holtzman texted me while I was standing in my classroom getting ready to graduate eighth grade and said, 'Did you get the e-mail?' My heart dropped, and I went running and found my mom and checked her email, and there it was! I was and still am thrilled!" Favorite food: "Sushi is definitely number one. Sour apple rings are close behind, though!"
Amber Pearson is 18 years old and rides with Andrea Pfefifer at Chocolate Horse Farm. She and her partner, Patagonia, qualified in March at Twin Rivers Ranch. Amber and Padi, a gorgeous bay Thoroughbred, have been together for about a year and a half. How she found out: "I received an email from Kim Littlehale, our area coordinator, and I was so excited! I immediately called my mom and shared the news with Andrea as well!" Amber is graduating from high school on Thursday, so we especially appreciate her taking the time to answer a few questions!
Megan Traynham ia 14 years old and will be celebrating her 15th birthday in July. I'm sure we can all guess what she wants for her birthday this year! She rides Lord Lombardi, otherwise known as "Vinny," who competed through the one-star level with Kristi Nunnink before Megan got him in September 2014. The pair went to work, completing four Training level events before moving up to Preliminary in 2015. They qualified for Young Riders at Greenwood Farm Horse Trials in Texas. First thing she did after finding out: "I asked who else was on my team and went to ride my horse!" Favorite food: Nutella – "At least two jars will be making the trip to Kentucky with us!"
Sami Clark is 16 years old and just thrilled to have qualified on her heart horse, a Selle Francais mare named Next Dance. Known in the barn as Ali, she was the first horse Sami tried. Ali came from Washington State two years ago and together they completed their first Training, their first Prelim and now their first one-star. Sami and Ali qualified at Greenwood Farm Horse Trials in Texas. First thing she did upon hearing the news: "I screamed! My mom ran into my room because she thought something was wrong!" Favorite food: Cinnamon Toast Crunch Young riders who made their area teams will be working hard to fundraise for their trip to the Kentucky Horse Park this summer. Be sure to look for ways to support your area riders, and congratulations to all those who have made their team! You can follow along with more Area VI Young Riders news on the group's Facebook page.
Comments