Hitting the road is a stressful endeavor for any equestrian. Making sure everything is packed, the horses are safely loaded, and that there's plenty of time for unforeseen traffic incidents and layovers are all factors that have to be carefully accessed. What too often gets overlooked on the road trip checklist is the most important of them all — what snacks are we eating?! We asked Hawley Bennett-Awad, cross country expert whether it's riding or driving, to help us (and our horses) stay in tip-top shape when the truck stop McDonald's is calling our name.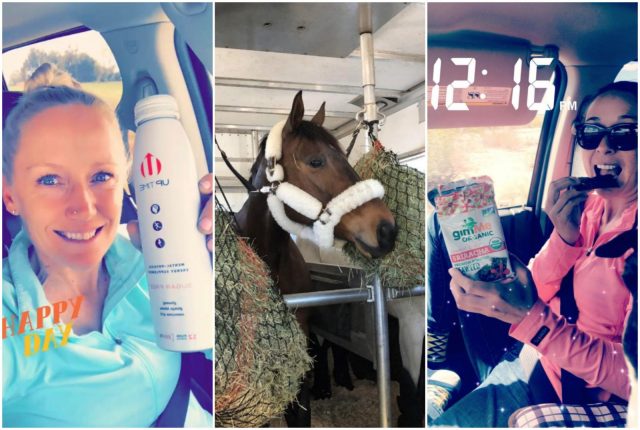 Driving from Copper Meadows in Ramona, CA, to Raeford, NC, for the Cloud 11-Gavilan North LLC Carolina International will take us several days. That means LOTS of hours in the car with only fast food and truck stops as our sources of nourishment. I always try to eat a well-rounded diet, it's important for riders to be fit both in and out of the saddle, but it certainly gets more difficult during trips like this. My road trip crew and I decided we were going to replace the normal staples of a cross country diet with some healthy alternatives, and I've got to say, we really didn't miss the gas station donuts.
Our trek began at 7 a.m. on Thursday, March 15, and right away it was time to start sampling the goodies. Jen McFall started us off with some Grass Fed Butter Coffee, which is definitely a better alternative to the normal sugary Starbucks order. This coffee is a great way for the driver of a long haul to stay awake without getting jittery or having a sugar crash a few hours in. Grass Fed is a ready-to-drink cold brew that comes in a cardboard box with a screw on top, which is much more convenient for storing in a crowded-with-suitcases truck. There's no sugar at all, only a few net carbs, and the coffee is non-GMO, plus it actually tastes really good! Jen McFall, my co-pilot and snack taste tester, was also impressed by Grass Fed Butter Coffee, and this coffee is remarkably filling, so there was no need to find a breakfast stop, which is always ideal when hauling.
As the lunch time hunger pangs started in and we realized we wouldn't be finding a healthy salad purveyor on the side of the highway anytime soon, we reached back into the snack bag hoping for something crispy and delicious. While a can of Pringles might have satisfied the craving, I wouldn't have felt nearly as good as I did after sampling the GimMe Organic Seaweed Chips. These were sriracha flavored and really, really tasty. I'm a huge sushi fan, and I love spicy foods, so these chips were absolutely perfect!
If you follow me on social media you know how obsessed I am with the newest HBE sponsor, Detoxwater. I could drink this stuff all day, it is so delicious. And all the vitamins and nutrients helped me to feel great, even after a lot of hours behind the wheel. Plus, Detoxwater is Bento approved!
I highly recommend drinking Detoxwater to stay hydrated during long trips. It can be tempting not to drink much water on these trips to avoid the dreaded bathroom stops, but your body doesn't perform very well when it's thirsty. Staying hydrated is easier when the water is flavored and delicious, and just like we do with the horses, adding electrolytes is always a good way to fend off dehydration.
Speaking of the horses, you might be wondering how we keep them in competition shape on days when they're not able to move their legs at all. We stop and offer water to the horses every time we stop for gas, about every four hours. A while ago I learned the trick of adding carrots to their water buckets. After a few times the horses learn that once they drink their full bucket they get a treat, it's a great way to make sure they're getting plenty of water which keeps them feeling their best. They get as much hay as they want on the trip. More on keeping them healthy and happy on the road in just a moment. Back to snacking!
As the afternoon began to drag on it was time for another energy boost. We were quickly approaching our layover in El Paso, and I knew when we arrived would be lots of work to do. While normally I would reach for a Redbull or other energy drink, this time I grabbed an UPTIME drink. This energy drink is definitely different, and much healthier than the go-to energy drink brands. The sugar-free variety that I tried is only five calories, has no added sugar, and didn't give me the jittery feeling or crash that normally accompanies energy drinks. It also comes in a really cool looking bottle, which is an added benefit for taking great road trip selfies!
After sampling our salty and spicy snacks, I was craving something chewy and chocolatey. A Snickers bar would have definitely hit the spot, but candy is not really conducive to a healthy road trip, so instead I went for a FODY Dark Chocolate snack bar. FODY Foods is a line of low FODMAP friendly foods, taking the stress and guesswork out of eating for those who suffer from Irritable Bowel Syndrome and similar symptoms. A FODMAP is a type of carbohydrate that is hard to digest causing issues that you really don't want to run into in the middle of a four day cross country trek! 
When we made it to El Paso it was time to make sure the horses got all the same great nutritional care that we'd be so focused on during the trip. We always try to keep the horses as healthy as possible on the road, as it can be really stressful and lead to a lot of issues for horses to haul this far. Making sure they have plenty of hay and water throughout the day definitely helps their tummies stay comfortable. We also always make sure they have Platinum Performance BioSponge, and Platinum Performance Electrolytes as well as their normal Platinum supplements. To encourage them to eat we always wet down their grain as well as feed them bran mash. The horses are athletes just like us, so keeping them eating healthy, nourishing feed and supplements keeps them able to perform at the top of the sport, even after a four-day road trip. Planning your trek so you can layover at wonderful farms is also important. We were able to stay at the Jumping Bean Farm in El Paso, TX; Double Rainbow Equestrian Center in Shreveport, LA; and Spring Creek Farm in Atlanta, GA. Having a nice, relaxing place for the night makes all the difference, and these farms all were wonderful, hospitable, rest stops for the crew.
Day one of our four-day trip was long, but we're well on our way, and replacing our snacks with healthy alternatives was also a great success! The key is to have a lot of variety, just like with your typical snack cache. You're going to want something chocolate-y, but swap out those M&Ms for a snack bar like the dark chocolate FODY bar. Replace your bag of potato chips with a chip like GimMe Seaweed Chips, and keep several healthy beverages on hand! Bonus points if your drinks are healthy AND can keep you wide awake while hauling. Avoid extra sugar that can make you sleepy after your initial burst of energy, and of course, bring a friend with you to keep you entertained (and grab the snacks from the backseat).
An example of a great entertainer on a road trip, but not the best snack-grabber.
Can't wait to see everyone on the East Coast!
The snacks and beverages featured in this blog can be purchased at the following links: DetoxWater, FODY Snacks, Grass Fed Coffee, UPTIME Energy Drinks, Gimme Snacks.