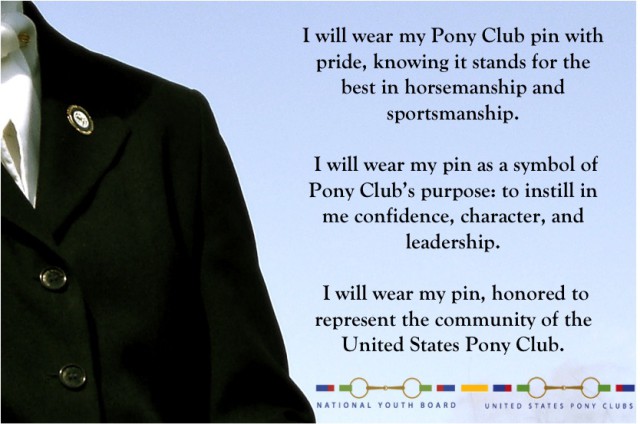 As Rolex quickly approaches, so does the fifth year of the annual Pony Club Pin Promise initiative. This project was created by the hardworking members of the USPC National Youth Board, and it serves to share, celebrate and promote all that Pony Club has to offer.
During Rolex this year, spectators will see the Pony Club emblem in many places, and some of those most precious spots are on the lapels of shadbellies going down centerline and on show coats crossing through the finish flags on Sunday, because more than 60 percent of the riders this year are Pony Club alumni from around the world.
Those who look closely might spot pins from Canadian Pony Club, New Zealand Pony Club, Pony Club of Australia, and of course "The Pony Club" (Great Britain started it, so they get to be THE one), as well as many riders homegrown on U.S. Pony Club soil.
Sporting a Pony Club pin does more than just add a little shine to the picture — it shows the world where you likely started competing; where you learned your horse management skills; where you probably first competed in a team competition; and where you learned so many incredible life skills like leadership, sportsmanship, and horsemanship.
This year, we would also like to shine a special focus on the international Pony Club community. We know from the impressive rider list that the eventing world is diverse in its riders' heritage — we have former Australians at the top ranks of our U.S. Rider lists (who were Pony Club members), Americans spending time riding in Europe, British riders who have settled in the U.S., and so many other combinations. Not to mention the extensive passports of our horses!
A major thread running through all these stories and plane trips is a shared basis in Pony Club. We would love to highlight and share our passion for our Pony Club roots, starting at Rolex and hopefully extending it around the world to be able to celebrate, inspire, and connect with our fellow members who might even be a world away.
Please consider wearing your Pony Club pin — whether you're a member, alumni, or supporter — during Rolex, but also throughout all of your competitions this year, Pony Club or otherwise. And for those who are social media-inclined, please share your stories and photos with us of you or your favorite rider wearing a pin and use the tag #PonyClubProud. We are so excited to share in our international community.
Go Pony Club!