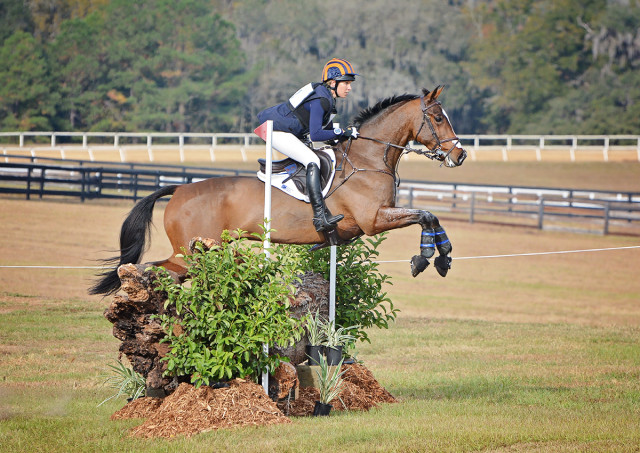 It's time to kick off the Rocking Horse winter season down in Florida, and many of the nation's top horses as well as some new faces are out to stretch their legs in the first event of the season in Altoona.
The Intermediate divisions at Rocking Horse finished up their competition today, while the Preliminary and below levels will finish later today and tomorrow. A total of four Intermediate divisions competed this weekend, so it is a busy one for riders, grooms, officials and volunteers!
Yay to Clip Clop winning his first event of 2017 – even if this is the photo that goes with it #onwardtowelly pic.twitter.com/AzC7D9HaYh

— Ruthie Meyer (@southernruthie) January 28, 2017
Buck Davidson with Copper Beech, Kylie Lyman and Da Vinci Code, Daisy Trayford and Normandy Soldier, and Liz Halliday-Sharp with Deniro Z are your Open Intermediate division winners, all finishing within or very close to the optimum time across country today to cement their victories.
As is such with the early events of the season, these first runs are typically used to knock any winter rust off and identify any issues that will need fixing before moving on. Other horses are moving up a level this year, and Rocking Horse gives both horse and rider fair opportunities to move up throughout their winter series, with fair yet challenging tracks each time out.
Nonetheless, it's great to see some familiar faces out and about — including supergroom Kathleen Murray and Ballynoecastle RM, who are running Training level together this weekend in a role reversal with coach Buck Davidson.
Kathleen and Reggie are currently tied for first following dressage and will complete their competition tomorrow. Stay tuned for a full "Reggie Report" to come on Monday!
We're looking forward to seeing much more from competitors all around the country as the season gears up in earnest. As always, don't forget to tag us in your social media posts to be included in our weekly competition round-ups!
Rocking Horse Winter I: [Ride Times][Live Scores]
Comments