EN guest writer lec has gone above and beyond the call of guest writers by turning in this fantastic report from the CIC3* British selection trials in Barbury this weekend. Thanks very much for writing this lec and thank you for reading.
—-
If you are ever in the UK in July Barbury is a must visit event. The whole thing is absolutely spectacular to look at and you always get the top combinations competing here. This year 109 took part in the CIC3*, 190 in two CIC2* sections and around another 190 across 5 prelim sections.
The main arena is in the front and pretty much the whole cross country is in the background and can be easily viewed.
This year the CIC3* was particularly exciting with the Irish and British team making their team selections for the WEG tonight. These then should be announced in the next few days. No one in the British team has been shortlisted or given the nod yet so everyone is waiting to see what happens.
The course was tough with one fence causing much trepidation. It was an owl hole on a mound with around 3 strides before some very offset houses.
This is the fence from the reverse angle as it shows you how offset everything is.
The Quarry was another fence that has traditionally caused issues with a downward incline with a skinny triple brush.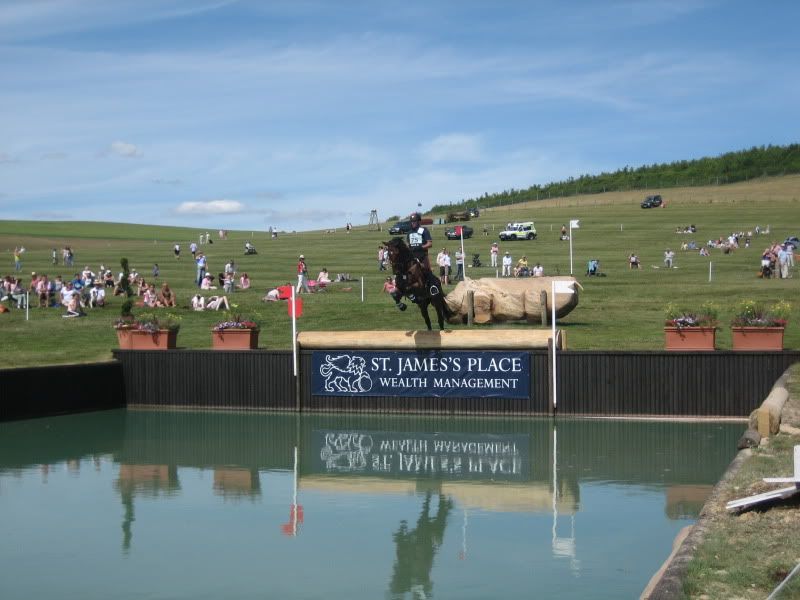 A huge jump into the water for this Italian rider unfortunately resulted in….
this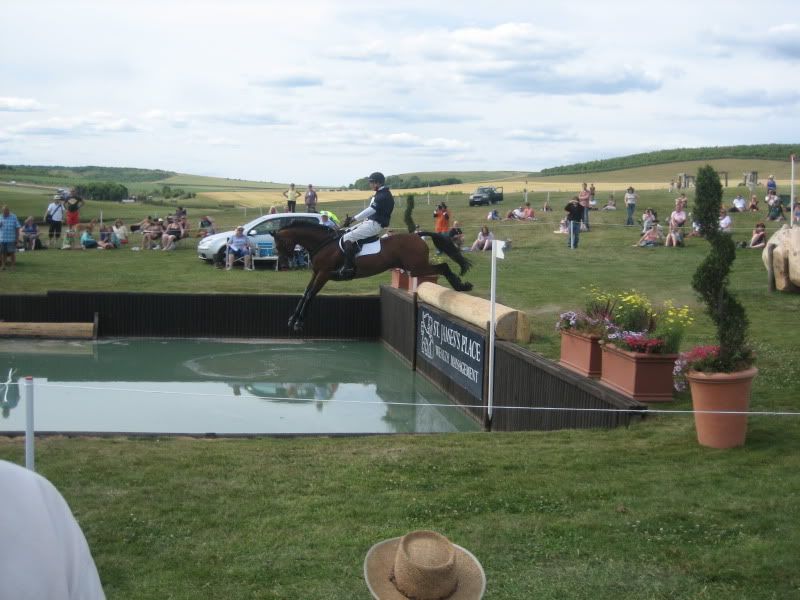 WFP on Seacookie shows a more conventional style!
Ruth Edge was leading after the dressage and show jumping but withdrew before the cross country. I understand it was never her intention to run cross country as I have mentioned in the past he is not the soundest of horses so he is probably being saved for another day. Mary King was also in contention but withdrew on Imperial Cavalier through him having a foot issue (I heard nail prick). One notable absence was Tina Cook. It seems that Tina withdrew all her rides including Miners Frolic. No one seems to know why and it does place his going to WEG in jeopardy as he needed a good run to prove himself. Though he is entered at Aston Le Walls Advanced it is not anywhere near the same calibre as Barbury. Another withdrawal was Headley Brittania who I understand has cut herself. Its nothing serious but just meant she could not run today.
The Cross Country at Barbury is run in reverse order which makes for an exciting competition. The time is tight at Barbury and very few have ever made it inside the time. The Irish put up a very good showing with Jayne Doherty and Sam Watson being placed 12th and 6th respectively. Unfortunately Camilla Spiers who had put up a terrific performance at Badminton on the 15.1hh Portersize Just a Jiff picked up 20 penalties.
The course was not straightforward and some of those who paid the price were Andrew Nicholson who was leading going into the cross country, Mark Todd on Regent Lad and William Fox Pitt with Seacookie. All of these picked up an expensive 20 penalties.
Nicola Wilson was the winner on the superb Opposition Buzz. This pair made it look easy. Even more pleasingly for British hopes they have continued to improve their dressage!
Link: Barbury CIC3* results
Nicola at the end of cross country
Emily Llewellyn had two great rides on Pardon Me and Society Spice to take 2nd and 10th. Emily really is a superb rider and is still under 21. Andrew Nicholson was 3rd with Armada after a very speedy cross country which pulled him right up the order and Daisy Berkeley was 4th with the incredible Spring Along who is now 18. Cool Mountain looks the likely WFP horse to be heading to WEG after finishing 5th. WFP cross country was incredibly deceptive as he looked very slow but finished with only 10 time faults. Paul Tapner with the Badminton winner Inonothing did not do his Australian team hopes any harm by finishing 7th.
There were two horses that stood out for me for the future – Redesigned ridden by Pippa Funnell and Brookleigh ridden by Clayton Fredericks. They are not horses for this year but they looked super classy and I really think they will be big stars in the future.
Redesigned
I know many events struggle to get spectators but at Barbury they hold a country fair with agricultural machinery and one of the main ring draws is Inter Hunt Relay. Each local hunt puts forward 4 team members and they have to race another hunt over a set course of identical fences before handing over a whip to the next team member. The fastest team is the team which wins and knocks the other team out. Knocking down a fence adds 5 seconds. Its fun to watch and very exciting as fast paced and you never know what is going to happen.
This one was a close match!
Finally I was very lucky to get a chance to ask cross country legend Lucinda Green some quick questions.
Q) What do you wish you knew in the past that you know now?
A) That you have to learn to ride every horse differently. No two horses can be ridden the same way.
Q) At clinics what advice do you give time and time again?
A) There are two bits of advice that I give firstly that of the riders weight and how much it influences the horse. If the riders weight is in the right place you will stay out of trouble much more. Secondly allow your horse to think for himself.
Q) Any other advice?
A) Many riders underestimate how long it takes to produce horses up the different levels. You cannot cut corners in training a horse especially on cross country. Riders are getting away with not educating horses properly and still moving up the levels. Do your homework and spend time building up the questions so that you are always more than prepared when you go cross country.