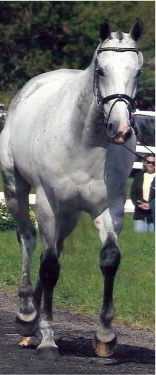 Do you ever stare in awe at the sleek shiny horses, the glistening brass, perfect braids, and dazzling white marks at a CCI trot up? Do you ever wonder how they get that way? (LOTS of hard work is the correct answer!) Each Sunday morning we will bring you a little insider info on how the big-time grooms manage an upper level event horse. Feel free to email or comment with specific grooming questions if you have a topic in mind!
Previous entries: Breastplates, Breastcollars, and Breastgirths
To see all previous entries, click on the "Sunday Jog-Up" category in the sidebar to the right.
All Wrapped Up: Stable Bandages
Wrapping legs is a skill that every horse owner should have, and preferably before they actually need to do it. There's no need to routinely wrap a horse's legs, but it can be helpful in some situations:
Protecting and covering an injured area
Providing warmth to stiff/old tendon, ligament or fetlock problems
Control of swelling and movement with acute injuries
Preventative care, such as poulticing after cross-country
Improperly-applied wraps can do a lot of damage. The blood supply to the tendons in the back of the horse's leg is easily compromised if the wrap is too tight, if it is applied with uneven pressure, or if it slips down and bunches up as a result.
How much tension to use when applying a wrap depends on the materials and is something you just have to learn by experience. A properly applied bandage will stay in place without slipping and will lie snug against the skin, but not snug enough to indent it. You should be able to slide a fingertip between the bandage and the leg. Gentle twisting of the wrap should not allow it to slide around the leg.
Materials:
A stable bandage consists of a leg pad ("quilt") and an outer bandage. The leg pad comes in several different styles: foam-filled, cotton batting, sheet cotton, "no-bows," etc. Make sure the padding is adequate and even, without any lumps which could cause pressure points. Most prefer Wilkers brand wraps (cotton outer, quilted flannel lining, foam padding between), or plain cotton-batting filled wraps. An average horse will wear 14″ quilts in front, 16″ behind (18″ for taller horses). A very large horse will go up 2″, smaller horses/ponies down 2″.
The outer bandage may be flannel, or the popular, colored polyester wraps. The polyester wraps stretch just a little, so be aware of this and don't pull them too tight! Flannels are the traditional wrap of choice, but their lack of stretch means you have to work a bit to keep them wrinkle-free. Whatever you choose, the wrap should be at least 10 feet long, preferably 12 feet so you don't feel "rushed" to finish a hind leg wrap.
First, make sure the leg area that the bandage will cover is clean. Brush the hair so that it is lying smoothly. Apply any topical medications that you wish to use (we will discuss poultice, liniments, sweats, etc in a future topic).
You can find several different sets of instructions on how to wrap legs properly. One frequently quoted says to always wrap from outside to inside, front to back, going clockwise on the right leg and counterclockwise on the left. However, if you're right-handed, the counterclockwise wrapping is awkward, making it difficult to apply smoothly, and vice versa if you're left-handed.
The important things to remember when bandaging are:
Always start the wrap over bone, not the tendons.
Bring the wrap around the front of the cannon bone first.
End the wrap along the cannon bone as well.
Apply the leg pad so that it lies smoothly along the leg, with no wrinkles. While holding the padding in place lightly with one hand, begin the outer bandage by tucking it under the end of the cotton for a short distance, then wrapping in the same direction, first down to cover the fetlock joint, then back up again to end at the top of the leg. Each layer should overlap the one before by about half the width of the bandage.
One of the trickiest things to learn is where to start the outer bandage so that you finish wrapping at the top of the leg without too much bandage left over, or not enough left. This is going to depend on the length of your bandage (9 or 12 feet), the width (between 4 and 6 inches) and how much stretch it has, as well as how long the horse's cannon bone is. In most cases, you're just going to have to experiment with your bandaging materials to find out what works best, but in general the outer bandage is started anywhere from halfway up the cannon bone to just above the fetlock joint, worked down to take in the fetlock, then brought back up again.
When you first start learning to wrap legs, you'll feel like you could use at least one other hand and will likely botch your first attempts. Be patient. Like any skill, it just takes practice. The more you wrap, the better you will be at maintaining even tension throughout, and knowing your materials. Having someone experienced give you a few hands-on lessons is very important!
What makes a good wrap?
Even tension! Consistent pressure from inside to outside, top to bottom. You can use FIRM pressure, so long as it is the same throughout the leg. Use the "thump test" (flick the finished wrap with your finger) to listen for tight or loose spots.
Practice! The more you use your wraps, the more comfortable you will be knowing where to start/end for the best finished product. For instance, I know with my 9′ wraps, I will have ten revolutions around the leg until I reach the velcro. I like to have four circuits down to the ankle, then six remaining circuits to finish it off below the knee.
Patience! Don't be in a hurry. Take as long as you need to ensure the wrap is the best you can do. If you feel it may slip down, wrinkle, or be too tight, take it off and start over.
Good materials. Use good-quality leg padding, and flannels/wraps of good length with strong velcro. I prefer velcro at least an inch wide, instead of the thin half-inch strips that never seem to hold well (and create excess pressure). Roll your wraps tightly!! This makes it MUCH easier to maintain a snug wrap with even tension, when the wrap practically unrolls itself around the leg.
And now, the Goddess of Grooms will demonstrate everything you need to know about a proper stable bandage: