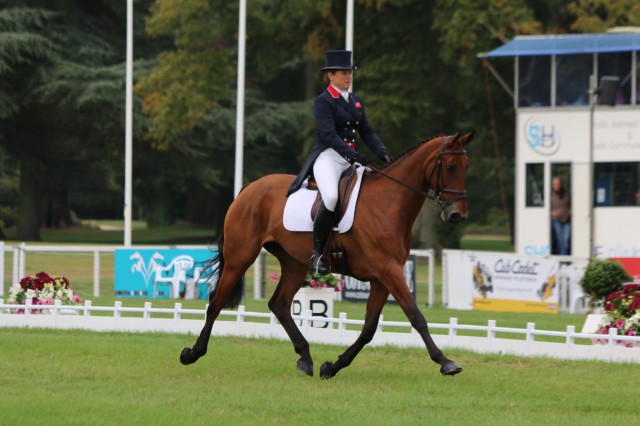 The top three from Thursday after dressage in the Blenheim Palace International Horse Trials CCI3* remain unchanged as we head into the cross country on Saturday. Hannah Sue Burnett keeps her third place on Harbour Pilot, Holly Payne Caravella and Santino slipped down to 12th and Tamie Smith is just inside the top 20 on Twizted Syster. Will Faudree and Pfun, and Kurt Martin on Delux Z are further down the pack but less than a stop cross country separates them from the leaders.
We saw some great riding on Friday, but with the windy conditions and a lot of quite green horses to the level, it never looked like anyone was going to come close to Bettina Hoy's score.
Ibby Macpherson moved into fourth place on her Burghley re-routed ride Ballingowan Diamond after an almost flawless test (it's Friday afternoon, come on!) in the worst of the weather, "He was really good, I was really pleased with him, it was just as we were cantering around the arena that it started blowing a gale and raining and was pretty gross. I watched it on the video and my tails were up my back, banging him on the back, but he was just so good, he kept doing his thing, he was a real pro."
This was a personal best for Ibby and her 12 year old Irish chestnut Ballingowan Diamond that she bought from Anne O'Grady in Ireland as a four year old. Anne is also responsible for Ballynoe Castle RM, and Ballingowan Pizazz and Ballingowan Ginger. Ibby was stable jockey to William Fox-Pitt for three years and still considers him a mentor.
Ibby is hoping for a better finish to this week than at Burghley last week when things didn't go to plan on Saturday,
"He's always pretty consistent on the flat and every dressage test we've done he's got better. I was thrilled to bits with him last week because there's obviously nothing that prepares you for that atmosphere at Burghley and he was such a good boy. He was jumping really well on cross country and then the hook on our stud guard that you attach the martingale to, got caught on the fence when he landed a bit steep going into the Anniversary Splash and basically pulled the saddle and the girth quite far back. So I ended up sitting where I wasn't meant to be sitting, jumped the next few fences and when we got to Capability's Cutting and had to go down the hill and up the other side he stopped because I was way too far back."
The only upside might be that Ibby's sitting in fourth now, and perhaps the jumps look a tiny bit smaller this weekend, "I think there's still quite a lot here to jump. The course here is actually really long, it's only 200m shorter than Burghley so I'm pretty pleased that hopefully I got him Burghley fit so we'll just see. There's enough to jump out there, I wouldn't say it was big but there are quite a few questions that need you to be thinking and accuracy questions of jumping things on angles."
I managed to catch up with Tamie Smith and she agrees with Ibby that the course is long, and is also looking forward to riding it tomorrow, "I think it's great – lots of galloping and terrain, and long, it's almost 11 minutes. The water going into the first crossing is pretty significant I think, and even coming out there, I think the corners will ride really tough, but everything else looks….if your horse can gallop and if it can turn then it will be good. But it's big and I think it's going to be a really good test and if you can get around here I think you're ready for a four star."
Tamie had walked the course three times already, "and I'm going to go and walk it again in an hour, just to go over my gallop lines and see where I can save some time and just really study it because I go pretty early on tomorrow. Thank God because it's supposed to start raining at 2am and not stop. I'm not really worried, the harder the weather the harder it is for everybody else so it will make it more of a cross country test so I'm hopeful for it. I've had my fair share and I've ridden both of those horses in mud and they're mudders so I'm not worried about the ground or anything like that. Plus Chloe (Twizted Syster) is twelfth to go so she'll probably have perfect going as it's actually a little bit firm right now but I think as soon as the rain comes it will be great. I'm excited!"
Pippa Funnell showed us how to manage a hot, spooky horse in the ring, conjuring a 49.8 out of Billy Cuckoo. This tidy little mare looked ready to bolt when the crowd cheered for the rider before her, but Pippa packaged her up and except for a break in the second serpentine, skilfully rode her through the test with some really nice moments, especially in the trot.
Pippa, who is currently 2nd after the dressage in the CIC3* 8/9 year old section, and has Mirage D'Elle in the ERM tomorrow, thought that was probably the best test Billy Cuckoo could have done for now.
"She is a little bit spooky, you can see that in there, but I think that's a little bit of the carefulness of the Billy Congo in her," Pippa said. "She needs to grow up now and see these sort of atmospheres, and people and flags and things. She wouldn't be the easiest on the flat but she's a nice mare. This would definitely be her biggest test to date here. It's more of a fact-finding weekend with her for me really rather than necessarily being out to be very competitive."
Equally Nicola Wilson, another experienced Team GB competitor, was a pleasure to watch and a demonstration of how to execute a test. Bulana, although only a 10 year old, has quite a lot of experience at this level already having won Boekelo last year and now campaigning at Advanced for her second year.
Nicola was happy with her effort. "I was really pleased with her, there were obviously a few little mistakes here, there and everywhere but on the whole I was very pleased with her. She's a really exciting, lovely horse and she's a pleasure to ride and a pleasure to work with and I think the world of her." Nicola and Bulana scored 48.8.
Chris Bartle was on hand to help Nicola and Bulana warm up, and Nicola confirmed he's been a presence in her career for a long time.
"On the flat I train with Ian Woodhead but Chris has been my mentor since we were paired in the Pro-Am contest at Bramham in 1997," she said. "He obviously only lives half an hour away from me and has remained an important person in my career and support team since then. I'm very fortunate to have him as a pair of eyes on the ground when needed and to bounce ideas off and guidance, and it's always good to chat these things through with someone as experienced as he is."
Bulana contested the ERM classes at Gatcombe and Blair, which Nicola says "worked in quite nicely as a preparation for her three day event. I didn't think she was quite ready to go four star yet this autumn and I think Blenheim is always a challenging course and it's well-built and the hills have an influence so I thought it would be good for her experience and education."
Nicola doesn't give Bulana any special treatment on account of her being a mare, but instead as a special horse. "I think you just have to be sensitive to whatever horse you're riding and treat them as individuals and that's the only difference; treat them as individuals whether it's a mare or a gelding."
Spare a thought for Aoife Clark and Wasting Light who were stopped mid-test by Eric Lieby in the Ground Jury during what was turning out to be a super test. Aoife, who won this event a few years ago on Fenya's Elegance told me afterwards it was just pure bad luck, the horse struck into himself and was momentarily unsound but recovered quickly to complete the test without any further incident,
"He was doing a lovely test and he must have just knocked himself behind as he came across in the right canter half pass. He obviously just picked his leg up for a few strides going 'ow, ow, ow!' and then he was absolutely fine, he's totally sound, he trotted out the rest of the test beautifully, it's just a bit annoying but never mind, these things happen." It's hard not to wonder if their score of 46.4 might have been better had that not happened.
Wasting Light is a very nice stamp of a horse, a 9 year old who finished 6th in the CIC3* here last year and so Aoife decided to contest the CCI3* with him this year.
"Although he's still eligible for the 8/9 year old CIC3* this year I think this is a better step for him thinking about moving up to four star next year. He's a really galloper and he loves to gallop and with the time usually being tight here that should suit him. He's been going well so we'll see. The course looks amazing, it's always beautifully presented here — challenging, enough questions but fair. I'm really looking forward to riding it."
Aoife, of course, is one of Ireland's top riders, but comes to Blenheim as a local hero as she lives just down the road. "There's great local support here even though I'm Irish! It's one of my favourite events and it's definitely always a main aim on the calendar."
Caroline Powell has a nice ride in the big, rangy Irish grey Sinatra Frank Baby that she's had for a couple of years and they went shortly before the lunch break scoring 48.9.
"He was good, he's sort of new to this level, it's only the second time I've tackled it in this type of atmosphere. He's a lovely horse and we've come here looking for qualifications and a good result at the end of the weekend would be a real bonus. He's been a really consistent horse and everything's becoming a lot more solid on him and I think he's going to be quite a nice horse for the future."
Like so many of the riders here, Caroline has come straight from Burghley but she comes off the back of an 8th place finish and says that helps.
"Well the fences certainly look smaller!," she said. "No, Burghley was amazing; just to get Onwards and Upwards there was a pretty good effort with the vets and farriers and everything. Over the last two or three years we haven't had the easiest time with him but horses all develop at different stages so hopefully now he's had his bit of time off and I've got him for a wee while!"
Don't for a moment think Caroline will be complacent on the course tomorrow either. "It looks good, it' s quite long and slightly twisty, a few unnecessary bends and twists here and there but on the whole I think it looks great and the ground feels really good underfoot so I'm looking forward to it."
Cross country starts tomorrow at 9 a.m. GB time and props once again to the organisers who have to somehow fit in the riders who have horses in all three divisions (ERM dressage starts tomorrow at 8:30 a.m., and the CIC3* is also underway.
Many thanks as always to the riders for stopping to chat after their rides, and hoping for safe rides for everyone tomorrow. We have an exclusive interview with Lucinda Green to bring you later, reviewing Burghley and previewing the Blenheim course so don't go too far away, but Go Eventing!
Blenheim CCI3* dressage top 20: 
Blenheim Links: Website, Entries & Scoring, Live Stream, EN's Coverage, Twitter, Instagram
Comments