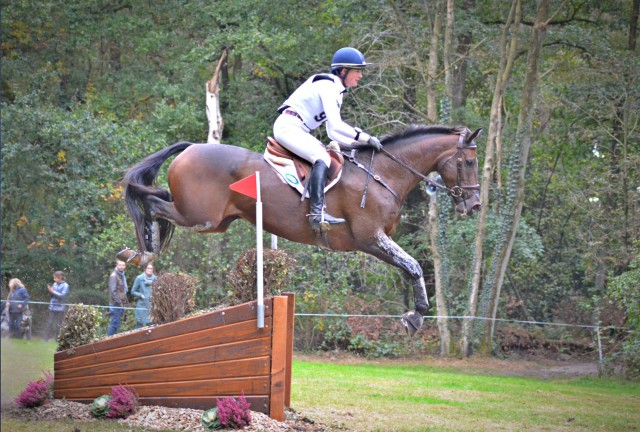 While the party-goers at Boekelo are gearing up for a bit of cross country and day drinking, here we are (or is it just me? is anyone out there at 4 a.m. on a Saturday?) Stateside with a sleepy eye on the live stream. Give yourself a pat on the back, friend, you are a seriously dedicated fan! With any sense, we would all stay in bed with the live stream running and simply set the alarm clock to the following times to at least be awake to watch USA's girl squad on course. You can always check back here later to get all the action-packed details.
If you missed it, click here to hear our riders and Coach David O'Connor thoughts on today's challenge and for virtual a tour around the course with commentary from designer Sue Benson.
#MBE16: Website, Schedule,Entries, Dressage Ride Times,Leaderboard, Live Stream, EN's Coverage, @eventingnation, Instagram
Whew! What a morning, and what a way to finish with Lauren Kieffer and Meadowbrook's Scarlett's lovely lovely round. Two extra seconds over the time puts them second place behind Stephanie Bohe and Haytom for Germany, but the scores are extremely close and they are absolutely still in the game. Elinor MacPhail and RF Eloquence are 22nd after their clear round, and Tamra Smith and Dempsey made a huge leap up the standings from 69th to 36th. Leslie Wylie will be along with a full report and photos from Boekelo in a bit. Go Eventing.
4:00 a.m EST: Goedemorgen! Boekelo is underway in the Netherlands. Thanks for joining us this early morning to cheer on these riders. Our first American rider doesn't start on course until 6:20 EST, but we have a couple hours of great cross country action to enjoy mean time.
4:00 a.m. EST: Oliver Townend (GBR) and Cooley SRS are the first on course and they're having no trouble so far with only a handful of fences to go. They are ninth after dressage.
4:11 a.m. EST: There were some withdrawals before cross country, so we have a total of 94 horses to see today.
4:20 a.m. EST: Tom Van Den Broeck and F F Welldone for Belgium were clear with 33.6 time penalties while Oli had only 2.4 penalties.
4:23 a.m. EST: Paul Tapner parted ways with Bonanza King of Rouges at 9C. The horse took off too long and couldn't quite make the step out. Bonanza took off and Paul was quickly on his feet. Huge bummer as they were third overnight.
4:34 a.m. EST: Matthieu Vanlandeghem (FRA) and Safran du Chanois ENE HN picked up 20 at the third skinny wedge at fence seven but had a clear round otherwise with 22.4 time faults.
4:35 a.m. EST: New Zealand's Daniel Jocelyn gives us our first clear inside the time with Beaucatcher, that will send them into show jumping on their dressage score of 57.2.
4:37 a.m. EST: Tegan White (IRL) and Texan Style are really going for it. They were another to have a problem at the wedges at 7, the B element for them, but they've rallied and this Irish skewbald is putting in a cracking round. I do love his style!
4:43 a.m. EST: Alice Naber-Lozeman (NED) is elated with Coral Estate Harry Belafonte as they finish clear and inside the time! 53.9 will be their overnight score.
4:50 a.m. EST: Hedvig Wik had a refusal with Chippieh at the skinny table at 11C plus 18.4 time faults for an overnight score of 87.4. They're sending the horses out at around 8-minute intervals and the live stream has been going in and out just a bit, hence the pauses between updates.
4:54 a.m. EST: Germany's Anna Siemer has a fall with Chloe 21 at 17B, a brush corner. I didn't see it happen but will get back to you with any updates on the pair.
5:00 a.m. EST: Susanna Bordone brings home a clear round with 22.8 time for Italy riding Portphillip Jones.
5:02 a.m. EST: Those wedges at 7 will be the bugbear of the day. Kai Ruder and Ben Hobday both pick up a refusal at the B element.
5:07 a.m. EST: Ben Hobday and Ciletto H pick up another refusal at the skinny table at 17B. Meanwhile Great Britain's Nicole Rooke and Foreign Encounter finish clear with 25.2 time penalties.
5:10 a.m. EST: Charlotte Bacon and Last Touch have a stop at 7B. Let's take a look at this serious accuracy question. There are three wedges like the image below (the A element is slightly wider) on nearly a full S turn. It's early on the course, it's the second combination, and a huge crowd has gathered in the area. Most are having to swing wide to change a lead or slow down significantly to make the turns. Then you better fly straight and true!
5:19 a.m. EST: Marie Caroline Barbier and Picasso d'Oreal of France are the first to have a problem at the bounce brushes at the water at 9. It looked like the 13-year-old just pecked on landing and fell.
5:21 a.m. EST: The leader after dressage is on course now. Isabella Innes Ker and Carolyn have to go double clear to stay ahead of USA's Lauren Kieffer and Meadowbrook's Scarlett in second place.
5:23 a.m. EST: Fiona Breach and Drumhowan Black Magic are double clear with a masterfully timed ride. Isabella is clear through 17 so far.
5:23 a.m. EST: Isabella Innes Ker and Carolyn finish clear but with 14.4 time penalties, that means Lauren Kieffer and Meadowbrook's Scarlett will head out on course in the lead!
5:42 a.m. EST: Switzerland's Jasmin Gambirasio and That's It are eliminated after three refusals on course. Great Britain's Flora Harris and Bayano, 12th after dressage, part ways at 5B resulting in elimination.
5:52 a.m. EST: Gwendolen Fer and Traumprinz for France are another pair to have problems at 7B.
5:57 a.m. EST: Sam Griffiths (AUS) and Beaurepaire Nemo have a cracking clear round with 8.4 time penalties. Sam says in the post-ride interview that he took all the direct routes but took his time with the horse. They move down the leaderboard only slightly with a two-phase score of 52.0.
6:02 a.m. EST: The frustrating wedges at 7 continue to catch horses out. Blyth Tait (NZL) and Xanthus III have a stop at the first element. Norwegian team rider Heidi Bratlie Larsen has a stop at C with Euforian and opts to retire there.
6:12 a.m. EST: A masterful ride from Dutchman Tim Lips and the very experienced Keyflow. At 19 years old this horse still looks brilliant out there! Twelve time penalties and an overnight score of 65.7.
6:17 a.m. EST: Padraig McCarty and Bernadette Utopia are home clear with only 3.2 time penalties for Ireland!
6:21 a.m. EST: The first American of the day, Kylie Lyman, is on course now with Lup the Loop!
6:22 a.m. EST: Of course the live stream is freezing up while Kylie is on course. You guys all woke up just in time to watch her, didn't you?
6:24 a.m. EST: Rats! Kylie and Lup the Loop drive by the C element at 7.
6:26 a.m. EST: Lup the Loop jumps in huge at the water at 11, trips on landing but manages to recover but has no ability to reorganize for the bounce brushes out at B and C. That will be another 20 penalties and Kylie opts to retire. What a bummer.
6:40 a.m. EST: The live scores are now showing Kylie Lyman as having been eliminated after their problems at the water. Not sure why but we will keep you posted.
6:41 a.m. EST: Great Britain's Georgie Strang loses his balance over the second wedge at 7. He nearly hangs on but ultimately pops off of Cooley Earl which unfortunately means elimination.
6:52 a.m. EST: Alice Naber-Lozeman gets her second clear of the day, this time with ACSI Zamzam. They cross the finish only 2 seconds over the time for a two-phase score of 57.9.
6:53 a.m. EST: India's Fouaad Mirza and Touchingwood are eliminated on refusals at the wedges at 7. And Tamie Smith is on course with Dempsey!
6:55 a.m. EST: Tamie is very careful with the young Dempsey through the wedges at 7 and are clear so far!
7:02 a.m. EST: Jordy Wilken (NED) had a fall from Burry Spirit at fence 20, the "Tankwagen" and there is a hold on course. Tamie and Dempsey were clear through fence 19 before being held.
7:10 a.m. EST: We are back underway and will keep you posted on Jordy Wilken and Burry Spirit as soon as we have any information to share. Tamie Smith and Dempsey are clear now through 23. They take the direct route there and are four fences from home.
7:12 a.m. EST: Tamie and Dempsey have finished CLEAR. We're just waiting on their time.
7:15 a.m. EST: Raphael Cochet and Sherazad de Louviere for France were held also after Jordy's fall. Interestingly, he kept his horse trotting and cantering during the hold. They got back underway with fervor but drove by the corner after the bank at 23. They took the option B but incurred 20 penalties there.
7:18 a.m. EST: 16.4 time penalties for Tamie Smith and Dempsey. An awesome result for this young horse over today's tough course!
7:21 a.m. EST: Oliver Townend is on course for the second time today, this time with Ballaghmor Class. They pick up 20 at the wedge at 7b. The 9-year-old Irish Sport Horse left out a stride at the bank out of water at 9, tripped up the step and then crawled over the final element. Remarkably, they were clear!
7:24 a.m. EST: Great Britain's Beanie Sturgiss is just having all sorts of trouble at the water with The Corn Crake. The 9-year-old gives a resounding "no" at both the direct and long routes into water. The live scores show they were ultimately eliminated for three refusals.
7:28 a.m. EST: Boekelo has tweeted that Jordy Wilken's horse Burry Spirit is no worse for wear after their fall, but Jordy has been taken to the hospital to get checked out.
Helaas kwam Jordy Wilken ten val in de cross. Met zijn paard is alles in orde, Jordy is zelf voor controle naar het ziekenhuis. #MBE16 pic.twitter.com/WOfRBwkkBh

— Military Boekelo (@militaryboekelo) October 8, 2016
7:36 a.m. EST: Just one second over the time and a beautiful clear round for Great Britain's Sarah Bullimore and Lilly Corinne. They sit on a 50.9 after the first two phases.
7:42 a.m. EST: Umberto Riva (ITA) and Phoenix d'Amigny are clear and at the moment the scores say they finished in 9:15, which is well over a minute faster than optimum. I would be surprised if that was not a mistake.
7:47 a.m. EST: Felicity Ward and The Illusionist (IRL) retire after a stop at the drop at 23. Maxime Livio and Pica d'Or have a fall at fence 5 and are unfortunately eliminated.
7:49 a.m. EST: Megan Heath (NZL) and Camelot finish clear with 35.6 time penalties.
7:58 a.m. EST: Chloe Raty (BEL) parted ways from Axel Z at the water at 9 and takes an unfortunate bath but they are both up and fine. Samantha Birch and Hunter Valley II have a fall at the wedges at 7. They are up and okay but that unfortunately drops Australia out of the Nations Cup team competition. Laura Collett (GBR) and Mr Bass are home clear with 3.6 time.
Well that wasn't to plan, Bonza King of Rouges miss-read the step out of the first water trying to jump it too early & we both went splat!

— Paul Tapner (@TapnerEventing) October 8, 2016
8:16 a.m. EST: Jesse Campbell (NZL) and Amsterdam 21 had two refusals on course before a fall at fence 21. Both are on their feet and walking off course.
8:26 a.m. EST: Norway's Ellen Kristina Hynne and Dutchman Theo Van de Vendel are both home clear with time. Anna Freskard has also crossed the finish clear. You may remember this Swedish rider for her daughter Edwina, a future eventing star and her trusty pony.
8:30 a.m. EST: Ellie MacPhail and RF Eloquence are on course!
8:33 a.m. EST: Ellie is clear through those difficult wedges and has a beautiful ride through the first water!
8:35 a.m. EST: Ellie and RF Eloquence have successfully negotiated the three skinnies at 11, the other bogey combination on course. Tamie Smith is on course now too with Twizted Syster. Go girls, go!
8:36 a.m. EST: Tamie just can't quite get Twizted Syster straight after the turn to the second wedge at 7 and they pick up a frustrating runout. Clear on the second attempt. Ellie MacPhail is having a great ride, clear through 19!
8:38 a.m. EST: Twizted Syster a little awkward through the brush bounce at 11 but they are clear. Ellie takes the long route at the final combination at 23. They are just a few from home and so far clear!
8:40 a.m. EST: Ellie MacPhail and RF Eloquence finish CLEAR. What a classy round! Just waiting on their time now. Tamie and Twizted Syster are clear through 17.
8:42 a.m. EST: Tamie Smith and Twizted Syster have a fall at the rail in the water at 18. Twizted Syster just stumbles on landing and submarines into the water. Both are on their feet and walking off but that is a really unfortunate end to Team USA's Nations Cup outing.
8:44 a.m. EST: Ellie ended up with 17.2 time penalties. Andreas Dibowski produced the first double-clear we've seen in a while this morning, crossing the finish one second under time after a cracking round with FRH Butts Avedon.
Andreas Dibowski takes over the lead for Germany! He and his FRH Butts Avedon had a wonderfull cross! #MBE16 #foto__mark pic.twitter.com/BiT6mb4wQf — Military Boekelo (@militaryboekelo) October 8, 2016
8:59 a.m. EST: Tim Lips falls with Brent at 23A, the final combination on course. Germany's Kai Ruder finishes clear with over 30 time penalties on Travenort's Lucio. Alice Naber-Lozeman is on course with her third ride of the day, Coral Estate Curacao. She's put up two clears so far, can she get another?

9:05 a.m. EST: Coral Estate Curacao takes a peek at the first drop into water but he's very honest to pick up and carry on with encouragement from Alice. This 9-year-old is tackling his first CCI3*! They have another sticky moment at the trakehner line at 15ABC, but once again he tries really hard for his mom, who is convinced he CAN do it.. and he does!
9:09 a.m. EST: Flora Harris is not having the best day. She fell earlier from Bayano and has picked up two refusals now at the wedge combination with Cooley Lord Lux.
9:11 a.m. EST: Coral Estate Curacao takes out the flag at 23B but he keeps his shoulder inside to remain clear. Alice had to really work for it, but she's just thrilled with this young horse as they cross the finish without any jumping penalties and only 7.6 time penalties. She's been pumping the air all day and with good reason! Alice Naber-Lozeman has had three out of three clear rounds, one double clear, another with  0.8 time and now the third with 7.6.
9:14 a.m. EST: Flora Harris is eliminated after a third refusal on course. Oliver Townend raises his hand and retires MHS King Joules after a hard stop at the drop into the first water. The 11-year-old just never seemed to find his rhythm despite the expert guidance from Oli.
9:19 a.m. EST: We are approaching the final ten horse and rider combinations to tackle this course, including Lauren Kieffer and her Pan Am team gold medal mount Meadowbrook's Scarlett at 10:04 EST.
9:25 a.m. EST: Irishman Padraig McCarthy was having a super round with Dromgurrihy Blue and fell off at 17. The horse managed to stay on his feet for the most part while Padraig went over his head. He's holding a tissue to his nose but is on his feet and seems otherwise fine.
9:31 a.m. EST: Izzy Taylor (GBR) and Trevidden are double clerar with the second fastest round of the day (Umberto Riva's 9:15 is still standing on the live scores) at 10:33. That moves them well up the leaderboard from 22nd to a likely top 10 before show jumping and gives Great Britain the lead in the Nations Cup!

9:33 a.m. EST: Vincent Martens (BEL) retired Zeta after problems at the skinny fences at 11ABC.
9:39 a.m. EST: Sir Mark Todd and Kiltubrid Rhapsody, fourth overnight, are on course and could really put the pressure on Lauren Kieffer and Meadowbrook's Scarlett as there is only a 0.2 penalty difference between the two pairs.
9:47 a.m. EST: Mark Todd finishes clear, 11 seconds over the time for a two-phase score of 46.7. They will finish the day no lower than 4th.
In the team standings for the @FEI_Global Nations Cup @militaryboekelo, GB currently leads from NED & NZL #MBE16

— Eventing Worldwide (@EventingWWNEWS) October 8, 2016
9:52 a.m. EST: Mark Todd says in the post-ride interview that Kiltubrid Rhapsody is a new ride for him and being a long course and the horse not a Thoroughbred, he was unsure how he would cope, but said the Irish Sport Horse jumped well and galloped to the finish.
9:53 a.m. EST: Hans Bauer for Norway and Præstegårdens Leopold are clear and five seconds under the optimum, giving us our sixth double clear of the day. They move well up the leaderboard from their 40th place after dressage.
9:56 a.m. EST: Sweden's William Nilsson Fryer and La Liga have a fall at the second jump on course. Italy's Pietro Sandei also has an early fall on course when Rubis de Prere pecked on landing at number 3, unseating his rider.
10:00 a.m. EST: There is going to be a hold on course while officials check on Pietro.
10:10 a.m. EST: We are back under way.
10:12 a.m. EST: Lauren Kieffer and Meadowbrook's Scarlett are on course! they are currently leading with a few points worth of time penalties breathing room over Andreas Dibowski. COME ON LAUREN!
10:16 a.m. EST: Lauren and Meadowbrook's Scarlett absolutely beautifully through the wedges at 7, maybe the best we've seen all day.
10:17 a.m. EST: Absolutely foot-perfect through the first water.
10:19 a.m. EST: Germany's Stephanie Bohe and Haytom are double-clear and move ahead of Andreas. Lauren and Scarlett look excellent through the trakehner combination at 15 and the combination at 17.
10:22 a.m. EST: Lauren is clear through the final combination on course! She is four from home!
10:23 a.m. EST: Lauren is over the last! She's clear! She crosses the finish six seconds over the time which will drop her back to second behind Stephanie Bohe, but what a cracking round! It was so smooth and they made it look easy! The O'Connors and the amazing Team USA are there at the finish to congratulate them and help tend to Scarlett.
Comments