Photo Courtesy of Luann McElduff
It wasn't so long ago that Boyd Martin was visiting Area Five and teaching a highly anticipated clinic at Pine Hill Farms in Bellville, TX. It was then (in October) that Boyd and I got to sit down and chat about the financial demands of this sport. That clinic was such a success that organizer Kristy Limon (of Excel Eventing) immediately began planning Boyd's next trip to the southern states for additional teaching opportunities. As luck would have it, he was available before the end of the year!
This past weekend, in torrential rains and blustery winds so relentless that any sane person would be safely indoors, twenty riders (and their various grooms/husbands/boyfriends/etc) gathered at Meadowcreek Park in Kosse, Texas for the yet another Area Five Boyd Martin Clinic. And inclement weather aside, Boyd made the whole experience a fun and educational success!
Boyd Gives Instruction to Clinic Students on November 25, 2011 (Photo Courtesy of Luann McElduff)
Day One – Stadium
The stadium arena was a sloppy mess on Saturday morning, so nobody (from intermediate level to beginner novice) jumped very high. Evenso, the low level gymnastics Boyd designed were challenging and technical for the clinic-goers. He taught each group a similar theme that focused on flexibility and balance in both horse and rider, utilizing a multitude of turns and precise distances to pull the best ride out of everyone.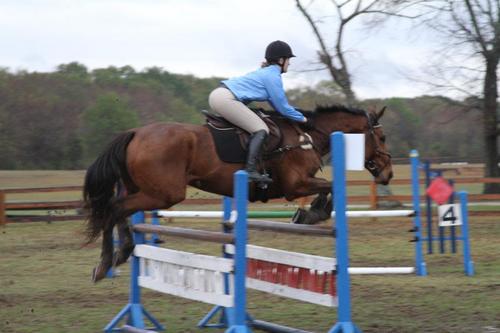 Ambra Pira and Alfie Complete an Exercise over an Oxer on Stadium Day (Photo courtesy of Angie Pira)
Exercises (for those who might want to pursue the idea at home) included:
– Three stride lines of varying distances, requiring lengthening and shortening of the horses stride
– a bounce line designed out of narrow brush boxes, without standards. This demanded very forward, active, and precise riding by the student to avoid losing impulsion or straightness. Boyd wanted us to "place" our horses where we deliberately wanted to go.
– A set of five alternating angled verticals, set in a zig zag pattern. These were used in a variety of ways, including jumping each one at a perpendicular angle, then completing a rollback to the next jump at a perpendicular angle, until the rider reached the end of the line of verticals. This truly tested the horses balance and flexibility in muddy conditions, and had riders planning their course. We also jumped straight down the line over each vertical at an angle, using an encouraging seat to send the horse forward and navigate the center of each jump
– A series of turn-heavy courses, requiring straightness on the approach to obtain the proper striding within the jump combinations and lines.
Boyd giving instruction to rider Maddie McElduff and Rosie during Stadium Day (Photo Courtesy of Cheryl Stephens)
Boyd was encouraging and inventive on stadium day, urging riders to be more proactive on their horses while also keeping the atmosphere light with humorous quips and jokes. We all had a lovely time during our lessons and felt ready for the excitement of the cross country day.
But let's not forget the clinic participant dinner! Forty Six horse enthusiasts (all the riders, plus entourage!) met up at a small southern cooking restaurant called Austin's in downtown Kosse for dinner and drinks among friendly faces. Boyd was the life of the party (naturally), moving around the table to swap friendly jokes and answer questions. We had a delicious home-style meal including fried chicken, mashed potatoes, corn and greens. And some of the clinic-goers even provided beer and wine! (Boyd's favorite Amstel Light was in attendance, of course)
The Fabulous Clinic Attendee Dinner – Organized by Kristy Limon!
After the dinner had wound down at Austin's, some of the group took the fun back to the barn to sit around a bonfire and talk under the stars. I think it's safe to say that was a great night for everyone!
Day 2 – Cross Country
Boyd Demonstrating Proper Gallop Position on Kristy Limon's horse, Elliott
Sunday morning started early, with the first group riding at a frosty 7:00am. The prior night's temperatures had dropped as low as 31 degrees, and the chill had yet the wear off by the time the sun broke over the tree line. High winds buffeted the riders from all sides, but it wasn't enough to deter our eventing spirit, or keep us off of Meadowcreek's large cross country field. The one favor that the high winds did for us was to dry up the rain from the previous day, so the footing was firm but forgiving – perfect for a day of eventing!
Aly Mulconnery and Aspen begin a Cross Country Jump Combination on XC Day
Boyd's lessons on this day focused heavily on rider position when riding cross country. He started by describing the gallop position to each group and having them demonstrate their ability to hold the position, correcting where necessary. He explained the importance of using rider posture, not their hands, to slow and lift a horse on the approach to a jump. Boyd also explained that one of the primary differences between stadium rides and cross country rides was the necessity for a longer rein on your horse, to allow a freer and more forward motion in jumping. Boyd wanted us to be able to change our position from a gallop to a jumping seat without changing the length of our horses' necks.
Here's Boyd himself explaining the importance of rider position!
And again, explaining why we strive to ride Cross Country well!
Many of the exercises on this day were meant to reinforce these main points, as well as the value of a good approach to the jump, with the horse in front of our leg. Boyd spoke several times on staying behind the horse in the saddle, stating that he'd "only ever seen one person fall off the back of the horse when jumping, most fell off the front!" We practiced building confidence in our horses over solid obstacles, and how to use our eye to ride a "twelve foot stride, twelve foot stride, ten foot stride" to the base of the jump.
Boyd Instructs a Clinic Rider over an Open Ditch
Although the day was relentlessly cold and windy, I don't think there was a single rider that didn't gain some useful instruction from the experience. For certain, no one regretted braving the chill to come out!
The Boyd Martin clinic was truly a great experience, and I feel so fortunate to have had the opportunity to ride with him twice now. I honestly cannot wait for his return to Area Five next year!
And as a parting shot, here's a little "Boyd Pantomime." See if you can figure out what he's saying over the wind!
Author Note: I'd like to give a big Birthday Shout-Out to Clinic Student, Maddie McElduff. Maddie turned Eleven Years old this Monday, and she celebrated her birthday in style at the Boyd Clinic. Maddie McElduff and Orion's Rosealene finished this show season at the Top of the USEA 2011 Beginner Novice Leaderboard, coming in as the Number One junior rider in the country! Congratulations Maddie!!