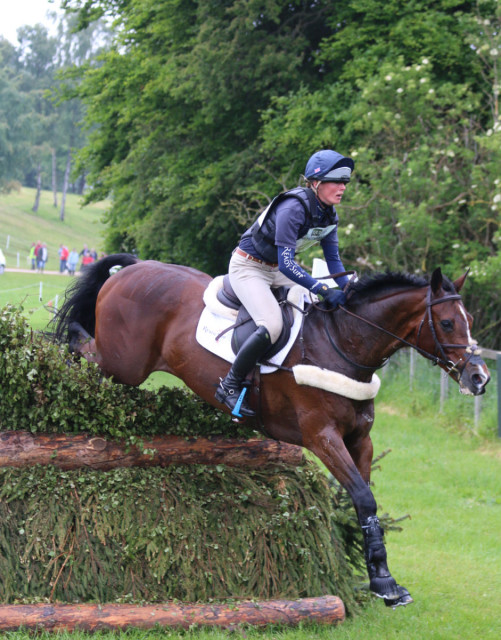 As expected today's cross country shook up the leaderboard, but the top three remain unchanged with Flora Harris and Bayano still in pole position after a flawless clear round inside the time. There were 13 clear rounds inside the time, and 52 clear jumping rounds. Eight combinations were eliminated and two retired; three withdrew before cross country.  (All scores here)
The forecast rain arrived early this morning, but not in the deluges we had perhaps been dreading, and most of the riders agreed that along with the extensive watering and spiking on the course it only helped the going. Ian Stark agreed that this may have been a big factor in why we saw so many horses finishing strong.
" I thought the standard of riding was fantastic. There were a lot of really lovely young horses out there which was really encouraging for the future of the sport," Ian said. "I think people are now aware that they have got to have a really fit horse here, and it was top of the ground. There weren't that many inside the time and considering the perfect conditions I thought more might get the time, and they still had to work for it, it wasn't just a walk in the park."
We mentioned earlier how proud we should feel of Caroline Martin and Lauren Kieffer after their great rounds today, and Ian only emphasized this when he pointed out that he feels that Bramham is a real stepping stone to Burghley or similar.
"I certainly think if they went confidently around there they're ready for a four star; beforehand all the riders were all telling me it was a three-and-a-half star anyway! What I liked was that I didn't feel that there were any traps on the course, it was all very open. There were a lot of big questions and serious questions but it was all very obvious to the horses.
"I think people know my tracks more now and without exception I think the riders had a certain bit of fear and respect for the course, and so often when riders are a little bit wary they ride better. I thought it was quite a tough track but it didn't cause as much trouble as it might; having said that there were some lucky escapes! What really pleased me was there were a lot of really nice young horses growing in stature and confidence as they went round."
Flora Harris told us yesterday that she had changed her preparation after a cheeky mistake at Tattersalls a few weeks ago, and her hunch paid off today – Bayano was foot perfect for her.
"He was excellent, it all went to plan. I watched a few go in the morning and they had some different distances to what I'd planned, but I very much wanted to stick to my plan because things tend to go wrong for me if I change my mind so I was quite pleased when it all came off today!"
William Fox-Pitt cruised round on Catherine Witt's Fernhill Pimms to stay in second place overnight; the horse has had a good preparation for Bramham and this could either be a stepping stone to Burghley or perhaps his owner's first chance to go on a Team Trip?
"I was delighted with him. He's been on very good form this year and I was hopeful that this course was a good one for him and he went as well as I could have hoped. He was very straight and made it feel very easy, and he did the time which is very tough to do as well.
I think this sets him up for something exciting in the Autumn whatever that may be. We'll just take each day as it comes, and it depends maybe on the selectors; he may actually go to Burghley. I think this is a good test; you'd like to think if they went well here and finished confidently and full of running that Burghley was a very natural progression."
Kitty King added a couple of time penalties to her dressage score but stays in third place overnight and is still delighted with Persimmon's performance today.
"I was just thrilled with how he went, he gave me a really good ride and he didn't finish tired at all. He galloped through the water, up the hill and all the way home as quick as he does up the gallops first time so he had plenty left in the tank, and he was really straight at everything and he was extremely careful at the rails we fell at last year! (the water at 12). He had his toes up around his ears there and it was nice to get that blip behind us. He was super all the way around."
Pippa Funnell had warned us yesterday that she would ride the course today according to her horses' needs and she did indeed add a few time penalties to her dressage score on each one. Sandman looked fabulous the whole way round but she was taking no chances with him, and you can only admire her all the more for sticking to her guns.
Billy The Biz was leading the CIC3* division, and she joked later that she trotted in the woods on purpose so that local rider, Yorkshire girl Nicola Wilson, lying second on her Rolex horse Annie Clover would take the win. Unbelievably this is Nicola's first Bramham victory, made all the sweeter as it comes on her parents' lovely mare Annie Clover, and she also finished fourth in the same division on her other Rolex mount Watermill Vision.
Gwendolen Fer and Jodie Amos capitalized on fast clear rounds to move up and fill the fourth and fifth spots with Romantic Love and Wisecrack for France and Great Britain respectively.
Further down the leaderboard we saw some big move-ups (and a few plummeting down). Francis Whittington and Fernhill Highlight looked fabulous and are now in the top 10 after what looked like an effortless hack around for 0.4 time to add to their dressage.
Paul Tapner rode Vanir Kamira like a man possessed after a fall at the second fence on Prince Mayo – after being asked to withdraw Yogi Bear from the dressage I imagine he was going to get one out of three round whatever it took!
Izzy Taylor on Dax Van Ternieuwbeke and Sarah Ennis both rode proper, old fashioned cross country rounds, as if they were out for a good day's hunting – these are two riders that the youngsters should be watching and emulating!
Crown Talisman looked super at the beginning of the course but was noticeably one of the more tired horses at the end; I'm still waiting for a reply from Nick Gauntlett to talk about his round, but as the wifi is also "very tired" (practically non-existent!) at Bramham at the moment he may not have got my messages.
I have a confession!  I am now a fully fledged Ben Hobday fan – yep, or should I say, yeh boi, I've joined the masses! Where I'd once dismissed him as a joke (or even perhaps worse!) I talked to him after his dressage on Mulry's Error at Badminton and was swayed – there's a smart, sensible man beneath the swagger!
I've since watched him ride a few other horses and have to admit he's good, too! He rode Baroque Du Vi in the CCI this morning and was pretty impressive through the first water where I was sitting, and also finished 9th in the CIC on Ramilo. Now it's my life's dream to get Laine Ashker to Burghley so they can both meet up, make selfie-love and live happily after!
Today was a good day for Bramham, and for the sport in general; we ran on time almost to the minute all day long, and it was a very long day. I saw the ambulance and medics mostly hanging around chatting all day, filling time, which is wonderful to see them with nothing to do!
Huge, huge thank yous to all the volunteers, especially the people way out in the car parks and road crossings who wait out there all day long for very little thanks and not even a lunch – we salute you. Well done to all the riders, grooms, support crew, organizers, it's more than a village, it might be a city.
The Final Horse Inspections start tomorrow morning at 8am GB (3am US eastern) followed by the U25 show-jumping at 9:45am  (4:45am US eastern). The lower placings in the CCI show jump at 11:30am GB (6:30am US eastern) and the top 25 will jump at 1:30pm GB (8:30 am US eastern). As usual we'll be bringing you as much as we can as soon as we can so come back as soon as possible. Thanks for reading, and thanks for going eventing – Go Bramham!
Bramham: Website, Schedule, Live Scores, EN's Coverage, @samanthalclark, Twitter, Instagram