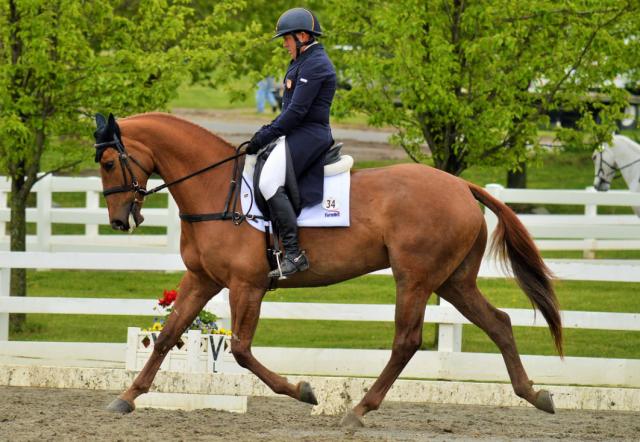 The CCI3* dressage has just kicked off here at Jersey Fresh, and the first nine horses have put in their tests to complete about a third of the division. Buck Davidson was the first rider in with The Apprentice, who laid down a superb test to put in for the lead on a 47.0. Buck's lead didn't last long, however, as Courtney Cooper and her homebred, Who's A Star, waltzed in with a wonderful test to take early command on a 44.6.
Buck's second ride of the day, Copper Beech, was the last to go before the first break, and the 2006 Irish gelding, "Sean", laid down the relaxed and expressive dressage test we've gotten used to seeing. With that ride, Buck has taken over the lead with a 43.2 and will sit happily in first and third going into the break.
The scoring in the CCI3* is proving to be similar to that in the CCI2*, with moments of brilliance and, above all, relaxation, being rewarded the most generously. Kurt Martin, Caroline Martin, and Holly Payne all dealt with some tension from their respective horses, with Never Outfoxed misbehaving the most for Holly. Holly rode like a true professional, doing her best to keep a tight lid on her horse, who definitely would have rather been running cross country today. We do, however, know that all of these horses are more than capable of running and jumping, so the next two phases should prove to be influential.
Sharon White's lovely mare, Under Suspection, is making her CCI3* debut this weekend and currently lie in fourth place on a 52.8. This mare is a fantastic mover, and while this score is a bit higher than her fourth-place score at Fair Hill last month I'm sure she will be pleased with this effort today.
We're on the first of two breaks for the CCI3* today, and there are still plenty of heavy hitters to challenge Buck for the lead, including Michael Pollard with Ballingowan Pizazz and Buck Davidson with both Mar de Amor and Petite Flower. Go Jersey.
[Website] [Ride Times] [Live Scores]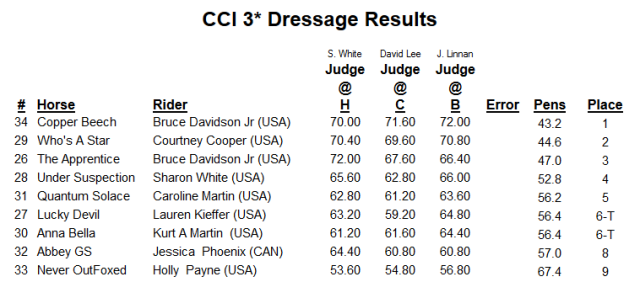 Courtney Cooper & Who's A Star:
Jessica Phoenix & Abbey GS:
Comments