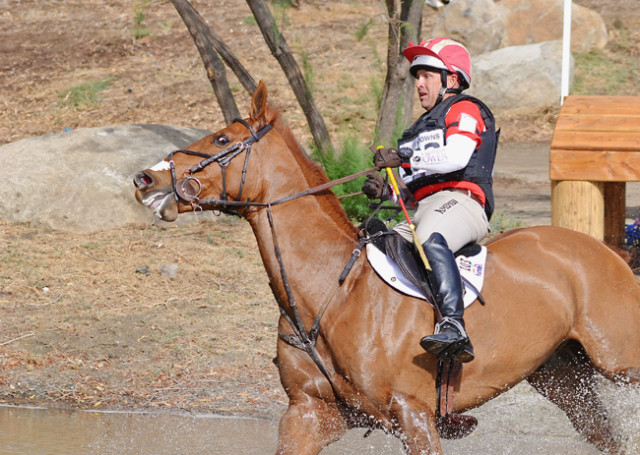 It proved to be a day that required aggressive, accurate riding to conquer Ian Stark's CCI3* track at Galway Downs International. With the dust — or mud — settled, Buck Davidson and Copper Beech are the overnight leaders after turning in one of the fastest rounds of the day, crossing the finish with just 5.6 time penalties to move forward to show jumping on a score of 50.
Barb Crabo had the fastest round of the day with Eveready II, coming home with 3.6 time penalties to move from fifth place up to second on 53.2. Maya Black and Doesn't Play Fair, who hauled across the country looking for redemption following a mishap at the Dutta Corp Fair Hill International, got their groove back today and remain in third place on 55.2 after jumping clear with 7.6 time.
Lizzie Snow and Coal Creek win the round of the day in our book, skipping around and making it look easy on a day when things didn't go as planned for several pairs. Their clear round with just 7.2 time moves them up from seventh to fourth place on a score of 57.6. Jordan Linstedt and Revitavet Capato also stormed around with 6.4 time penalties to move them from 13th to round out the top five on 63.6.
Buck came into the day hoping for a smoother round with Copper Beech than he had at Jersey Fresh in May in the horse's first CCI3*. Though they ended up winning, Buck said it wasn't the ride he wanted, and he actually moved the horse back down to Preliminary at Morven Park last month to get him more relaxed and jumping smoothly.
"Mentally he gave me so much at Jersey, but he had no idea what he was doing," Buck said. "I was aiming and kicking and holding and trying to do whatever I could to get over the jumps. I thought it was important to go back."
Buck and the owners, Carl and Cassie Segal and Sherrie Martin, planned for Galway Downs to conclude the horse's season, and the round today proved they made the right decision. "He's a very brave horse, and he's very honest," Buck said. "When he relaxes and lets me ride him, he's a much better jumper."
Though the start of cross country was delayed two hours this morning to allow the grounds crew to work on the footing, Buck said it dried out nicely, and he actually deemed it much better than last year, with the course proving to be trickier than he thought it would be.
"I thought walking the course that the Fair Hill two-star was harder than this with a couple of exceptions," Buck said. "But the ground is quite trickier here; it's a very twisty, turny course, so it rides a lot harder than it walks."
Maya Black said the footing was on everyone's mind before the start of the division, and while Doesn't Play Fair had one or two little slips here and there, she thought the ground held well considering how messy it looked this morning.
"There were a few deeper spots that I just let him cruise through," Maya said. "I didn't really kick him at all hardly. I maybe put my leg on in a few places, but he picked his pace through some of the footing."
Though "Cody" is the smallest horse in the field at just 15.3 hands, he has a big horse stride, and he held his own on the course. "I wanted to go out and have a consistent round with good jumps all the way around," Maya said. "It's great going out on a horse that you know will jump anything you point him at."
The show jumping has been a work in progress this year as Maya and Cody have stepped up to the Advanced level. They lost the CCI2* here last year after a rail at the second fence, so she's focused on having the best round she possibly can tomorrow.
"Every day is a new day," she said. "It has definitely been improving, and I'm feeling more and and more confident about it. I'm here this weekend to get all three days as good as I can, so I hope to go in and do the best we can do."
Eveready II gets better with age
Barb Crabo said she made the decision about three years ago to forgo CCIs with Eveready II, a 15-year-old Swedish Warmblood gelding she owns, but the horse has been feeling so good that she decided to come back to this event, where he finished third in 2011. "He keeps getting better with age; he's been sound and healthy all year, so we decided to go for it. He loves it so much, and he felt absolutely amazing out there."
Though Barb's 11-year-old daughter has called dibs on "Ready" as her future Young Rider horse, Barb said she isn't ready to hand over the reins just yet. "He's made it clear that he's not ready for that, and I'm not ready either," Barb said, emphasizing that he felt fantastic in placing fifth at both the Rebecca Farm CIC3* and Adequan USEA Gold Cup Final this summer.
As if the fastest cross country trip of the day wasn't enough to leave her over the moon tonight, Barb said she's also thrilled that they broke into the 40s in dressage yesterday, a goal she's been chipping away at for quite awhile now. "That made my year," she said.
What else went down in the CCI3*?
Half of the division ultimately jumped clear, with three riders completing the course with jumping penalties on their score cards: Gina Miles and S.V.R. Ron, Mackenna Shea and Landioso, and David Acord and Reins for Justice.
Boyd Martin and Trading Aces were the only pair to retire on course when the horse stopped at 19a, a devastating conclusion to their weekend at Galway Downs, as he hoped to prove the horse could conquer a CCI track after the World Equestrian Games. We have another post coming with comments from Boyd, so check back later to read that.
Kaitlin Veltkamp parted ways with Flashpoint D early in the course, and Ellen Doughty-Hume had a heartbreaking fall toward the end of the course from Sir Oberon, when he left a leg at the final water and she couldn't quite save it. Bunnie Sexton and Rise Against and Jolie Wentworth and Goodknight both withdrew before the start of cross country.
Marilyn Little is currently riding in the CCI* after holding the lead in the CCI2* with RF West Indie by just .7 penalties over James Atkinson and Gustav. We'll have the full two-star report coming your way shortly as soon as we get comments from Marilyn. Keep checking back for much more from Galway Downs.
Go Eventing.
#GalwayDowns: Website, Schedule, Entry Status/Times, Live Scores, EN's Coverage, CCI3* Preview, CCI3* Course Walk, PRO TV, PRO Tour Radio
Comments