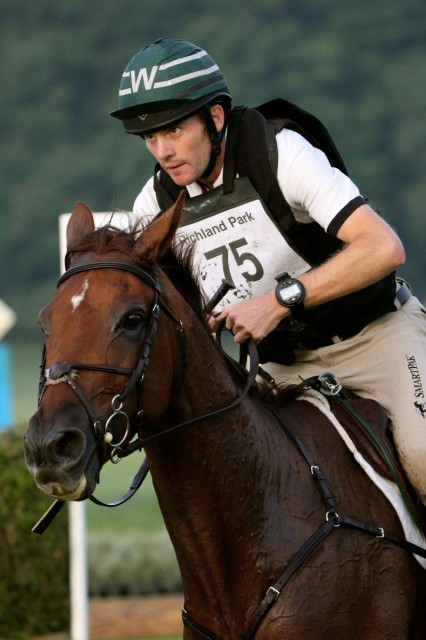 It was Ryan Wood's day to shine today on cross country in the CIC2* at the Virginia Horse Trials, coming home clear with just .2 time penalties to clinch his overnight lead. The cross country mainly just took time, with three pairs managing to come home double clear.
Daniel Clasing and Crimson were one such double clear, finishing on their dressage score to take home second place after holding third overnight. This mare is a promising talent for Daniel's string, and this marks her second runner up finish in an FEI division to date. We talent-spotted this mare earlier this year, so be sure to read up on her here.
In third place in the CIC2* are Ryan Wood and Woodstock Bennett, moving from fourth into third on a double clear run. What a weekend for Ryan – many congratulations are in order!
Meanwhile, the CCI* divisions ran cross country today, which proved to be influential in the overnight standings. Ryan Wood has taken the lead, moving up from second, aboard Powell after turning in a double clear run.
Sitting in second overnight are Marc Grandia and Indio BMW, who were able to move up from third to second. Overnight leaders Allie Knowles and On the Rocks elected to retire on course after picking up 40 penalties.
Moving up from fifth to third after cross country are Cindy Anderson Blank and Two Tickets, on their way to their best FEI placing to date in their CCI debut should they hold onto or improve on their position.
The scores are not updated in order currently, so visit this link to view the current standings after cross country.
For the junior CCI* division, Nicholas Hansen and Will Smith climbed their way from fifth to first after cross country today. Will Smith was formerly piloted by Danny Warrington, and Nicholas is making his first FEI start with Will this weekend.
Also making moves up the standings are Victoria Hain and Carpe Diem VII, who added seven time penalties to their dressage score for a two-day score of 58.4. Annelise Aurillo and Peace Proposal moved from 10th into third overnight.
Just one of the top four riders after dressage completed cross country, thus cementing this weekend's competition as anything but a dressage contest. 11 pairs will move forward to the final inspection tomorrow.
Visit this link to view the current standings in the CCI*JY division.
Be sure to visit The Horse Pesterer on YouTube to check out videos from the weekend. We're very glad to be able to live vicariously through him as the East coast season wraps up in style.
Virginia CIC2*/CCI1* and H.T. [Website] [Entry Status] [Times] [Live Scores]
Comments