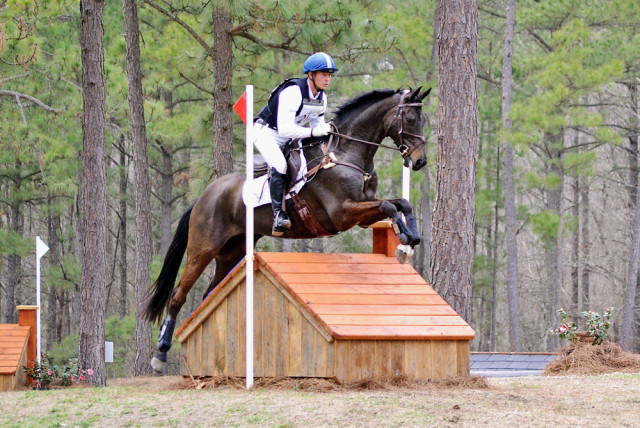 Chattahoochee Hills runs a late season Advanced alongside their CIC1/2*. It's generally considered a good opportunity for those in the south to move up to a new level, and indeed we have quite a few either stepping up to Advanced for the first time or knocking off rust after a long hiatus. Many of the horses here will likely head to Poplar Place and the American Eventing Championships next before making the trek up to Fair Hill.
The dressage test will be 2014 USEF Advanced-B, the usual choice. The cross country course designer is Hugh Lochore, who also designed for Carolina and Copper Meadows earlier this year. The show jumping course designer is Marc Donovan, who must be piling up his frequent flier miles after Millbrook and Richland earlier this month.
TOP THREE
1. Jon Holling and Downtown Harrison: Jon is bringing his 2012 Bromont CCI3* winner Downtown Harrison back out after a prolonged hiatus. This will be Downtown Harrison's first start at this level since running the Carolina International CIC3* in 2014.
Downtown Harrison averages a 26.9 on this test, which should be on or near the lead. A double clear show jumping round over Marc Donovan's show jumping course will cement his place. Jon will probably take his time cross country, averaging 14 time penalties across Hugh Lochore's course. Even cruising, he should comfortably take home the win with a score just over 40.
2. Brittany Kart and Llewellyn: Brittany and Llewellyn are another experienced pair who haven't been out much in the past couple years, making their last FEI start at Rolex in 2012. Brittany did bring Llewellyn out earlier this year at Pine Top and Poplar Place in the Advanced divisions.
Brittany and Llewellyn haven't performed this particular test in quite some time, but overall average a score of 30.7. They average two rails overall in show jumping and will be jumping their first Marc Donovan course in quite some time. An average of 18.8 time penalties over their two courses earlier this year would give them second place on a score in the mid-to-high 50s.
3. Emily Renfroe and Walk The Line: Walk The Line is yet another experienced horse returning to the upper levels after some time off. Emily and Walk The Line's last start at this level was in March 2014 at the Poplar Place CIC3*.
Emily and Walk the Line average a 39.2 on the B test. They haven't jumped any of Marc's courses in a while, but overall average two rails and 1 time penalty in show jumping. An average of 13.6 time penalties over Hugh's cross country courses should land them in third place with a score in the low 60s.
THE DARK HORSE
Libby Head and Sir Rockstar: Libby and Sir Rockstar were all set to head over to Luhmühlen in June until a broken wrist derailed their plans. They are back out now on their home turf of Chattahoochee Hills. Generally Libby and Sir Rockstar run quite a bit slower over Hugh's courses than they typically run overall, which would keep them out of the top three. But if they manage to maintain a pace closer to their average, look for "Rocky" to pop into the top three.
THE SLEEPER
Kyle Carter and FR's Trust Fund: FR's Trust Fund put himself on the map at the Ocala Horse Properties CCI2* earlier this spring, nearly unseating the undefeated RF Scandalous until a single rail bumped him down to third position. With the ability to score in the low 40s at the two-star level, it shouldn't be long before"Finn" is competitive at this level, too. If anyone can upset Downtown Harrison this weekend, it will be this horse.