On the West Coast, Twin Rivers is hosting its Spring Three-Day and Horse Trials in Paso Robles, California. The Advanced and CIC3* divisions are not large, but the task is no less difficult for horse and rider.
Andrea Baxter and her own Indy 500 are the sole competitors in the CIC3* to have show jumped today after Maddy Mazzola and Mojito withdrew after dressage. Andrea and Indy scored a 54.8 and were double clear in show jumping. On cross country, they picked up two refusals at fence 14, but carried on at the third attempt to finish with 60 jumping penalties and a bit of time.
In the Advanced, Anni Grandia and her own Chaos lead the four team field. They were fourth after dressage, but with the other competitors pulling multiple rails or adding significant time penalties, one rail still moved Anni and Chaos into the lead. James Alliston and Rolex bound Parker went from first to second with a rail and 4 time penalties.
Anni and Chaos unfortunately came to woes on cross country and were eliminated for a fall. Parker did what he does best and put in a double clear round on a tough Derek di Grazia track for the win. Allison Sparks and Mystic Mojo took second with one resale and time.
Twelve horse and rider combinations started in the CCI2*. Heather Morris and Company The Team Express Group's Charlie Tango lead after dressage and cross country in the 7-year-old Irish gelding's first CCI2*. He scored a 42.5 in dressage and went double clear across the country. He has show jumped clear in his previous two CIC2* competitions, so if he recovers well and isn't feeling tired tomorrow he is likely to jump well.
In second place is Tamra Smith and De Mello in their first competition together. De Mello is an 11-year-old Oldenburg owned by Megan Lepper, who has ridden the gelding up to Advanced. Tamra and De Mello scored a 44.5 and were double clear on cross country.
Rounding out the top three is James Atkinson and Nabouco De Lessay, owned by Sarah Broussard and Martha McDowell. All of the top five pairs after cross country jumped double clear. Fourth place is Chloe Smyth and C.S.I, and in fifth place is Nikki Ayers and Andree Stow's Rubicon.
The Twin Rivers CCI1* had 19 starters, and 15 will move forward to the final horse inspection tomorrow. Kimmy Steinbuch and Ruth Bley's Sparticus D'L'Herbage won the dressage on a score of 45.6. They were double clear on cross country to retain the lead with less than a rail in hand over Julie Flettner and Pine Pong. Ruth herself sits in third place with Silver Sage on a two-phase score of 50.1.
Elizabeth New and Fleeceworks Mystere du Val, a storied horse we recently featured on EN, moved up from sixth to fourth with their double clear round. Sonya Bengali and Gershwin H.H., owned by Leah Feliz, moved up from eighth to fifth. There were seven total pairs to run into trouble on course and shake up the standings.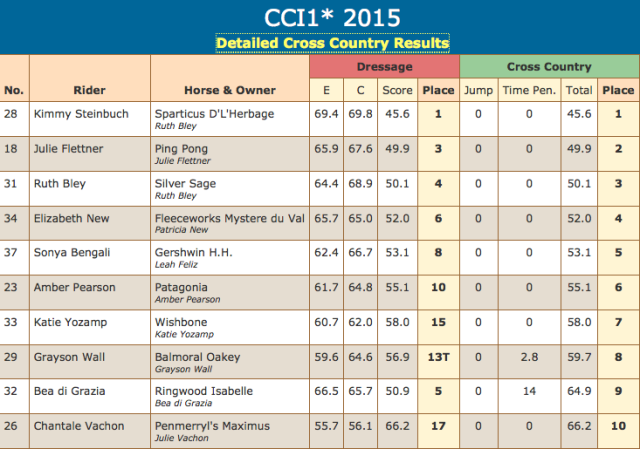 The Intermediate division show jumped today, and out of 16 pairs, only two jumped clear rounds. Overnight leaders Lauren Billys and Castle Larchfield Purdy, owned by the Purdy Syndicate LLC, was one of those pairs. They will start on cross country tomorrow on their dressage score of 29.3, well ahead of second place Bella Mobray and Star Vision, who had one rail today. Third place Natalie Kuhny and Case Closed II was the other team to jump double clear, and they were rewarded with a move up from eighth to third.
Twin Rivers is also hosting a popular Adult Team Challenge at the Beginner Novice, Novice, Training and Preliminary levels. After dressage and cross country, the Area VII Yahooligans lead Preliminary, the Foxy Four are standing strong in Training, Team 5 leads Novice and while the three-man junior team called Fleur de Lys currently leads the Beginner Novice team challenge, the leading ATC team is Chasing the Dream. We'll be bringing you more detailed coverage of the ATC at Twin Rivers, so stayed tuned!
Twin Rivers H.T., CIC, & CCI  [Website] [Omnibus] [Entry Status/Ride Times] [Live Scores]
Plantation Field is hosting a Novice through Intermediate horse trials this weekend during their April event. Ryan Wood currently holds both first and second place in the Open Intermediate division after dressage and show jumping.
Recent runner-up in the Carolina International CIC2*, 9-year-old Powell, an Oldenburg gelding owned by Summit Sporthorses Ltd, Inc., produced a dressage test that scored a 25.9. His stablemate Alcatraz, a 10-year-old KWPN gelding owned by Sarah Hughes, produced a good test as well to score 28.9. Both Powell and Alcatraz show jumped clear to sit in first and second place, respectively.
Battling it out for third is three riders who scored extremely close to one another in dressage, so not a moment must be wasted on cross country tomorrow. Matthew Bryner, Booli Selmayr and Ian Roberts are within 0.4 points (1 time penalty) of one another.
Plantation Field H.T. [Website] [Omnibus] [Entry Status] [Ride Times] [Live Scores]
FENCE Horse Trials in Tryon, North Carolina and Pine Hill Horse Trials in Bellville, Texas are taking place as well this weekend. FENCE is a favorite of Areas II, III and VIII, and Pine Hill shows some excellent dressage scores on the live scores. Check out the links for these two events below.
If you're enjoying a weekend eventing or hanging out with your horse, let us know what you're up to in the comments!
FENCE H.T.  [Website] [Omnibus] [Entry Status] [Live Scores]
Pine Hill H.T.  [Website] [Omnibus] [Entry Status/Ride Times] [Live Scores]
Comments