The CIC3* top three all laid down strong efforts to remain on their dressage scores going into tomorrow's cross country after this afternoon's show jumping. Marc Donovan is the show jump course designer, and his course proved doable for the leaders and caused a handful of issues throughout the rest of the division.
"(The course) really stressed forward riding with an adjustable horse," Ellie MacPhail, in second currently, said. "The course was made up of mostly related distances on bending lines, and you had options for whatever ride was most suitable for your horse. With the atmosphere of the big arena here, it's especially hard to keep them focused and it rewarded the horses that were more rideable in the forward and back questions."
Jacob Fletcher was the only one of the top three to incur jumping faults, just four, but he was still able to remain in third place on a 52.6.
Buck Davidson had eight jumping faults with D.A. Adirmo to drop into fifth place, while Avery Klunick moved up into fourth with a double clear round on In It to Win It.
Just one other CIC3* rider had a fault free round: Tiffany Cooke and Patent Pending. Jump and time penalties are on the remaining riders' cards as they look ahead to Hugh Lochore's cross country course. Time will almost certainly prove to be a factor, as some riders are using this event as a prep and others have horses newer to the level.
Libby Head and her scrappy OTTB, Sir Rockstar, have overtaken the lead after show jumping in the Advanced. Libby is headed for the CCI4* at Luhmühlen next month, so this event is one of her final prep for her first trip overseas.
Libby will take a score of 37.2 into cross country, but she doesn't have too much breathing room with Julie Norman and Consensus breathing down her neck on a 37.8.
"I think right now my plan is not necessarily to push him for time, but I'll definitely go at a nice clip as my last real fitness run before we leave," Libby said. "I don't want to hammer him too hard but I also want to make sure I'm not wasting this run (as an opportunity) to get him fitter."
With her second CCI4* — and first trip ever out of the country — looming, Libby is definitely feeling the nerves, but she's ready for the challenge. "I am really nervous but I'm really excited, I've never been out of the country myself so taking a horse out of the country too — there are so many things that I didn't even know I needed to think about! But I'm really excited to do it and to have this experience. It would be great to do well, but just being able to do it is awesome."
Julie and Thomas incurred four jumping faults but will look to cross country to put all the pieces together, and Zach Brandt with Cavallino Cocktail moved up from fifth to third with a double clear effort.
Elisa Wallace and Corteo had eight jumping penalties to add to their score for a total of 46.7 after two phases, and unfortunately Lara Borson-Knight elected to retire Shooby Do on course. She reported on her Facebook page that Shooby felt not quite right, so she will save him for another day.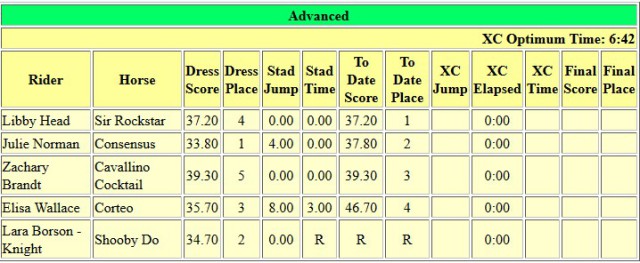 CHC International: [Website] [Ride Times] [Live Scores] [Facebook] [Rather Be Riding Photography] [By the Numbers]