The CIC*
In the interest of being able to give his Canadian students the very best advice of course, Clayton had entered Catchascatchcan in the CIC* and jumped a beautiful clear round in the show-jumping to lie in 5th place overnight, before changing back into civilian clothes and resuming coaching duties!  Dressage leaders Andrew Palmer and Tatendrang go into the cross country in the lead despite having a rail, and Andrew also lies in 6th place on Inamorato. You can find all the live scores here.
Andrew Palmer and Inamorato, 6th
It was great to see Andrea Leatherman back out on Mystic My, she jumped clear and they go out on cross country in fourth position while the Bruce Davidson bred Chesterlands Image had one rail down and starts the final phase in 17th place.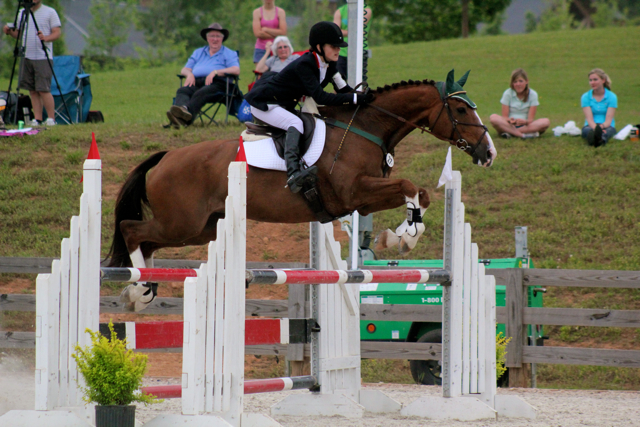 Canadian Grayson Wall and Stryker jumped clear to start cross country in 7th place
Anna Sheets and Weatherly jumped clear to start cross country in 8th place
Nick Cwick and Rivertown Lad
Caroline Martin, first to go, and such an impressive rider, this time on Roller Skate
Hilary Irwin and Bit of Irish
Elena Ceballos and Cooley Nothing Better jumped a lovely clear, and Elena then went on to jump another nice clear in the CIC** on her more experienced horse Nounours Du Moulin.
Abby Hamblin and Silver Flash
–
The CIC**
Buck Davidson on Tiger Lion, above. Buck currently leads the CIC** on No More Rocks after a fabulous clear round. As the light dimmed and the shadows began to appear problems began to crop up, and clear rounds became more and more scarce. Buck's big grey horse, Shear Mizou, who is related to Leslie Law's Olympic Shear horses and has advanced experience, jumped all the way round to the last fence which had a big dark shadow in front of it and refused to go any further resulting in a very disappointing elimination.  Victoria New's Fleeceworks Mystere Du Val was also very spooky all the way round and no matter how well and strongly Victoria rode, in the end he had a stop in the treble. Poor Christa Gandolfo was eliminated for starting before the bell on Camenicci.  Tessa Beckett's Sound Prospect had an uncharacteristic couple of stops early but then scraped by but in good news she told me later that her little dog Dobby has been found!
I spoke to Buck briefly afterwards and he thinks the jumping under the lights is a fantastic idea in theory that perhaps just needs a little tweaking. The temporary lights that are running on generators might be permanent and higher up which would mean they would cast less shadows on the actual jumps, and also as Buck said, most horses in the ring that night had never done that in their life; hopefully with practice would come improvement!  Likewise for my photography, I'm afraid I had to give up altogether after Buck's grey horse as I have no idea how to take pictures of jumping horses in the dark but I too, hopefully, will learn!
Bonner Carpenter and Basco never looked like touching a fence and are currently in second place
Julie Richards and San City had two rails down to drop to third place
Jenny Caras and Fernhill Fortitude jump clear and move up into fifth place
Ariel Grald and LBR Oleagh's Image sit in 18th place going into cross country
Alexander O Neal and Corinthian Spirit added one rail down to his dressage score
–
The CIC***
The rain started falling as the riders were walking the CIC*** course, and at this point, as grateful as we were to Cavalor for the delicious champagne, strawberries and belgian chocolates (I know, it's a hard life!) we were thinking they should have been serving double espressos! Phillip Dutton came in first on his second placed horse Team Rebeca's Ben and had the first fence down and two time penalties.  Erin Flynn Tamplin in next had two stops on Threes A Ruckus in the treble and was thus eliminated.
Madison Park jumped well for two down with Kyle Carter but, as with Ben at the first jump, simply seemed to misjudge one fence completely. Christa Gandolfo scratched Governaire, and then Alexandra Green brought Fernhill Cubalawn in and looked to have what seemed like a really nice round but had four rails down – what? Thank goodness for Jon Holling and DHI Zatopek B who were total class and should have been clear, they just breathed on one rail the entire round and it came down, apart from that it was perfection and showed everyone else that it could be done.
Duly noted, Angela Grzywinski came in and jumped a clean, fast round on Novelle, but she was followed by Libby Head who came off Sir Rockstar when he jumped huge over the oxer at Fence 8. Bill Hoos and Carmac posted 8 penalties, and Ellie MacPhail and RF Eloquence had a fast round with just one down. Caroline Martin and Quantum Solace had one of the most stylish rounds of the night along with Jon, just picking up two time faults, while Becky Roper had two fences down on Jireh. Lizzie Snow rode Coal Creek beautifully, she just had the skinny jump down at 6 and also picked up a couple of time penalties. Allison Springer was giving Copycat Chloe a beautiful ride and was clear until the third last when she stopped at the very last minute and Allison did well to stay on – she jumped clear to finish after that but picked up 16 time into the bargain.
Rick Wallace and his faithful campaigner Ultimate Victory had three down, and Erin Flynn Tamplin had trouble again in the treble on her second horse Royal Ruckus, but managed to survive and goes forward to cross country with the 12 jumping faults and six time. Veronica and Lauren Kieffer were a joy to watch, and move up into second place after their flawless clear, putting the pressure on Phillip and William Penn, who delivered, also jumping clear, but adding two time penalties to their dressage score.
Although the CIC*** cross country doesn't start until later this afternoon, most of the grooms weren't finished until some time around midnight, and of course will be up at a normal time this morning, or earlier if they have horses running in other divisions. Massive props to them all, and to all the jump crews, volunteers, organisers, supporters, helpers, family and friends – thank you! We have scattered showers and thunderstorms forecast all day today (I knew my luck wouldn't last!) and cross country starts in just under an hour at 9am. Thanks for visiting EN, Go CHC International and Go Eventing!
–
Buck Davidson and No More Rocks in the CIC**, courtesy of thehorsepesterer.
Comments