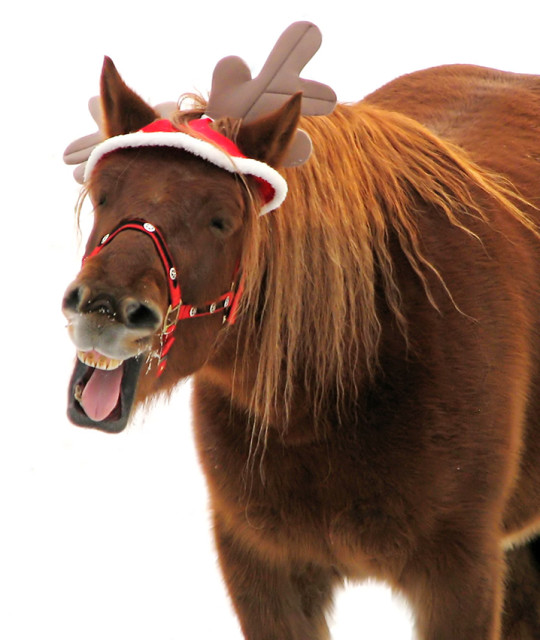 Merry Christmas everyone!! I hope your day is filled with ridiculous outfits, and you get to eat like there is no tomorrow, and you perhaps have more than one glass of wine (if that's your thing). Also, may your ponies get all they wanted for the holidays, because we all know that they get the top listings on the wish catalogue.
News From Around the Globe:
Leave it to Tokyo to keep Christmas weird. An aquarium in Tokyo had Santa and Rudolph dress up and feed the fish inside the tanks, and even hugging a shark. Also, there were seals doing handbells to christmas carols. I can't even. [Santa & Rudolph Underwater]
In case you weren't aware, Lady Gaga lived every little girl's dream this year when she got a white horse for Christmas. Given to her by Interscope records, Gaga is now the proud owner of an oddly bug-eyed incredible grey arabian mare. While we don't know the back story or even the name of the mare, we do know that now Gaga's instagram will be filled with literal unicorns. [Horse Nation Celeb Reports]
Year-end listicles are coming your way. What were the top stories of 2015? For The Horse, your favorite source of answers to all your bizarre questions, the list might surprise you. Readers were most interested in sweat marks on saddle pads, beet pulp FAQs, and bedding issues for snoozing ponies. Go figure. [Top Stories 2015 The Horse]
If you're thinking of adopting a horse this holiday season, hooray! But also, as with any animal you bring into your family, it's a lifetime commitment. While little girls getting ponies for Christmas and crying is always adorable, be sure to know what you're getting yourself into. Lots of rescues around the country offer holiday discounts, and it's a great way to get an awesome horse at an incredible price. [Adopting a Christmas Horse]
OH CRAP….forgot someone special?  No worries, you can send a gift card for SmartPak amazing-ness right now. Email that sucker right now, and you won't even be considered late. Christmas day is saved! [SmartPak Saves Christmas]
Look. At. This. Pony.
[adrotate banner="85″]
Comments