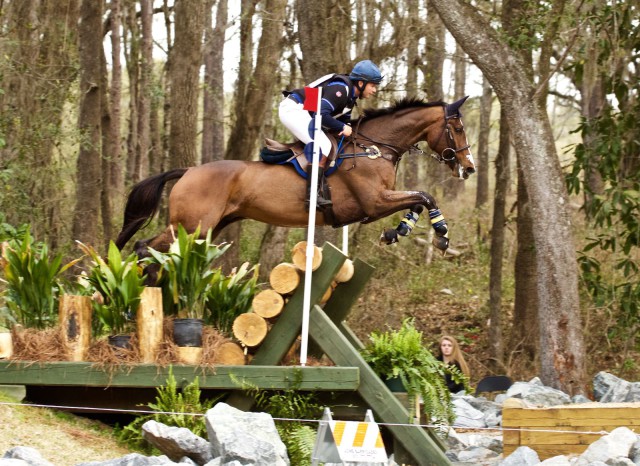 Clayton Fredericks held onto his Red Hills CIC2* overnight lead with FE Bowman thanks to a speedy cross country trip, but Caroline Martin and Effervescent broke up his party at the top of the leaderboard when they snuck in as one of only three pairs in the division to make the optimum time.
FE Bowman, an 8-year-old Wurttemberger gelding known as "Bowie" that Clayton owns with Amanda Bernhard and Diana Crawford, jumped clear with 1.2 time penalties to lead on 42.6, and he stablemate FE Money Made sits in third place on 48.8 after a clear round and 4.4 time penalties. "Connor," a 7-year-old Westphalian gelding, shares the same group of owners and celebrated his birthday yesterday, making it a memorable weekend so far for Fredericks Equestrian.
"FE Bowman was great. He really locked on and galloped and jumped super. He is strong and very forward, so you have to be quite careful to press the go button with him because once you've pressed it, it's pretty hard to do something else," Clayton said.
"I started off and thought, 'I'm going to let them tell me how they're feeling.' FE Money Made is pretty green and young, and he jumped super. Coming into the fences he was a little bit looking everywhere but at the jumps, although he jumped super when he finally sort of worked out how to get into it."
Clayton competes on a lighter schedule because of his commitments as head coach of the Canadian Eventing Team, and he said it's been valuable for him to be back competing at this level under the pressure of defending the lead after dressage in a competitive division.
"I think it's important even from the coaching perspective to stay current and realize actually how much pressure is on the riders when they go out cross country," Clayton said. "You always walk the courses a little bit when you're not riding, but there's a lot to focus on. When you're riding you really have to listen to your horse so much and let it all happen."
Caroline Martin and Effervescent, a 10-year-old Irish Sport Horse gelding owned by Sherrie Martin, were one of only three combinations to make the optimum time on David O'Connor's CIC2* course. "Landon," who was produced through the Training level by JP Sheffield in England before coming to the States, is looking more than ready to tackle his next big goal of moving up to Advanced.
"He's a really big horse and he has a really big stride, so it doesn't feel like you're going that fast and it doesn't take that much to set him up anymore," Caroline said. "This is his second year at the Intermediate level so he's pretty seasoned now at the two-star level, and I'm looking to move him up hopefully at The Fork, so I was hoping to make the time easily."
The cross country course ran in reverse direction this year, which Caroline said she thought greatly benefitted the first part of the track in particular: "I thought it definitely flowed the first two minutes a bit better. It just put you in a very forward thought process."
Jessica Schultz and Lock N'Load and Katlyn Hewson and Fernhill Cascum Marco were the other two combinations to make the optimum time of 5 minutes, 37 seconds. There were three falls in the division, with all horses and riders walking away safely. Brazilian team rider Henrique Pinheiro and Land Quenotte do Feroleto jumped beautifully over the log in the Wildlife Pond before the mare lost her landing gear on the backside of the fence, sending them both for a swim.
There were three horse falls in all today, and everyone involved is uninjured sans bumps and bruises. Daisy Trayford and Normandy Soldier went down after the horse got tangled up in the angled brush at fence 4b on the CIC3* course. Ellie MacPhail and RF Panamera are uninjured after the mare misjudged a corner on the Intermediate course and fell.
If you're just tuning in to EN, Phillip Dutton and Fernhill Fugitive won the CIC3* earlier in the afternoon on a final score of 43.2. Click here to read the full report. All other divisions will conclude with show jumping tomorrow. Lauren Kieffer and Veronica lead the Advanced division after cross country, with Hannah Sue Burnett and Alonzo III holding the top spot in the CIC.
We still have much more to bring you from Red Hills, including quotes from the CIC3* top three finishers and other division leaders, so stay tuned! We're also playing a Caption That contest over on Instagram, so go check that out if you haven't already. Go Eventing.
#RHHT: Website, Entry Status, Ride Times, Live Scores, EN's Coverage, Twitter, EN's Instagram
Comments