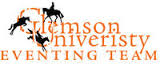 After a brief hiatus for the Aiken Eventing season, I am back to tell you more about what collegiate eventing is, where it is, and what it can do. This week I am bringing to you a questionaire that I did with Christina Kearse, a member of the Clemson Eventing Team for several years now.
Q: How long has you school's Eventing Team been established?
A: This is our 10th year.
Q: Who were your team's founders?
A: Laurie Mays and Tanya Thomas
Q: What was the goal(s) of forming your school's Eventing Team?
A: To bring together collegiate eventers while representing Clemson University and to foster the education and training of eventing team members, and encourage our members to compete and grow in their equine experience and knowledge.
Q: How successful has your team been in meeting this goal or goals?
A: We have been extremely successful in meeting our goals. We have grown from a club consisting of about 10 members to now having 30 members ranging from all levels of eventing.
Q: How many members does your team have?
A: 30
Q: What are some of the biggest challenges your team has faced or is facing?
A: Gaining funding either from the school or outside sources has always been a struggle. The increase in attention towards collegiate eventing, however, has helped expose our team better to our university.
Q: What do you think your team does best?
A: Our team works extremely hard with limited resources to bring the best clinicians and opportunities to our members in order to further our experience in the sport while also growing and working as a team.
Q: Where does your team need improvement?
A: I think our team's need for improvement starts with more recognition from our university.
Q: What do you do for community service?
A: We collect donations and donates the money we earn from concessions at our fundraisers to local causes
Q: What do you do for fundraising?
A:We host two Combined Test, Dressage, and Jumper shows as well as a Hunter Pace in the community for our main fundraisers. We sell peppermint wreathes during the holiday season as well as merchandise at local events.
Q: What are some of your current goals?
A: To continue our education of eventing by hosting as many clinics to our members at discounted rates. We also try to compete as a team in as many collegiate team challenges as possible, while making it more affordable for our members to come in horse trials. We are also trying to grow in members and gain more recognition by our university.
Q: How do you plan to achieve these goals?
A: We will continue to fundraise and reach out to sponsors to help with finances and we will continue to represent Clemson University to bring more attention and recognition to our team for increased support from the school.
Q: What does your team want collegiate eventing to move towards and eventually achieve?
A: We want opportunities for all levels, to lower the cost of entries for students, and cheaper or free clinics with international level riders
Q: What are some of the obstacles in the way of collegiate eventing achieving those goals?
A: Funding and limited member resources
Q: What do you think needs to change in our sport to make that happen?
A: Improving the quality of competition throughout all levels, turning focus towards to developing riders at lower levels, and making collegiate competitions more accessible to all riders
Comment with the school you want to see featured next below!