Your new leader Paul Tapner on a score of 56.4 #MMBHT pic.twitter.com/w4oG4e6ZL4

— Badm1nton H Trials (@bhorsetrials) May 10, 2014
I think the photo above just about sums up how each of the 34 finishers of the tough Badminton course felt upon crossing that finish line. I'm going to mention again that I had incredible foresight when I took a risk and predicted that Paul could pull it all together this weekend and kick ass. GO TAPERZ!
I could create a whole post full of crazy moments from the cross country today, but I will say that one of my favorite runs of the day was Nicola Wilson and Beltane Queen. They were asessed 21 penalties for breaking a frangible pin, but otherwise had a cracking good round….despite this moment in time!
This is why Nicola Wilson got 21 pens for the frangible pin. She was inside the flag just! https://t.co/NUCwKWM8lz pic.twitter.com/rTT2pYa1Yr

— e-Venting (@e_Venting) May 10, 2014
*
Schramm eventing had a good day at Jersey, with both Dom and Jimmie finishing the CIC3* as they aim their two horses, Cold Harbour and Bellamy, at Bromont CCI3*.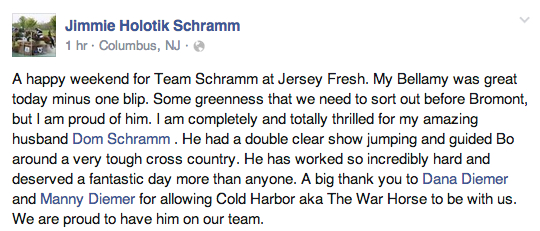 *
Nobody could catch Doug Payne all weekend, he led wire to wire in the CIC3* at Jersey Fresh. A great prep for their international debut at Saumur!
Awesome pic of Tali to win the Jersey CIC*** photo thanks to @eventingnation & @sallyspickard #AFinthebkground pic.twitter.com/ooFGYOZAGM

— Doug Payne (@dpequestrian) May 10, 2014
*
Of course the day wouldn't be complete without some podium selfies…
WOW what a day! Amazingly influential XC with penalties spread round whole course-the way it should be! @timpricenzlpic.twitter.com/Ep39e9QVcy

— Paul Tapner (@TapnerEventing) May 10, 2014
*
Sadly many riders today did not have the finish they were looking for at Badminton, and the consensus was that the ground combined with the ultra big course was just too much for many horses. From Peter Atkins: "Not the result I wanted but Henny's back in his stall eating hay which in reality is the most important thing. The ground here is very wet and deep and also very slippery in places. I used the biggest studs I ever have and they still weren't big enough!! He couldn't keep his feet under him. He was also struggling to get off the ground in the muddy places. He jumped great up the bank and through the owl hole but couldn't grip going down the hill to the skinny. I decided to head home with him. Thank you to all my supporters esp the ones that have donated to help our trip over. Henry gave me all he had but the weather and footing were just too much, not only for us but also almost for the majority of competitors so far. "
*
Tiana Coudray pulled through as the only North American to finish the course at Badminton, with two stops and over twenty penalties. However, she was thrilled with her boy, and he was a great scrappy mudder, and persisted even through the tough conditions.
*
You know what…Tamie might be right after all. Today was carnage both in New Jersey and in England.
*
Phillip had a good day at Jersey however, piloting Fernhill Fugitive to a clear round in the CCI3* to move into the lead overnight.
John Kyle reflects on how "not a dressage competition" and "an influential day" just doesn't cut it when we are referring to Badminton 2014. Check out this FEI TV footage of Paul's winning round (and his rather unique style on cross country).
*
On a day where anything could and did happen, we saw Sir Mark Todd take a ride on a sea horse….and live to tell the tale. Good thing Nico Morgan Photography was there to capture this magical moment!
*
Good thing Taperz has a sense of humor about all his "problems" right now…
Ha! 1st world problems: about 100+ twitter interactions, 100+ Facebook notifications, 50+ text messages, a dozen voice mails to reply to!
Comments