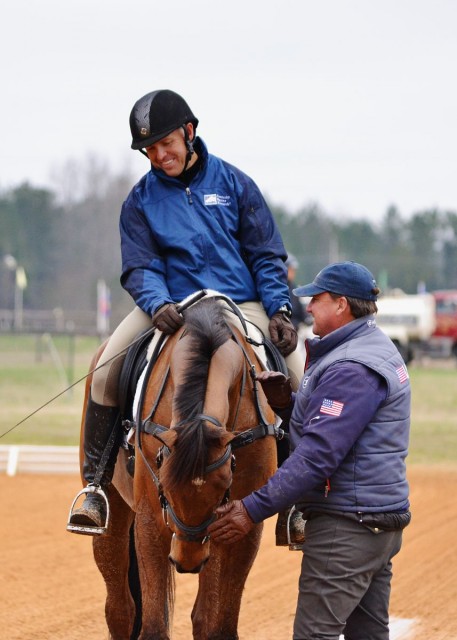 Team USA's Coach David O'Connor led the first of his sessions for High Performance riders at the USEA Annual Meeting & Convention today, hailing it the "is what it is" meeting, mainly reviewing the teams performance in Europe this year, as well as a couple key changes that will be made to the program in 2015.

He also touched on focusing on cross country in the High Performance training sessions in an effort to raise our performance in that phase; continuing to emphasize competing overseas to get out of our comfort zone; the importance of winning the Pan American Games — not just because of Olympics qualification; and looking ahead to the next major championships in the coming decade.
Dressage on the Upswing
Sixteen riders were selected to go to Europe this year and given support via grants. More riders than that competed in Europe, but David focused on evaluating the performances on the riders who were specifically selected to go.
Those riders delivered an average four-star dressage of 48.4, which is trending closer to David's goal of 45, or 70%. That's down from last year's average of around 50, so the dressage scores are trending in the right direction, David said.
"At the Worlds, we were in bronze medal position after dressage, and that's the first time that's happened in a long time. It's moving in the right direction, but it's still not consistently where it needs to be," David said.
But David said he's seen a shift in the way riders are handing the pressure in dressage, and he thinks that's going to set us up for more consistently good performance next year. "From my viewpoint outside the ring, I do believe this next year will present the biggest change, as I saw for the first time this year that people were really getting comfortable in the ring. There was a shift where people were able to attack the test," he said.
As David emphasized the last year, the issue in dressage continues to be on understanding technique. "You have to improve the level of riding from the technical side," he said. Understand the theory; understand the technical side. Then that creates instinct, which leads to being competitive, so that when you're in that competitive moment, it's done in the way you asked so the horse will understand, which then produces the results."
Accuracy continues to be hugely important, too, David said. Though he pointed out we only missed one change all year in Europe, other mistakes whittled away at scores. "What's required is a clean test. It's five steps in the reinback, not six, not four," David said. "If it walks, it changes and it does what the test tells you to do, automatically right there you're going to be sitting around or just below 50. If you finish there, that's actually quite competitive."
Though that's not where David ultimately wants to end up, as the goal remains that elusive 45 mark. CCI4* dressage tests in Europe averaged 48.4 this year. CCI3* dressage tests in Europe averaged 45.3. However, only 18 percent of four-star scores were better than 70%, and only 40 percent of three-star were better than 70%.
The team also saw improvement in show jumping this year, which David attributed to the hiring of Silvio Mazzoni as show jumping coach. The riders sent to Europe averaged 5.1 penalties in show jumping at four-stars and just under a single rail at three-stars. "That's a lot more clear rounds. In four-stars, 48 percent jumped with one rail or less, which was our goal. That's a big move from last year."
Cross Country as the Nemesis
And now for the not so good news. The team's cross country results did not improve from last year, with only 50 percent completing courses in Europe of those sent overseas. "That number is not going anywhere near high enough, and we haven't worked on cross country in any of the High Performance training sessions. We've done it though watching and commenting after rounds, and we're changing that."
Cross country schooling will now be a part of training sessions starting this winter, with David planning to focus on instinct exercises within combinations. "I think the bigger focus will have a huge effect," he said. "I've said this from the beginning: I don't think talent is the problem. We're not showing what we need to show, and I think part of it is discipline, especially when it comes to cross country."
Indeed, cross country is the team's biggest nemesis right now, David said. "For years and years, it was talked about that our dressage was the problem, but the reason we haven't won medals in the last 14 years is because of cross country. Yes, all the phases are tied together. You can't separate cross country from dressage or show jumping from dressage. But make sure it's put in our minds as to what's the biggest hurdle right now. It's a weakness we have inherently in our country."
David emphasized the cross country results aren't a reflection of whether or not the best cross country riders were sent overseas, as "these are the best we have, and what we're showing at international championships is not what we're showing at home. Remember, this doesn't include Kentucky, Jersey Fresh, Fair Hill and Galway Downs. These are the numbers when we leave our own island."
Leaving Our Own Island
The numbers would be much better if U.S. results were included, especially when looking at Rolex. "I don't think there's anyone who came out of Kentucky not rubbing their hands together based on what we saw that day," David said. "There was really good cross country riding on that day, but it didn't transfer when we got off the island. Everyone has to think about their ability for getting off the island. Can you produce what happened on the island?"
The U.S. is the third largest eventing nation in the world by number of competitions and competitors, David said, yet being isolated from the eventing hub of Europe means we have to keep going overseas. "We have to judge ourselves on what these numbers are even though one weekend might not be perfect," David said.
And here's what the numbers matter so much: funding. One-third of the team's funding comes from the United States Olympic Committee, one-third from private donors and the United States Equestrian Team Foundation, and one-third from the United States Equestrian Federation.
"We still have great support from the foundation, fan base and public, but the USOC is the one going, 'Hey!' And the way they say 'hey' is by touching our budget," David said. "It's completely results based, and you can argue whether that's right when someone is building a program, but at the end of the day, it's based on results."
If the USOC doesn't see the results they want, then the team doesn't get the funding it needs. The team has not yet received its funding allotment for 2015 from the USOC, but a total of $300,000 is slated to be cut from equestrian programs, David said. So there's no way around it: Results really matter.
What Went Wrong at WEG?
As for WEG, everything seemed to be going along just fine … until it wasn't "For WEG, we shipped over late. We tried to compete here in the States longer and shipped over a week before to Europe, and I think that was a good move," David said. "The training site in France was good. The horses were comfortable. Morale was good that week. I'd have to say our prep was pretty good."
Of course, it wasn't meant to be, with the U.S. failing to finish a team. "WEG was a very unusual situation," David said. "In my career, I don't know that I ever rode in conditions quite like that, and I always liked riding in mud. It never bothered me. But this was mud that really held the horses. It was a perfect storm in timing because the rain stopped on Wednesday, and it dried enough that the horses had to pull out of it."
Boyd Martin was ultimately the only rider on the team to jump clear around the course to finish 8th. "Out of the performances we had, one was very good, and it was not as aggressive because we'd already been beaten up. Boyd finished 8th, but he probably could've been higher. He did a good job with what he pulled off. If we were having a good day and Boyd could have cut loose, he might have been 4th or even higher."
As for Trading Aces and Ballynoe Castle RM retiring on course, David said it came down to the conditions. "We took six horses, and two just couldn't run in the mud — period. In my mind, it's that simple," he said. "There were some other performances that weren't up to the level, people coming into their first time at a championships."
Looking Ahead
So what does the performance at WEG mean for David's program going forward? "We stay on the plan; we adjust the plan; we're honest with ourselves about the plan, and then we go forward."
Here's a key point: "We have to keep in mind that we're not going back to Europe for a major championships until 2022. When you start thinking about what happened at WEG, you have to keep in mind what we're preparing for next," David said.
The team will next face the 2016 Olympics in Rio de Janeiro, where the cross country course will be on top of the ground on prepared footing. "There's one hill on the site; I don't know if it will be at the beginning or end of the course," David said. "It won't get a lot of rain. … For cross country, it puts everyone on a more level playing field."
Next up will be Bromont at the 2018 World Equestrian Games. "It's a site we know, though it won't look anything like it does now," David said. Then the team will go to the 2019 Pan American Games in Lima, Peru, before heading to Tokyo for the 2020 Olympics.
"In the end, we're not going back to Europe for a major championships for a long time, which plays more to our favor because it puts people more on a level playing field," David said. "We have to keep that in mind when we think about what happened and WEG and how we prepare for our next championship."
The Importance of the Pan Ams
Winning the 2015 Pan American Games in Toronto was always going to be a priority for Team USA, long before the team's incompletion at WEG left us without a qualifying slot for the Olympics.
"There's no question we have to win it. I don't think WEG changed that attitude. You always have to win. And we haven't won it before in past years, so don't think it's a walk in the park; you're going to have to fight for this," David said.
So which horses and riders will the selectors be looking at when it comes time to name the team? "Experience will count. Reliability will count. Showing that clear cross country rides will happen all the time. That doesn't mean we're taking four-star horses; that wouldn't be appropriate. It will be a mix of two- and three-star horses."
If Team USA does not win the Pan Ams, there's still the option of qualifying for the Olympics through the FEI rankings. "We have quite a few riders at the top of the rankings, but those riders will only qualify a slot for the team; you don't qualify yourself. A lot of people misunderstand that," David said.
Improving Our Self Image
David concluded with more emphasis in the importance of getting off the island. "We've gotten very good with competitions here, but when the game changes with something we don't know, we've proven we're not as good as that. When it's a site we don't know, when the ground conditions aren't what we usually see, we don't handle that as well. I don't care if it rains, if we draw the No. 1 slot, if it's soft ground or heavy ground; we just have to be one of the groups that overcomes."
Therein lies the goal behind David's efforts to send 15 to 17 riders per year overseas to compete. "It's to get out of our comfort zone. We're comfortable in our place, at Kentucky, the courses we know. As soon as we get out of our comfort zone, we're not as comfortable.
"If we go to Kentucky, there's a lot of really good riding. If we go to Fair Hill, there's a lot of really good riding. If we go to Galway Downs, there's a lot of really good riding. How does that not transfer over with the same riders and the same horses? That's a question we all have to ask ourselves. It comes down to riders knowing their horses and situations," David said.
A lot of it also comes down to our mental game, too, David said. "There's no question that I believe we also have a self-image problem," David said. "There are very few people that I believe think they can walk on to any stage and win. That's self-image. That self-image is part of winning; it's what that last 5 percent is. It's important to you and us as a country. We do have to get there."
Other Things of Note
An Eventing 18/Eventing 25 coach is in the process of being hired. There are two finalists for the job, who will be evaluated next week. The announcement is expected to be made around Christmas or the first of the year.
Dr. Susan Johns will be the lead team vet in 2015. Dr. Tim Randall will assist the team in England. Dr. Marc Koene will be used less now, as he has taken a job with the German dressage team.
Great Meadow will host the final prep outing for the Pan American Games team in June.
The team will emphasize sending riders to Bramham and less to Saumur and Pau next year. Bramham has terrain and going to accomplish the idea of "getting off the island." David wants to try to avoid Saumur due to the footing, and he thinks Pau's course can be punishing to the horses.
Many thanks to David and Joanie Morris for allowing EN to sit in on the High Performance sessions. It's very much appreciated!