Eventing Nation's coverage of the 2021 USEA American Eventing Championships is brought to you by Kentucky Performance Products. We want to share the joy of eventing this week, so we invite you to nominate an AEC rider for our "Kentucky Performance of the Week" contest, happening now in partnership with Kentucky Performance Products. Learn more here.
Friday was another busy-bee day at the USEA American Eventing Championships presented by Nutrena Feeds, with Advanced, Modified and Training champions being crowned, Novice cross country underway, and Beginner Novice dressage on the books. Here's a recap of the action!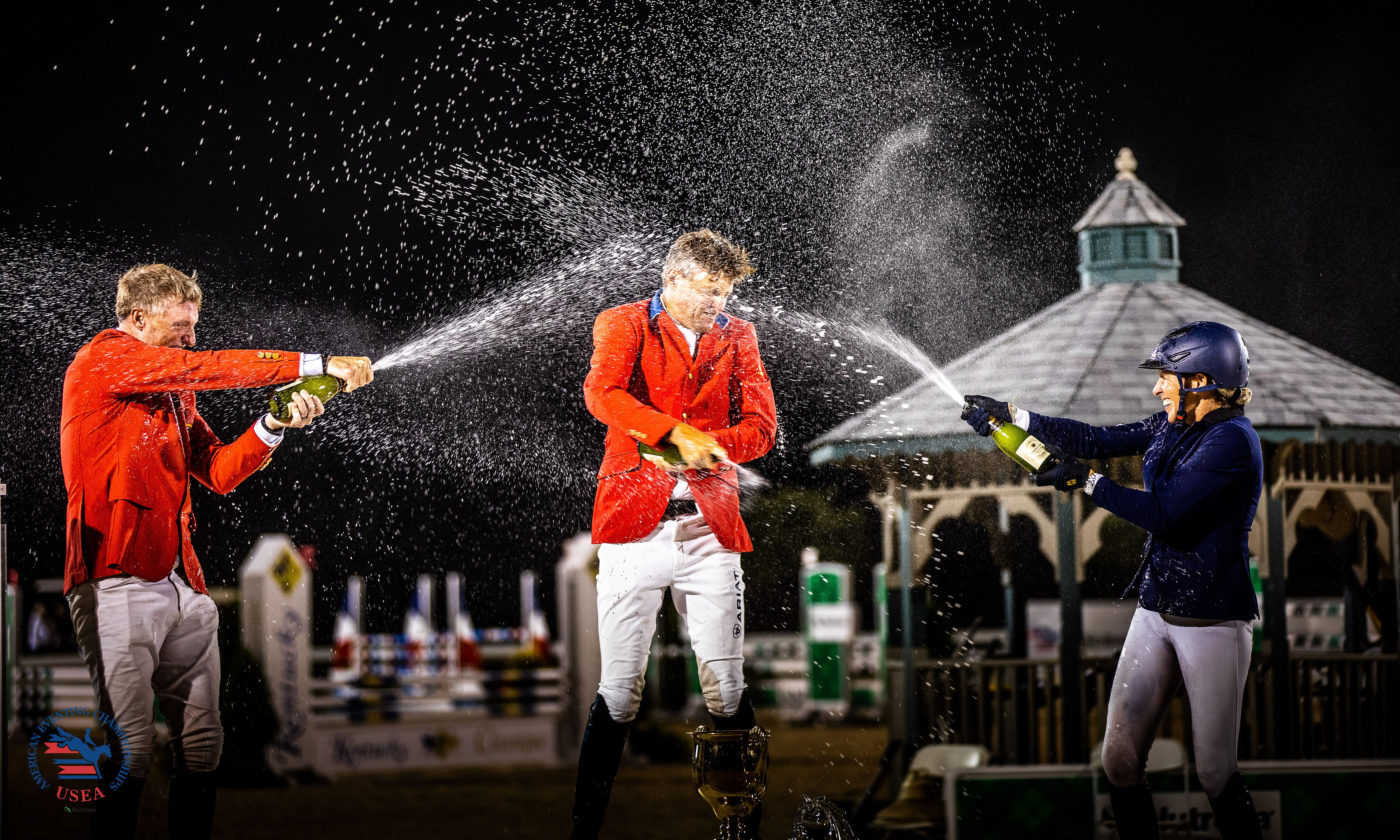 $60,000 Adequan USEA Advanced Final 
Boyd Martin came to the 2021 USEA American Eventing Championships (AEC) presented by Nutrena Feeds looking to defend his 2019 $60,000 Adequan USEA Advanced Final title and while he succeeded at the goal it wasn't with the same mount. However, Martin's victory lands him in the history books as the first rider to win the AEC Advanced class two times on two different horses.
After leading the dressage with Long Island T, Martin fell from him on the cross-country. He then returned and jumped a clear cross-country round with On Cue – déjà vu from the 2021 Land Rover Kentucky Three-Day Event. Martin started off his week in eighth place with Christine Turner's 16-year-old Selle Francais (Cabri de Elle x On High) mare but moved up to fourth after adding only 6.4 time penalties to his dressage score of 27.3.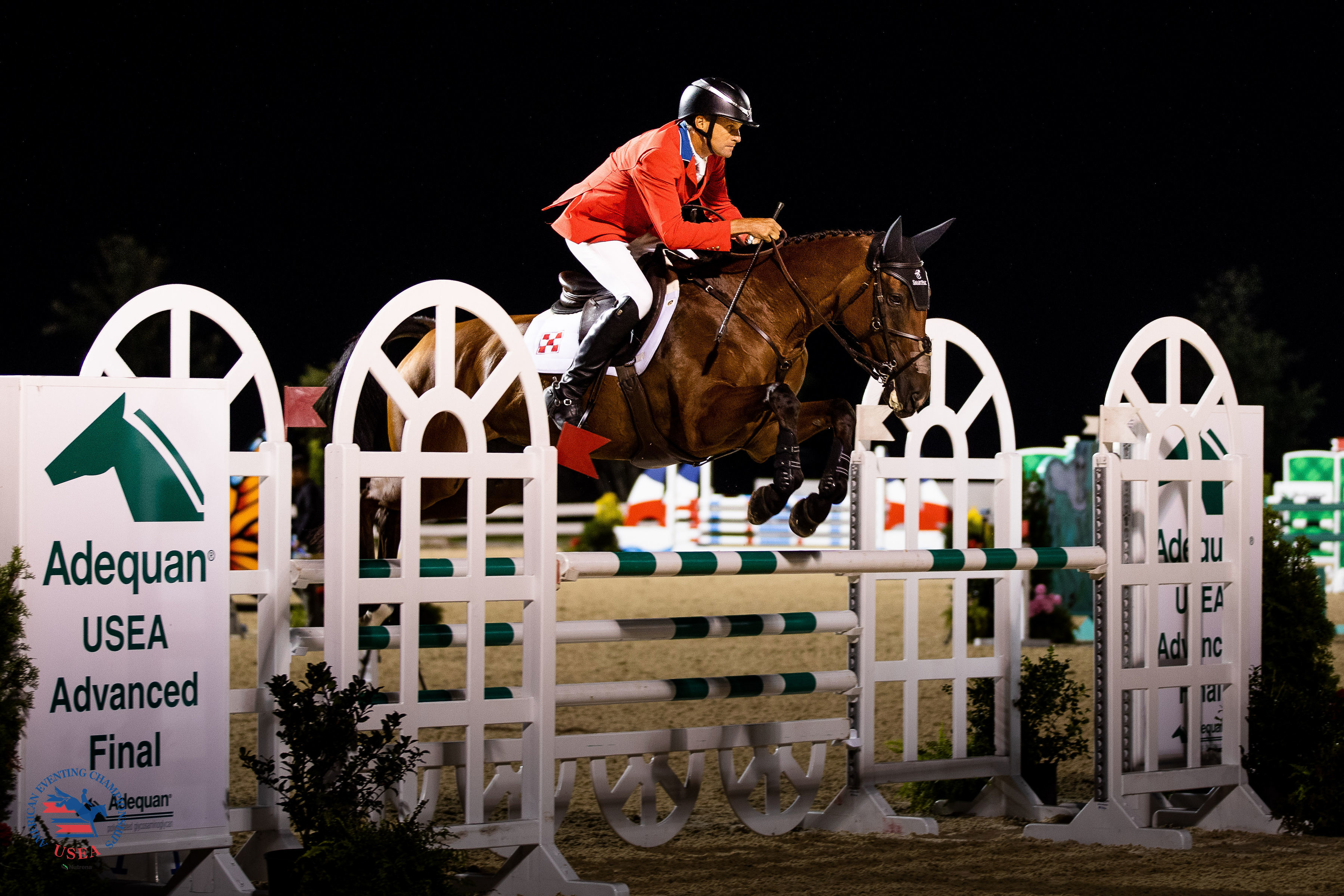 Bobby Murphy's show jumping course under the lights in front of a packed Rolex Stadium proved very influential to the top of the standings and when Buck Davidson lowered a pole on both his second and third-placed mounts and the overnight leader, Fylicia Barr, dropped two rails, it opened the door for Martin and On Cue to take the win and a check for $30,000.
"To be honest, coming into the show jumping phase tonight I didn't think I was going to win," Martin said. "There were plenty of good horses and riders ahead of me and it is a very high-pressure event."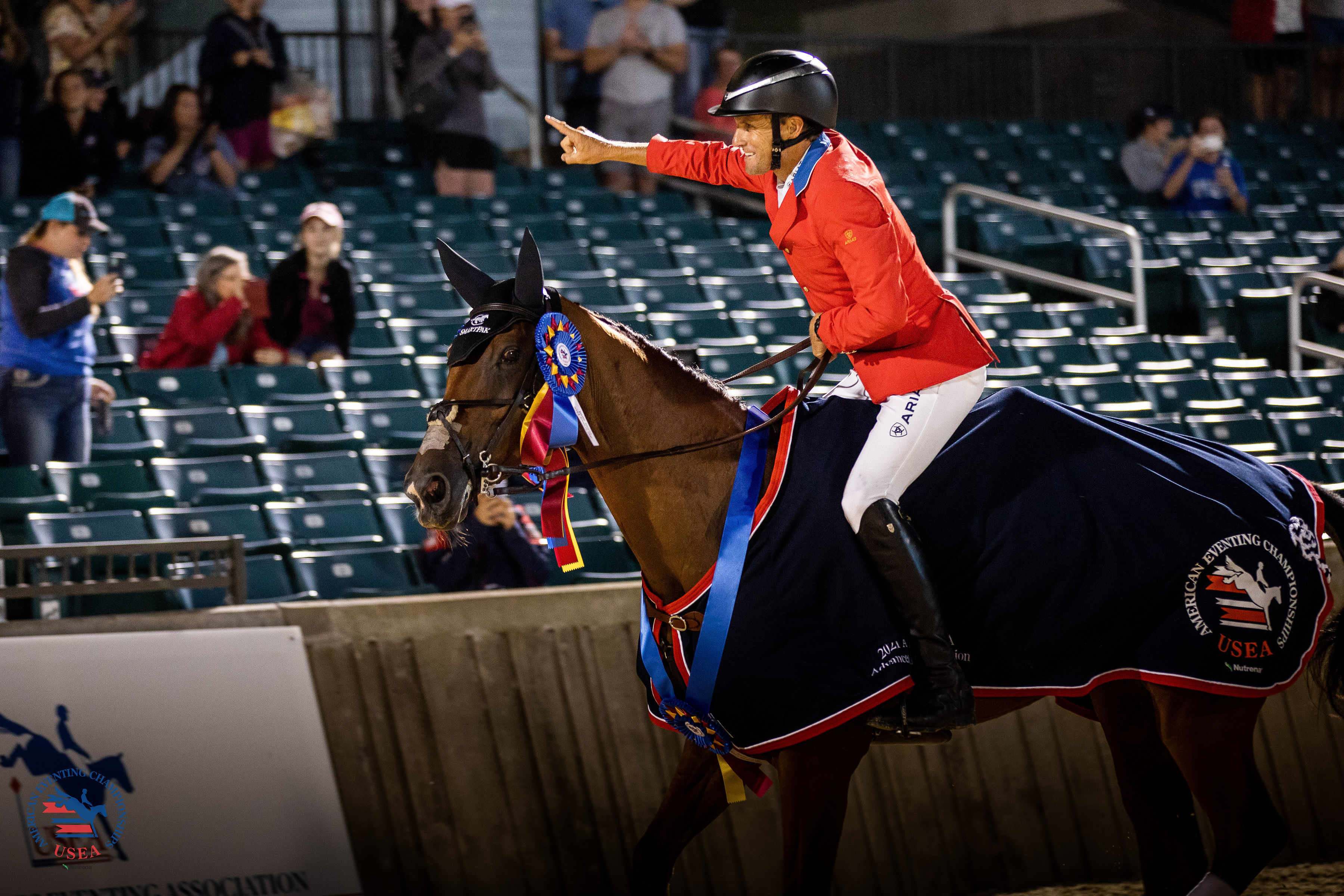 The mare is one that Martin is no stranger to riding the victory gallop with, having come in the top-placed American horse at the Land Rover Kentucky Three-Day event earlier this year.
"I am just thrilled with On Cue, she is everything you dream of in a horse— she's a mover, she's a galloper, she's sensitive, she's elegant, she's bright, and I'm just blessed to have her, she's been on fire this year," he said.
"I think the AEC this year has been incredible," he continued. "It is an awesome venue, and the competition was stiff with several good competitors jumping clear just before me, but it is a brilliant event and I can't thank the USEA enough for putting it on."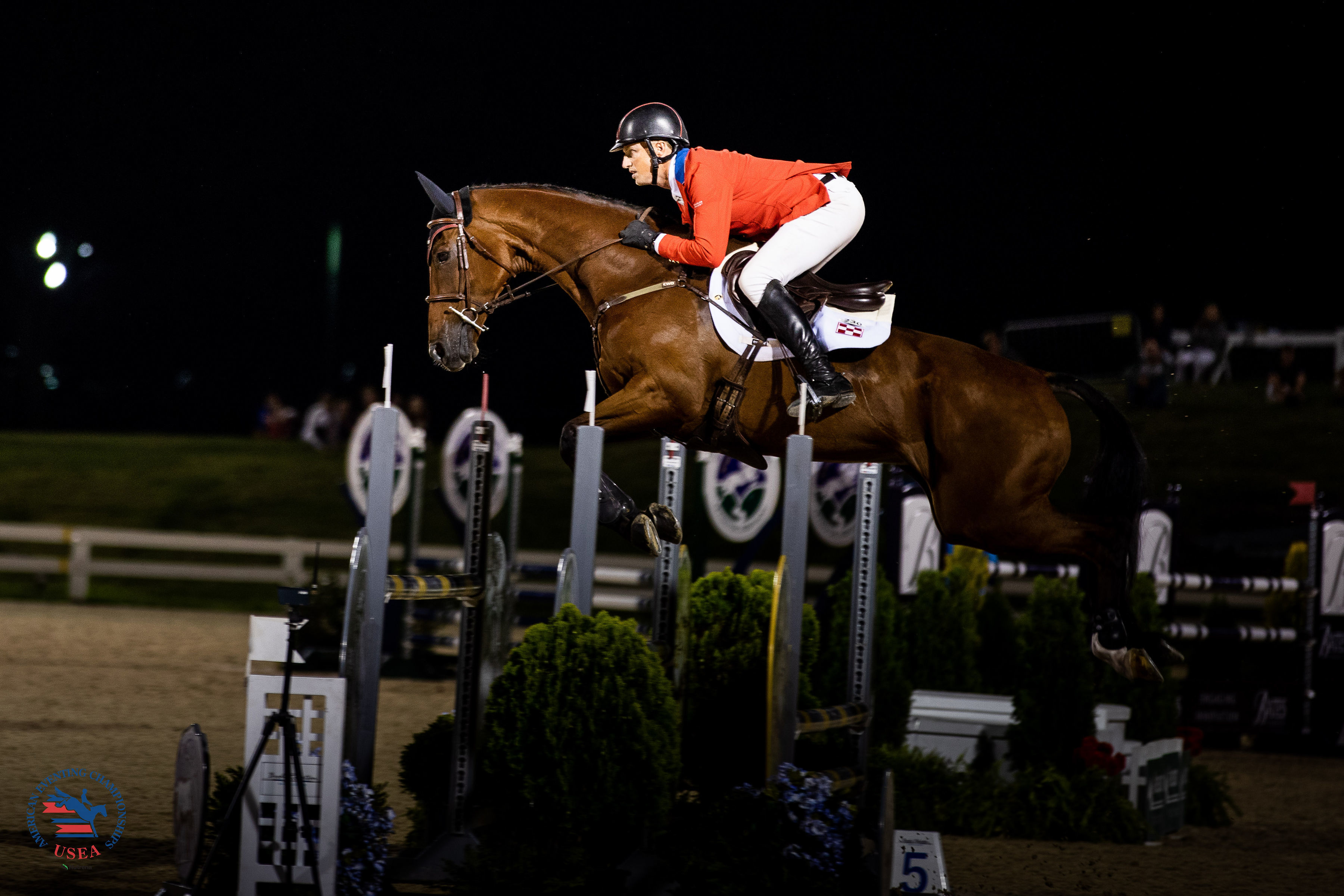 Doug Payne and Quantum Leap made a steady climb up the leaderboard throughout the competition starting in 14th and ending in the reserve position.
"He's a special horse," Payne commented of his 10-year-old Holsteiner gelding (Quite Capitol x Report to Sloopy) who he has produced since he was a yearling through the USEA Young Event Horse program. "I think he is an incredible athlete and I'm beyond excited for the future. I've got to echo Boyd [Martin]'s in that I think this venue is one of the best in the country, and for the future of this sport."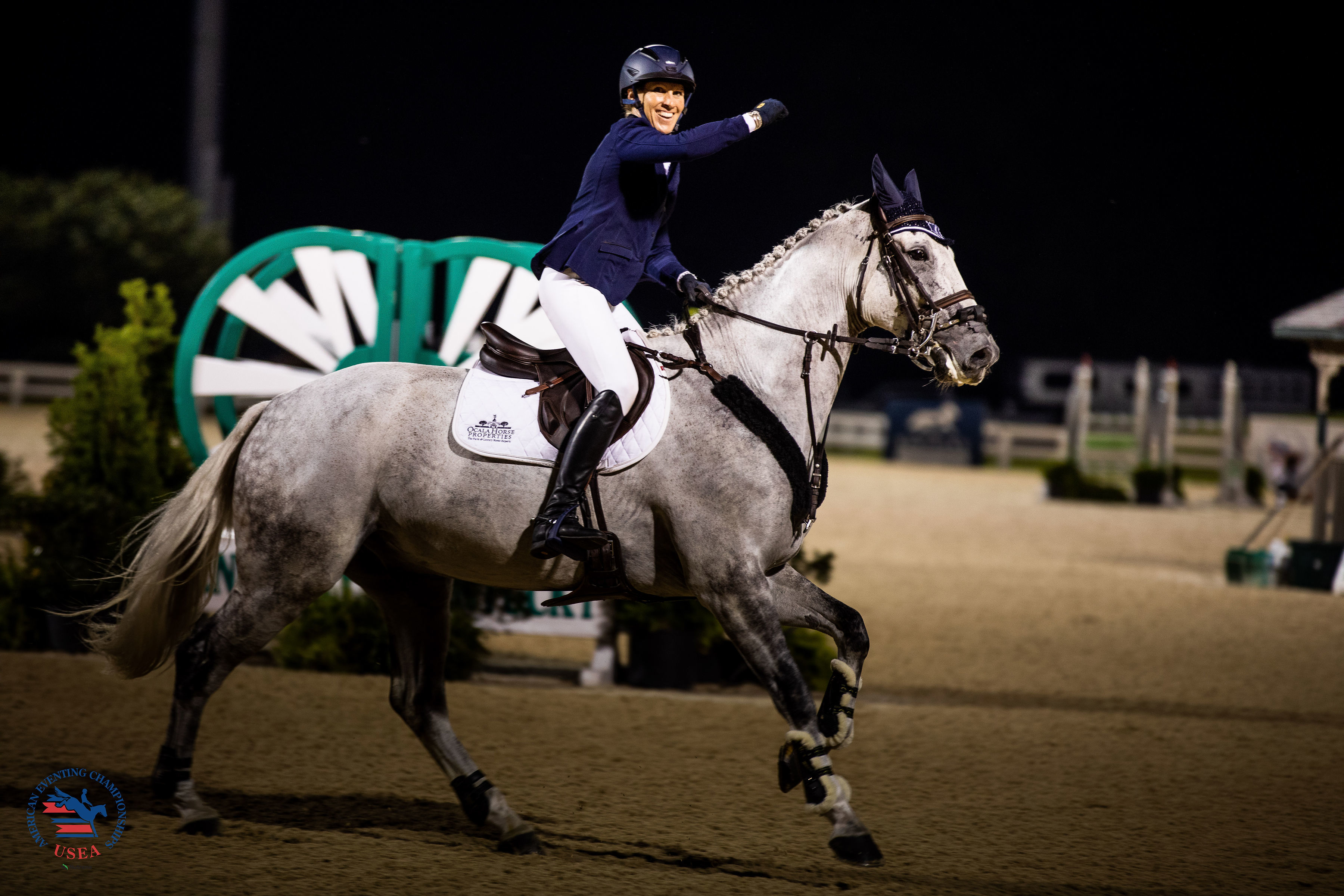 Following a successful finish in the Bates USEA Preliminary Horse division the day before, Liz Halliday-Sharp and another Cooley Farm sourced mount, Cooley Quicksilver, rode for ribbons as the final of the top three finishers.
"He just keeps getting better," Halliday-Sharp emphasized of the now 10-year-old Irish Sport Horse (Womanizer x Kylemore Crystal) gelding. "He loves a big atmosphere and I think I also got a little excited about the crowd; when I finished tonight, I got a bit excited like 'wow we have a crowd again'."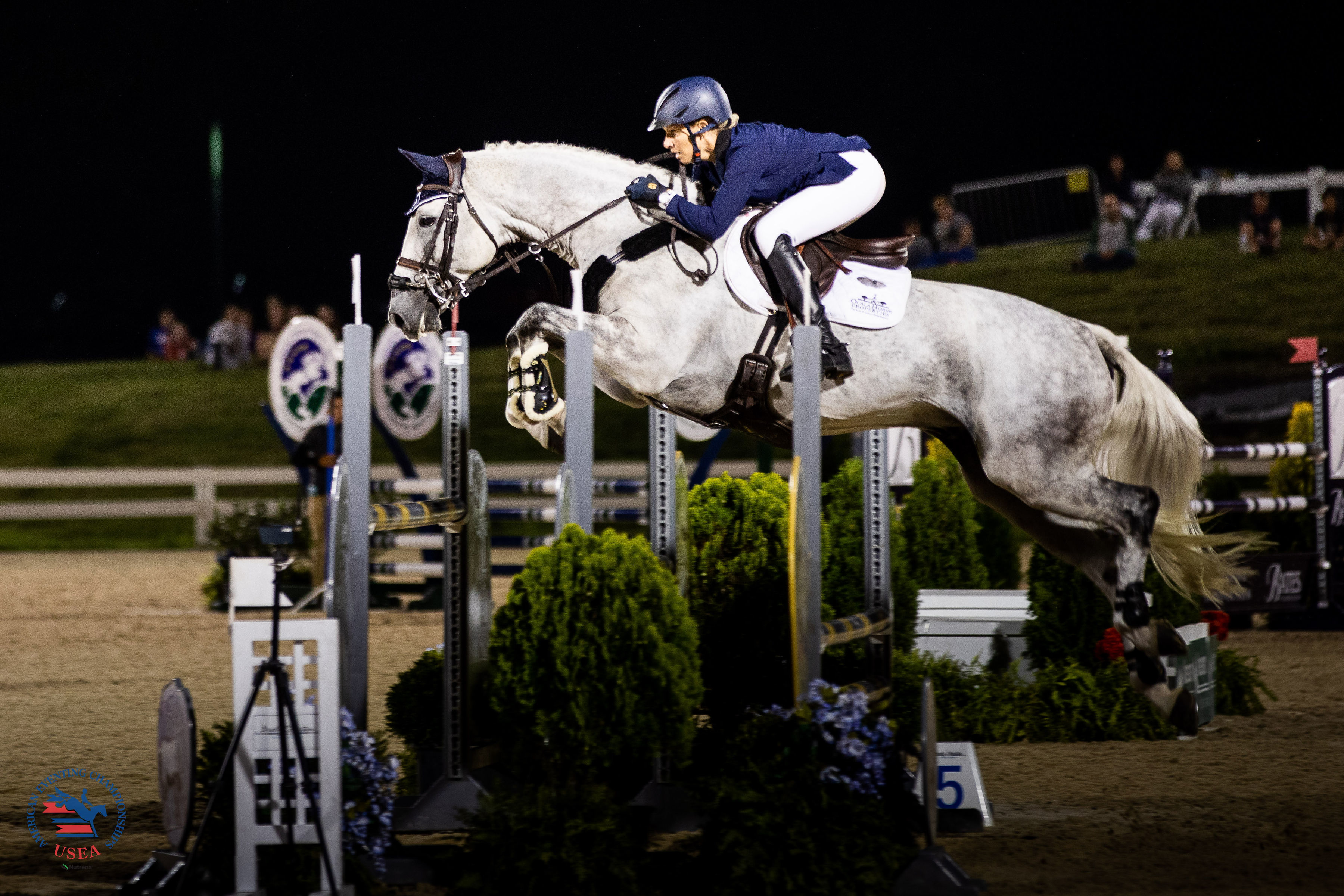 "This is actually my first AEC event as I have been in England for so many years," finished Halliday-Sharp. "It has been so much fun, and to be able to have it here at Kentucky Horse Park has been an incredible opportunity for all of the horses and riders to get into these iconic rings."
While Davidson's rails dropped him off the podium he still finished in fourth with Jak My Style, a 16-year-old Thoroughbred owned by Kathleen Cuca, and fifth with the Carlevo LLC's Carlevo, a 14-year-old Holsteiner (Caresino x Ramatuelle).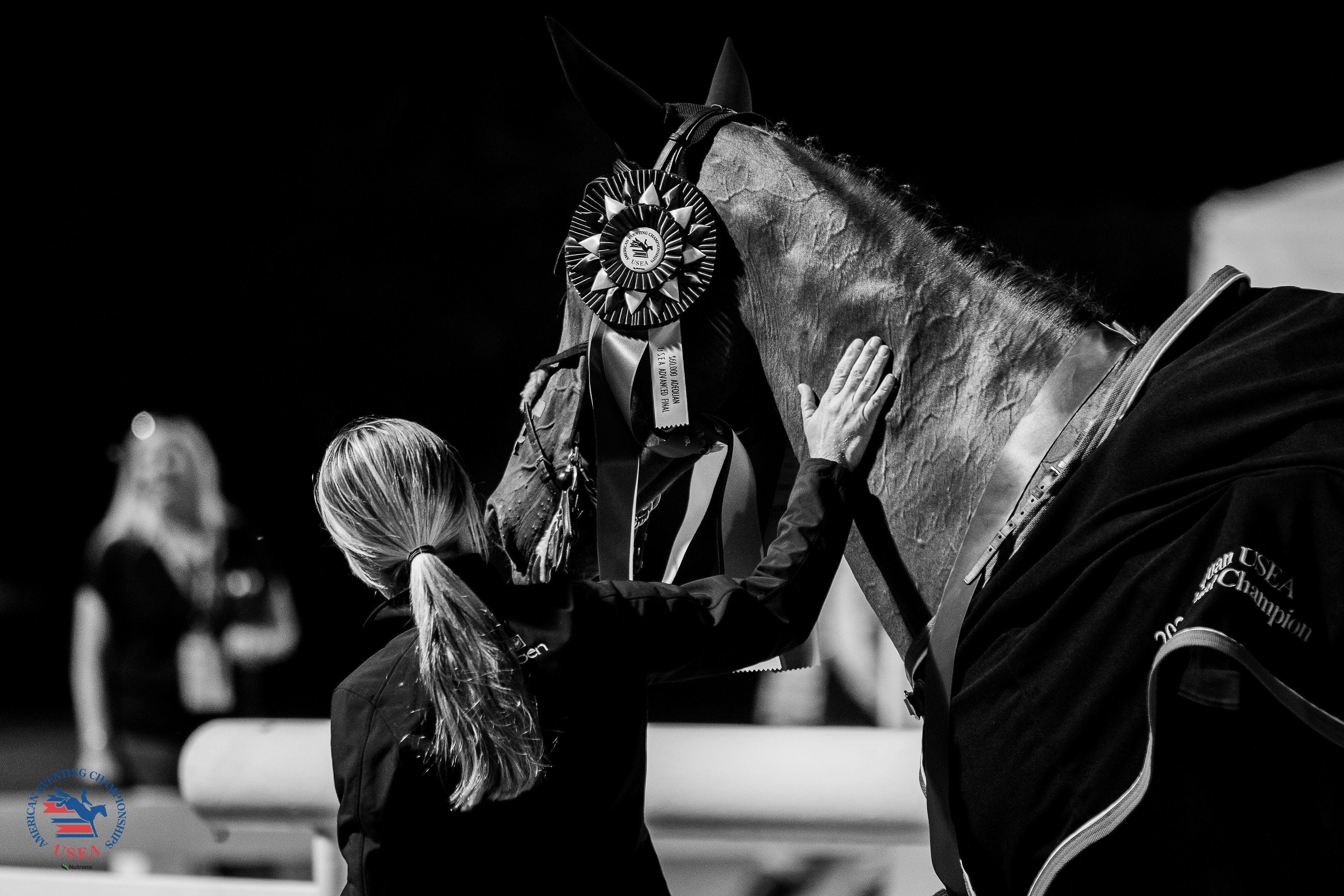 Advanced photo gallery from Shannon Brinkman: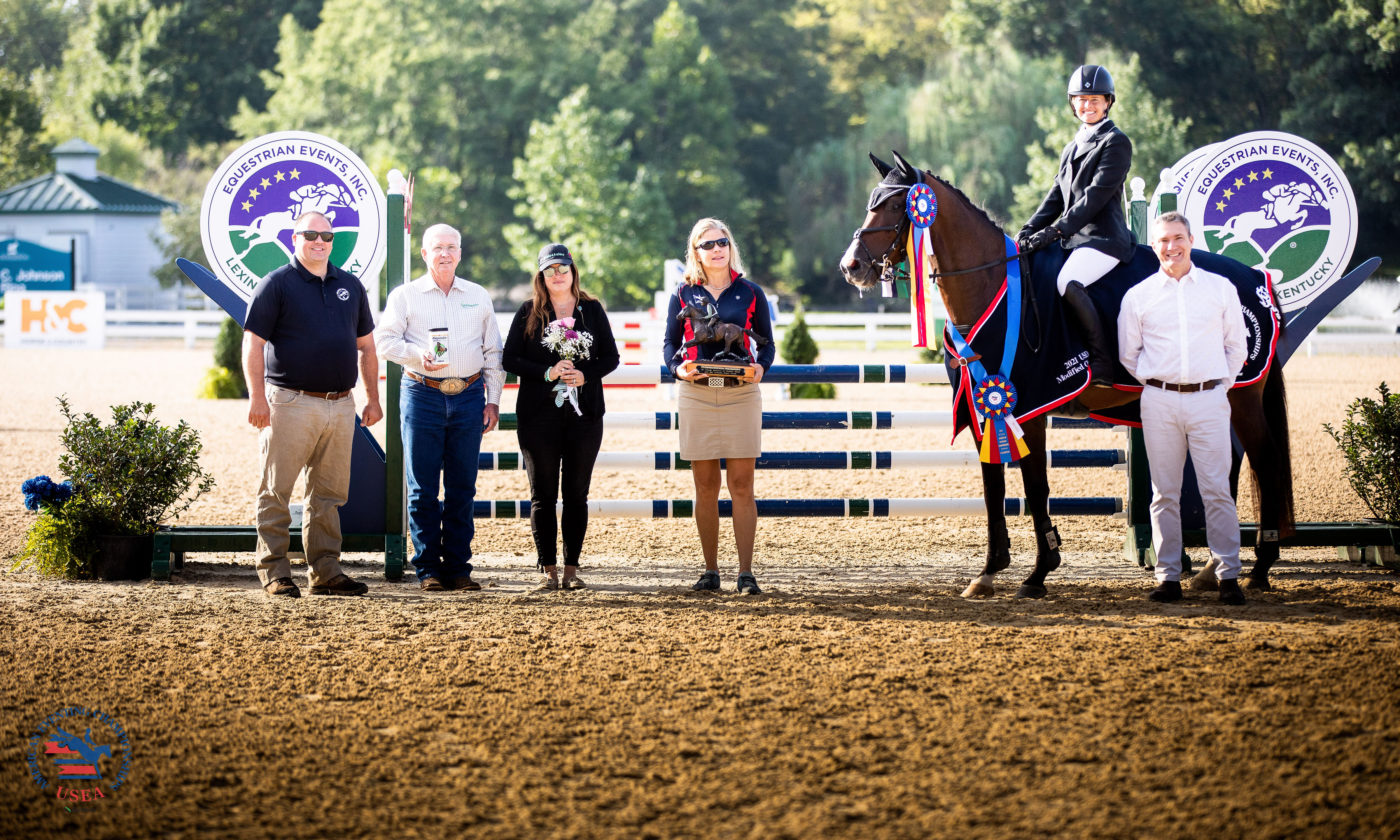 Vetoquinol USEA Modified Championship
The inaugural Vetoquinol USEA Modified Championship at the USEA American Eventing Championships (AEC) presented by Nutrena Feeds decorated its first champions Friday morning with professional Julie Wolfert leading the pack aboard Namibia.
The Bucyrus, Kansas native guided her 5-year-old Thoroughbred gelding (Tizway x Kitty Tracks) to top placings throughout the entire three-day competition and never gave up their first-place score. After earning a 25.2 in the starting dressage phase, the two were tidy and timely over both cross-country and show jumping phases to finish with only their first score.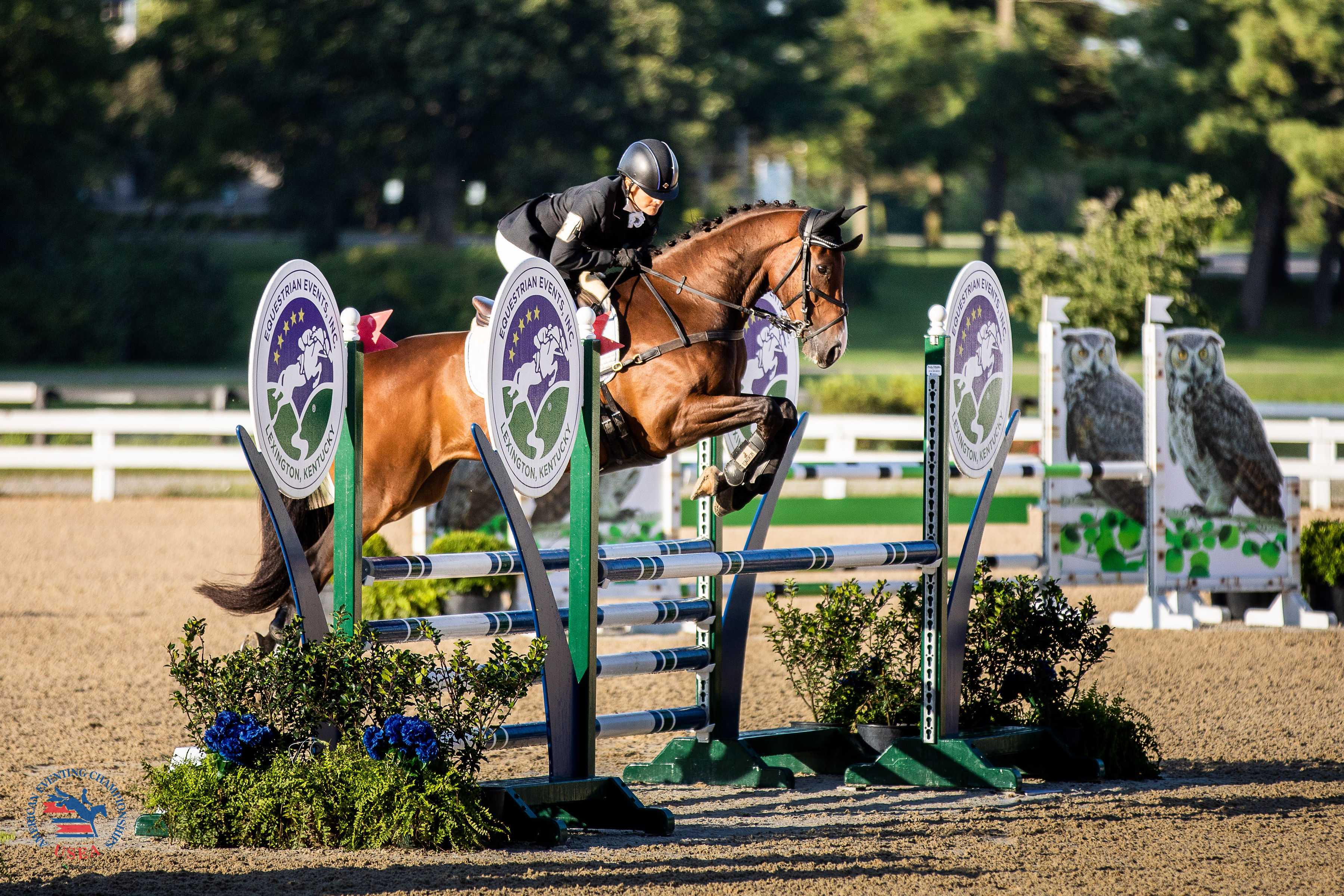 "One out of 1- times will this horse usually go completely clear in the show jumping so I am thrilled today was that one," Wolfert laughed. "He really stepped up to the plate today and despite the fact that he did get a little influenced by the environment, I felt like he was listening well and almost grew wings out there!"
She was also the first recipient of the Modified Trophy in Remembrance of Ashley Stout. The trophy honors the memory of the late junior rider Ashley Stout who passed away tragically in a cross-country schooling accident in 2019 alongside her partner, Avant Garde. Ashley won the Junior Beginner Novice 14 and Under Championship in 2017 and had plans to move up to the new Modified level the year of the accident.
"I feel really honored to be the first to receive such a meaningful award," Wolfert stated. "I want to give a big hug and shout out to that family and tell them how sorry I am for their loss but their way of honoring her is just beautiful and a lot of horses and riders are going to benefit from this new level."
Namibia, who raced under the name Katchup Tiz and won $6,165 on the track, was the winner of the TIP award with his finish of 25.2 while Finntastic took the reserve of the TIP for the division.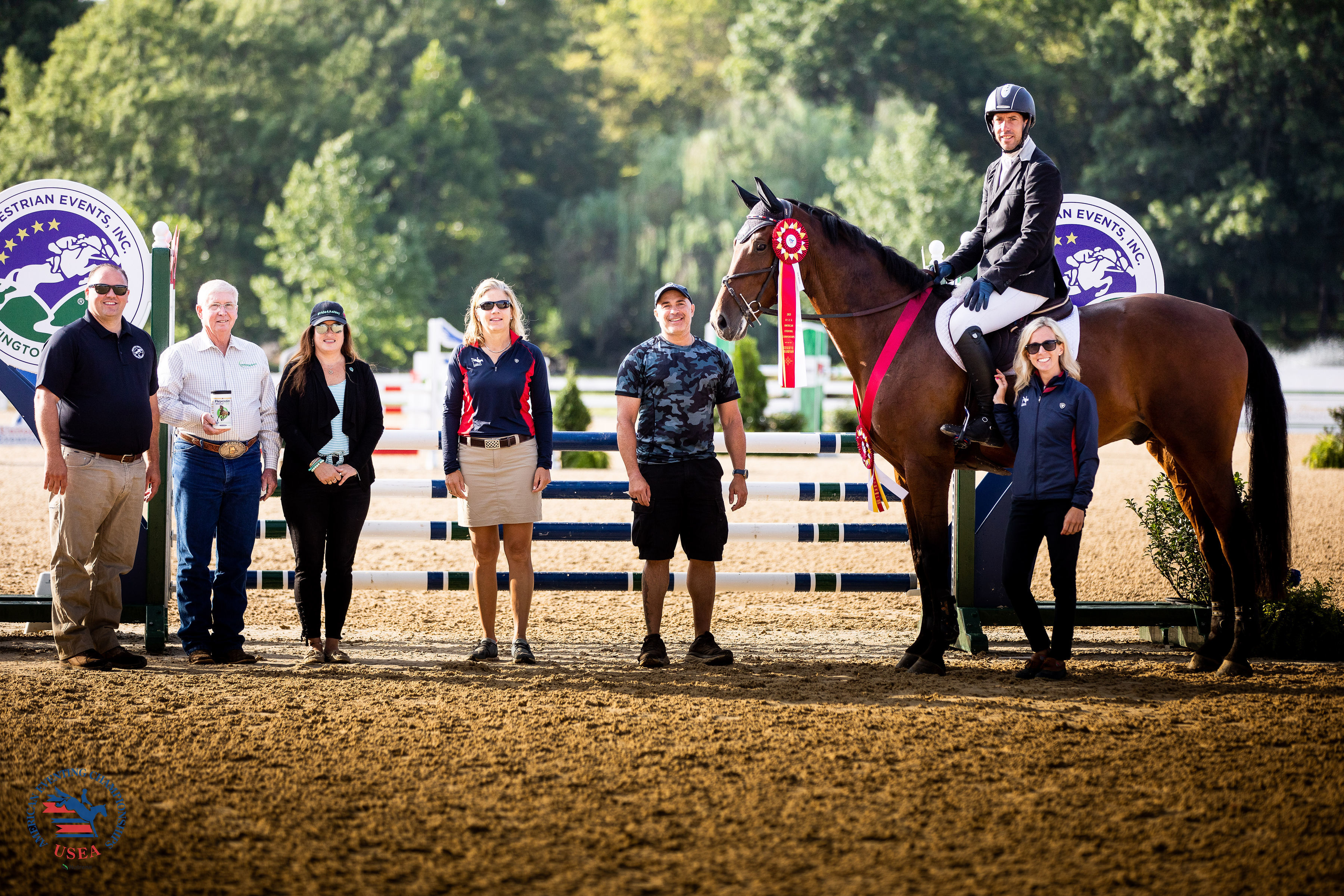 Reserve ribbon honors were received by Martin Douzant and Beall Spring Seahawk as they added nothing to their dressage score for a finish on 28.5. Douzant has built a long-standing partnership with Thora Pollak of Beall Spring Farm in Maryland and has successfully campaigned many of their home-bred Swedish Warmbloods. Just the previous day, Douzant was again in the winner's circle with another Beall Spring Farm offspring, Olympus.
"These horses exemplify what we are looking to produce in our program," Douzant explained. "We have a great relationship with the farm to help start and develop all of their young horses and it has been a long, trustful relationship."
Both his top mount from the Preliminary Horse division and Beall Spring Seahawk have been under the tutelage of Douzant since the young age of 2 years old.
"Both myself and Thora [Pollak] are very excited to have two horses doing so well at this level," he confirmed. "We are grateful to have such quality horses as wonderful representations of the bloodlines and the farm."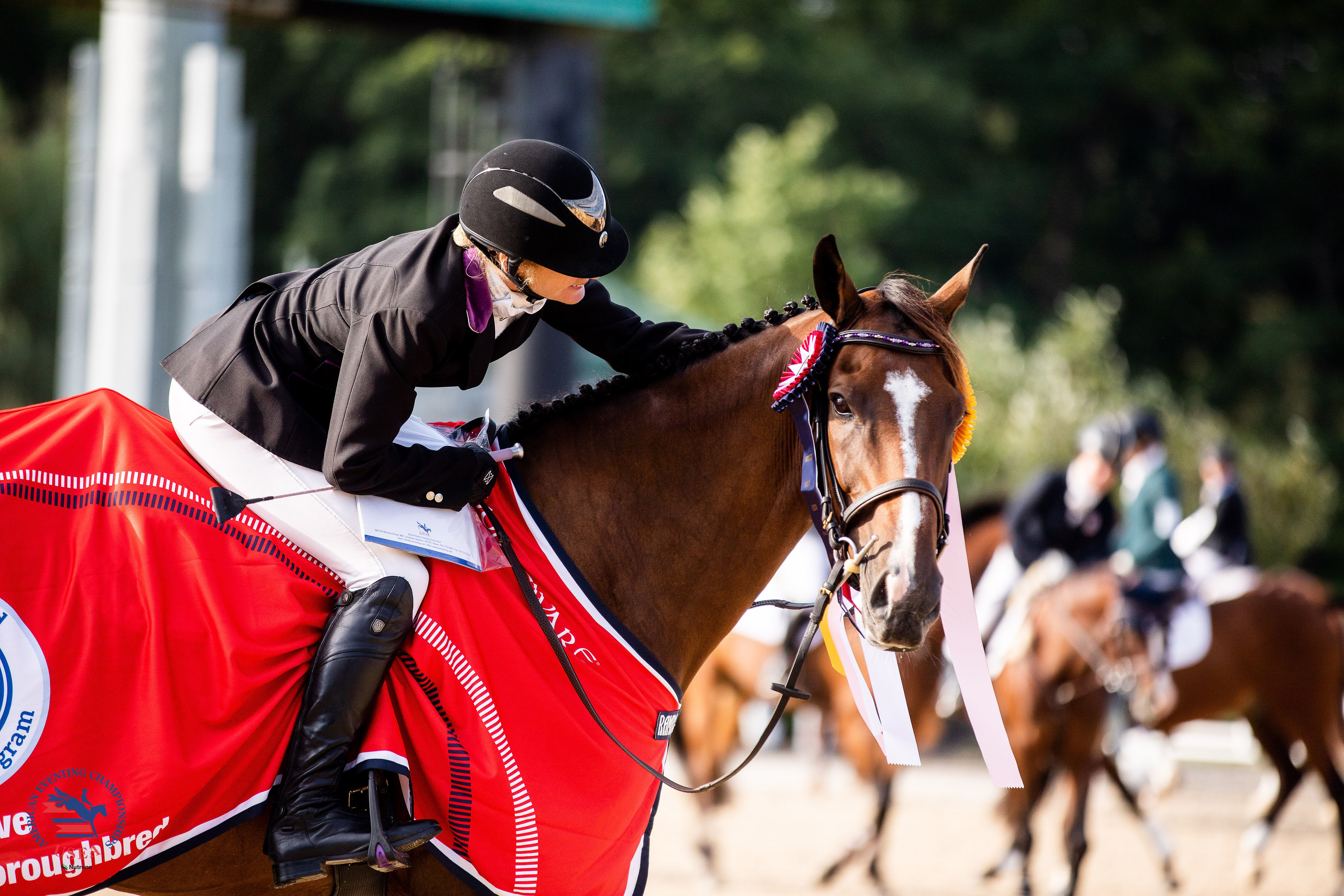 Amateur competitor Heidi Grimm Powell made her mark against the professionals as she and her 12-year-old Thoroughbred gelding (A.P. Prime x Faith Tested Raye) Finntastic leapt from sixth to third place to round out the top three. Powell was also the recipient of the Highest Placed Adult Amateur award for the division.
"Finn is just amazing and has come so far even though he had a bit of a rough start," Powell gushed. "He has had so much heart right from the start but was very insecure and I am lucky enough to have had some fantastic trainers and coaches to help me bring out the best in him.
"I am just so happy to have been able to take this journey with him because this has been a new experience for me as well," she added. "This is the highest level I have reached as well, and being able to be up here at the very to[ with these two professionals is very humbling, I am so pleased."
The Highest Placed Young Rider award went to the fourth place winner Caroline Dannemiller aboard Fernhill Dreaming.
Training Riders Take Home Championships
Training Rider: Equine Veterinarian and amateur competitor Katie Sisk steadily rose up the ranks over the course of the Training Rider division to overtake the previous leader on the final day of competition. Sisk navigated her homebred mare Long Legs Lenore around the stadium course flawlessly to wrap up with a 30.7.
The victory is one uniquely special for Sisk who bred, delivered, and developed the 5-year-old Hanoverian mare (Rapture R x Demonet's Darling) herself at her home base of Carthage, Missouri.
"I am so incredibly proud of her, she is amazing," Sisk gushed. "We were able to qualify for this at the very last minute and this was only her fourth Training event but we have had so much amazing help from my coach Julie Wolfert."
"This is my hobby but I try to dedicate as much time to it as I can," she continued. "I wake up most mornings at 5:00 a.m. to ride before I have to go to my appointments and I am just so proud that all of the hard work has paid off today."
Training Amateur: Lisa Niccolai was the first to don a champion ribbon as competitors in all divisions of the Training sections took to the Rolex Stadium for their final phase. Niccolai piloted the 7-year-old Zweibrucker gelding (Kharacter C x Tessa) KC's Celtic Kharacter around Derek di Grazia's cross-country course without fault to advance from second to first place on the second day of competition. The young horse then rose to the occasion to cross clean and efficiently through the timers of the show jumping phase for the win on 27.6.
"Honestly, we almost did not come this weekend because of some issues at home and then the hurricane, so I am beyond thrilled that we did in fact stick to our plans," Niccolai emphasized.
"I'm speechless," she continued. "I came with the goal of just finishing our event, and there have been a number of times as we've been walking around the property that I just couldn't even believe we were here. So even more so for us to win at this point of our career, it is just an amazing experience I will always treasure."
Training Horse: The top three combinations in the Training Horse division Lauren Lambert, Lauren Nicholson, and Lynn Symansky, all produced incredibly consistent results over the course of their three-day event to keep their individual podium positions from start to finish. Lambert had the peak dressage ride, finishing on a score of 24.3 in the opening phase with Elizabeth Rader's Biscotti. Flawless performances across cross-country left the pair on their opening score for the champion ribbon.
"Things have really clicked for him over the past few months and he is beginning to feel more comfortable in his own skin," Lambert described of the 9-year-old Rheinland Pfalz-Saar gelding (Benidetto x Hey Nurse). "He has only been competing in eventing for about a year, and before that he was showing in the jumpers which is where Mike Huber found him, so we thought it would be ideal for him to start seeing new venues."
Lambert credits owner Rader with much of the gelding's experience as she is an integral part of his weekly training.
"Elizabeth is actually the one who rides him during the week and takes lessons on him and I am on the ground teaching," Lambert explained. "However, she does not have any desire to show so I am fortunate enough to get the ride on him and AEC has been a goal for us since the beginning of the year."
Junior Training: The trip all the way from Fallbrook, California was well worth the effort for Shelby Murray who proved unbeatable in the Junior Training division. From the start, Murray led the chase for the championship title with Laurel Ritter's 9-year-old Oldenburg mare (Rotspon x Chatari) Reverie GWF producing a respectable dressage score of 22.0 and only added 0.4 time penalties overall for a finishing score of 22.4.
The win was Murray's sixth of the year. "She was just truly awesome," Murray gushed. "She was extremely bold cross-country and very confident in show jumping as well. She put on her game face and did everything I asked so I couldn't be happier with her."
The pair trekked across the country the previous week and debuted only their second time on grass turf. "We competed in Montana last month and that was both of our's first time riding on the grass, but if anything I think she rides a bit better on it," Murray explained. "I couldn't ask for a better horse, our partnership has blossomed so much over the past year."
Beginner Novice Gets Underway
Beginner Novice competition at the 2021 USEA American Eventing Championships (AEC) presented by Nutrena Feeds got underway Friday morning with six divisions taking over the numerous dressage rings set up across the Kentucky Horse Park. Competitors of all ages from across the country put their best foot forward for the judges, with one Beginner Novice competitor receiving a score of 18.5 which is officially the lowest score of the 2021 AEC.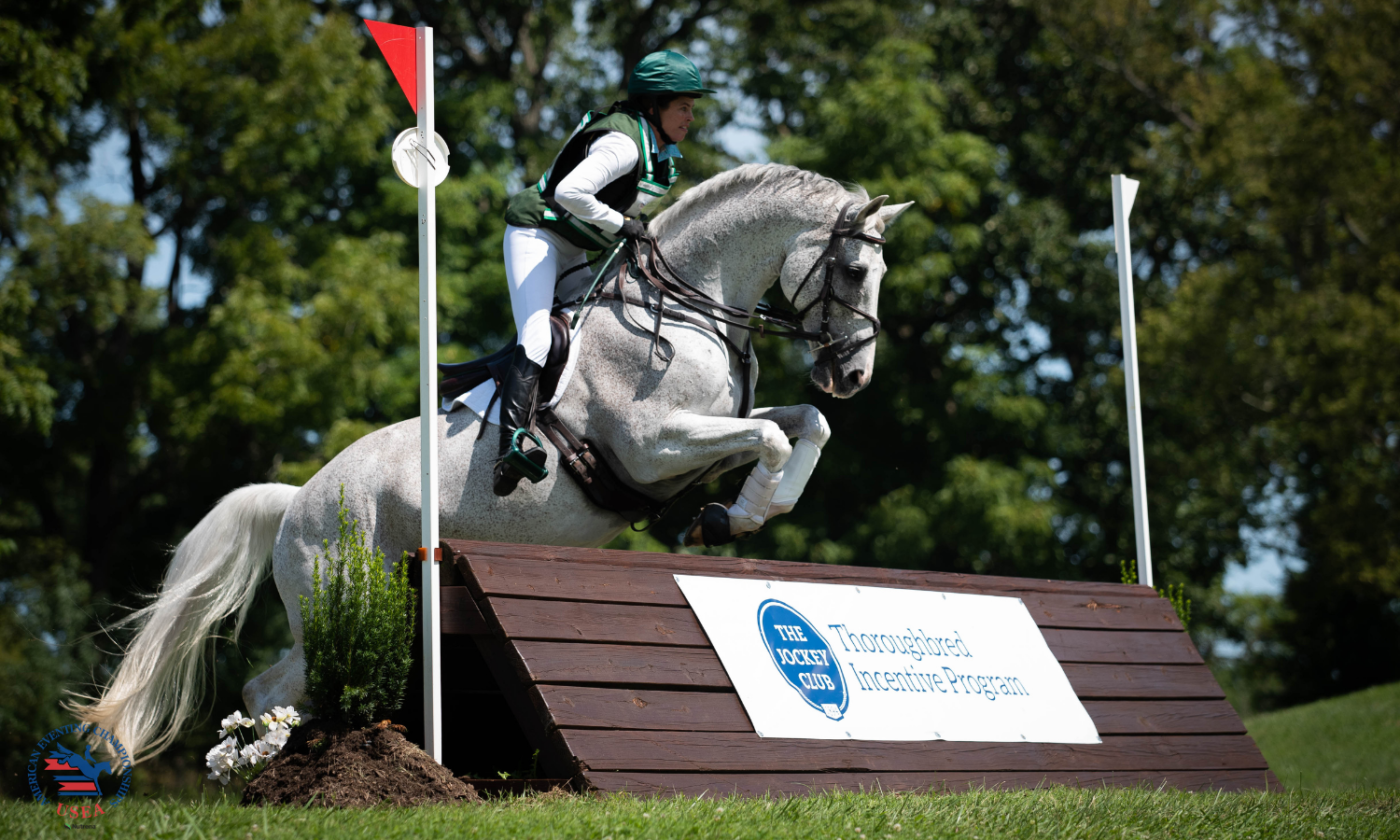 Novice competitors donned their safety vests and sported their favorite colors as the sun rose over the cross-country track Friday morning. With the first of six divisions kicking off at 8:00 a.m., the famous head of the lake saw rider after rider through later in the afternoon. While there was some shuffling of placings, the overnight leaders from dressage in each division held onto the coveted top spot upon the conclusion of their cross-country tests.
Novice Rider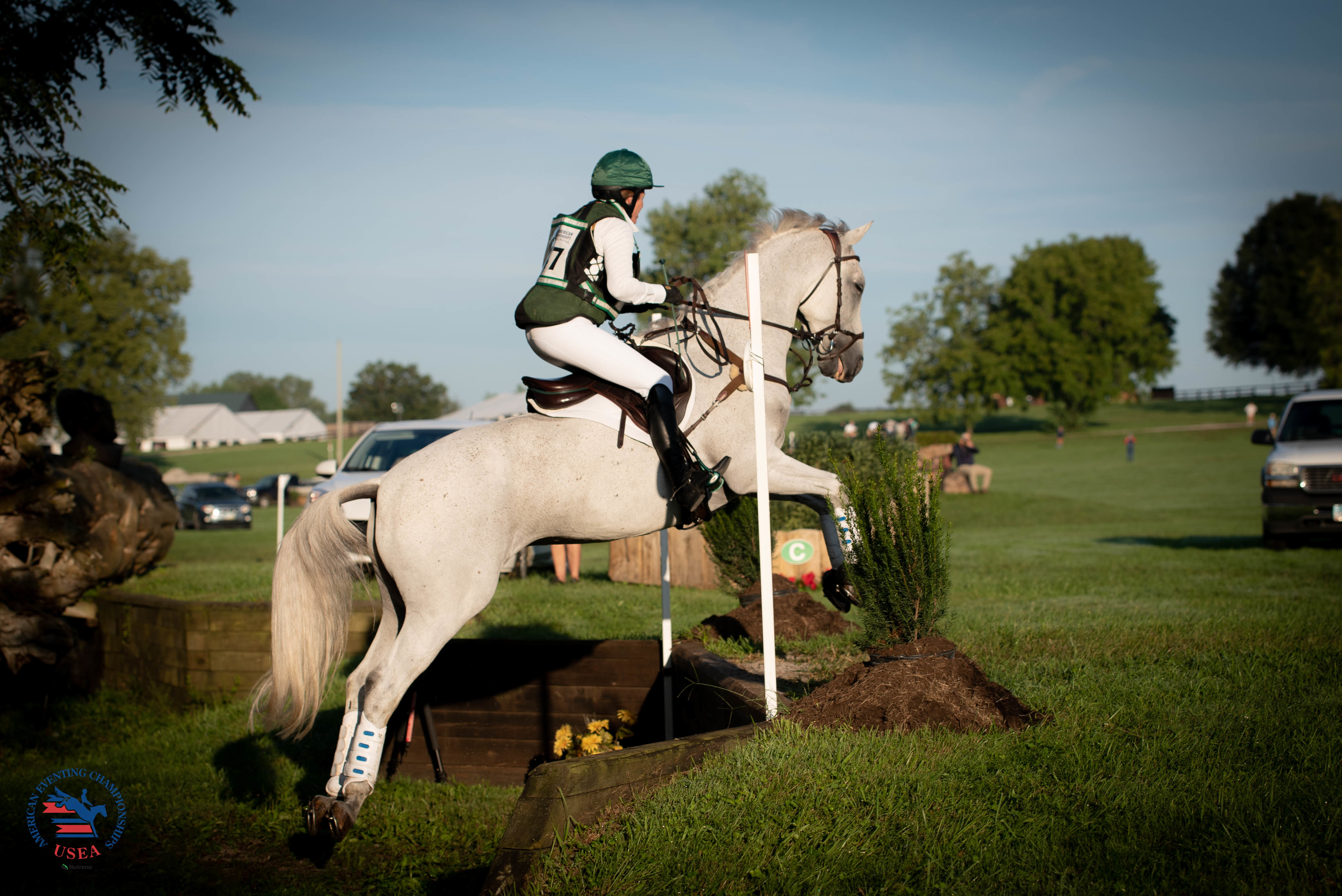 A clear cross-country ride inside the time was just the ticket for Jane Musselman. She's still in the top placing of the competitive 53-entry USEA Novice Rider Championship aboard Bentley's Best.
Hauling in from Louisville, Ky., Musselman competes often at the Kentucky Horse Park, but this week is a different ball game. "It's great to always to be able to show at the Horse Park, but you know it's a totally different experience [during AEC]. Everything is just bigger and grander and all the competition and it's pretty special," she said.
The 14-year-old Trakehner gelding boasts an impressive 24.2 going into the final phase.
Less than two points behind the overnight leaders, Nancy Z. Wilson, of Flat Rock, N.C., and Lagerfeld, a 10-year-old German Sport Horse (Last Man Standing x Bonja), went penalty-free today to stay on 25.6 points.
Madeline Bletzacker, Galena, Ohio, stepped into third place with Drummer Boy on a score of 26.6. Her 13-year-old Hanoverian (Don Principe x Winterzauber) added nothing to his score on Friday.
Novice Master Amateur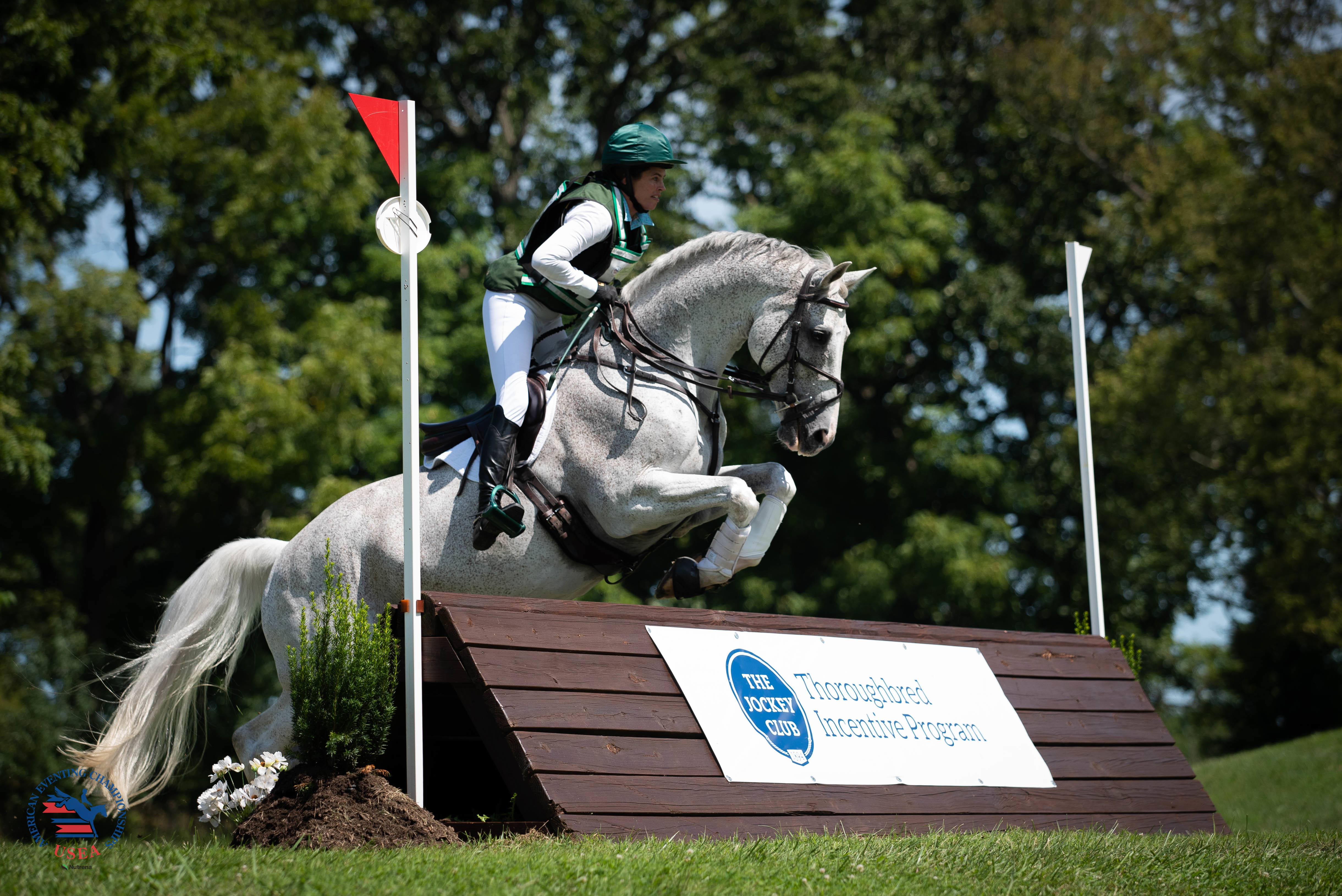 Jane Musselman is two-for-two. She's leading two championship divisions for the second day in a row. Her Engapore tops the USEA Novice Master Amateur Championship.
The 12-year-old Dutch Warmblood gelding Engapore (Singapore x Orize) stands ahead of the pack on a dressage score that carries no additional penalties of 26.
"[Bentley's Best] is very strong. He likes to run, actually both of them are pretty, pretty much the same cross country — very bold and they like to go fast so I have to be very mindful of the time at this level.," Mussleman said.
Darlene Walters, Franklin, Ind., and Concord Dawn, a 12-year-old Thoroughbred (Smart Guy x Della Street) stepped up one position to hold second overnight on a score of 26.6. Making the trek from Santa Fe, N.M., Jennifer Achilles rounds out the top three on 26.8 penalties aboard Excel Star Lance, an 8-year-old Irish Sport Horse by ​​Lancelot who was sourced by Courtney Cooper.
Junior Novice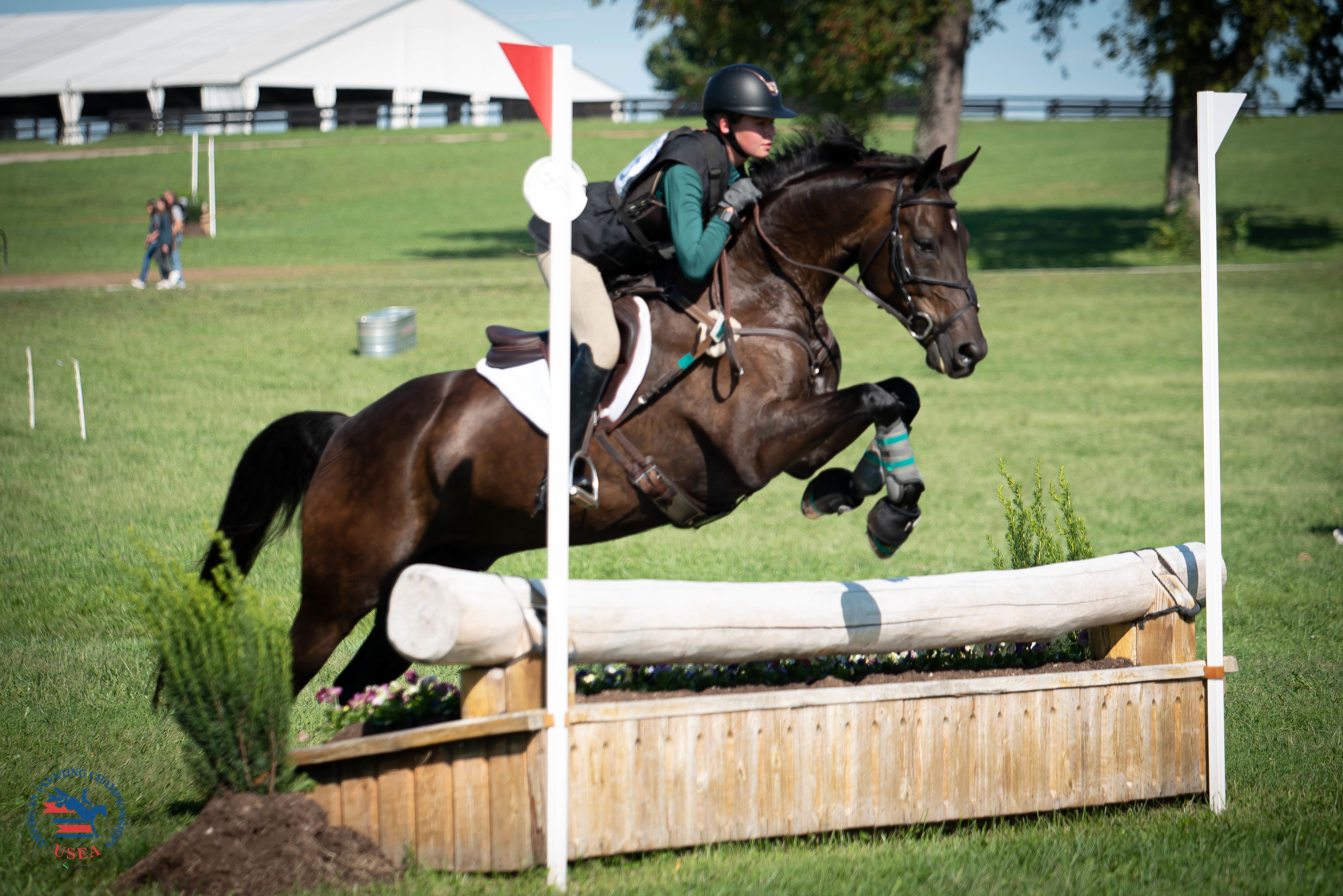 California native Mia Brown is now in a two-day lead of the Junior Novice Championship on the impressive score of 22.3. Partnered with Duke HW, her 11-year-old Oldenburg gelding (Delatio x Stella Girl), Brown, she finished double clear thanks to a tack change in warm-up.
"This was only my second time riding him on the grass, and the first time using studs in warm-up. He actually felt stickier than he usually does because we were both getting used to the amount of grip the studs give us. So I ended up putting on a small pair of spurs, and I think it really helps both of us just get a little quicker off the ground," she said. "He came like super forward to everything. I was a little worried about the terrain, but it ended up helping us a lot because it made him sit down on his hind end, so I put my leg on and it was super bold to all the fences."
They have a rail in hand heading into Saturday's finale.
Ava Stevens and Two Against The World, a 13-year-old Thoroughbred gelding (Reputed Testamony x Black Orchid), sit in second place. Past AEC Champions, these Indianapolis, Ind. natives are on their dressage score of 27.6.
Partnered with her own Peter Pan, Cincinnati, Ohio's Zoe Hagedorn is third. She and the 6-year-old Holsteiner (Connor x Wanda PP) are also sub-30 with a score of 28.2.
Junior Novice 15 & Under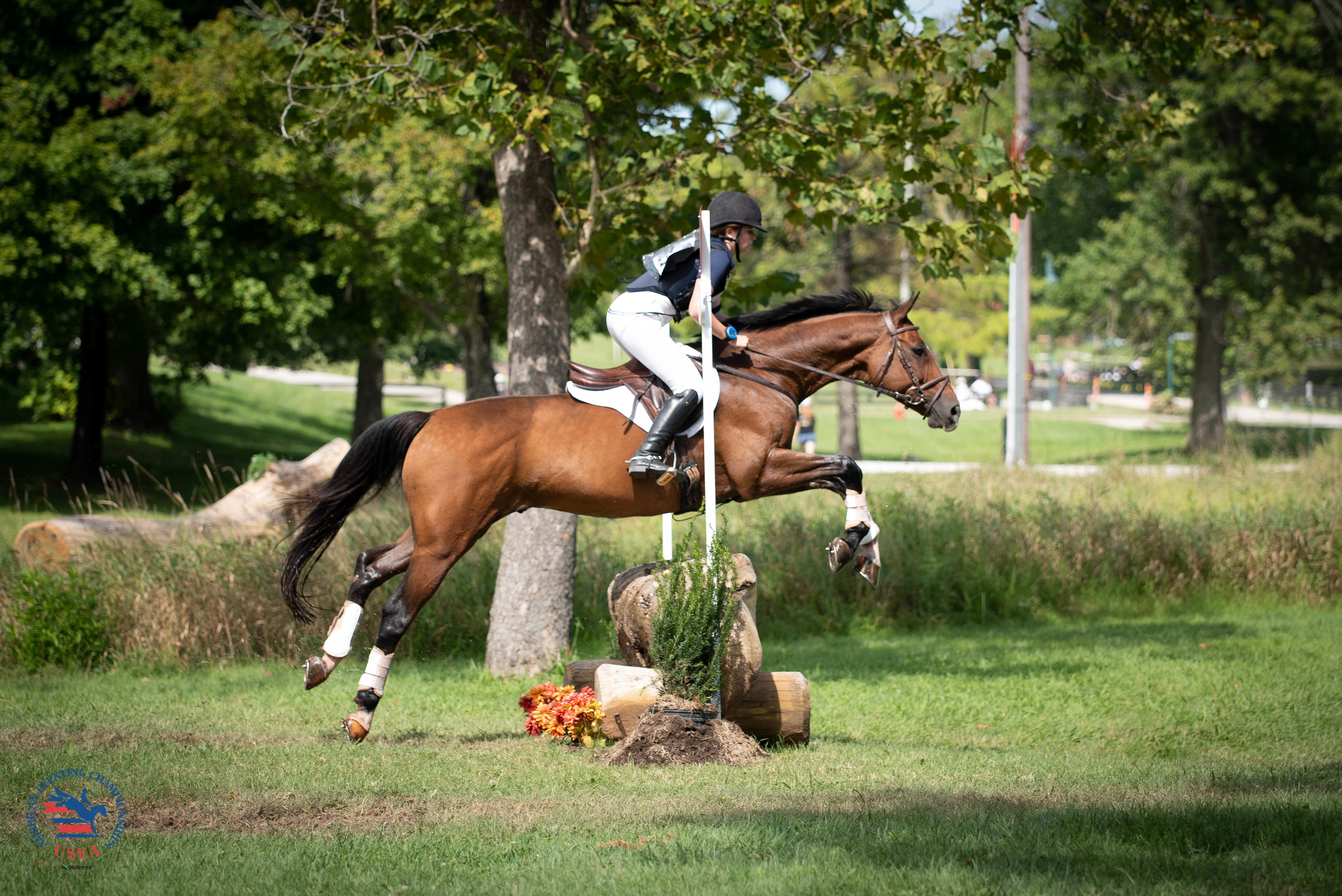 Margaret Frost, a 15-year-old from Newnan, Ga., galloped easily around the Kentucky Horse Park to remain in control of the USEA Junior Novice 15 & Under Championship.
"Don't take anything for granted," was coach Julie Richards' advice before Frost went on course, and that's exactly what she did to go clean with Euro Star, her 12-year-old Warmblood gelding (Qredo Van De Kempenhoeve x Panama).
"[The Head of the Lake] I felt was just super fun. I mean, he was a little spooky going in but he just fared everything so well," Frost said. "He just listened to me perfectly. He was just on his game. And he didn't look at anything."
Laura Voorheis and Sally Smedley maintained the top three as well, holding on to second and third place, respectively. Voorheis is on a score of 30.7 with Herbst, a 17-year-old Irish Sport Horse gelding (Aldato x Miss Beckett). Smedley is partnered with Golden Ticket CR, a 13-year-old German Sport Horse (Danny Gold x Stutbuch 1), on 31.2 points.
Novice Horse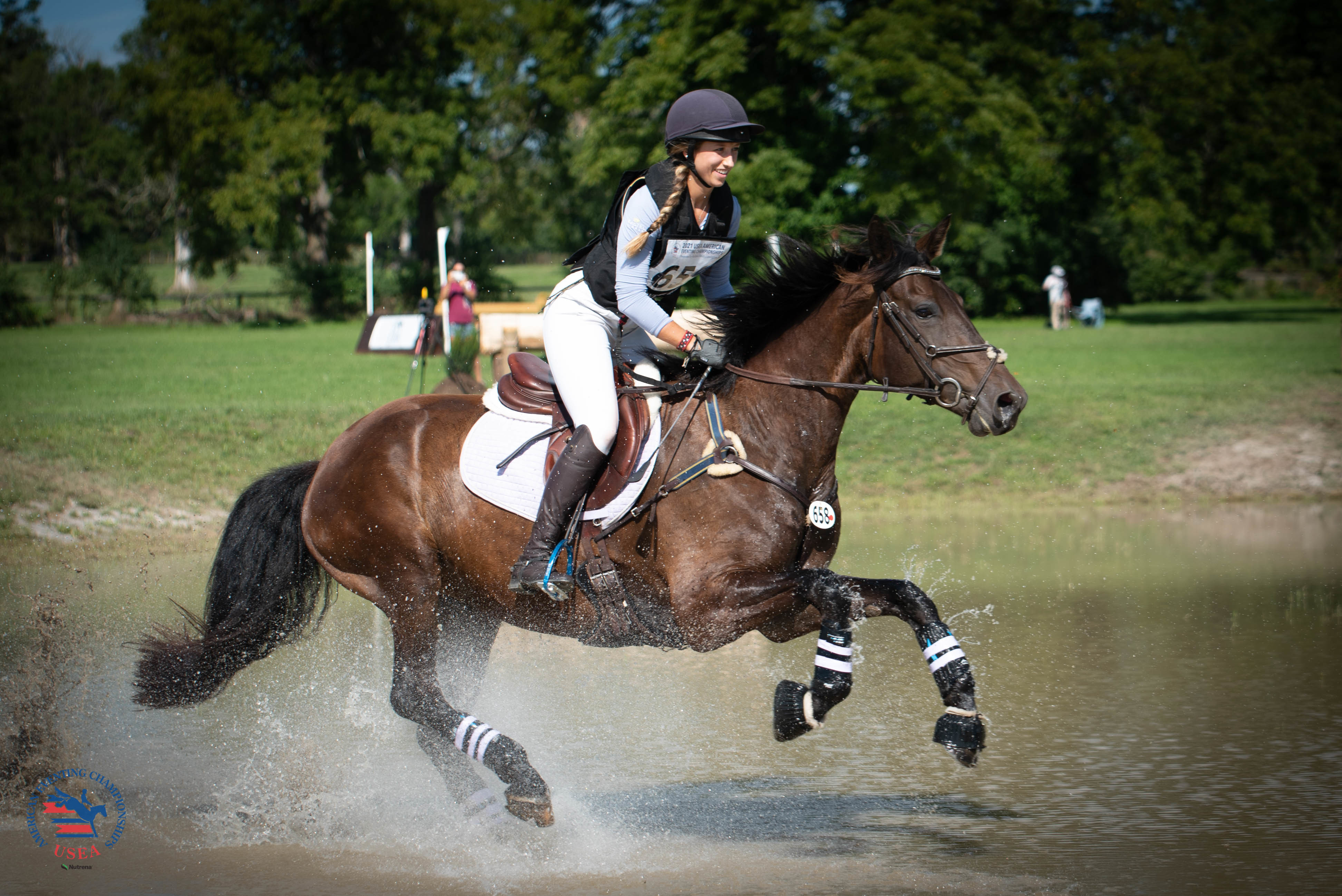 Lexington, Ky. resident Adalee Ladwig swelled with pride after completing the USEA Novice Horse Championship cross country with Argenta MSF, a horse she produced herself.
The 8-year-old Hanoverian mare (Jesper x Callie) went double clear to keep her dressage score of 27.
"It's pretty much a dream come true," Ladwig said. "I love eventing so much, and be able to do it with a horse that you brought up yourself. It's so rewarding."
Hailing from Poway, Calif., Chloe Smyth and Michelle Donaldson's 10-year-old Oldenburg gelding (Breitling x unknown) Byzantine SC made easy work of the Novice cross-country track to remain on 28.3 penalty points. Team Holling LLC's Fernhill Copain, a 5-year-old Zangersheide gelding (Corico Z x De Zazoe VH ST Anneke) also stays in third place with Jonathan Holling, Ocala, Fla., in the irons. Their dressage result of 28.8 carries on to the final phase.
Novice Amateur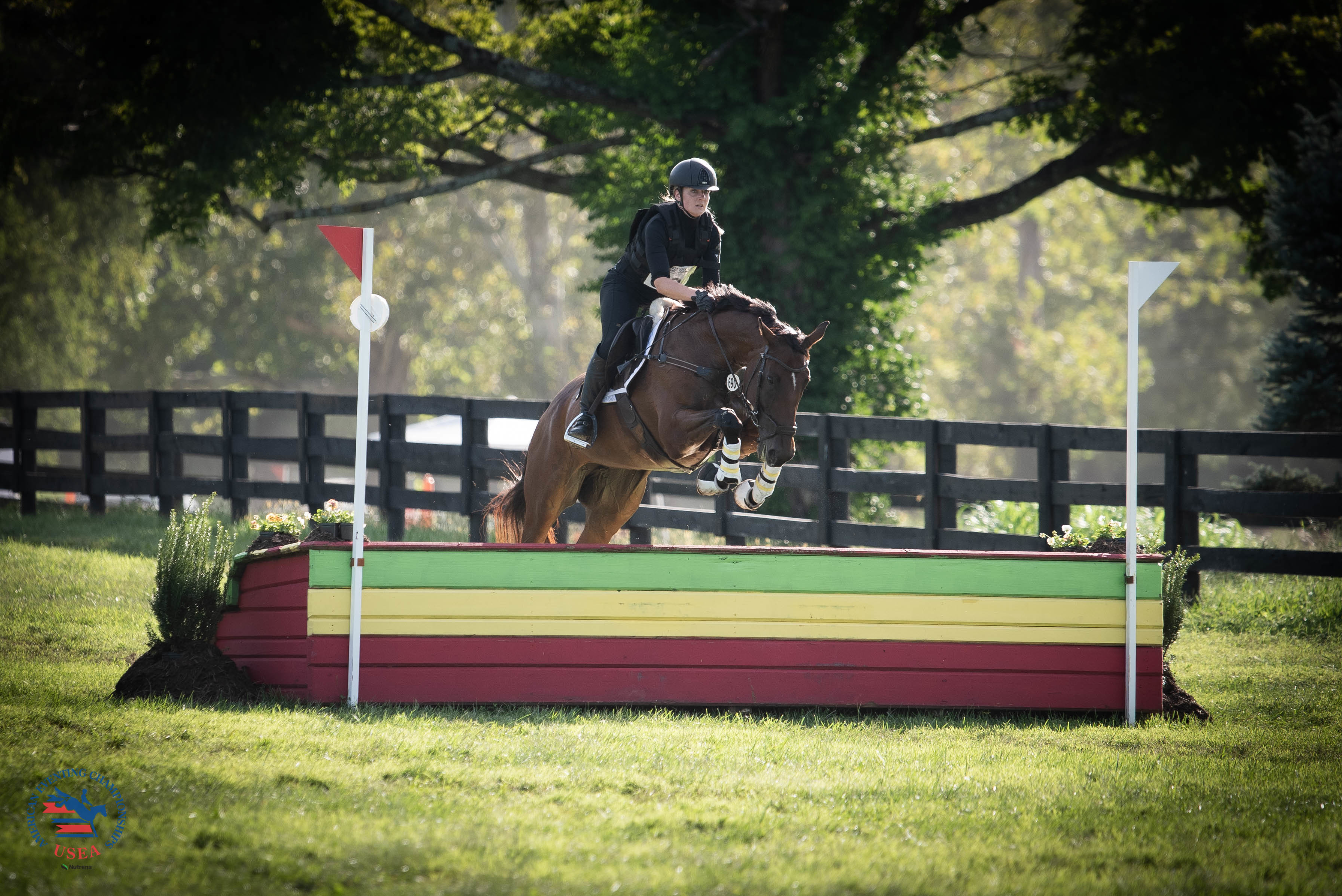 Sitting in first after dressage isn't an unusual scenario for Cecilia Emilsson and Blazing Angel, her own 8-year-old Thoroughbred mare (Firecard x Angliana). The duo have gone into the second phase of competition in the lead at several events in the past, but with the second-place pair just one point behind her, Emilsson was feeling the pressure before her warm-up began.
"My nerves have been wracked the entire day. She felt absolutely phenomenal in the warm-up so I felt confident, but also a little terrified to mess up. It felt really good. There was a lot of pressure! She is a really good girl and is really brave!"
After a successful warm-up, Emilsson felt confident in the start box and had a plan in place – a plan that was almost spoiled when Emilsson's watch froze at the three-minute mark while on course. "I looked down at my watch and thought to myself, 'why is my watch stopped at minute three?' I knew that I was fast, so I really tried to pace myself coming in, but I wasn't sure when I crossed the finish if I ended too fast."
Emilsson's trainer Julie Penshorn of Sunborn Stables in Chisago City, Minnesota, laughed as she recalled the time glitch, "She was going really fast! She was probably running at 440mpm, she was close to Training speed! Thankfully, she really slowed down!"
Emilsson and the Blazing Angel will go into show jumping sitting on a two-phase score of 21.1. The remainder of the top three in the Novice Amateur division remain unchanged after cross-country with Kai Bradley aboard Diamonds Forever, her own 9-year-old Hanoverian mare (Donar Weiss GGF x Whizzo) sitting in second on a 22.5 and Samantha Schwartz and Rumble Fish, her 15-year-old Quarter Horse gelding (Pure Pauli x Miss Diamond B Okie) rounding out the top three on a 28.1.
Novice show jumping gets underway at 7:30 a.m tomorrow.
Erin Buckner and Picassi. Xpress Foto Photo.
Beginner Novice competition at the 2021 USEA American Eventing Championships (AEC) presented by Nutrena Feeds got underway Friday morning with six divisions taking over the numerous dressage rings set up across the Kentucky Horse Park. Competitors of all ages from across the country put their best foot forward for the judges, with one Beginner Novice competitor receiving a score of 18.5 which is officially the lowest score of the 2021 AEC.
Junior Beginner Novice
Erin Buckner of Buckhead, Georgia, and her 17-year-old gelding, Picassi (Paparazzo x Lady Lily) put forward an impressive display to score an 18.5 for the early lead in the Junior Beginner Novice and earn the only score in the teens in the AEC this year.
"He just loves dressage, I think that is by far his favorite phase," Buckner detailed. "He perked up immediately and was so bright but relaxed at the same time; he just did great."
When asked about his low-penalty score, Buckner simply stated she thought the gelding's attitude was the winning ticket.
"I think his whole demeanor was really the key, he just went in there wanting to work and wanting to please.
"We originally bought him for my sister but when she stopped riding I took over the ride," she continued. "We started over some very small stuff like tadpole jumps and have just been taking our time moving up."
Scarlett Peinado of Aubrey, Texas and the 11-year-old American Warmblood mare (Carrington x unknown) 50 Shades of Envy followed suit with a score of 21.6. Elkhorn, Wisconsin resident Abigail Haydam and the 7-year-old Oldenburg gelding (Noteworthy x What A Tattle Tale) C-Note added on 0.7 faults to round out the top three lineup.
Beginner Novice Horse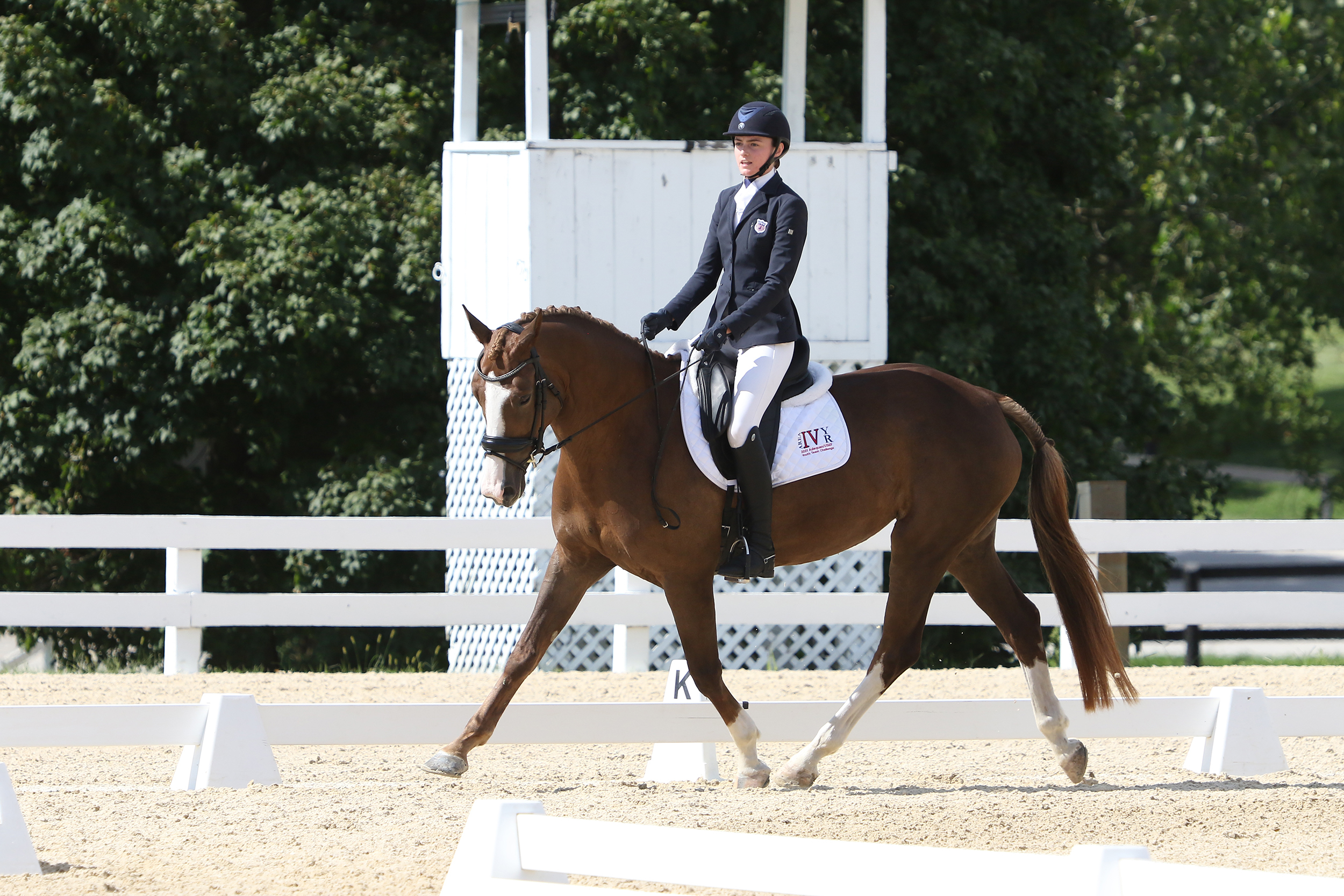 Hugo, Montana's Kristine Burgess displayed fancy footwork with her 5-year-old Trakehner mare Marisol to emerge victorious in the dressage phase of the Beginner Novice Horse division with a score of 25.5.
"We actually purchased her as a mount for my mom but because she is only 5 I have been putting some riding and training on her for now," Burgess said. "We weren't necessarily looking for another horse but the minute I saw her I sent the link to my mom anyways because she reminded me so much of the mare she already had that she absolutely adored."
"We basically ended up buying her off a video," Burgess laughed, "but she has already exceeded our expectations. She takes on every challenge and wants to figure it out and do the right thing."
Laura Kosiorek-Smith of Hanoverton, Ohio and Crissteen Miller's 7-year-old Canadian Warmblood mare (Schwarzenegger x Garcia) Star Quality CSF took to second place after dressage with a penalty of 28.00. Kalie Beckers and her own 6-year-old American Warmblood mare, Calla BGF (Carush x unknown) put their best foot forward to finish with 28.3
Junior Beginner Novice 14 & Under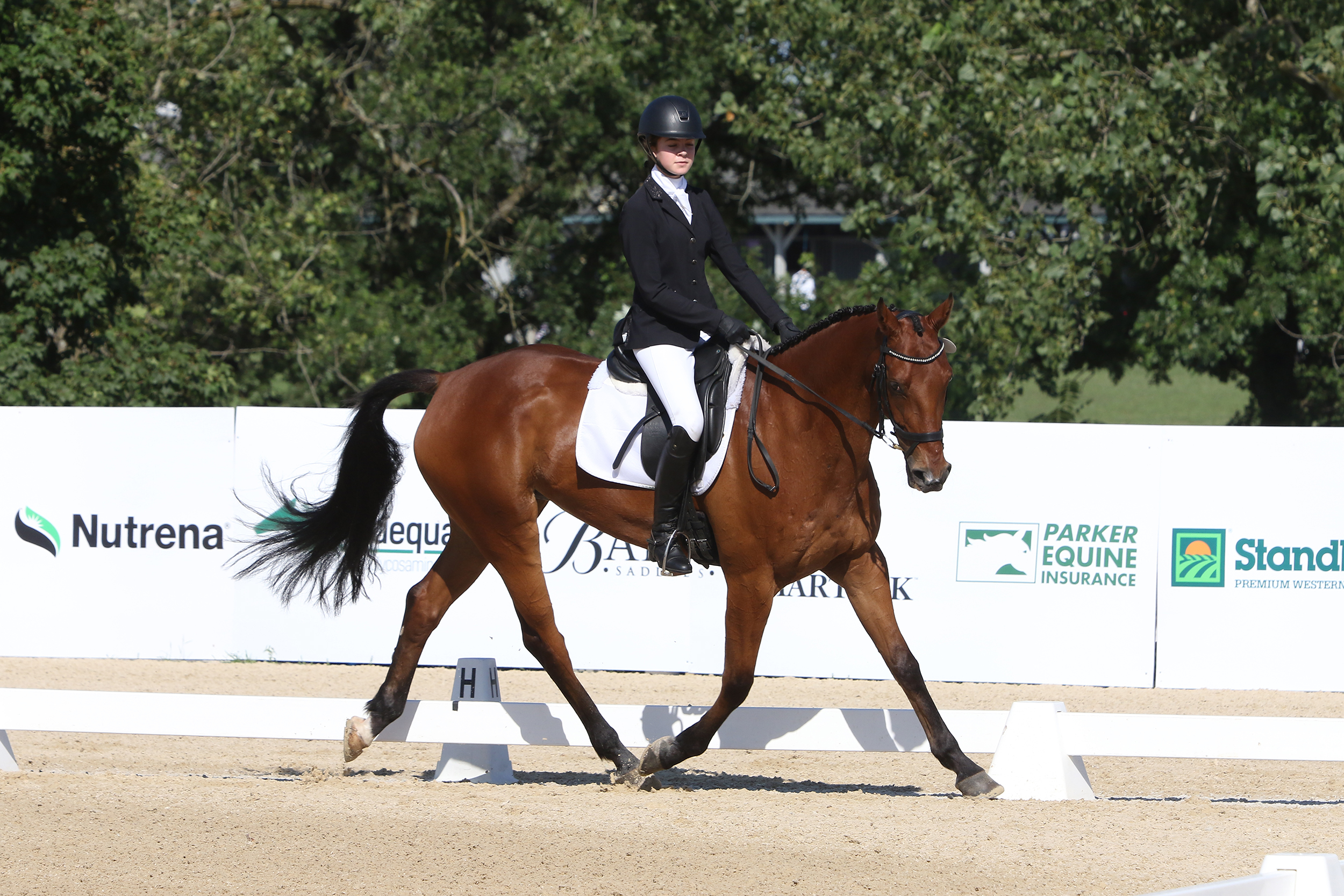 All the way from New York, New York, Laura Voorheis put forward her best fancy footwork with Hillcrest Hop, her 7-year-old Irish Sport Horse gelding (Dilshaan x Queen Judy) for a first-place score of 27.1
"He is definitely my youngest horse at the moment but it has been so fun to watch him develop since buying him in December," she commented. "He's always been a bit feisty but he was phenomenal in the test today. His canter work has gotten a lot stronger over the past few months so I think that was one of our best movements today."
Crestwood, Kentucky's Larkyn Hendren showed some things really do get better with age as she waltzed into second place with her 20-year-old Arabian mare, Sandy with 29.0. Carolyn Wheeler's 14-year-old Sport Horse mare Karisma and Maisy Sullivan added only 0.9 penalties to Hendren's score to finish third.
Beginner Novice Amateur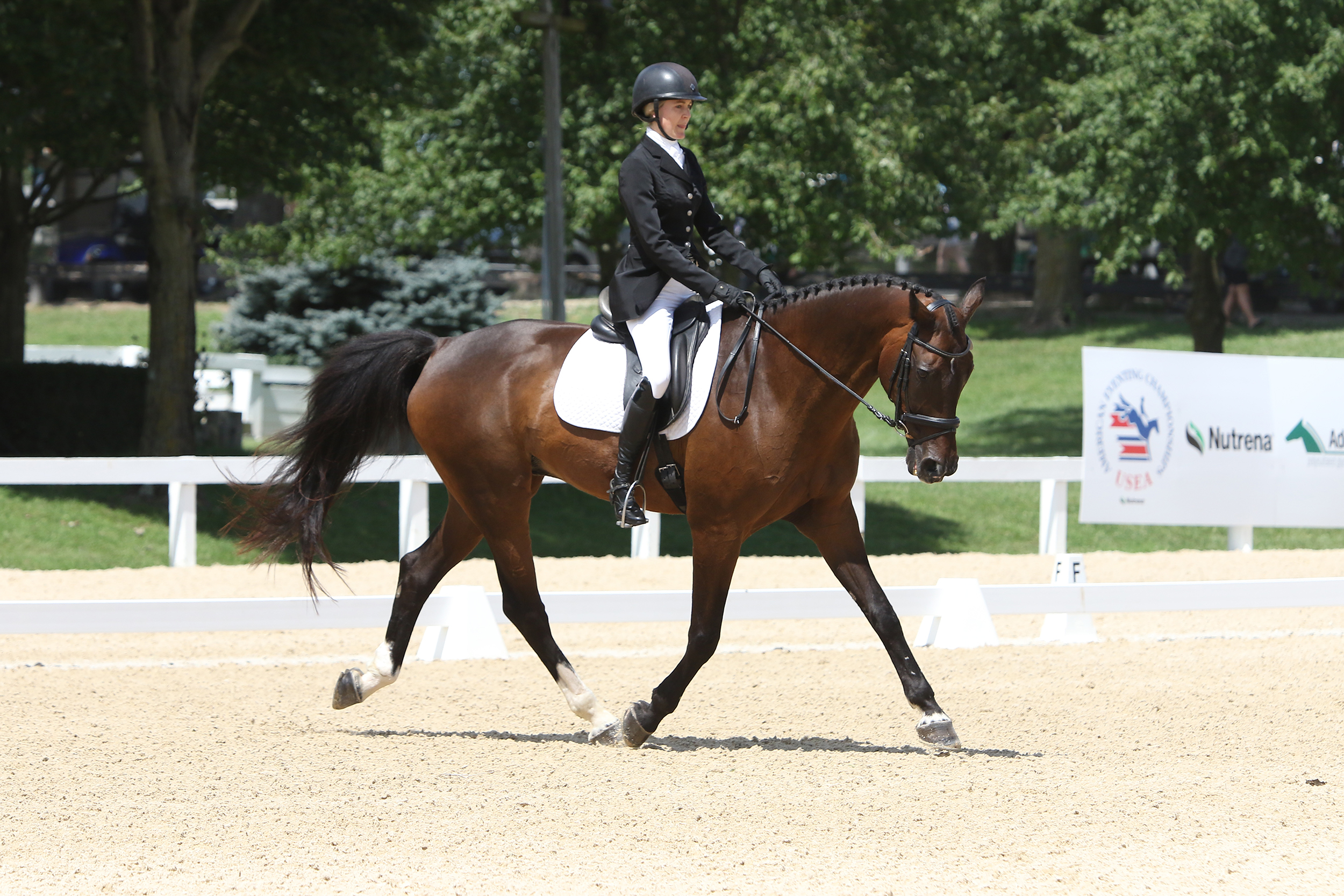 Cami Pease, Washington, D.C., leads the way for the USEA Beginner Novice Amateur Championship. She earned a respectable 24.8 with Vibrant, her 21-year-old Belgian Warmblood (Orlando x Fatima Van De Heffenk). These two are no strangers to the top of the leaderboard, they won the Beginner Novice Amateur Championship in 2018, and they'll rely heavily on that experience in the coming jumping phases.
Emily Nichols, Greenfield, Ind., piloted Galway Girl, her 9-year-old Thoroughbred (Trifecta Scott x Blues Muse) into second place on a score of 26.3. Third place belongs to The Plains, Va.'s Sophie Ann Stremple on a dressage result of 27.3 with Dolly, the 15-year-old Hanoverian mare owned by Shannon Davis.
Beginner Novice Rider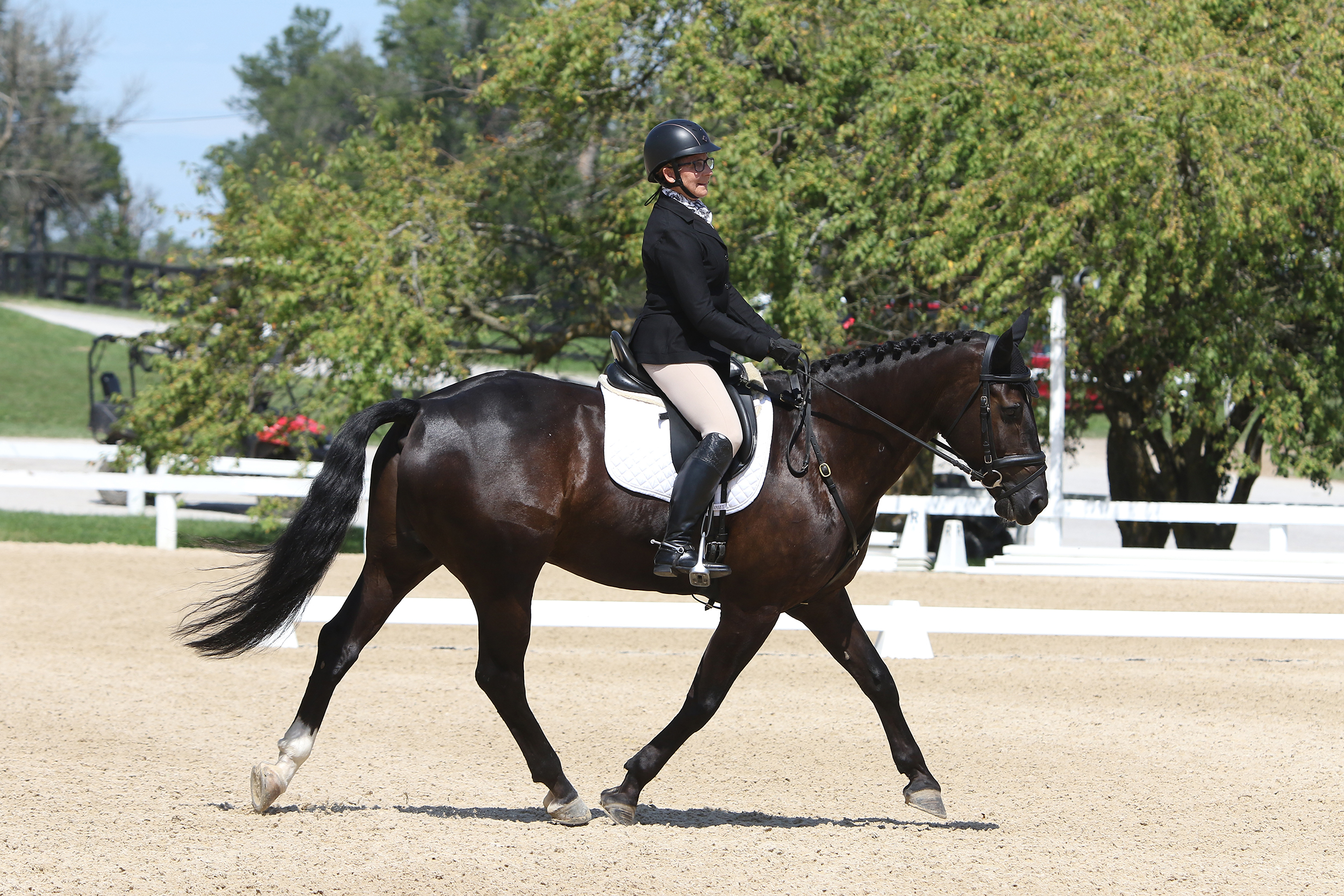 It's been 23 years since Susan Goodman, Wickenburg, Ariz., competed at the Kentucky Horse Park, and she made her return a memorable one, leading the USEA Beginner Novice Rider Championship after dressage on a 26.8.
"We did the long format, [now CCI2*-L] three-day event here in 1998. So I did get to ride around here and do the roads and tracks and steeplechase, and that was very fun," Goodman said. "That was kind of my bucket list thing. And then I really, several years ago, I lost my older horse that I had ridden for a long time, and thought, 'I'm done. I'm not gonna ride anymore.' And then these girls came up with this boy for me."
The 9-year-old draft gelding, who was picked out by one of Goodman's daughter's students, turned out to be the perfect fit for Goodman, who at 73 is the second oldest competitor this weekend.
"I've had a lot of fun on him. I've just, I've just taken it real slow. And I haven't evented for a long time, but I'm now in my 70s and so I just have this new-to-me horse, and we're just having fun," she said.
Second place in the division belongs to Purcellville, Va.'s Leigh Wood and Dollar Mountain, her own 16-year-old Thoroughbred gelding (Forestry x Formal Tango) on a 27.1 and Katherine Rutherford of White Heath, Ill. with Amazingly Lucky, her own 13-year-old Paint gelding sit in third on a 27.8.
Beginner Novice Master Amateur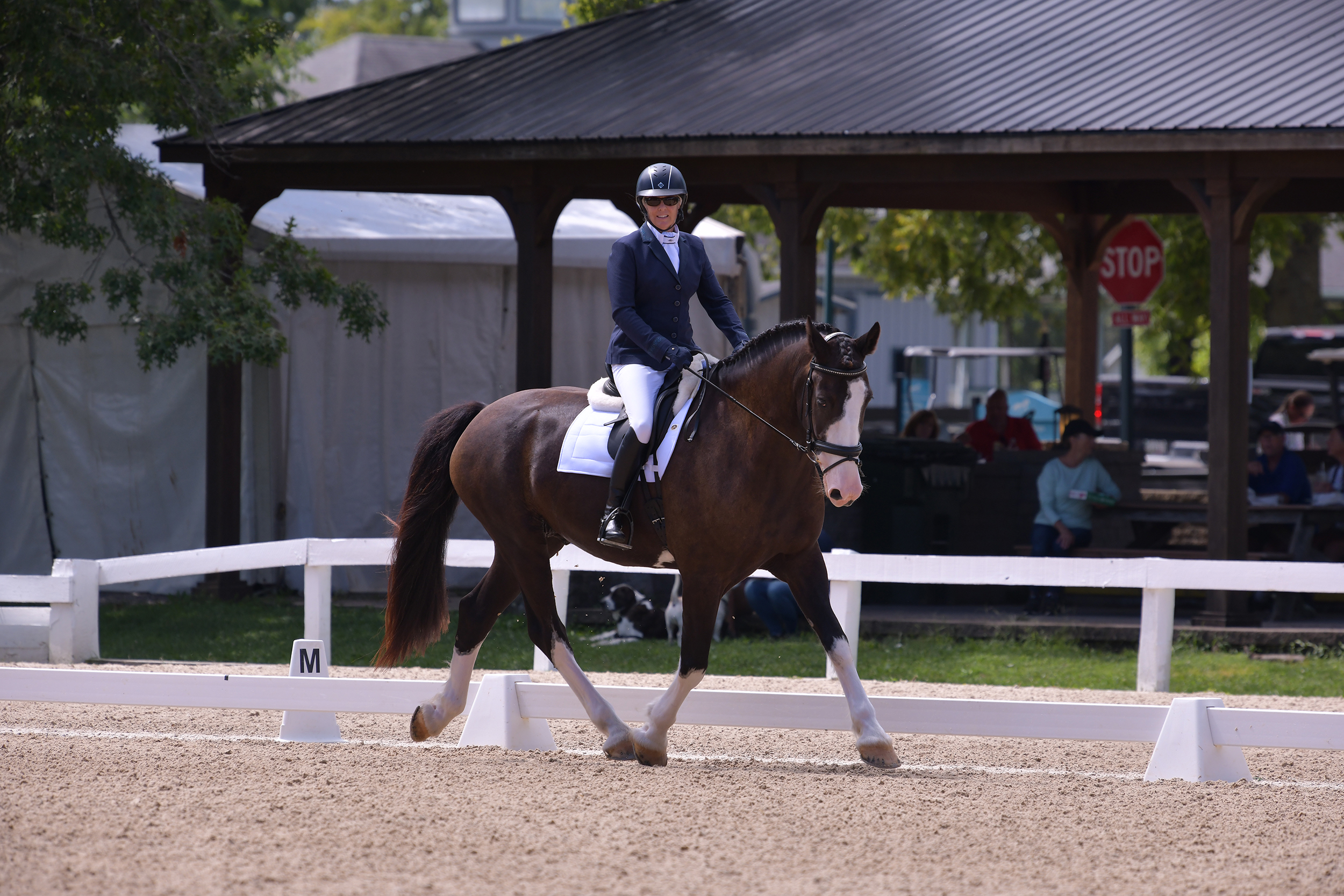 The 2021 AEC is also somewhat of a renaissance for Penny Welsch, who leads the USEA Beginner Novice Amateur Championship after dressage on a score of 25.1 with Stuart Brown's Mr. Poppers, a 13-year-old Canadian Sport Horse gelding.
"It's been almost 40 years since I evented," Welsch, from Ocala, Fla., said. " I never thought I'd ever step foot on this ground with a horse. You know, I just evented as a teenager, you know, and not big time then either. It was the small stuff up in New Jersey. So this is a dream come true."
Renee Senter, Overland Park, Kan., is the second-placed rider aboard Regina, the 14-year-old Holsteiner (Regulus x Nellina), on a score of 27. Just behind on 27.8 is Amy Winnen, Rochester, N.Y., and Galatea HU, a 15-year-old Rheinland Pfalz-Saar (Galant Du Serein x Rohmanie), on a score of 27.8.
Now that dressage is over for the Beginner Novice riders they are on to cross-country tomorrow at 8:00 a.m.
#AEC2021: Website, Schedule, Stabling, Ride Times, Live Scores, Live Stream, Program, Live Stream, Course Maps, EN's Coverage, Twitter, Instagram
Comments