Good morning and welcome to cross country day in beautiful Devon, near the southeastern corners of England! With all the hustle of the AECs happening this week, it might be easy to forget that the sole British five-star — and the first five-star event in the UK since 2019 — is full steam ahead this weekend. Luckily, we've got Tilly Berendt on the ground to help bring the event to us, and we're also treated to a wonderful live stream from H&C+ and Elite Eventing.
The 34-strong horse and rider field contesting the Chedington Equestrian Bicton Park CCI5* will tackle a formidable test that Captain Mark Phillips has set on a track that will also feature in a load of terrain. You can take an in-depth look at the track in Tilly's preview here, and here's a flyover to get a sense of what these riders will be seeing today:
An overview of the track — more details here (including commentary on the track from Lucinda Green!):
Order of go for today: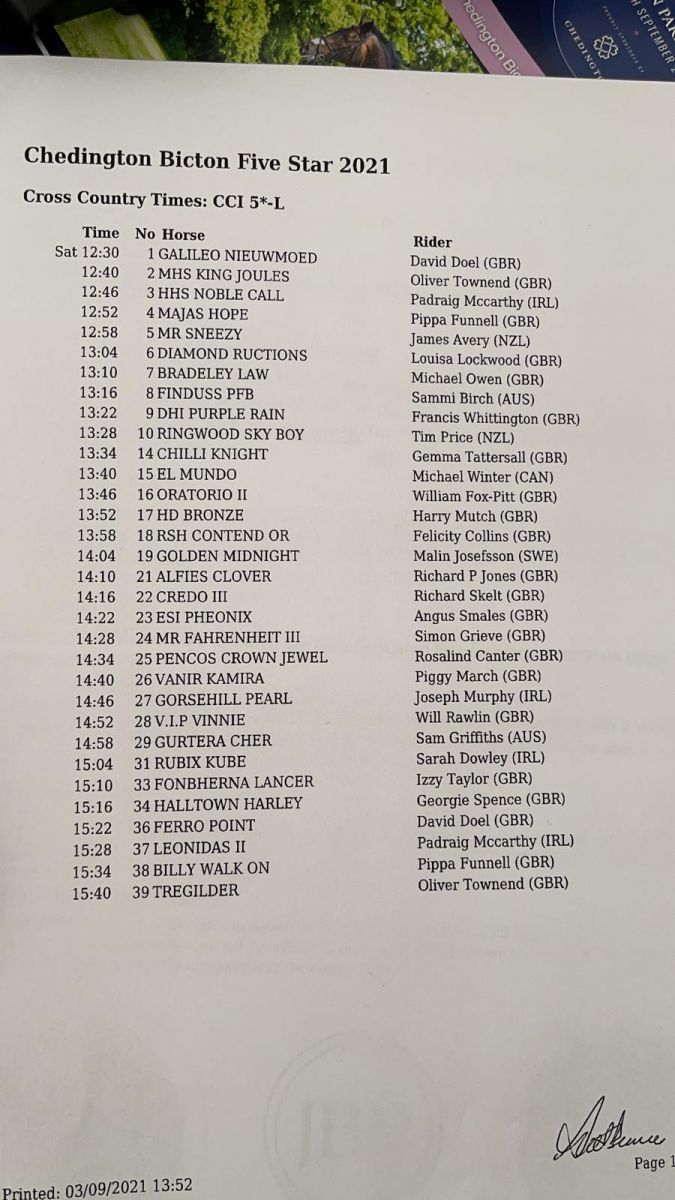 Riders will be sent out at about six minute intervals, which means we should get to see a good amount of each rider's full round. The optimum time for the track is 11 minutes, 16 seconds with 44 total jumping efforts.
Chedington Bicton CCI5*: Website, Schedule, Entries & Info, Live Stream, EN's Coverage, Twitter, Instagram
11:34 a.m. ET: I'm going to drop in some interviews from riders after cross country thanks to the efforts of H&C+ and Elite Eventing on the ground!
Padraig McCarthy:
Gemma Tattersall:
Ros Canter:
Piggy March:
Pippa Funnell:
Also, just going to leave this here from yesterday:
11:09 a.m. ET: And that's a wrap on cross country from Bicton! Tilly will be along later on with photos and a full report. In the meantime, take a scroll through these updates to catch up — and be sure to snag your weekend pass from H&C+ and Elite Eventing to watch all of the action back (replays are generally up within 24 hours), as well as the thrilling finale coming your way tomorrow! You can also catch up on scores and fence analysis here.
11:05 a.m. ET: A few stats from cross country:
19 of the 31 starters finished for a 61% completion rate
13 of the 19 finishers jumped free of jump penalties
2 riders jumped clear inside the time: Gemma Tattersall and Chilli Knight and Piggy French and Vanir Kamira
1 rider jumped inside the time but with 11 penalties: Oliver Townend and Tregilder
4 riders had the frangible pin at the Ariat Challenge down. No other pins were activated
1 horse fell: Richard Skelt's Credo III – he was immediately on his feet
8 pairs chose to retire on course and 4 were eliminated
11:02 a.m. ET: And here's a look at your provisional top 10 as we look ahead to the finale tomorrow. Less than one rail separates the top three, and just 19 will go through to the final horse inspection in the morning:
11:00 a.m. ET: Pippa Funnell admits that she considered this being a final event for her if she didn't enjoy herself, but we're happy to report she's reconsidered that option after two brilliant rides today. "Elated. Absolutely delighted with him," she says after coming home on Billy Walk On. "I knew he's not the fastest in the world so I just knew I had to get into such a good rhythm and keep plugging away. It's such a bonus living where I live in Surrey Hills – I knew from the first horse that he was plenty fit enough. It was really nice to know that when the horses are fit you can keep asking the questions. Honestly, it was the best ride I've ever had on him. For once I didn't feel like an old girl getting all protective. I really really enjoyed it. After two yers not doing a five-star I kept thinking it might be my time if I didn't enjoy it to call it…For the horse ro gallop and go the way he did was for me very very special."
10:57 a.m. ET: And despite the pin, Oliver still manages to be just the third to make the time today, which should keep him inside the top 10 overnight. Bummer about the pin. Also, a shot of the big uphill climb that comes before the final fence — hard to tell from the live stream but it's QUITE a pull.
10:55 a.m. ET: Oliver gives Tregilder a pat on the neck as he jumps through the Fisher German Mounds at 23. He's doing a brilliant job navigating the final questions on a tiring horse.
10:54 a.m. ET: Oliver has safely navigated the Burghley Brushes that caught him out on his first ride and now comes to the final water with Tregilder, who has tired but is still responding and very good on the clock.
10:53 a.m. ET: Oliver and Tregilder take the frangible pin at the Ariat Challenge:
10:51 a.m. ET: Pippa picks up some time and that will mean Piggy and Vanir Kamira will be your overnight leaders! Pippa picks up about 12 seconds of time and will be in third overnight with not one pole separating the top of the leaderboard.
10:50 a.m. ET: Pippa's not quite going to make that optimum time with Billy Walk On, who is tiring a bit but still jumping and responding well. She's likely to still be well within contention if she can just get home clear, though.
10:49 a.m. ET: Oliver has a great ride and shows his experience as he navigates the Topspec Brushes with Tregilder.
10:47 a.m. ET: A beautiful and empathetic ride from Pippa through the tricky Burghley Brushes, as she allows Billy Walk On to have the time he needs to see and read the question while still encouraging him to stay straight and forward.
10:46 a.m ET: Pippa is about 15 seconds down on her time as she comes closer to home.
10:46 a.m. ET: And away goes Oliver Townend and Tregilder, the last of the day! Tregilder makes his five-star cross country debut today.
10:46 a.m. ET: Pippa and Billy Walk On make quick work of the Cliffhanger.
10:38 a.m. ET: Here comes Billy Walk On! Will he and Pippa keep their lead? They've got a bit of time in hand — but not much. Four seconds, to be precise. We're down to a thrilling finish as it'll just be Pippa and Oliver to wind us down. Padraig has withdrawn Leonidas II.
10:36 a.m. ET: Ferro Point is a bit all over this second stump at 21 but they're through and headed toward the finish. What a bummer though, the horse just seemed to bottom out at the final water, prompting him to retire as she trotted out of the water. What a shame. As I corrected myself earlier, David did retire his first horse at this question earlier as well, so he'll be revisiting his fitness plan after this no doubt. But we've been so impressed with this rider and we know he'll be back with a vengeance.
10:32 a.m. ET: Ah, man. Halltown Harry didn't quite lock on to this first of the Fisher German Mounds at 23, and Georgie elects to call it a day. This one was looking a bit winded at the final water and had lost that shoe earlier on, so just not quite the day Georgie was hoping for but such a brilliant effort from this horse.
10:31 a.m. ET: Watch how chilly David sits while Ferro Point dances beneath him, unsure of the line she's on but trusting in her rider to keep straight on:
10:29 a.m. ET: We've just glimpsed our overnight leaders, Pippa Funnell and the incredibly handsome Billy Walk On, making their final prep in warm-up. We'll see them in just a few minutes.
10:28 a.m. ET: You can purchase your weekend pass to watch all of the action (on replay and live) from Bicton — and don't forget, proceeds from the purchase will go to supplement the prize pot and support the development of the sport.
10:28 a.m. ET: David Doel is away and will be looking for some redemption after ending the day early on his first ride as the first ones to go this morning.
10:26 a.m. ET: Halltown Harley loses a shoe dropping off the Cliffhanger at 14.
10:26 a.m. ET: We'll next see David Doel out on his second ride, Ferro Point.
10:23 a.m. ET: Georgie gets a bit close to the brush out of the Dewpond at 5 and is clear on now to the Oxers to Triple Bar question. She uses all of her gumption to lengthen Halltown Harry's stride to get the distance between Oxers done and he responds beautifully. It's perhaps one of the most crucial skills for an event horse to have: responsiveness to the aids. Hesitate for even a millisecond and it could cost you a lot. Practice this at home, everyone!
10:22 a.m. ET: Sadly not the finish Izzy was hoping for as she raises her hand to end her day on Fonbherna Lancer, who just looks to have lost a bit of confidence. Probably better to pull up and save the juice for a re-route in this case.
10:22 a.m. ET: Just a few left to see as we now will have Georgie Spence and Halltown Harley out of the start box.
10:21 a.m. ET: damn! Izzy Taylor just loses her steering a bit as Fonbherna Lancer has a bold drop down the Cliffhanger and they drive by the arrowhead at the bottom of the hill. This will drop them well down with 20 penalties added.
10:20 a.m. ET: How nice is it to have spectators again??
10:18 a.m. ET: What a keen jumper Fonbherna Lancer is as Izzy navigates the Oxers and Triple Bars. She also caught the direct line to the Topspec Brushes after this.
10:17 a.m. ET: Sadly Sarah Dowley's day will come to an end after another issue at the Arena Rails at 15. Just not the day today, but they'll be back for another go no doubt!
10:16 a.m. ET: Now out of the box is Izzy Taylor with the five-star debutant Fonbherna Lancer. Sam Griffiths finishes just about a minute over to get Gurtera Cher around her first five-star.
10:14 a.m. ET: Sam Griffiths chooses to go long at the final water instead of have a silly issue with a more tired, less responsive horse.
10:13 a.m. ET: Sarah has a tough time at the big white Oxers here and has a drive-by at the Triple Bar as a result, dropping her stick in the process. Not a lot of control on some of these pairs in the early going as the terrain entices the stronger horses to bull through.
10:11 a.m. ET: The Burghley Brushes are riding quite well as the day goes on and chatter gets back to the barn on the best approach. Of course, this was one of the most buzzed about questions on the track so there's been plenty of walking of lines done at this one!
10:10 a.m. ET: We're now joined by first-timers Sarah Dowley and Rubix Kube, riding for Ireland.
10:07 a.m. ET:
10:04 a.m. ET: Joseph Murphy nurses Gorsehill Pearl home and we also see Australia's Sam Griffiths and Gurtera Cher out on the track. Another comment Piggy made in her post-ride interview was the cleverness of Capt. Mark Phillips' design and the kindness of the final few fences to get the horses home. We are seeing some horses looking tired as they finish, but not devastatingly so. All in all it seems to be a very tough test, but not one that's altogether unfair or dangerous.
10:03 a.m. ET: Piggy calls this track the toughest five-star terrain she's ever ridden. "Like I've just flown to be honest!" she says of how it feels to finish. "I say it every time, but she's just heart guts and she just puts her snout down on the floor and off she goes truffle snuffling about! I always feel like I'm sat quite at the back of her, but she just sees the flags and says come on I've got this. That was probably made for her. She's an older horse, naturally a galloper. For that type of horse today that can really benefit when they need the blood and guts to keep getting up the hill."
10:02 a.m. ET: "I'm super proud of her, I really didn't know what to expect going into today, she's a first time five-star horse and she's a little mare and so gutsy but a little bit of a worrier," Ros Canter says of Pencos Crown Jewel. "She came out of the start box a little bit frightened of the people…My steering wasn't quite on point the whole way around but she just tries and tries and tries. Shes just the most game thing I've ever sat on."
9:59 a.m. ET: 11 minutes, 9 seconds for Piggy, leaving her on her dressage mark of 25.5 and leaving her in the current lead! She will be no worse than second. In some less fortunate news, Will Rawlin has pulled up VIP Vinnie after just two fences on his first five-star, it looks a bit like the horse has gone a bit lame.
9:58 a.m. ET: And she is HOME! Piggy absolutely took us to school and I've still got goosebumps after that round with Vanir Kamira. Her score shows her with some time, but I'm not sure that's totally correct so stay tuned.
9:55 a.m. ET: Joseph lives dangerously at the Chedington Oxers to Triple Box at 6 but gets away with it and also makes the direct line to the Topspec Brushes work:
9:53 a.m. ET: We're now joined by Irish rider Joseph Murphy and Gorsehill Pearl on course. Piggy makes the Burghley Brushes look like a gymnastic exercise at home, because that's how she rolls. #whenpiggyflies
9:51 a.m. ET: Ros Canter will go into second for now with the second quickest of the day, collecting 8 time penalties for a two-day score of 35.1. Meanwhile, Piggy and Vanir Kamira get lucky and leave the pin up at the Ariat Challenge despite a good rub on the hind end:
9:50 a.m. ET: Be sure to tune in for these last few as we're getting down to what should be a very thrilling finish here at Bicton! The replay will also be available from all phases, including post-cross country press conference, for 90 days after the event finishes. Click here to get your pass!
9:49 a.m. ET: Ros is still having an absolutely top round as she's straight through the Burghley Brushes. Piggy meanwhile takes the direct line to the Topspec Brushes with the very experienced and catty Vanir Kamira:
9:46 a.m. ET: We're now joined by reigning Badminton 2019 champions Piggy French and Vanir Kamira, who also enjoyed a strong finish at the Bicton CCI4*-L earlier this year. Here's a shot of Ros having a lovely go through the Ariat Challenge, which Chris Burton says he thought was almost too tough a question when a similar version appeared on the track earlier this year. But, as he says, "when it's done well it's nice to watch".
9:45 a.m. ET: Ros isn't hanging about as she goes for it down the Cliffhanger:
9:43 a.m. ET: Ros also chooses to go for a circle on the way to the Topspec Brushes with Pencos Crown Jewel.
9:42 a.m. ET: Angus Smales and ESI Pheonix are home!
9:40 a.m. ET: And away now is our reigning World Champion Ros Canter, who rides Pencos Crown Jewel — who is making his five-star debut — on a score of 27.1. She'll go to the lead if she can manage a clear round inside the time.
9:38 a.m. ET: We've just got 11 to see to round out the day, including our overnight leaders Pippa Funnell and Billy Walk On who will be second last to go.
9:36 a.m. ET: Ah, bummer. Mr Farenheit III just trips a bit on landing off the first big white Oxers at fence 6, and Simon has put his hand up to call it a day. He must have felt something not quite right and chose not to push the issue today.
9:34 a.m. ET: Spencer and Nicole Brown are now joined in the booth by Chris Burton as we see Simon Grieve and Mr Farenheit III go out of the box.
9:31 a.m. ET: Like many before him, Angus elects to take the longer, circuitous route to the direct route at the Topspec Brushes. This question comes quite early on the course, so if you're on a keen, strong horse you're probably better off planning to take a circle since you have the space to do so here. Better than having a silly drive-by this early on.
9:27 a.m. ET: Richard Jones and Alfies Clover are home with 8.8 time for a 41.8 and that's good for second at the moment. Those clear rounds with a small amount of time are going to be very influential today I think. We now see Angus Smales and ESI Pheonix out of the box.
9:23 a.m. ET: Yikes, Richard Skelt and Credo III look to have nearly a full rotational fall over the Empire Picnic Table at fence 3 — both horse and rider are quickly up on their feet, thank goodness.
9:22 a.m. ET: Now on course will be Richard Skelt and Credo III. As a reminder, we're about halfway through and have seen just the one go clear inside the time: Gemma Tattersall and Chilli Knight.
9:21 a.m. ET: Felicity Collins on finishing her first five-star cross country: "Amazing. Sorry I'm such a mess! I was fine a minute ago! I'm just so chuffed with him. I'm just relieved he's back and hes safe and he's sound. We looked out for each other out there. I was a bit of a grandma and went slowly. He just gave me everything and I'm so thrilled. I'll probably sleep in the stable tonight!"
9:19 a.m. ET: Malin sadly will have to end her day after another issue on course, this time at I believe the Oxer to Corner question at 18. We're now joined by Richard Jones and Alfie's Clover, who have a lovely trip down the bank and through the Topspec Brushes:
9:17 a.m. ET: Bummer, Malin's horse takes a hard peek at the ditch at the Ariat Challenge and nearly pitches her off the right side. She doesn't quite make that bounce step to the final element but they're through on their second attempt. Meanwhile, Felicity Collins finishes with a fist pump!
9:14 a.m. ET: Felicity calls out for the long route as she jumps into the final water with tons of power — RSH Contend OR is still very keen to kick on!
9:13 a.m. ET: Malin loses the left shoulder of Golden Midnight on the way down the bank and pays the price in the form of a runout:
9:11 a.m. ET: Harry Mutch and HD Bronze are home, and we now welcome Sweden's Malin Josefsson and Golden Midnight on a score of 35.4.
9:09 a.m. ET: RSH Contend OR is quite bold jumping off the Clinton Devon Estates Cliffhanger at 14 but they're through it:
9:08 a.m. ET:
9:06 a.m. ET: HD Bronze gets an emphatic "good boy!" from Harry as they navigate the Burghley Brushes. Meanwhile, Felicity is brilliantly through the Chedington Oxers to Triple Bar question.
9:03 a.m. ET: Our next out will be the youngest rider in the field, 23-year-old Felicity Collins and RSH Contend OR. Peep her bright pink FLAIR strip!
9:02 a.m. ET: Don't forget to grab your weekend pass from H&C+ to watch — replays should also be available from each phase the next day! This course is well worth watching, trust me!
9:00 a.m. ET: I apologize for not being better with updating you on scores, but my scoring site is not working at the moment so I'm just grabbing tidbits when they announce scores on the live stream.
8:59 a.m. ET: "Honestly just the biggest relief and elation, the horse was just unbelievable," an exuberant Gemma Tattersall says. "For me he's now become one of the best cross country horses in the world, he's just proved himself over and over again. It's incredible — hes only a little horse, at home you'd never know he has a big stride because he just ponies along and when he goes out on cross country he turns into a lion." She and Chilli Knight will be on a 27.9 heading into tomorrow and have the lead at the moment. Now on course are Harry Mutch and HD Bronze.
8:57 a.m. ET: Unfortunately it looks like Mike has called it a day, and William will also end his day early after that unfortunate nosebleed on Oratorio. I'm not sure if he had a nosebleed or if he somehow hit himself on a fence — I am going to guess a nosebleed.
8:55 a.m. ET: Ah, Mike has another issue, this time at the HTSG Wilma and Crumble Stumps, just a duck out the right door. Meanwhile, unfortunately it looks like Oratorio has some blood coming from his nose and will likely be pulled up now. But check out this tactful ride down the bank, William allowing him to come forward without yanking:
8:54 a.m. ET: Now on course are William Fox-Pitt and Oratorio II. Check out how bold El Mundo is through the Burghley Brushes, taking a stride out on this distance:
8:53 a.m. ET: Mike Winter unfortunately runs into trouble at the Cliffhanger drop, just losing a bit of control again on the downhill:
8:51 a.m. ET: Andddd I'm crying. Gemma is the FIRST to make the time (and could well be one of the only ones to do so) with Chilli Knight. Check out mama Tattersall celebrating:
8:49 a.m. ET: Mike Winter has exactly zero brake coming down the bank to the Topspec Brushes and has to take virtually the whole arena to turn around. Comin' in hot to the direct route:
8:47 a.m. ET: Gemma is not too far off the time and has plenty of engine left as she comes through the Burghley Brushes at 19.
8:47 a.m. ET: Mike Winter and El Mundo, coming forward on a 29.6 in 12th place, are now on course! Go Canada!
8:41 a.m. ET: We're getting a glimpse of Gemma and Chilli Knight, making their way around:
8:40 a.m. ET: "We've had a really bad prep – I had a fall six, seven weeks ago and hurt my shoulder," Sammi Birch says after her round. "I probably started out a bit steady but to be fair he was just mega. It's the first time I've actually been able to kick him and ride him at the fences. I've always know he was a five-star horse, I just need to be able to start out a bit quicker."
8:40 a.m. ET: Bummer — the rail at the Ariat Challenge goes again, this time for Tim and Ringwood Sky Boy. That's 11 penalties for this pair then.
8:38 a.m. ET: Wow, what a ride from Francis as DHI Purple Rain has a hard jump into the final water. Watch this masterclass in staying positive — and riding a truly genuine horse:
8:36 a.m. ET: The most experienced horse, making an incredible 18th CCI5* start, is now on course: THE Ringwood Sky Boy!
8:34 a.m. ET: I believe we should be seeing Tim Price and Ringwood Sky Boy soon, as well as Canada's Mike Winter and El Mundo.
8:32 a.m. ET: Sammi makes a last-minute adjustment to Finduss PFB at fence 21:
8:31 a.m. ET: Francis looks like he knew he wasn't going to make this tight turn to the Topspec Brushes and heads straight into a circle to make the turn work:
8:29 a.m. ET: I hope you're all tuning in for this brilliant live stream, and we're now joined on commentary by Alex Bragg, who was slated to be here with King of the Mill but had to withdraw his entry earlier this week.
8:28 a.m. ET: Michael Owen and Bradeley Law are home about a minute over the optimum time. Francis Whittington and DHI Purple Rain are our next on course in 18th place after dressage.
8:26 a.m. ET: Now coming forward is one of my favorite storylines of the week: Gemma Tattersall with her homebred Chilli Knight, a son of Chilli Morning who she's had since birth.
8:25 a.m. ET: Australia's Sammi Birch and Finds PFB are brilliant through the Chedington Oxers and Triple Bar question at 6:
8:22 a.m. ET: Michael and Bradeley Law have the pin fully down at the Ariat Challenge at 16, bummer. Louisa Lockwood is home safe with just the 20 penalties and about a minute of time, but what a debut for this horse!
8:22 a.m. ET: Michael Owen and Bradeley Law hesitate at the drop off the Cliffhanger question but they didn't take a step back so they're ok for now:
8:20 a.m. ET: Louisa is safely through the final water at 22 and has just four fences left.
8:19 a.m. ET: Michael Owen opts for the long route at the Topspec Brushes. Commentator Spencer Sturmey has dubbed this "Burghley at Bicton".
8:18 a.m. ET: Louisa is having a brilliant round now and is very positive through the straight line Burghley Brushes:
8:17 a.m. ET: Coming soon out of the box will be New Zealand's Tim Price and Ringwood Sky Boy, who at 17 is the oldest horse in the field. We're also seeing Michael Owen and Bradeley Law, a very experienced pair, out on course now.
8:16 a.m. ET: "It's tough. It's really tough, I mean it certainly rides probably tougher than it walked," Pippa says, explaining that she lost a bit of control and ended up over the spectator rope and costing herself 15 or 20 seconds. "You really have to concentrate on it."
8:12 a.m. ET: Louisa and Diamond Ructions get a bit close to the third element of the Chedington Oxers and Triple Bar at 6 but are safe. They then run into some trouble on the direct line at the Topspec Brushes, ducking out to the right on the second brush corner.
8:11 a.m. ET: James is beautifully through the Burghley Brushes, while Pippa has finished and Louisa Lockwood and Diamond Ructions are our newest starters and making their way through the first minute.
8:10 a.m. ET: The pinned upright rail at the Ariat Challenge goes for James and Mr. Sneezy, just to one side but should nonetheless be 11 penalties.
8:07 a.m. ET: "It felt bigger than it maybe walked but that's the nature of Bicton Park," Padraig says after his ride, noting that some might have underestimated the questions here! "A lot of tight turning and twisting…my horse is green, it's his first 5*, he started eventing at seven so im extremely proud of him."
8:06 a.m. ET: Out now on course will be New Zealand's James Avery and Mr. Sneezy.
8:06 a.m. ET: Pippa gets it done at the last brush of the Burghley Brushes but shows every ounce of her experience to make it work:
8:03 a.m. ET: And they've done it! Padraig and HHS Noble Call finish the track and become our first to complete! They're 21 seconds over, but a clear here may prove to be hugely valuable regardless of time today, the way things are going.
Try not to get choked up, eh?
8:02 a.m. ET: Nearly home for Padraig and HHS Noble Call, who has tired a bit but is getting a masterful ride from his jockey.
8:00 a.m. ET: Pippa is another to lose her brakes and steering a bit heading down the bank to the Topspec Brushes but she recovered well to make the direct line work. Meanwhile, a look at Padraig at the HTSG Wilma & Crumble Stumps at 21:
8:00 a.m. ET: Way to go! Padraig and HHS Noble Call are brilliantly through the Burghley Brushes question that caught out Oliver.
7:58 a.m. ET: Pats from Padraig as they head for fence 18:
7:56 a.m. ET: We'll now see Pippa Funnell with her first ride, Majas Hope.
7:55 a.m. ET: Padraig and HHS Noble Call are neatly down the steep back heading to the Topspec Brushes at 9 — this is another 10-year-old making its five-star debut today. Will they become our first completion of the day?
7:53 a.m. ET: No! Oliver pitches off the left shoulder of MHS King Joules at the straight brush question with four brushes set in a line on varied distances. Oliver's right up on his feet, but he won't be happy about that unlucky ending.
7:52 a.m. ET: Next away are Ireland's Padraig McCarthy and HHN Noble Call, on a 34.9 in 23rd position.
7:51 a.m. ET: Oliver sees a big one at the main arena at the Burghley Table to Arena Rails question at fence 15.
7:50 a.m. ET: Oliver loses just a bit of control down this very steep back on the way to the Topspec Brush Corners, but he's able to regroup to make it through the question on the direct line.
7:48 a.m. ET: Really positive riding from Oliver so far, which is no easy task in this first minute on a strong horse as the course is considerably downhill for this first bit.
7:46 a.m. ET: We now welcome forward Tokyo gold medalist Oliver Townend and MHS King Joules, coming forward on a 28.1 in 10th place after dressage.
7:43 a.m. ET: Oliver Townend and his first one, the very experienced MHS King Joules, will take their crack at the track next.
7:41 a.m. ET: No! David and Galileo take a tumble in the final water. They're both ok, and David's taking the time to cool off his horse economically in the water now. What a bummer – and what a horseman. CORRECTION: I actually don't know that David fell here – I had walked away for a second and missed it so I'm putting this correction here as I've just heard on the stream that he retired on course.
7:37 a.m. ET: Bummer — half of the MIM clip at the Ariat Challenge at 16 goes but the horse just skips through here:
7:36 a.m. ET: Brilliantly dropping down the Clinton Devon Estates Cliffhanger for David, who's riding really positively here:
7:34 a.m. ET: David opts for the long route at 9AB, the Topspec Brushes, which come after a steep bank reminiscent of the Spruce Meadows bank. I'll catch that question on GIF on our next rider.
7:32 a.m. ET: David tackles the first combination at the first water, a pair of off-set brushes:
7:30 a.m. ET: And we're away! David and Galileo Nieuwmoed are away and safely over fence one, the Chedington Flowerbed! David comes forward on a score of 32.2 in 18th after dressage.
7:27 a.m. ET: We're just a few minutes away from the start, and it will be David Doel with his first ride, Galilelo Nieuwmoed making his CCI5* debut. David is an impressive one on his own, having produced FIVE horses to contest five-stars this year alone. He's got two rides this weekend, and this one has the tough task of being the trailblazer but he really impressed us in the dressage yesterday with his real efforts. Want to learn more about the field this weekend? Click here to check out Tilly's Bicton Form Guide.
Comments