It's been a morning of two halves here at the Defender Burghley Horse Trials. We woke up, bright-ish and sort of bushy-tailed, to discover news of five overnight withdrawals, thinning the field to 32 going into the final phase, and feared an ongoing morning of drama — but then, as the final horse inspection unfolded in front of ground jury members Christian Steiner, Anne-Mette Binder, and Nick Burton, it was all… rather boring, actually. Not a single one of our remaining horses was so much as asked to trot a second time, and all 32 looked fit, well, and in good condition following yesterday's exertions. It's the kind of 'boring' that we all tend to long for.
Those withdrawals came from across the breadth of the leaderboard. Most notably, though also most unsurprisingly, was the withdrawal of ninth-placed Tenareze, who was the last horse on course yesterday with Harry Meade, and completed with 9.6 time penalties but pulled up lame at the finish. Harry and his team have since posted an update on the gelding on social media: "He's happy, settled & comfortable in his stable this evening having pulled up lame," they write. "The veterinary team at the finish were absolutely brilliant and with him within seconds. Thankfully he will be fine although sadly for him won't get his chance to shine in the show jumping tomorrow."
That withdrawal now means that US representatives Will Faudree and Mama's Magic Way step up into the top ten going into showjumping.
Also withdrawn was 25th-placed Ferro Point, the other ride of David Doel, who sits third with his remaining horse, Galileo Nieuwmoed. Tom McEwen, who pulled up on course yesterday with Toledo de Kerser, who is also confirmed to be happy and well at home in his stable, opted to withdraw his debutant, Luna Mist, who sat 19th after cross-country, and British-based US rider and five-star first-timer Grace Taylor withdrew Game Changer from 16th place. Former British under-25 title-holders Greta Mason and Cooley For Sure also withdrew from 35th place.
Two prizes were awarded at the final horse inspection. The Best-Shod Horse prize was given to Tim and Nina Gardner's FE Lifestyle, ridden by Jennie Brannigan and shod by Russell Deering. The Horsemanship Prize for the groom who was deemed to have gone above and beyond in their care of their charge was awarded to Amy Akehurst, groom for Tom Crisp and Liberty and Glory, who has also been a previous winner of this prize at Badminton. Second place went to Kerryn Edmans, groom for overnight leaders Tim Price and Vitali.
Now, it's all about the showjumping — and that top few horses and riders. We've got an exciting afternoon ahead of us, not least because our overnight leaders have just 2.3 penalties in hand — and in three five-stars, have consistently had three rails down each time. But in second place, Oliver Townend and Ballaghmor Class aren't a guaranteed jumping pair either; they pulled four rails at Pratoni last year, and though they have jumped clear and won at the level, they've also had to settle for a top-five placing a number of times on the basis of this phase. And then, in third place, there's David Doel. He's 7 penalties — less than two rails — behind the leader, and 4.7 penalties — a rail and less than two seconds — behind Oliver, and he and Galileo Nieuwmoed haven't had a rail down in 2023. They've jumped clear at Kentucky and Badminton, and while they did tip the final rail at Pau last year while in the lead, they come into the ring in a much more fortuitous and less pressurised position. Just 1.2 penalties, or three seconds, behind him is Wills Oakden and Oughterard Cooley, who had three rails here last year and two at Badminton this spring, and then, in fifth, it's Sam Watson and SAP Talisman, who haven't yet had a clear round in a long-format. Expect big changes and a tonne of excitement to come (and maybe pour yourself a stiff drink to get through the stress of it all).
Here's a look at the top ten going into showjumping this afternoon: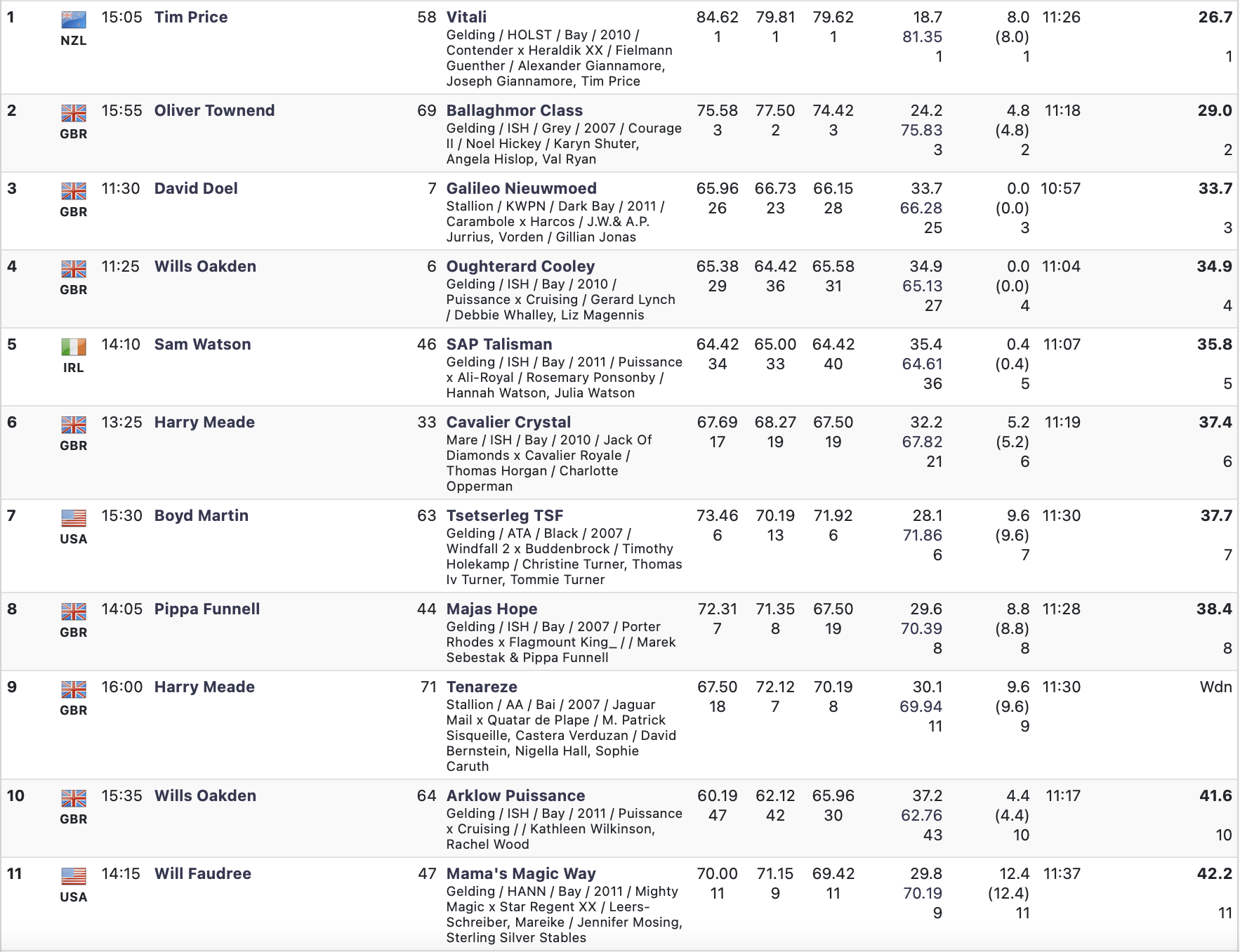 The first group of 12 horses and riders will take to the showjumping ring from 10:30 a.m. local time/5.30 a.m. EST. The top twenty will follow on from 14.15 p.m. local/9.15 a.m. EST. Keep it locked onto EN for a full report on all the action — and to meet our 2023 Defender Burghley Horse Trials champion!
EN's coverage of Burghley is presented by Kentucky Performance Products. Click here to learn all about their full line of science-backed nutritional support products, including Neigh-Lox Advanced for digestive support.

Defender Burghley Horse Trials Links: Website | Live Stream | Entries | EN's Coverage