Tack stiff, grungy and basically…nasty?!
What You Need: Wash cloths (a little abrasive, not soft), hand towel, glycerin saddle soap bar, tack conditioner of your choice and water.
How you do it:
Pull the straps out of the keepers each time, and once a month remove reins and the bit to really clean and check the integrity of your equipment.
Scrub the tack with a wet washcloth and glycerin saddle soap – a washcloth gets the grunge off the leather better than a sponge. Repeat if needed.
Wipe down with hand towel to remove excess water and saddle soap.
Using your hands, apply the tack conditioner – use your hands so the conditioner gets on the tack and not soaked into a cloth or sponge.
Extra tips:
If warm water is not available at your barn, then bring some from home in a thermos.
A scrubby pad (like kitchen scrubby) may be warranted for really grungy tack.
A cap full of ammonia in about three quarts of water (small bucket) can be a good rinse off (first step) for horribly dirty tack.
A hex screwdriver is handy for cleaning out the holes.
Texas Pete's Hot Sauce will get brass sparkling but be sure to rinse it off well as it will burn a horse's sensitive skin and irritate eyes.
The more often glycerin saddle soap is used the more supple your tack will be.
The thicker tack conditioners (paste rather than liquid), such as Oakwood, are great in wet conditions! If you get caught in the rain, no worries! Wipe the tack off with a hand towel and the tack will be smooth and supple, not be crusty or stiff when it dries.
Brought to you by Banixx – the #1 trusted solution for equine and pet owners!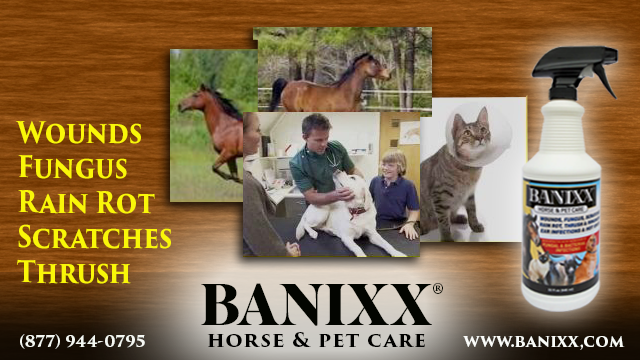 Comments