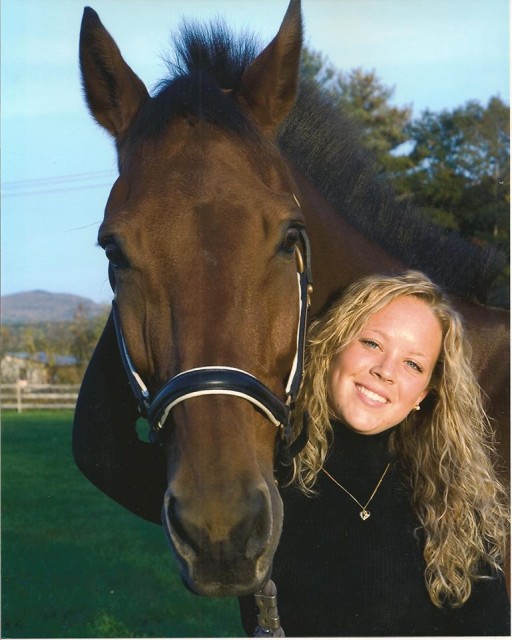 I have always been a skeptic by nature. I don't really trust people I don't know. I find overly cheerful and bubbly individuals peculiar. I think if something sounds too good to be true, it probably is. I would describe myself as a pessimist, a realist and, at times, a conspiracist. Trusting someone or something has been a challenge to say the least. And the answer is yes, I do have friends. How do I have any friends … that remains a mystery.
This idea of trust and believing in something really came to mind after I visited with my buddy Anna Loschiavo last week. For those of you who know Anna, she is the epitome of cheerful and bubbly, but she is a badass, hardcore event rider underneath all that positivity. Therefore, I do not find her odd in the least. She is tenacious and almost fearless as an event rider (and as a person), and her passion for this sport is contagious. We chatted for hours about all things horses. She told me a story about her amazing retired two-star gelding Vega Monster that really made an impression on me.
Anna: "Vega (Lucky Light III) is an imported Danish Warmblood who my aunt bought at age 5 to be a dressage horse. The only problem was Vega didn't want to be a dressage horse. She worked diligently with him for 6 years. Unfortunately, Vega wasn't having it. Not only was he difficult in the dressage arena, he wanted NOTHING to do with the trail. I remember when I was 11, my mom and I would drive up the driveway and look at him in the neighboring pasture to ours and say, 'Wow, he looks like he could be such a cool event horse!' We, of course, were partly naïve, but as Jimmy Wofford said in 'Training the Three-Day Event Horse and Rider': 'You will never enjoy yourself as much as you would riding a horse that you fell in love with at first sight.'
Vega and I were no exception. My parents bought him for me in 2005, and although I have ridden amazing horses since, he will always be that horse for me. At the time of purchase, I was 14 and had competed in one Training level event with another horse; Vega was 11 and was moderately to quite explosive in the arena and couldn't go so far as beyond the end of the driveway without complete refusal (bucking, spinning, leaping, airs above ground, you name it …). So our relationship began.
I decided to take a new approach to my misbehaving horse who only wanted to fly backwards, and when he didn't want to go somewhere, we backed there. Strangely, it worked. After a bit of a fit, I could back him almost anywhere. We even crossed over our first stream backwards. I would frequently turn him around and ask him if he wanted to go forward, and when he threw a fit, we proceeded to quietly back up. I still remember crystal clear the first day I came back to the barn from a 'hack' with Vega and exclaimed to my mom, 'Guess what! We went the WHOLE way away from and back to the barn going FORWARD today!' It was turning a point!
We began taking lessons with Jane Hamlin, and in addition to our formal lessons, I came up with a formula to cure his 'spookiness.' If I said jump, Vega had to. Yes, I was young and naïve but determined. I scoped out all obstacles first, but I would ask him to jump almost anything 'jumpable' that I could find on trail rides and around the barn. Vega did it. I said jump, and he learned to say how high.
For me I feel like the rest is history. We went to Young Rider Championships in 2009, where we put in a double-clear cross-country and finished fourth as a team. In 2010, we went and trained with Phillip Dutton and moved up to Intermediate and completed a CIC2*. Vega was 16 at the time, and after an injury after the event, the two-star marked the last event of our career together. People say it's not the destiny but the journey that's important, and I completely understand that. Everyone has a special horse at some point in life, and although I hope to compete beyond what Vega and I did, I'll be hard pressed to find another who can compare to who Vega was to me. Vega wouldn't leave the property in 2005 and had never jumped a cross-country fence, and in 2010 I competed in a CIC2* and could take him for a hack bareback in a halter and two lead ropes at the drop of the hat with full confidence."
Anna and Vega's story inspires me beyond words. I lack some qualities as an event rider, one of which is complete confidence. Sometimes I leave the start box wondering if I will in fact make it around the cross-country course, or if my horse will like number 10a, or if I will crash and burn at the skinny out of the water? Then I look at people like Anna and think if she can do this, and she can make a horse who wouldn't go down the driveway into a two-star horse, why can't I believe more in myself and my horses? If I don't believe in myself or my horses, how the hell am I ever going to accomplish great things as an event rider? We only get to live once, and these are the years to see what we are made of, so, for me, it's now or never! Thank you, Anna, for inspiring me!
Comments