After the overnight withdrawal of joint leader William Fox-Pitt and Georgisaurous, all eyes were on Australia's Chris Burton as the SsangYong Blenheim Palace International Horse Trials CCI4*-S for eight- and nine-year-olds headed into its cross-country finale. Surely the fastest man in the world, who won here in 2017 with his WEG mount Cooley Lands, would have no problem securing the win with Kate and Geoffrey Guy's Clever Louis?
There was just one enormous hurdle to overcome: he had only been riding the horse for a month, and had never so much as competed him in a one-day event. Though the gelding had been well produced by Germany's Ben Leuwer, who rides for Dirk Schrade, each step of the influential cross-country phase would be a fact-finding mission.
But who were we to doubt Burto, who has proven his prowess across the country time and time again, against all sorts of odds? He duly produced one of just two clear rounds inside the time to deliver the only FOD of the class – and win the competition with a staggering margin of 6.9 penalties.
"I'm really delighted to have this lovely horse. We're very excited about him – he's very Thoroughbred, and he's very honest across the country," says Burto. "It's my first ride on him in competition, but I'm very lucky to have an amazing training facility at Lower Chapel Marsh Farm, so I was able to get to know him before I came here. From the first ride on him, he really felt like my horse. We were always planning to do this and then go to Boekelo in an attempt to get a Tokyo qualification, so if all that goes well, we'll have a think during the winter. If he keeps going like that, he could be [a candidate for the Olympics]."
Though the CCI4*-L competitors had enjoyed a glorious day of sunshine for their cross-country rounds, the CCI4*-S was plagued by a sudden torrent of rain, which made the reasonably firm ground slippery in places. But fortunately for Burto, some last-minute insights helped him to keep the rhythm.
"I was lucky that my mate Tim Price came up to my in the warm-up, and he said that some of the things we thought might be four [strides] – like across the water – the add is better, and even out of the coffin, the three isn't there, and the four is better because it's getting slippery," he explains. "I was worried he'd be a little bit strong to add, but he wasn't – he came back to me quite nicely, and he actually sped up towards the end, which I think is really unique. The Thoroughbred started to come out. At the fences he was unbelievable, really looking through the flags and just trying to look for the numbers."
Tom McEwen and Dreamaway II climbed from tenth place after the first phase to eventual second, finishing on a score of 36.6 after adding 5.6 time penalties across the country.
"He's come on leaps and bounds, and now really has the desire to crack on and get on with it," says Tom of Barbara Cooper's eight-year-old Irish Sport Horse, who was running in just his second CCI4*-S. "I wasn't perfect all the way around, but he really sorted himself out. He shortened himself when he had to; he's got a big old stride, especially for an eight-year-old – he seems to be forever growing! He really ate the course up and didn't make anything feel difficult."
Though Tom admits he wasn't going as fast as he possibly could with the maternal grandson of Cruising, he praised the efforts of the Blenheim team in producing the best possible ground they could have for the week's temperamental conditions.
"They'd done such a good job and worked seriously hard all week," he says. "Yes, in some patches it was possibly a bit slippier, but it wasn't dramatic."
'Dreamy', who won the Intermediate championships at Gatcombe this summer, will finish his season on this result, saving his first CCI4*-L for next year – and it's a productive note to finish on.
"He's done three phenomenal phases all week, and now I really feel like he's seeking the flags," says Tom.
Gemma Tattersall rounded out the top three with Chilli Knight, who has been put up for sale by owners Christopher and Lisa Stone, and who added just a solitary rail to his 33.1 dressage. In coming home across the country inside the time, he became just one of two horses to do so in this class.
"He's adjustable and really clever to a fence, so we pretty much saw a stride from the start box," says Gemma. "That set the tone for the round. He's naturally very fast anyway; he covers the ground in a very quick and easy way, and he's quick over his fences but clever, too. If you have to add a stride he does it in such a quick way that he doesn't really slow down; he's so clever with his body. I came through the last water and I was probably five or six seconds down, but I knew I could make it back because he's so quick. He's got real gears, and he's not got the most enormous stride so I don't have to slow down – you can keep coming to the distances without having to set up."
After a successful 2019 season, which saw them finish 6th in the CCI4*-L at Bramham, Gemma is desperate to keep the ride on the son of Chilli Morning, who she's produced through the levels. If so, she hopes to aim him for his five-star debut at Pau.
"If there's anyone out there who wants to buy him for me, I'd be unbelievably happy," she says. "He's just been amazing, and really consistent – I call him the Yes Man, because he never says 'no' and he's the ultimate trier. He tries in his dressage, he tries in his showjumping, and he's unbelievable cross-country. We've got such a partnership; he believes me and I believe him. He looks for the flags, and when I say go, he goes. It's so easy – he's such a cool little horse."
Course designer David Evans enjoyed a successful weekend – and an abundance of praise from the riders, who felt that in this, his third year designing at Blenheim, he'd delivered his magnum opus, increasing the intensity from the previous two years without sacrificing the confidence-building rhythm and positivity that he's become known for.
"Even though I've been here for so long doing the ground and doing the building, and even when you've been working for the designers, you want to do your own thing," he says. "You know where the ground is, but until you see horses jumping your new or different ideas, [you don't know]. It still takes three years to actually make the tweaks you want to all the way around the course. Going into this week, I was actually the most comfortable I've been – it's the hardest course we've had here, and a proper four-star, but I felt the most comfortable I've felt over the last three years. I felt like I'd actually got to where I want to go with it. Now, in the future, I've just got to tweak it a bit."
Some of those tweaks are already percolating as David looks ahead to next year.
"I felt that for the young horses, I was a little bit unfair where I had their alternative coming down to the water," he explains. "Some of them just looked like they were coming to the shoulder to the water and just, for a split second, looking at the alternative. So I'll move that out of the way next year. There were a lot of comments from the eight- and nine-year-old class that they felt their question was more difficult than the straight line, but I don't want those eight- and nine-year-olds coming down that hill to a straight question, because they're going to run away with themselves. So I'll look at that, but otherwise, I'll probably just do some tweaking."
One of the major conversations that has come out of Burghley has been whether the levels below are adequately preparing horses and riders for a competition of that intensity, or whether riders are setting up the building blocks for their own downfall by seeking out 'easy' qualifications. But David hopes that in upping the ante of Blenheim this year, he's stopped it from being a 'soft option' while still creating a suitable competition for inexperienced horses or riders.
"Each level should be at its star, and this year is the closest I've got to a true four-star. You can overstep it sometimes and go four-and-a-bit stars, or three-and-three-quarters, and I just think it's very difficult to get them ready for a Burghley. We're all completely different designers; if you look at Ian [Stark]'s track at Bramham, he's very good at what he does, but it's Bramham [and, as such, more difficult]. I think it's important to get them round but to ask similar types of questions and use the same top spreads, and then you get closer to getting them ready. I'm a great believer that actually, once you've got to this level, you should maybe do Pau or Luhmühlen and then go on to Badminton or Burghley. It was different in the old days, when we didn't have the other five-stars, but I think with the modernised part of the sport that maybe that's the way people should be thinking about doing it. But hopefully, we're starting now to get them ready for the next level."
So there you have it, folks – a star is born in Clever Louis, who was probably the least likely prospect for a win here this week. Will he join his former winners in moving swiftly on to five-star glory, team success, and household-name status? Watch this space.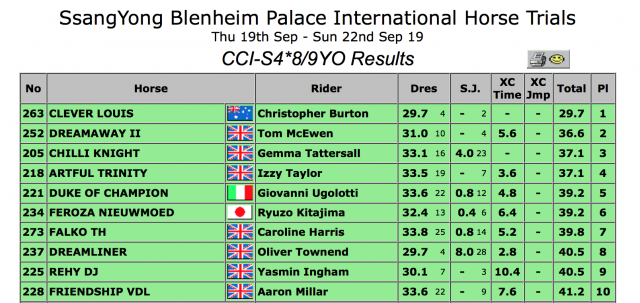 Blenheim: Website, Ride Times, Live Scoring, Live Stream, EN's Coverage, EN's Twitter, EN's Instagram
Comments