Each day we'll be bringing you new deals from over 30 companies via EN's inaugural Virtual Vendor Village (shop Friday's deals here), and each day I'll be sharing my top five favorite deals of the day. Here we go for Friday!
P.S. You can check out Jumper Nation editor Lynn Mueller's top 5 picks here, and Horse Nation editor DeAnn Long Sloan's top 5 picks here.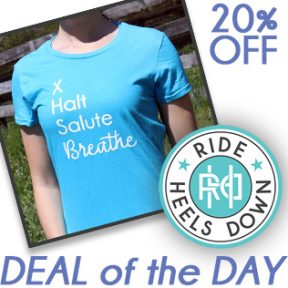 Ride Heels Down: "X < Halt < Salute < Breathe" … um do they make this shirt in "size 14-hand pony"? Princess' centerline mantra is more like "X < Halt-ish < Pitch a Fit < Pray Judge Has a Sense of Humor," and she could use some zen in there.
Ride Heels Down founder Ainsley Jacobs is one of EN's favorite bloggers — we've loved following her adventures (and misadventures) with JJ Spot, with whom she finished 7th at the USEA American Eventing Championships last year. We also love her cheeky tee-shirt designs, which have been on sale this week. You can check out the complete RHD collection here (there's even a limited edition coronavirus line, love it). Here deal for today is for the above tee for 20% off; be sure to check back each day for new deals! We heart you Ainsley and look forward to seeing you and JJ back in the startbox soon.
Banixx:  On his annual Kentucky cross country course walks Jimmy Wofford is fond of referencing one of his many Jimmy-isms: "Experience is something you don't get until just after you need it." I'd say something similar about equine skin infection products — you don't need them until you NEED them, and by then it's too late. The wise horse owner keeps skin infection products on hand, so that the moment your horse starts cooking some crud you can jump right on treating it immediately.
I've had fantastic experience with Banixx products, and in particular the Banixx Pet Care Bacterial & Fungal Infection Spray. I've kept it in my grooming kit, ready to go, this spring, so at the slightest hint of rain rot I was able to treat it from the get-go with a highly effective product.
Banixx products, which also include an anti-fungal and anti-bacterial shampoo and a wound care cream, are on sale this week via Valley Vet Supply — 10% off + free shipping at Valley Vet, and they'll ship immediately! Click here.
For more information on Banixx Horse & Pet Care visit the website here. And be sure to check out their sponsored column right here on EN, written by the one and only Shellie Sommerson, each Thursday! We thank Jane and her team at Banixx for their continued support of EN.
Equine Therapy International: Event horses log hundreds of hours of conditioning work over the course of their careers. We set our watches and go pounding around the field, cranking out a carefully programmed agenda of trot and gallop sets. But the high level of fitness that is required for eventing also comes at the cost of extra wear and tear on our horses' limbs.
With an underwater treadmill, there is a certain amount of weight reduction so you're not having the concussive forces on the limbs. You get a longevity of the joint because you don't have to work them as hard on dry land. Also, working in the water you can really get an exaggerated flexion so if you have stiff joints it helps with joint mobility. Not to mention the water resistance does amazing things for muscling as well as cardiovascular fitness.
I've seen tremendous benefits from using the treadmills with my own horses. Here's some more #instaponyspam.
This week Equine Therapy International is offering a 15% off special promotion on their Activo-Med products, which include equine therapy pulsed electromagnetic and massage blanket, boots, pads and combined light therapy. Today's featured Activo-Med product is its Equine Water Treadmill, which at 15% off equals a deep discount on an incredible tool that will take your horses' fitness to the next level and prolong the duration of their careers.
FLAIR Strips: I know we're not competing now, but we'll be back out there again someday soon-ish. Why not use the down time to restock your show trunk with all the stuff you KNOW you're gonna need on down the road, especially if you can get a good deal on it now? FLAIR Strips are an eventing essential for respiratory performance; it's increasingly rare to see an upper-level event horse running without one.
Gonna spam y'all again with another pic (I must be extra missing the barn today).
This week FLAIR Strips are offering a discount at checkout with promo code LRK3DE. Thank you for the hookup and for your continued support of EN, FLAIR!
Tapestry Equine Products: The girth revolution is here and your horse wants you to get on board with it. The innovative, patented design of Tapestry Comfort Girths is the only girth on the market that "breathes" with your horse, improving comfort, performance, and competitiveness. The elastic is situated where the horse needs it, from the sternum up the ribcage offering expansion and comfort.
Linda Hauck, owner and innovator of Tapestry Equine Products, also innovated Spursuader Spurs. "The reason I developed this spur was in large part my experience riding sensitive horses, particularly Thoroughbreds," she explains. "How they overreacted to a traditional spur, how some would get tense right away when they knew you were wearing a spur or watching a horse get inadvertently 'spurred.' That got me thinking that there must be another way to get our point across to the horse without offending or creating tension in that horse."
This week you can take 10% off + free shipping with code LR2020 on all products from Tapestry Equine Products!
Go Shopping. Go (Virtual) Eventing!
Comments