Each day we'll be bringing you new deals from over 30 companies via EN's inaugural Virtual Vendor Village (shop Saturday's deals here), and each day I'll be sharing my top five favorite deals of the day. Here we go for Saturday!
P.S. You can check out Jumper Nation editor Lynn Mueller's top 5 picks here, and Horse Nation editor DeAnn Long Sloan's top 5 picks here.
FITS: FITS breeches are the Lululemon of  riding pants. They're so comfy, you could literally sleep in them (and tbh I'm sure I HAVE slept in mine before), but they're also high-functioning and attractive too. (A compliment I also get all the time too, LOL, JK.) The Olivia Full Seat Tread Breech gives you a gorgeous silhouette in the saddle with Euro seat styling, silky soft fabric, a front zip closure, two slash pockets and FITS' printed technology silicone grip so you can sit that trot like a champ. And they're 20% off today, so come and get 'em!
Jane Heart Jewelry: Mother's Day is coming up (May 10) … what's your plan? Any horse-loving mom would appreciate a ring from Jane Heart Jewelry, and this week you can save 15% with code ring15.  Jane Heart Jewelry Collections that are cast, hand finished and hand polished by a master silversmith here in the USA … a rare find. Just gonna drop a little hint to my husband here that I love ALL of Jane's horsehead rings AND the Sterling Silver Signet Ring, because I am a monogram-all-the-things kind of girl. Shop the ring collection here. Also … HAPPY BIRTHDAY JANE!!!
Voltaire: Voltaire all the things! When I think about Voltaire design I think about saddles, but they also have a huge selection of accessories and they'll all 20% off with free shipping this week. Girths, bridles, reins, saddle pads, stirrup leathers, breastplates and martingales, leather care products, saddle covers, dry bags, umbrellas, socks, bags, stirrups, ear bonnets, stirrups, bags and wallets … come and get it today!
AtelierCG: Here's another perfect (and Wylie endorsed, hint-hint) Mother's Day offer — 15% off with code BEYOU at AtelierCG. This company has a number of gorgeous products — among them jewelry, small leather goods and tee shirts — but what we're drawing attention to today is their handbag collection. SO luxe, and pragmatic, including this beautifully crafted ride holster that is perfect for trail riding, walking the dog or chasing their kids. I've been only semi-joking to my husband since we had our baby on Kentucky cross country day last April that I needed a fanny pack, as I'm CONSTANTLY losing my phone, my keys, my mind? — and how convenient would it be to just have the essential stuff strapped onto your person at all times. Doesn't help the losing of my mind, but at least it's a start!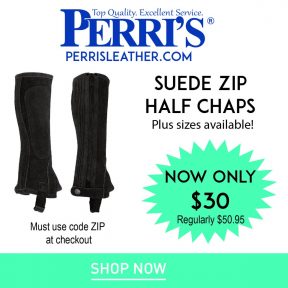 Perri's Leather: Speaking of top shelf leather goods, these suede zip half chaps from Perri's Leather are only $30 (regularly $50.95) with code ZIP. You know Perri's from their Kentucky booth — the one with the gorgeous Amish handcrafted halters and leads? Well these are their best-selling half-chaps, crafted from supple suede cowhide and featuring reinforced inner legs and stretch panels, which provide a near custom fit and help the chap form to your legs for peak performance and comfort. Snag 'em for $20 off NOW!
Go Shopping. Go (Virtual) Eventing!
Comments