Each day we'll be bringing you new deals from over 30 companies via EN's inaugural Virtual Vendor Village (shop Wednesday's deals here), and each day I'll be sharing my top five favorite deals of the day. Here we go, for Wednesday!
P.S. You can check out Jumper Nation editor Lynn Mueller's top 5 picks here, and Horse Nation editor DeAnn Long Sloan's top 5 picks here.
Omega Alpha: It wouldn't be Kentucky Week without our annual "Pick 'Em Contest, Presented by Omega Alpha" — this is its 8th year running! Usually we have readers share their picks to win the event, using predicted finishing scores as a tie-breaker, but this year we're just going to have to use our imaginations a little. We're asking readers who they think WOULD have won Kentucky, and their answer enters them into a raffle for a "Guts to Win" prize pack valued at $300. (I couldn't resist peeking in on the entries thus far, and whodathunkit, Boyd Martin and Tsetserleg are running away with the lead. No write-in votes for me and Princess? Maybe next year. *sigh* ) While you're at it, visit Omega Alpha and use the promo code EN10 to get 10% off all orders over $40 + free shipping in North America. And be sure to tune in to EN's Facebook page on Saturday at 11 a.m. for a Omega Alpha sponsored "virtual autograph signing" with Canadian five-star superstar Selena O'Hanlon! 

Hylofit: Speaking of our virtual Kentucky frontrunner, how do you think Boyd keeps his horses so fit? "For me fitness is one of the most important things … To be one of the best in the world, it's the attention to detail. It's not just riding well, it's this feeling of being exact in your training. Linking up with products like Hylofit is trying to hone in and make everything more exact, more polished, more streamlined. It's a wonderful instrument to really let me know exactly how hard to push them in their fitness work, and then I've got a clear understanding of how fit they are."
This week, Hylofit is offering 20% off its heart monitors with code HYLOEN. Go get yours now, and maybe give that guy a run for his money next year!
C4 Belts: A wise man once said …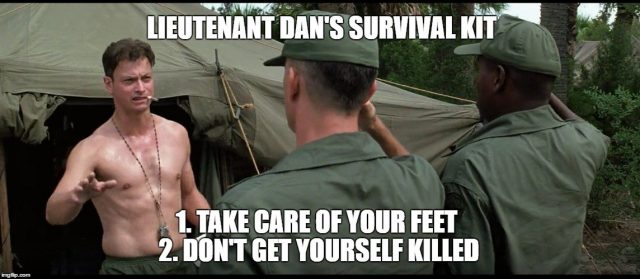 I think this is pretty solid advice for the COVID-19 pandemic, too. Today, you can get 15-23% off sock bundles from C4 Belts, which I didn't even know had a mind-blowing sock department as well! This Pony Ninja Sock & Belt Combo is mine all mine. Or do I want the one with the unicorns, or the sushi … Y U MAKE ME MAKE HARD CHOICES LIKE THIS C4?!?!
ENO: I don't mean to get all apocalypse-y on you guys, and I'm not, like, a prepper or anything, but since all this craziness has been going down my husband and I decided that we'd just feel better if we had a "bug-out bag" ready — in the event that society collapses completely and we have to head for the hills (AKA the back pasture of my pony's boarding barn). And in that bag is my ENO hammock, which has seen me through much happier times like my annual trek to Bonnaroo and countless backyard naps. You can string it up anywhere and, boom. I've even seen people string them up inside their horse trailers at events! I've taken mine around the world, literally …
And I'm sure my trusty hammock will see me through the end times, too. No pesky virus-apocalypse-scenario gonna get between me and a good nap! And this week you can get 20% off online orders using promo code FEST2020. (Bummer of a code, ENO! I was sooooo stoked about seeing Lizzo at Bonnaroo this year….)
Sport Horse Nation: One more amazing deal for you fine folks! Not to toot our own horn or anything, but bear with me here for a moment as we toot our own horn.
Sport Horse Nation, EN's classified site, is offering 50% off new ads this week. I might be biased, but I think SHN is the best eventing matchmaker service in the biz. After all, it's how I found my pony soulmate Princess.
OK, toot toot! Gotta run. Facebook LIVE with Robin Moore of World Equestrian Brands and three-time Kentucky champion Kim Severson 'bout to start at 1:30 p.m. EST. Last plug: While you're at it, be sure to check out World Equestrian Brands' Virtual Kentucky Store for some amazing discounts on products from Amerigo, E.A. Mattes, Equilibrium and Vespucci! Tune into EN's Facebook page at 1:30 here!
Go Shopping. Go Eventing!
Comments