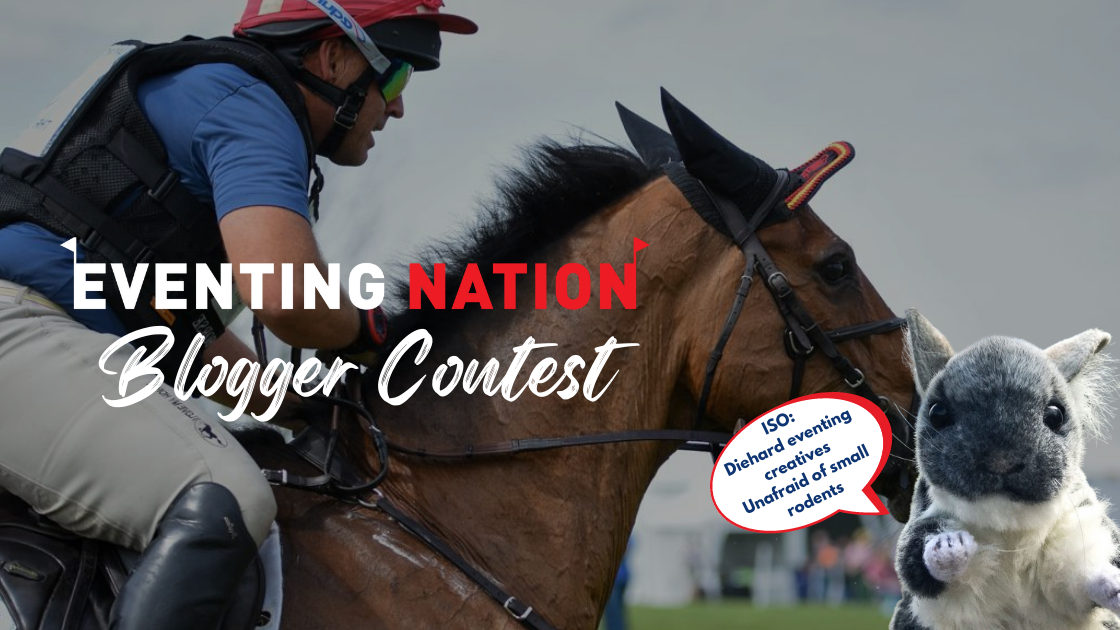 The 2022 EN Blogger Contest finalists were asked to write about something eventing needs in order to grown and thrive as one option for their final, Round 3 submissions. The following piece is published unedited. Your feedback will help us select our final winner! Use the rating poll below to give this post a thumbs up. Votes will be factored into our final decision.
About Allie:
My name is Allie Heninger, or the Autoimmune Equestrian on most social media platforms. I'm 25 and currently resting in Utah with my husband, my fiery little NightMare, my Curly heart-pony, and the four cats that adopted us. I've been riding since I was 6 years old, and was a hunter/jumper kid transplant into the amazing world of eventing. I'm a teeny bit of an adult re-rider, as I took about 5 years off from dedicated or consistent riding while attending the last few years of high school into college, but am now back at it, competing with my lovely little NightMare. I have an autoimmune disease that runs my life a bit, and have recently worked to fully embrace it as the disability that it is, rather than continuing to try to fight against my body. Managing a competitive equestrian amateur lifestyle with a malfunctioning immune system and full-time job can be pretty rough, but my mare and I are learning together as we continue to grow!
[Click here to read Allie's Round 2 entry]
[Share your feedback on Allie Heninger's entries]
While eventing continues to thrive on the East Coast, those in western states are facing many challenges trying to keep the sport alive. There are more venues in USEA Area II alone than in all states west of the Mississippi combined, and many competition sites continue to combat venue closures and event cancellations. To prevent a future where our sport is segregated into one geographical region of the country, alienating many potential future riders and professionals, eventing in the United States desperately needs movement and support in smaller communities, especially in the West. What might a rider not have access to here in the West that they might have if they lived in Florida, South Carolina, Kentucky, or New England? Unfortunately, the answers are plentiful.
Education and exposure are a few key components in the fight to continue expanding from the East Coast. Programs like 4-H and Pony Club are essential in these areas, providing junior riders with important skills, knowledge, and foundations to become the future generation of equine professionals; however, we lack educational opportunities for adults wishing to enter the horse world. Here in the West, riding schools that teach eventing and provide schoolhorses for riders who cannot afford their own are becoming a rare find, working student opportunities in local areas are often impossible, and we are very seldom blessed with the opportunity to attend clinics by top-level riders in our own state. Addressing these areas would provide a more welcoming atmosphere for those who never had the chance to learn as a child. For eventing to grow, we must first expand the pipelines of exposure that bring new riders into the sport.
Just as exposure is important for new riders, we must also provide opportunities for current riders of other disciplines to discover eventing. Growing up in Alaska, the forgotten corner of Area XII, I never had the opportunity to be exposed to eventing due to the lack of outreach at that time. Until I moved to Colorado where eventing was much more accessible, I didn't have a chance to learn about the discipline during my hunter/jumper days. Living in Utah now, I often feel a similar atmosphere surrounding eventing, especially when explaining it to people who have ridden horses here their whole lives and have never heard of the sport. Interactions with communities and local areas can be a starting point for bringing this culture to new regions across the country and initiating support from riders of other disciplines. A barrel racer may seek out and enjoy their time spectating roping events at their county rodeo, but how often do we convince members of a local hunter/jumper program to come watch our regional horse trials? How do we make our events more enticing to the children of cowboys, young dressage hopefuls, or seasoned hunter riders? All it takes is one watch and they'd be hooked (I've seen it happen; we're just plain addicting!), but can we make it more accessible for jumper or dressage riders to "dabble" in eventing?
First, I believe we must start at the source: our trainers and professionals that keep the sport alive. If an eventer in Arizona or Oklahoma or Montana reaches a successful point in their career, intending to achieve professional status, they must inevitably visit (if not entirely relocate to) the East Coast to further accelerate their progress. If you don't live within a four-hour radius of Temecula, California, and the Tamie Smith aura of knowledge that dwells therein, your next best bet for growing in a professional riding career is to become a new resident of Areas I to III. We simply do not have the educational programs, the riding opportunities, the clientele, or the plethora of experienced trainers to facilitate growing a population of new professionals. Those in our regions lucky enough to have a highly-competitive trainer must lose them for weeks on end during the show season as they travel out of state to any events within reach.
I look forward to growth in our continued mentorship efforts between seasoned professional riders or trainers and those starting out in areas with less access, such as with USEA's Emerging Athletes Program and the Rising U25 programs, where young riders hoping to become professionals can gain educational opportunities from top coaches in our sport and receive grants to travel to destination competitions. The Emerging Athletes Program has been consistent in offering clinics on both coasts and in central states, offering the possibility to potential candidates equally across the country. We very recently saw the first-ever West Coast location announced for the MARS Bromont Rising U25 Program, to take place in November at Galway Downs in Temecula, California. These positive steps toward bringing support to our West Coast riders will hopefully inspire many more progressive changes in the future.
Aside from professional riding, I hope to also witness new support programs and endeavors to close the East/West gap among the entire equestrian industry, from businesses and foundations to vendors and venues. The western states have the infrastructure to support the entire Western riding industry, a booming world of large cash prizes at countless stadiums and events throughout several geographical regions. If these disciplines can thrive here, why not us? The communities of events, working opportunities, mentorship opportunities, circulated media, associations, and businesses must expand to include interdisciplinary aspirations in all areas of the country.
Most importantly, I believe the key to success in efforts to grow the sport of eventing westward lies in our venues. Unfortunately, unlike nearly any other discipline, ours relies on the infrastructure of dedicated space for cross-country courses, not just arenas as most equestrian venues solely provide. Fortunately, while still a monumental task, this may be all that stands between us and a future with countless potential venues for horse trials across the nation: add the simplest of cross-country courses to any event center, and it instantly becomes accessible for eventers as well. This has already been successfully implemented for many of our current recognized venues in the West. Unfortunately, we are seeing more and more venues that are personally funded, small-business-owned, or even kept alive by volunteer efforts alone, which is beyond commendable, but concerningly unsustainable. Financial support in the form of grants and partnerships will likely be vital to promoting the conversion of new venue sites, assisting in the creation of cross-country courses at established stadiums, fairgrounds, and event centers, or helping current show sites that are struggling to stay afloat sustain their events. Even movements as simple as providing incentives to those building or opening new facilities to make them eventing-friendly (i.e. able to host horse trials) would be met with the opportunity for huge growth.
Financial support from foundations, programs, syndicates, associations, or private parties could also have the potential to bring our sport to par with other competitive disciplines in terms of prize money. Offering similar prize levels as other disciplines, such as showjumping, would increase growth and interest from riders of those disciplines, and potentially encourage interdisciplinary experimentation. Amateur rider interest and numbers would certainly rise, especially if supplemented by the venue accessibility previously mentioned. Even if a showjumper is intrigued by eventing, why would they switch and lose out on the potential prize money income they make in their current sport? Even if eventing may often be a labor of love, what eventer hasn't been tempted by the daily Amateur classes at showjumping events with awards from $1000 2'9 Hunter classes to $5000 1.1m Jumpers swimming through the prize list? The $10,000+ weekend Hunter Derbies are another world entirely, and while I'm sure we all like to imagine a world where we could keep living our cross-country dreams on a limitless budget, the tantalizing purse sizes of showjumpers have stolen many an eventer in their time. Implementing higher monetary incentives would eliminate a huge disparity between the sustainability of our sport and those of our fellow riders.
I believe that here in the West, the demand for our sport is not the issue, but rather the accessibility. What are some reasons an up-and-coming professional might move to the East coast, and can we work to provide that here in the West? In this modern age, we have the resources available to reduce the geographical segregation of eventers, we simply need to prioritize the movement. Online programs could provide an unlimited potential to bring education, exposure, and training across the country for riders of all ages. There are significant programs providing grants and support to aspiring professionals, we just need to provide a similar level of support to those first entering the sport at a grassroots level and to those who are struggling to maintain the sport in their areas. Amateurs keep the sport alive for our professionals to survive, so we must continue to find areas where we can improve eventing's national accessibility.