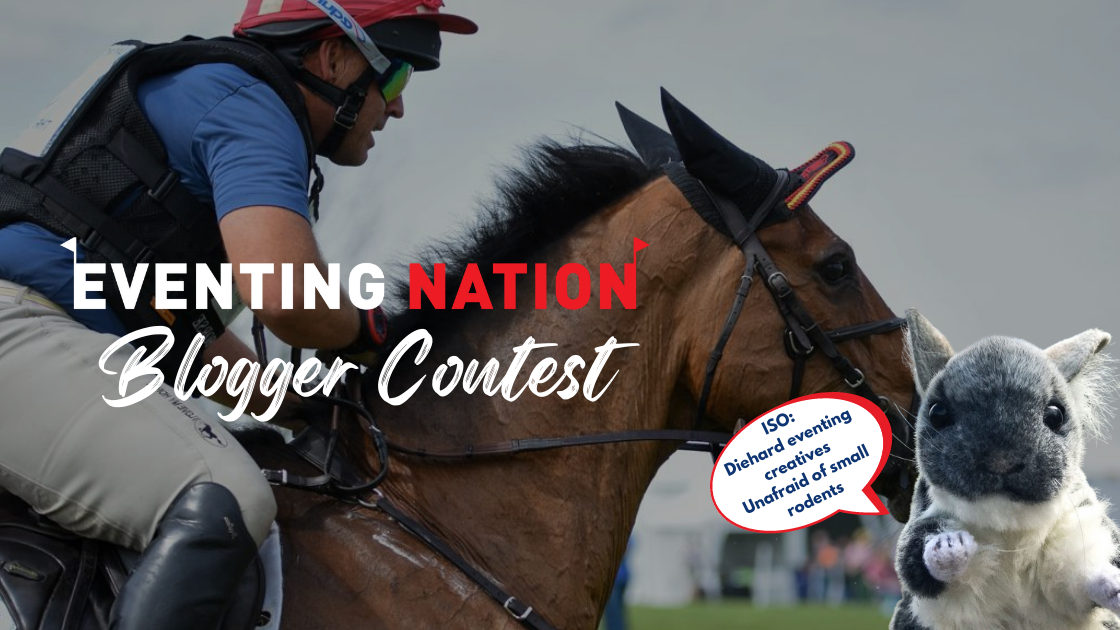 The 2022 Eventing Nation Blogger Contest is underway and we're pleased to welcome 8 finalists forward to the third and final round of competition. In an effort to highlight the creative work of each participant, we've established this hub on which you can find each writer's second round submission. We've assigned each finalist their final prompt and will add these submissions to their list below once they are received.
Here's where you, our readers, come into account! You'll be helping us select the winner of the 2022 EN Blogger Contest, who will earn eternal EN karma as well as some cold hard cash to pay a vet bill or something equally unsexy. The ask is simple: use the scoring widget below each entry to share your opinion. We'll factor in this popular vote when making the final decision — but let's face it, Chinch gets the final call.
We'll be sharing some of our favorite entries in this year's contest on social media in the coming days, and we encourage you to comment on this post or on Facebook to let us know who your favorite creator is! Each is competing for a chance at EN karma (and future EN assignments!) + $500 in cash prizes to the top three finishers. We'll announce the winner of the 2022 Blogger Contest, at long last, on Friday, November 11. Stay tuned!
The Finalists
Cheg Darlington
I'm Cheg, 41, an armchair eventer living in the wilds of North Wales with five cats, a small flock of rescue hens, two ducks and my husband. All around me – outside my garden fence – are rolling hills and green pastures which give me serious field envy. There's no road to our house, just a hairy dirt track described by the Realtor as 'Not for the faint-hearted'. I saw it and immediately wanted to live here!
I have watched all of the available eventing replays at least three times each. Language is no barrier – I've listened to so many hours (months, years…) of commentary that I can translate from French, German, Polish, Dutch etc. When I'm not vicariously galloping across the terrain of the world's cross country tracks, I work as a freelance education writer.
Not only have I fallen off during a dressage test, but I've also eaten the dirt of a showing ring. And I've been catapulted to the ground by a rather nasty buck three strides before the first show jump. Despite a number of starts, I have no idea how it feels (in real life) to cross the finish line of a cross country course. I still loved that pony though.
My big win came at my Pony Club's annual awards where I was presented with 'Most Persevering Rider'; the reason: 'Despite all his attempts to rid himself of you, you just keep patting him and calling him a good boy'.
I dream of one day having another pony companion who's as naughty/cheeky/enthusiastic/fun as Barnaby was.
Round 2: The BIG NEWS at Burpamintucklulaland – The World's First 35*
Round 3: On Enticing People to Go (Armchair) Eventing
Diana Gilbertson
A 30 something English Literature graduate perpetually coated in horse poo and mud, Diana has a penchant for spicy food and an (un)healthy obsession with all things equine. Based in a particularly wild and remote part of England (imagine Outlander but with fewer kilts/flame haired Scotchmen), she spends most of her time trying to keep herself and various other four legged friends alive. The rest of her time is spent dreaming of riding for her country (sorry Team GB; standards might have to slip a tad before that happens), although a crack at a 5* on her beloved steed Zara will do …after all, what is life without dreams? Never one to shy away from adventure, Diana has driven the length and breadth of New Zealand, hiked through the Annapurna mountain range, and is currently considering a cycling tour of the Italian Lakes. Now she just needs to master riding a bike…
Round 2: Dramatic Finale to Northern Eventing Calendar
Round 3: Risk Takers are History Makers
Allie Heninger
My name is Allie Heninger, or the Autoimmune Equestrian on most social media platforms. I'm 25 and currently resting in Utah with my husband, my fiery little NightMare, my Curly heart-pony, and the four cats that adopted us. I've been riding since I was 6 years old, and was a hunter/jumper kid transplant into the amazing world of eventing. I'm a teeny bit of an adult re-rider, as I took about 5 years off from dedicated or consistent riding while attending the last few years of high school into college, but am now back at it, competing with my lovely little NightMare. I have an autoimmune disease that runs my life a bit, and have recently worked to fully embrace it as the disability that it is, rather than continuing to try to fight against my body. Managing a competitive equestrian amateur lifestyle with a malfunctioning immune system and full-time job can be pretty rough, but my mare and I are learning together as we continue to grow!
Round 2: Only at Freedom Fest
Round 3: Let's Start a Movement – East to West
Ruth Jacobs
Ruth Jacobs, 30 years old, has a PhD in experimental particle physics, but really, REALLY likes horses, actually. Born and raised in a small village in Germany, she caught the horse bug from her next-door neighbor who taught at the local riding school. Ruth works full-time as a postdoctoral researcher in Hamburg, Germany (an hour's drive away from eventing hub Luhmühlen!) and owns 15-year-old Oldenburg gelding Soli, with whom she events up to German Novice level equivalent. Ruth's most embarrassing eventing-related anecdote is accompanying a friend to a dinner with Piggy March, Ruth's all-time heroine. Piggy and Tom March were lovely people, but probably too polite to ask who that star struck fan girl was, obviously too nervous to say anything sensible, let alone finish her baked potato. The pinnacle of awkwardness was reached by hugging Piggy for good-byes while mumbling something like "thank you for the privilege of meeting you". Really sorry, Piggy, that was weird!
Round 2: Lo(o)se Chinch on Course!
Round 3: In Or Out? Improving Fence Judge Decision-Making on Missed Flag Rule
Cassidy Oeltjen
I've managed to do a lot of things in my 38 years, unfortunately none of which have led me to world domination. My equestrian competition record includes results at the semi-upper levels of eventing, dressage and hunters, with a random barrel race thrown in. My off-time is spent traveling, experimenting with home improvement projects, obsessing over my horse's supplements, and making Amazon orders. I make my living as an eventing professional, but also organize recognized dressage shows, put random ink spots on things, write some words, and own a horse who desperately wants to win us some money in the hunter ring (nature is scary).
My current life goals revolve around keeping my new little human alive and finding a deodorant that works during summer in North Carolina.
Round 2: Braving the War Horse Series
Round 3: What Go Eventing Means to Me
Charlotte Salmon
Charlotte Salmon, 16, is an aspiring author who has grown up with horses. She hopes to spread inclusivity into the eventing world. Her biggest achievements include breaking her nose whilst trying a pony, buying said pony, and producing him. While not hugely successful in the eventing world her latest endeavour includes 4-year-old ex-racehorse, Tiger, who she hopes to event in years to come.
Round 2: An Eventful Guide to Olympic Eventing
Round 3: President of Eventing 4Ever
Sydney Steverson
Born in 1993 Sydney's parents had dreams of her becoming a doctor. Or the president. However, much to their chagrin, she fell in love with horses and has made it everyone's problem since then. Re-entering the competitive scene in 2019 to extremely mixed results she still makes it her goal in her dream journal to become a professional. Some would say Sydney Steverson is "a bit off…mentally and emotionally" but those people are doctors and not horse people so they don't actually know anything. Currently the proud owner of two OTTBs, both of whom can be described as "so so so very weird" and one Swedish Warmblood who is best known as "a literal angel from heaven who has done nothing wrong in her entire life." Sydney will be great one day! Even if it kills her!
Round 2: The Terror and Hope of Cross Country Day
Round 3: What Eventing Needs to Thrive
Poppy van Maltzahn
My name is Poppy von Maltzahn and I'm a 19 year old who is unequivocally obsessed with all things eventing. I ride at CCI** with (fairly unrealistic) ambitions of competing on the world stage. I am a self-diagnosed eventing nerd, and am the type who will recite eventing facts at any given moment (from Michael Jung's impressive 12 championship appearances to Sam Watson's uncanny ability to impersonate the Prime Minister in Love Actually, to such an extent that Hugh Grant might be out of a job). From working with Canadian Eventer Selena O'Hanlon for 12 months to traveling to the UK to spend a few weeks with Lucinda Fredericks, I've had the opportunity to see many sides to the international eventing scene, stalk a good number of top 5* riders, and see a great deal of Rockingham Horse Trials while being towed by a stallion at the end of my leadrope- I held on for dear life. Eventing is my life, though my parents would argue that going into second year university should be my life. I would love to promote eventing and all things horses on such a fun platform. At university I study literature, history, and law, so I am well-versed in putting pen to paper (but more in a boring, write-2,000-words-on-Plato way, rather than a far more exciting which-eventer-has-the-best-hair-a-five-person-poll kind of way). Merging these two interests is something I am so passionate about. I would bring an abundance of enthusiasm to this team, and despite my obsession with many top riders I vow I can maintain decorum.
Round 2: Ponies to Podium Riders Out in Force at Glen Oro H.T.
Round 3: Eventing's Face Lift