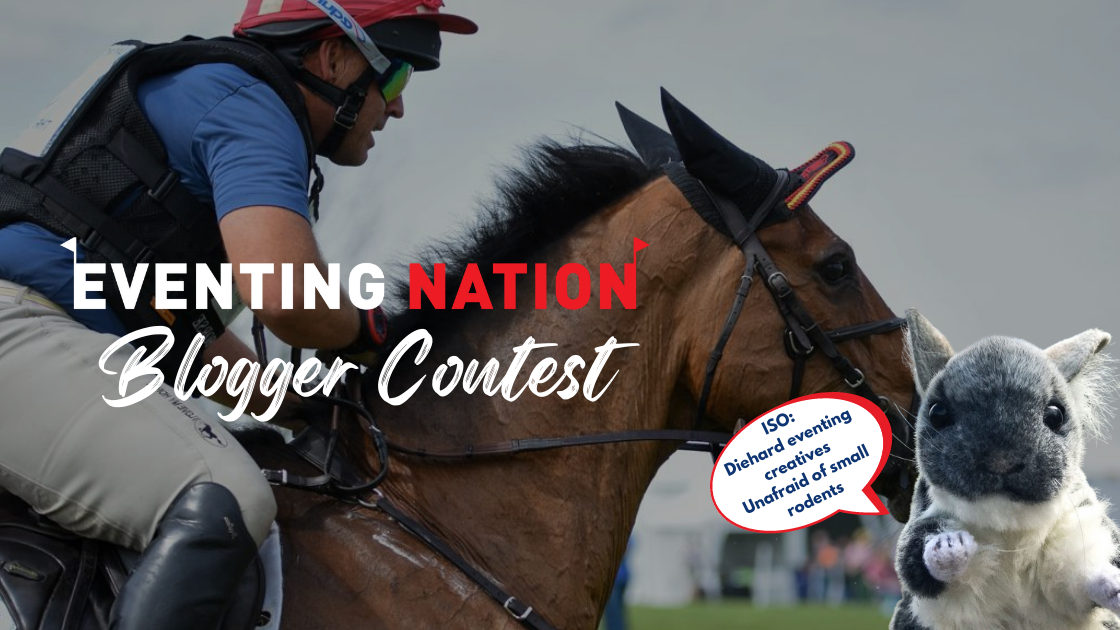 The 2022 EN Blogger Contest finalists were asked to write a piece telling the story of an epic Chinch adventure as one option for their Round 2 submissions. The following piece is published unedited. Your feedback will help us select our final winner! Use the rating poll below to give this post a thumbs up. Votes will be factored into our final decision.
About Cheg:
I'm Cheg, 41, an armchair eventer living in the wilds of North Wales with five cats, a small flock of rescue hens, two ducks and my husband. All around me – outside my garden fence – are rolling hills and green pastures which give me serious field envy. There's no road to our house, just a hairy dirt track described by the Realtor as 'Not for the faint-hearted'. I saw it and immediately wanted to live here!
[Click here to read Cheg's Round 2 entry]
[Share your feedback on Cheg's entries]
If there were points for armchair eventing, I'd be World No. 1. I did have a go at the real deal when I was a teenager; I was living in Kenya and the proud partner of a pony called Barnaby. Although we were best buddies, we weren't exactly on the same rein when it came to which direction we were going in, how fast we were going, or whether I stayed aboard. He truly believed he was sired by a rodeo bronc. We bucked our way round dressage tests and invariably parted ways by the third fence on the cross country course I'd spent hours walking, visualizing and mapping out with marker pens on a big sheet of paper. My love for eventing was undoubtedly unrequited.
I remember the first time I ever watched cross country. My riding teacher showed me a VHS tape of Burghley in preparation for my first Pony Club one-day event. Was she trying to terrify me? As it happened, the exercise was moot as I never made it through the dressage on that occasion.
I left Kenya – and Barnaby (insert broken-heart emoji) – to return to the UK, hung up my well-worn body protector and allowed my bruises to heal. That's when I got serious about armchair eventing.
I settle in with the appropriate snack (sausages with Strzegom, a croissant for Pau, beer with Boekelo and high tea for Badminton), make sure my score sheets are to hand (yes, I print them out and fill them in), center myself in my armchair and vicariously ride every horse that leaves the start box, each taking me on another epic journey.
However, it's not just pertinent snacking and the safety of a cushioned seat that motivates my quest to tempt more people to armchair eventing. Public support is important in order for a sport to grow and thrive, particularly when the opinion of a sport is as emotionally charged as it is concerning equestrianism.
Each year, as I sit to watch Kentucky with a family bucket of chicken, I have the horrendous thought that potentially, at some point in the future, I will spend an Olympics reminiscing nostalgically about the time I became nocturnal to watch the eventing from Tokyo (in the UK, the time difference is 8 hours).
Looking at other sports, it's clear you don't need to be a participator to be an avid spectator – not every football fan has donned a helmet. There's no denying that eventing isn't the most accessible of sports (a rocking horse would struggle for the scope required to clear the Cottesmore Leap), however, I am proof that an armchair audience for eventing is a valid prospect.
I've come up with some ideas for how we can entice more people to sit their butts down and 'Go (Armchair) Eventing'.
We'll kick off with a social media campaign to pique some interest…
Whilst we wait for the judges to get situated, here's a little flagography to help burn off some of those snacks. Grab some flags (or, to prove super-fandom status, perhaps consider having some tattooed on your palms – red on the right, you know how it goes) and follow along.
Onto the dressage, admittedly not the most likely spectator sport, although I find there are zen vibes galore. A bell rings and a horse enters the arena. A bell rings and a horse enters the arena. A bell rings… Saddle-shaped meditation cushions would only add to the comfort of an armchair. Let's chant together, "Go-m Eventing!".
For those who aren't thus inclined, illustrating the judges' scores on-screen with emoji may add a little somethin' somethin'. How about the monkey covering its eyes for an oopsie moment? The dancing woman/man is surely perfect for a 10. Sub-20? Obviously the rock star with pink hair.
Time for a tour of the trade stands, starting with the vendor of hay-scented moisturizer, specially developed to care for armchair eventers' rear ends (available to buy online so the home crowd can indulge whilst firmly planted in their seats). Next, the food outlets; let's give viewers who've munched through their nibbles by the end of the dressage some tasty inspiration.
Ah, Saturday. We all agree cross country day is THE BEST day. Just add snacks.
Finally, call me a five-year-old, but I always giggle when a horse performs a series of farts whilst primly pretending no one's noticed. Look at my shiny tail and how high I can jump! Imagine if a fart noise was played as the horses clear each fence in the show jumping… It would certainly provide some light relief to the tension of the final day.
In all seriousness, as well as great sport, eventing presents valuable life lessons that deserve to be shown off on a large – enormous – gigantic – epic – all the armchairs in the world – scale. With the emphasis on healthy competition; the supportive approach between competitors of all ages, genders and nationalities; the humbling ups and downs and the patience and commitment it takes to develop a relationship with a horse, there's no denying that eventing is a sport that's made with love. We need to share it. Go (Armchair) Eventing!