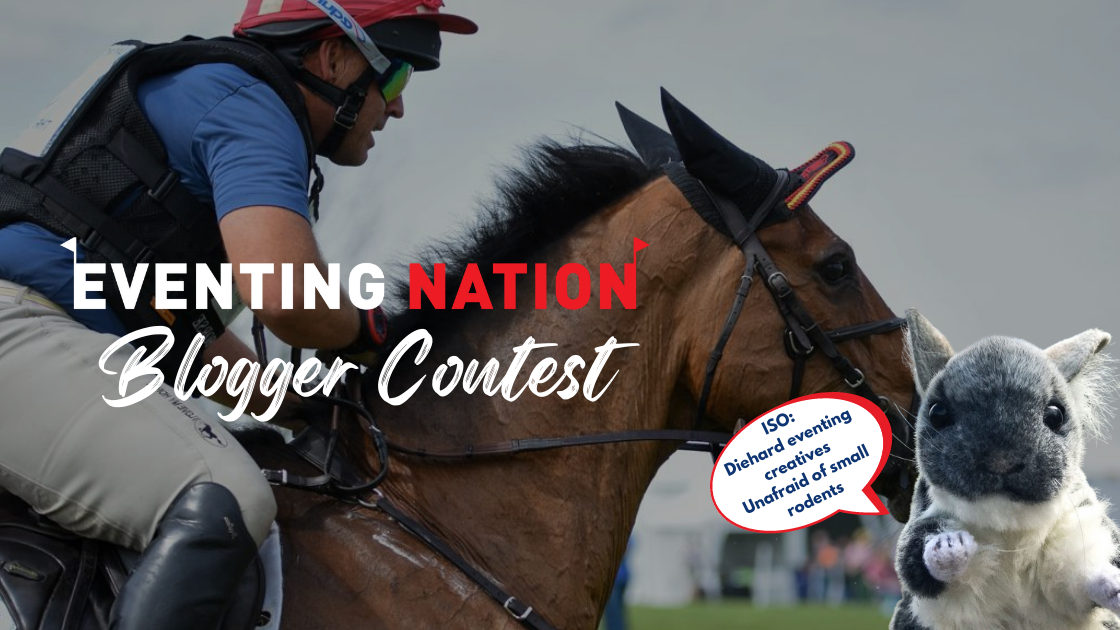 The 2022 EN Blogger Contest finalists were asked to write a piece explaining Olympic eventing to a "mainstream" audience as one option for their Round 2 submissions. The following piece is published unedited. Your feedback will help us select our final winner! Use the rating poll below to give this post a thumbs up. Votes will be factored into our final decision.
About Charlotte:
Charlotte Salmon, 16, is an aspiring author who has grown up with horses. She hopes to spread inclusivity into the eventing world. Her biggest achievements include breaking her nose whilst trying a pony, buying said pony, and producing him. While not hugely successful in the eventing world her latest endeavour includes 4-year-old ex-racehorse, Tiger, who she hopes to event in years to come.
[Share your feedback on Charlotte's entries]
Found yourself on a date with a budding equestrian? Are you in desperate need of office small talk with that one manager that is scented by ammonia? Well, look no further. The world of Olympic eventing is a vast and treacherous place for even the wisest of equestrians, but, with new goals of making eventing more inclusive for all, new faces are exactly the breath of fresh air needed. Feeling lost yet? Here's a brief introduction to the complete athletic challenge of horse and rider:
Eventing is a discipline within the equestrian competitive world (think synchronised diving as a part of aquatic sport) and is composed of three different phases. These are completed one after the other with breaks in between just like football games are split into halves with footballers resting during half-time. These three phases are dressage, showjumping and cross country and run in the same order each competition, however at Olympic level the phases are run in three-day order (dressage, cross country and showjumping) and only one phase is completed each day. At the end of each event, the horse and rider with the lowest number of penalties wins and can take their rightful place on the Olympic podium. Seems straight forward, right?
Dressage
The word dressage translates to "training" in French, and "actual-living-hell-on-earth" in equestrian. This ballet on horseback sees the elite horse and rider combinations achieve the highest levels of synchronisation, balance, and harmony (if you have the decorum of a jellyfish on speed- dressage sadly isn't for you.) Dressage consists of each horse and rider performing a previously learned routine, called a dressage test, of movements and change of pace in front of a judge. This is usually the most stressful of phases and is fondly referred to as stressage due to the heart palpitations that occur when one turns the wrong way in front of the judge's box. Dressage can easily go wrong depending on where you go in a section or the impression you make on the judge (imagine football refs scoring each kick- chaos would ensue!)
Scoring
A bad impression on the judge can leave you with a higher percentage overall and this is a huge no-go zone if you're looking for a win; dressage tests are scored with each movement achieving anywhere from 0-10 marks and you want to achieve the highest number of marks possible for the lowest percentage (confusing!) As well as this, being the first of three phases means it can either set you up for blazing success or leave you to crash and burn. While there are no physical obstacles within this phase, the mental ones can be exhausting and leave riders feeling as sore as any gym rat after a full weighted workout.
Still with me? Fabulous! We've got two more phases to complete…
Cross Country
Cross country is not for the faint hearted among us. Galloping into solid obstacles that vary from logs to ditches and everything in between, Olympic cross country is the ultimate test of horse and rider. With Olympic heights set at 120cms (that's roughly the same as jumping a polar bear or an ice hockey goal whilst going around 30mph!) this phase requires the upmost concentration and precision to ensure completion of the course safely, and successfully. Horses and riders are expected to complete the course, that is roughly 26 fences long, over natural obstacles like undulating ground, through water and up and down steps (this takes mountain biking to new extremes) all while navigating trees, crowds and riding over skinny fences and turning on technical lines between jumps.
Scoring
Cross country is scored similarly to showjumping with faults for refusals or run outs, but these mistakes are more costly. The first refusal, run out, or circle at a fence incurs 20 penalties; the second incurs 40; and the third causes elimination, as does falling off at any point during the three phases, which will lead to the walk of shame to go and catch your horse or a visit from the medical team (neither option is ideal) as well as a big "E" on your score sheet and no shot at bagging that Olympic medal. If that wasn't stressful enough, there's even an optimum time that you must complete the course in, with 0.4 faults added to the scores of those too slow.
So, what's next? Wrestle with a lion? Fight a bear? Go sky diving without a parachute? Well almost, but there's just one small thing we've forgotten about…
Showjumping
This phase is a lot less technical than dressage (phew!) but is by no means less hair-raising than cross country. After completing your angelic test and storming round the cross country clear it's time to tackle showjumping. Here you'll find a course of brightly coloured poles and wings ready for you to fly over with ease.
Or so you thought…
Spooky fillers with optical illusions and cartoon animals wreak havoc for even the bravest of horses, and once you've faced that problem, you'll soon realise the poles come down with even the lightest of taps, and at this level a pole is the difference between a gold medal and being so far away from the podium you question its existence. Here it's all about agility, and precise planning as optimum times are tight and Olympic level athletes need Olympic level fences, and these ones are 130cms.
Scoring
Here it's simple: keep the poles up. Each pole knocked incurs four faults added to your score, thereby increasing your percentage. If your horse really takes a disliking to a fence and stops or runs past it, any refusal or run-out will incur a 4-fault penalty (think of these as a baseball foul ball- hit outside the field of fair play.)
Survived cross country? Kudos to you. Gone clear? You've won the lottery. With a hattrick of phenomenal phases can you claim a placing, or even a gold? Now you're ready to wrestle that lion (metaphorically) while waiting for your scores. This will be the longest, most nerve-wracking time of your life if you've gone double clear, and if you win? You can relish the title of Olympic Champion for years to come.
Hall of Fame
Olympic eventing champions are prized by the entire equestrian community, much like the Royal Family or David Attenborough. The podium placers of each eventing Olympics to come will follow in the footsteps of eventing royalty (Michael Jung, Julia Krajewski and Tom McEwen to name a few) and have a unique opportunity to showcase the sport at its finest hour, and perhaps capture the hearts of people watching from home. It may not be anything like other sports, but Olympic eventing is the perfect combination of dance, athletics, mountain biking and maybe just a little bit of magic too.