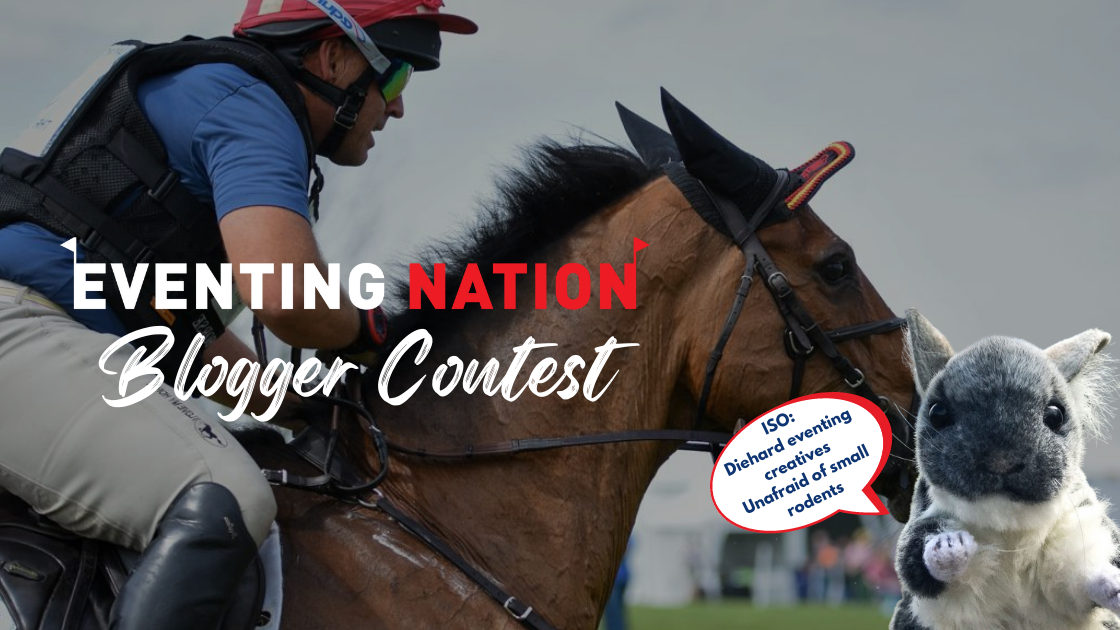 The 2022 EN Blogger Contest finalists were asked to write about their local event as one option for their Round 2 submissions. The following piece is published unedited. Your feedback will help us select our final winner! Use the rating poll below to give this post a thumbs up. Votes will be factored into our final decision.
About Cassidy:
I've managed to do a lot of things in my 38 years, unfortunately none of which have led me to world domination. My equestrian competition record includes results at the semi-upper levels of eventing, dressage and hunters, with a random barrel race thrown in. My off-time is spent traveling, experimenting with home improvement projects, obsessing over my horse's supplements, and making Amazon orders. I make my living as an eventing professional, but also organize recognized dressage shows, put random ink spots on things, write some words, and own a horse who desperately wants to win us some money in the hunter ring (nature is scary). My current life goals revolve around keeping my new little human alive and finding a deodorant that works during summer in North Carolina.
[Share feedback on Cassidy's entries]
Scenes from warm-up flash through the trees and you dodge rough spots of the gravel entrance. You've just driven past miles of pine trees with an occasional surprise stop sign. Even your phone service has thrown in the towel, leaving you with the sound of the one staticy country music station and the company of your raging horse show nerves.
These glimpses provide the first sign that you have not, in fact, gotten dreadfully lost since your signal is spotty at best. They also provide great insight to how the energy of the show feels – spicy bucks fueled by crisp morning air or relaxed stretchy trots framed by a calm Carolina blue sky.
The Carolina Horse Park was clearly developed with the horse as a priority. Airy stalls, state-of-the-art footing, lots of space for grazing or warming up the horse who lacks social skills..
The War Horse Event Series utilizes all of these wonderful amenities to the max. Five dressage competition rings, 2 show jumping rings, and two separate cross country courses are all running at full tilt to accommodate the 300+ horses and riders who come for the weekend of schooling and competition.
And yes, this is a schooling show series. But the kind of schooling show where there are tons of vendors, food trucks, competitor parties and $1000's of prize money and awards. While it may not be the kind of schooling show to introduce easily intimidated horses and riders to eventing, it definitely is the place to go for competitors of all levels to practice their skills on a big-feeling stage.
Surviving the dressage warm-up is its own sort of accomplishment. Five competition rings worth of riders, all careening around in various degrees of horse-show panic. Advanced level riders on their young Modified horses, green-tinged adult amateurs on schoolmasters, and Green-as-grass first timers, all requiring equal dodging as you try to remember which direction you track at C. After that warm-up, going down centerline feels like a breath of fresh air…. Unless you happen to draw the ring closest to the road where trailers are noisily failing at avoiding the potholes.
Once show jumping warm-up time rolls around, it seems most everyone's horse show jitters have slightly subsided. Sometimes there has to be a quick reminder to an inexperienced competitor that red stays on the right. Occasionally a horse goes rogue, momentarily losing the ability to steer. And periodically there is the startling crashbangboom of a severely missed distance. But for the most part everyone keeps their nerves contained in their stomach and stays polite to the volunteers who desperately try to keep their rings running somewhat on time and in order.
Once your number is called to enter one of the two beautifully decorated show jump rings, you might as well hold your breath because in 90 seconds it'll be all over. Just kidding. Don't hold your breath, because then you might miss out on the excitement of your name being announced as if you were entering the Kentucky stadium, OR you might miss at the Stubben sponsored bogey jump – it loves to make even the most seasoned horses spook.
Once you complete show jumping, you can catch your breath as the crossing guards block traffic for your walk across the road to cross country. The courses run over 100's of acres of rolling sandhills featuring several water complexes, bank and ditch questions, a large variety of beautifully constructed portable fences and one terrifying mound/ditch/water combo (that is thankfully above the paygrade of the War Horse routes) so that no course is identical from month to month.
Some people decide to jump a few more fences in warm-up and some are laser focused on getting out of the start box with a friendly "3, 2, 1, have a nice ride" echoing behind their horse's hoofbeats.
The next 6 minutes of your ride vary slightly depending on which side of the cross country complex your course runs. On the forest side, you'll find yourself alone with your thoughts as you wind through the pine trees, hoping you remember which path to follow and popping out into meadows to enjoy a skip through a water complex. On the track side, you'll spend the majority of the time hurtling through the open field, hoping that you aren't wasting precious seconds by letting your horse gallop a turn too wide.
Just like any event, crossing the finish line feels amazing. After spending the whole lonely drive wondering why you subject yourself to the torture of showing horses, and questioning all your sanity throughout the day, that finish line makes you long to do it all again… immediately. Which is why there's another War Horse Event in a month! You go ahead and submit your next entry while waiting for the barn aisle to clear enough to pack your trailer to go home.