Been missing out on shopping the vendors of spring events? We are very excited to present the inaugural Eventing Nation Virtual Vendor Village, a week-long online opportunity to score fantastic deals and discover new products from our favorite brands. It's also a great way to show our support for equestrian businesses that have had to close down shop due to coronavirus restrictions. It truly does take a "village"!
The Virtual Vendor Village is taking place right here on EN from Monday, April 20 through Sunday, April 26. Throughout the week, over 30 companies are offering a "Deal of the Day" on their products — which means you'll want to check in on their "booths" daily to make sure you don't miss a sale! Expect deep discounts, special promotions and product giveaways. PLUS! We'll be hosting live Q&As with top five-star riders and flashback watch parties.
Here's a roundup of everything happening today:
WIN THIS:
WATCH PARTY: USEF Network is rolling out its Land Rover Kentucky archives this week! If you're not already a USEF member, use promo code ENLRK3DE to access. Check out an archive of Kentucky show jumping footage here. And, in lieu of Sunday brunch, take a cue from Tilly Berendt's five-star inspired cocktail recipe menu here!
TODAY'S DEALS: Welcome to Sunday's Deals! Click on each brand's "booth" tile to be taken directly to the featured item or brand website.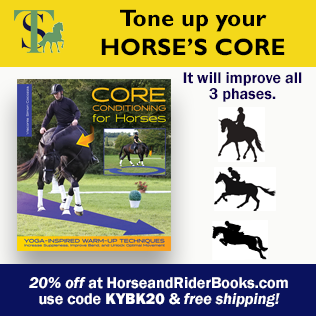 Sunday's Deal Summary!
AtelierCG: 15% off with code BEYOU
Banixx: 10% off + free shipping at Valley Vet
C4 Belts: Buy any belt + buckle combo, get a free chrome or metal buckle with code METAL20 (excludes engraved buckles)
Ecovet: 30% off with code Virtual30
ENO: 10% off with code Fest2020
Equine Therapy International: 15% off special
FITS Riding: 20% off with code ENFITS20
FLAIR Strips: Special discount at checkout with code LRK3DE
Fleeceworks: 10% off all orders all week with code LRK3D10; Free Easy Care Bamboo Slippers with orders over $100; 15% off Therawool Quilted Square Pad (All Purpose/Close Contact) with code LRK3D7; additional deals here
Hats by Katie: Free shipping with code LRK3DE
Horse & Rider Books: 20% off + free shipping with code KYBK20
Hound & Hare: 20% off all in-stock heeled and flat Regina boots by Fairfax & Favor
Hylofit: 20% off heart monitor with code HYLOEN
Ice Horse: Free HoofWraps Soaker with purchase with code HWS
Jane Heart Jewelry: 15% off all rings with code ring15
Kerrits: Tent sale deep discounts + $69 Competitor Koats + free saddle pad with all orders over $250
Kentucky Performance Products: 20% off + free shipping with code LRK3DE2020 (excludes Equi-Jewel)
Legends: Save $5 on Legends GastroCare
ProElite Senior: Save $2 per bag
Martin Collins: 15% off CLOPF Fiber May through July with code KY2020
Nupafeed: 15% off with code LR2020
Nutrena: $10 off 1 bag SafeChoice Perform (click on tile for coupon)
Omega Alpha: 10% off orders over $40 + free shipping with code EN10
Perri's Leather: $25 off rubber reins (regularly $46.50-$55.95) with code REINS
HandsOn Gloves: 20% off with code KY20
Ride Heels Down: 20% off "Heels down, hold on" tee (coupon not required)
SmartPak: Enter to win a $500 gift card (click tile to enter)
Sport Horse Nation: 50% off classified ads with code VENDORVILLAGE
Stable View: $5 William Fox-Pitt DVDs – recorded schooling session at Stable View (click on tile above to purchase)
Tapestry Equine Products: 10% off + free shipping with code LR2020
Voltaire: 20% off accessories + free shipping
I Love My Horse Eventing Boutique: Need any other apparel or equipment?  Email [email protected] or text 727-871-5729 for your needs
World Equestrian Brands: 30% off (see website)