What would a Saturday in April be without a long, luxurious day of Kentucky cross-country, nibbles, and plenty of adult beverages to keep the party rolling on long after the last rider has crossed the finish line? It would be boring, that's what. That's why we're so excited about this year's Virtual Kentucky tailgating party, which starts tomorrow (that's Saturday, April 25) at 10.00 a.m. Eastern time/15.00 BST on USEF Network's Facebook page.
Hosted by commentator extraordinaire John Kyle, Virtual Kentucky takes us back to 2012 with the full cross-country programme, special guests including Boyd Martin and Allison Springer, and a heaping helping of fun and utter madness along the way. It's going to be ruddy marvellous, folks – but to get the most out of it, we reckon you need a tailgating drink in hand. So we've put on our mixologist hats and created some special bevvies, perfectly suited to making the most out of the Kentucky That Wasn't.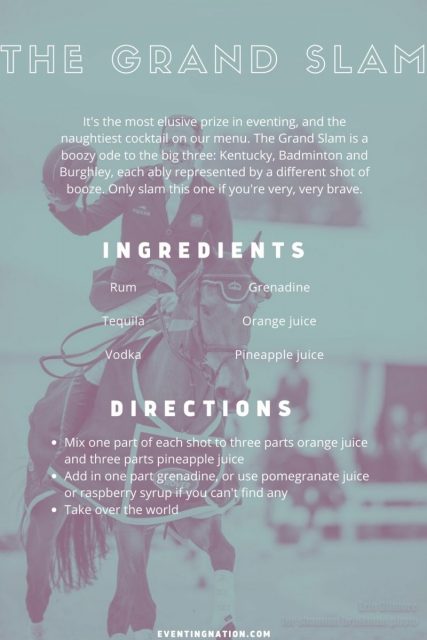 Good luck, god speed, and drink responsibly, folks. Or don't. We'll see you at the tailgate!
Comments