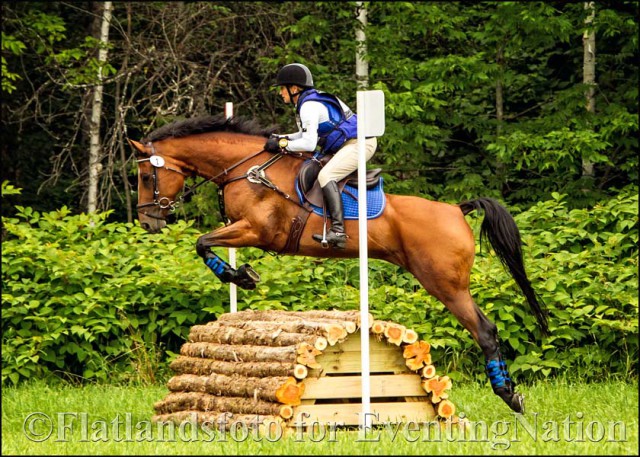 Endurance day is in the books for the Novice Three-Day and Training Three-Day divisions at the GMHA Festival in South Woodstock, Vt., and the leaderboard saw some shakeups after riders completed all four phases.
In the Senior Training Three-Day, Laurie Shiffer and Deuces Wild had the fastest endurance phase of the division, picking up just .8 total time penalties to take the lead on a score of 39.0, moving up from third place after dressage. Robert Piro and Waterview also had a great day, accumulating 1.6 time to move from fourth to second place. Nicole Carroll and Carolina PCH, who were tied for the lead after dressage, picked up 5.6 time to drop to third place on 42.2. The top three are separated by less than a rail, so it's going to be an exciting finale today in the T3D.
In the Junior Training Three-Day, Cornelia Dorr and Sir Patico MH were clean across all four endurance phases to carry their dressage score of 34.1 on to show jumping. Mariah Gallien and Clonmethan Crest also had a good day, accumulating 8.8 time penalties in phase D to remain in second place. There are only two riders in this division.
The Senior Novice Three-Day riders had a fantastic day, with eight of the 14 competitors taking their dressage scores forward to show jumping. Nancy Read and Lillie hold their lead on a score of 30.7, followed by Dominic Bergern and Free Agent, who moved up from third place to second place after overnight leaders Kaitlyn Sutherland and Indian Summer picked up 44 time penalties in phase C. Cora Shillinglaw and Braveheart also moved up one spot from fourth to third place after a clean endurance phase.
The three competitors in the Junior Novice Three-Day remain in their same positions after dressage after a great endurance day. Leader Maura Eldridge and Daddy Said Yes take their dressage score of 31.8 on to show jumping, followed by Marcy Daley and No Greater Coyote, who picked up 2 time penalties in phase C to remain in second place. Julia Rowse and Winner's Dream also picked up 2 time penalties in phase to remain in third place.
The Training and Novice Three-Days conclude today with show jumping. Many thanks to Joan Davis of Flatlandsfoto for sending in photos of the leaders. Click here to see photos from dressage, also courtesy of Flatlandsfoto. Go Eventing.
Comments