We hear all the time about horses at the top of the sport, but what about the next generation of equine talent? EN's Got Talent introduces the future superstars of the sport, interviewing riders about how they're tackling training with these youngsters. Have you spotted a spectacular young horse at an event you think should be highlighted in this column? Tip me at [email protected].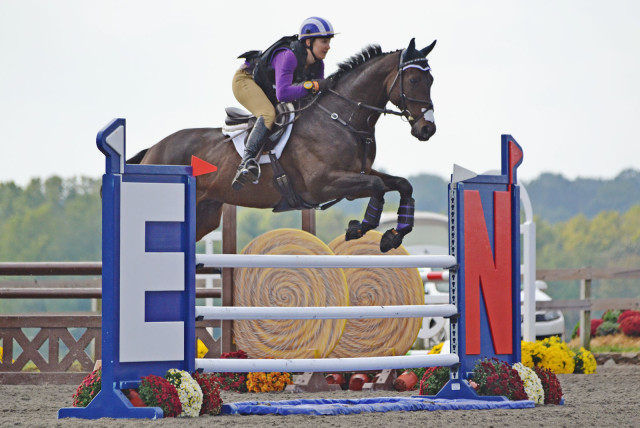 Katy Groesbeck is a California girl at heart. So when the opportunity presented itself to join Buck Davidson's team in Pennsylvania last year, Katy knew it would be a big move, but she was excited for the opportunity.
After completing the Nutrena American Eventing Championships in 2013, Katy packed her upper level horse, Oz the Tin Man, into Laine Ashker's trailer and started the next chapter of her life as a member of Team BDJ.
As Katy got settled in, she had the opportunity to ride some of the horses in Buck's barn, including a 7-year-old OTTB named Roman Place, who many of the working students rode on a regular basis.
"When I started riding him, he had been off the track for about a year," Katy said. "He hadn't done any competing yet, just training at the barn."
Originally, Buck's goal was to turn the gelding into a steeplechase horse. However, as we all know, Buck always has some extraordinary number of horses in training, so the plans for "Ruler" got put to the side.
"When I arrived, Buck told me that I could work with Ruler, and that I could take him to competitions and either help get him sold or purchase him myself," Katy said. "I took him schooling at Bruce (Davidson Sr.)'s one day, and I just fell in love with him.
"He was very green, and a bit rambunctious and naughty, but he did everything I asked. It was just the feeling of taking him cross country that he absolutely loved what he was doing. It was the same spark I feel when I take Wort out, and although he had no idea how to do everything, he still gave it his best."
Katy decided to purchase Ruler, with the original idea being to have him as a resale project. "The more time I spent with him, the more I realized that he was special and that I wanted to see what he could do." Katy then formed the Roman Place Syndicate as she made the decision to keep him as a competition horse.
"I'm really appreciative to both Buck for introducing me to Ruler, as well as to the syndicate members for believing in both of us and continuing to support us. It's a really exciting horse to have."
Katy took Ruler to his first event in February at Ocala Horse Park in the Novice division. The gelding added just 4 time penalties to his score to finish on a 35 in 10th place out of 34 starters — a promising start to his eventing career.
From there, Ruler caught on quickly, moving up to Preliminary this summer at Loch Moy, where he again added just some time on cross country. Now, Katy is aiming him for his first CCI* at Virginia Horse Trials this fall.
"At this point, he's seen a lot of the questions, and he's qualified. I know he's capable of it, and now we're just going to focus on his flatwork in preparation," Katy said. "He's very willing and honest at everything."
Next week on EN's Got Talent: We'll learn more about Ruler's training and how Katy feels when she compares her two rides, Oz the Tin Man and Roman Place. Roman Place is currently owned by the Roman Place Syndicate, and there are four shares left. If you're interested in joining in Katy's journey with Ruler, visit her website for more information.