We hear all the time about horses at the top of the sport, but what about the next generation of equine talent? EN's Got Talent introduces the future superstars of the sport, interviewing riders about how they're tackling training with these youngsters. Have you spotted a spectacular young horse at an event you think should be highlighted in this column? Tip me at [email protected]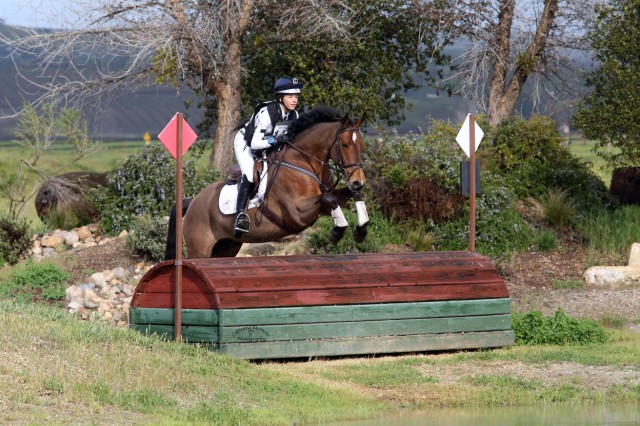 Mia Farley had always big plans to go horse shopping in Ireland for her next upper level mount. After The Good Witch, whom she was leasing last year, retired in 2014, her plan came to fruition, and she found herself at Carol Gee's famous farm. After trying several horses, she landed on Fernhill Fine Diamond, a coming 7-year-old Irish Sport Horse mare who fit the bill perfectly.
"My goal was to look for a horse that had scope for at least the one-star level," Mia said. "(Fern) was my favorite, and I ended up trying her twice. We went out and did some cross country, and she was really straightforward. After what seemed like forever with quarantine and everything, she finally arrived home and was relaxed and happy right off the trailer."
Fernhill Fine Diamond (Jacomar -Camacazy Diamond) at the EI100 and CNC* level under Michelle Kenny, Caroline Marwood, and Clare Lambert before coming to the Farley family, and Mia found that the mare fit her size and ambition well. Mia set to work building trust with the mare, who had a few nervous moments in the beginning but had since settled in nicely.
In their first competition together, the Novice division at Galway Downs in January, Mia and "Fern" finished on their dressage score of 33.1 to finish in fourth overall. "I was so happy with her, finishing on her dressage score," Mia said. "We thought we'd take her out at Training the next time out, and she didn't disappoint at all."
Sure enough, Fern took home her first U.S. blue in the Junior Training division at Twin Rivers at the end of February, once again finishing on her dressage score. Mia's observation is that the petite mare adores cross country, making her a pleasure to train.
"She loves to gallop," Mia said. "In that sense, the cross country will be the biggest challenge. The jumping is easy for her, but it's about slowing her down and having her go at the right pace."
Coming off of a seasoned ride such as The Good Witch, Mia is enjoying the process of training up a young horse. "The Witch was well trained, and her gallop was smooth. On Fern, you can feel it a bit more — which makes it a bit more dramatic!" Mia laughed.
Mia's got a soft spot for mares, what with their sassy personalities and willingness to commit. "Fern is a younger version of (The Good Witch)", she said.
The goal for Fern this year is to compete in the CCI* at Galway Downs this fall. In the meantime, Mia is eyeing a Prelim move up for her new mare and plans to also take her out to some jumper shows between events. "I'd like to move her up to Prelim by July, but we'll do a couple more Training events and make sure we're both ready," she said.
Training with Ginnie Bryant, Mia is a brave, ambitious rider who would love to take her career even farther than her current goals. "I'd love to go farther. For now, I'm aiming for the one-star level, but we think Fern has the scope to go higher," she said.
Producing a young horse has its challenges, but Mia feels she's up to the task. "My weak point is that I'm not a professional, and this is my first young horse. So we'll be learning a lot together, but she's so adjustable and has room for more training. I like to say she's got room for some Mia Farley training in her yet."
Comments