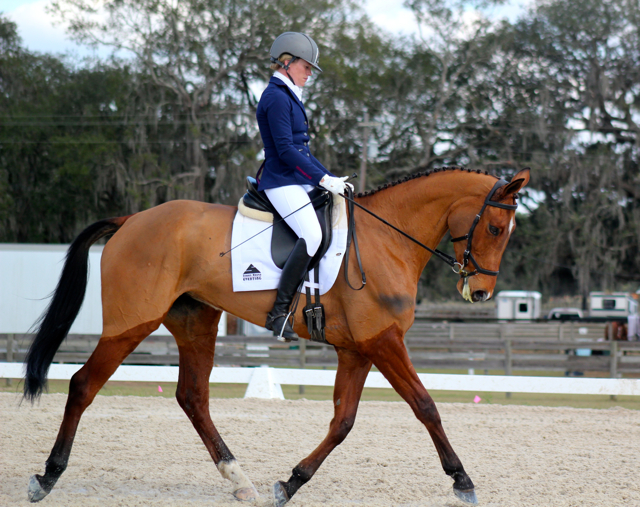 Sinead Halpin is perhaps best known for both her dance moves and her incredible partnership with the French Princess, otherwise known as Manoir de Carneville, but she has another exciting horse coming up through the levels in the 2006 French Thoroughbred mare On Cue (Cabri d'Elle-On High, Primitive Rising).
Sinead first met "Q" while on a horse shopping trip to England in 2012. Bred by Jolyse and Alyse Clancey of On Horses, Q had done well in several Young Event Horse competitions and competing at the Pre-Novice and Novice levels in the UK when Sinead met her. "Meg and I were in Yorkshire looking at some horses, and the minute we saw (Q), we both just took a step back and knew before she was even ridden that we weren't leaving without her," Sinead said. "She had a really cool energy about her and had these big doe eyes, big ears and was flashy. You could tell she just saw everything and was very intelligent."
Since she was in the area preparing to compete at Burghley, Sinead took advantage of the time and competed Q at the Pre-Novice level in the Burghley Young Event Horse competition. After purchasing the mare and putting together the On Cue Syndicate, Sinead brought her back to the United States and began competing her at Training level, eventually moving her up to Preliminary. The beginnings of their partnership were not completely smooth, though.
"Last summer we actually weren't getting on great," Sinead recalled. "She was really good, and I think I just took it a little too quickly. She is a big jumper, and her over-jumping wasn't out of expression, it was because of her being green. She got to a point where she was actually pretty tough to ride, getting really worked up before cross country. She became very mareish and overreactive."
Sinead took a step back and began focusing on show jumping with Q for awhile. "After I got hurt last year, I sent her to Amanda Flint to work on her show jumping. I think it was great for her; she just got used to going in the ring consistently. Even Amanda said it was great to see how she would start out a week being super green and end like a seasoned pro as she got more practice and exposure." Sinead found herself thinking that perhaps the mare would be better suited as a show jumper, but the On Cue Syndicate members encouraged her to keep working at developing Q as an event horse, as she still showed the talent for the job. "They really encouraged me to spend the time and try to make it work with her," Sinead said.
After Sinead was back in the saddle and recovered from her injury, she began working with Q in earnest. She went back to basics, using ground work and round pen work to really work on her relationship with the mare. "I really just started over with her. She really didn't understand how to just jump on her own, so I did a lot of work with her jumping on a lunge line," Sinead said. Soon enough, Sinead brought Q back out at Training level and the mare performed brilliantly, finishing on her dressage score for fifth place at the New Jersey Horse Trials in October 2013. Sinead moved Q back up to Preliminary this year. "It's really been like she's a different animal since we started over," Sinead said.
Next week on EN's Got Talent: We'll learn more about Sinead and On Cue's partnership and what type of ride the mare is across all three phases, as well as how the move back up to Preliminary has been going.