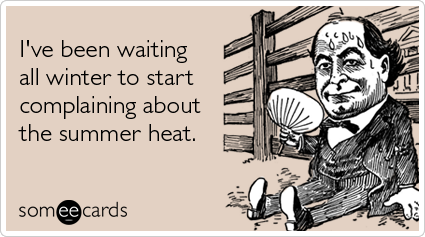 Summer is officially here. No, I'm not complaining since I'd rather be hot than cold any day, but sometimes I wish that I lived in a bit more mild location. It's hot days at the barn that make you want to dunk your head in a bucket of ice or make a run for the closest body of water. How do you stay cool in the summer months?
One way to do so is to slip on the comfy and cool Ovation Cool Rider Zip-Mock shirt. I know what you're thinking: long sleeves in the summer? Trust me, it works. Not only do the sleeves protect your arms from the sun (anything to reduce those killer tan lines, right?), but the Evercool™ material promotes quick dry time and maximum breathability. Plus, the shirt comes in all sorts of trendy colors, so you can match to your heart's content.
Now, how do you get your hands on one? Well, thanks to our awesome sponsor, ERS-Eventing, we have three of these Ovation Cool Rider Zip-Mock shirts up for grabs. How do you snag one, you ask? Here's how:
We want to know just how hot you are this summer. Are you sporting the world's most creative tan lines? Do you have a super secret formula to keeping cool while on horseback? We want to see how you deal with the summer heat.
Snap a photo of yourself showing just how hot you are – and don't forget that creative and funny entries are what the chinchillas prefer to see.
Send your photo and a quick blurb about it to [email protected] with the subject "Hot or Not." We will post the top entries and put them to a vote to determine the top three photos.
Entries are due on Thursday, July 3 at 4pm EST.
Best of luck, and be on the lookout for a product review of these awesome shirts coming your way via Bloggers Row next week. Many thanks to ERS-Eventing and Ovation for sponsoring such a great contest!