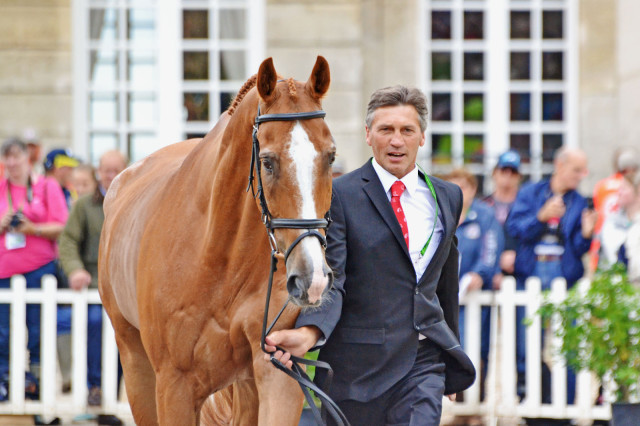 In the latest development in the ongoing feud between Andrew Nicholson and Equestrian Sports New Zealand, ESNZ confirmed this week that Andrew was intentionally dropped from the 2015 High Performance squad despite making himself available, Stuff.co.nz reports.
Andrew asked in October to be removed from consideration for this year's squad after a fallout with High Performance following his disgust with Nereo's treatment after cross country at the World Equestrian Games.
He said the horse was left without veterinary supervision multiple times while on a routine IV drip: "That's not what you expect at a world championships for a horse of that calibre," he told the New Zealand Herald.
But he went back to ESNZ in December to say he'd changed his mind. "If I don't put myself forward it's sort of a dead end, isn't it? I feel like it's only right that I take that positive attitude because they have been happy to listen to me," he said at the time. Andrew also sent an email to High Performance in December to ensure they knew he wanted to be considered, he told Stuff.co.nz.
Interestingly, ESNZ interim chief executive Vicki Glynn has confirmed that though High Performance received the email prior to announcing the 2015 squad, they felt he "officially withdrew" in October and could not be considered as a result.
Being left off the squad means Andrew will not participate in training sessions this year. It also means he can't receive his 2015 Performance Enhancement Grant, tax payer funded money awarded to New Zealand's Olympic medalists. Andrew would normally receive about $43,000 (in US Dollars) as a result of winning a team bronze medal at the 2012 London Olympics.
The squad will be reevaluated in June, and more riders can be added at that time, so it's possible Andrew could be named to the team then. Though considering ESNZ is currently viewing his October request to be withdrawn from the 2015 squad as the reason why they couldn't name him initially, it seems likely they might stand by the decision for the full year.
Click here to view the current 2015 New Zealand High Performance squad, which ESNZ named last week. We'd like to take this opportunity to remind Andrew of our 10 compelling reasons why he should ride for Team USA. The door is always open, Andrew!
What do you think, EN? Is Equestrian Sports New Zealand being unreasonable? Or do you think they made the right decision to leave him off the squad?
[Andrew Nicholson confirms he was axed from national squad, not unavailable]
Comments