March Madness is upon us! We're through to the Round of 16, as posted earlier this week. Here are few key match-ups to keep an eye on, with some outta-left-field Nicolas Cage-inspired commentary from eventer/pop culture pundit Mary Hollis Baird. Sweet 16 voting is open through midnight on Sunday, March 31, with the Elite 8 to be announced the following day. Cast your ballot today!
This game is almost not fun anymore because all these horses are so wonderful, they all deserve as many treats and cross country jumps as they want.
National Treasures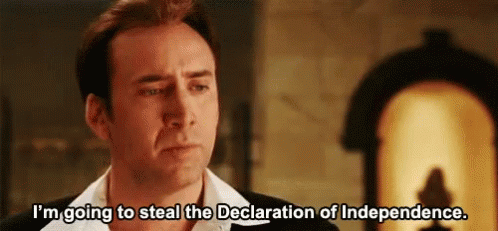 Foxwood High and Islandwood Captain Jack were both upsets from the first round. These two horses have huge fanbases and thanks to their adoring public were elevated to the Sweet 16. Like Nicolas Cage in National Treasure, these guys might not be the conventional choices, but they are brilliant in their own right.
Woody and Jack are just two North Americans trying their best to do what's right for the authority figures in their life; coincidentally these two guys are just like Cage's character, Benjamin Gates, in National Treasure 1 and 2 (it is a travesty that they have not completed this trilogy, but that's a different article for another time).
Both Caroline Martin and Selena O'Hanlon have developed these horses beautifully and as a spectator, you get the impression that they would jump off the edge of the world for their riders. These two horses make you believe that, just like Cage, they would lay down their lives to save the world from evil freemasons, just like in National Treasure.
The Face-Off
This match-up reminds me of watching the movie Face/Off for the first time. Here's the Google synopsis if you need a refresher on the brilliant work of Nicolas Cage and John Travolta.
Allstar B (Travolta, obviously) is the hardworking FBI Agent out there being the best at his job. Allstar B, also very good at his job, can put in three consistent phases that will usually have him at least in the top 10 at the end of the weekend. Ros Canter has had the ride on him since 2012 and they have built a partnership that has yielded utterly brilliant results including a Team and Individual World Championship. 
Meanwhile Mr Chunky is the Irish Nic Cage. The horse was bought as an unbroken 4-year-old and by the time Padraig and Lucy came to look at him, he was slightly less green and so hairy. When they bought him the Mr Chunky moniker was bestowed upon him. Similar to Cage's insane look, audiences love his performance energy and enables him to make stellar movies like Face/Off and Con Air.
Mr. Chunky is adored by his fans and is apparently a joy around the barn. Padraig has said that anyone in the yard can hack him out and he's a perfect gentleman. However, in competition, just like Nic Cage, Mr. Chunky will pull out all his charisma and leave it in the ring, impressing anyone watching. Dressage judges want to give him good marks because you can see how hard he is trying to do what's right. 
Who will win this face-off, Travolta or Cage? Only you can decide!
Price & Price 
Classic Moet and Cekatinka are two sides of the same coin. Both of these mares are brilliant jumpers, have the ability to be very competitive on the flat, and love love love to compete. There's nothing I like better than ambitious, bad-ass, independent women.
Cekatinka is described by Jonelle as "ticking all the boxes for an eventer." She is happy doing her job and seems up for anything. She's the ultimate calm and collected professional competitor.
Meanwhile, here is the description of Classic Moet on the Prices' website:
"Molly would, if she were a person, come from Swindon ( Or West Auckland for our NZ followers), be a couple of stone overweight, have several tattoos, wear a too tight leather jacket over skintight leopardskin pants and have a boyfriend with an IQ of 10 who is a club bouncer and 4 children by 4 different fathers.  There is simply nothing diva like about Trisha Rickards 'fastest girl in the world' and she is as happy at a World Championships as she is at a one day… providing she can go flat out which is her preferred speed to do everything, hacking, flat work, dressage included.  Molly is a legend but a kind of rock and roll one like Mick Jagger as opposed to the Princess type!"
So if we are going by Nicolas Cage tropes, Cekatinka would be Nicolas Cage in The Family Man, a light dramedy where his character is a nice guy who wrestles with choosing between love and career. Classic Moet would be Cameron Poe from Con Air, the newly-freed convict who is just trying to return to his wife and daughter after he accidentally killed a man who was trying to assault Poe's pregnant wife. 
I don't envy the voting public on this round, I don't know how you choose!
In the meantime, go Nicolas Cage and eventing!
Comments