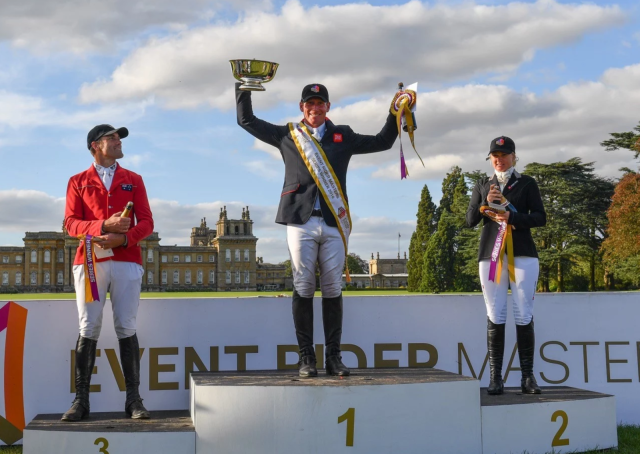 The Event Rider Masters (ERM) has released its 2017 calendar, featuring seven legs and a total of £400,000 in prize money across the series. New for 2017, the series is also expanding from the UK into mainland Europe, with venues located in England, Scotland, France and Germany.
The 2017 ERM calendar:
May 13-14: Dodson & Horrell Chatsworth International Horse Trials (UK)
June 2-3: Internationales Wiesbadener PfingstTurnier (Germany)
July 8-9: St. James's Place Barbury International Horse Trials (UK)
July 15-16: Haras de Jardy (France)
Aug. 5-6: Festival of British Eventing, Gatcombe Park (UK)
Aug. 26-27: Blair Castle Equi-Trek International Horse Trials (UK)
Sept. 15-16: Blenheim Palace International Horse Trials (UK)
For riders, the series offers prestige and prize money — each ERM leg is worth £50,000 with an additional £50,000 series bonus. For fans of the sport, it offers an engaging format and technologically innovative live stream coverage via Eventridermasters.tv.
Inaugural 2016 series champion Oliver Townend (GBR) remarked, "The shortened format of the ERM produced very competitive performances from riders across all three phases last year. It is very exciting for us (riders) that ERM has an additional leg for 2017 and will be expanding into Europe. I expect this will up the level of competition again, which is great for the sport, spectators and ERM viewers. I hope to target a few different horses and I cannot wait to be part of the series again."
This year's expansion of the series into mainland Europe opens it up to a broader swath of top eventers.
"The Event Rider Masters is a new series and one I'm very excited about," said Ingrid Klimke, whose home nation will host the German leg at Wiesbaden. "It puts a modern spin on traditional eventing, distilling what is historically a three-day event into two action packed days for the spectators, and will transport equestrian to new places and new audiences."
For more information on the series visit the website here.
[The Event Rider Masters — bigger & better in 2017!]
Comments