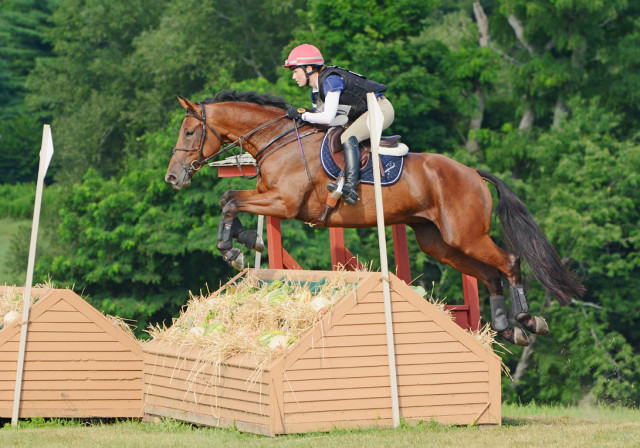 The sport's top 6- and 7-year-olds will take on the FEI World Breeding Eventing Championships at Le Lion d'Angers in France this week, including two U.S. competitors in Kelly Prather and Debbie Adams' D.A. Duras and Katherine Coleman and Claudia Kirchfeld-Pauly's Monte Classico.
Kelly and D.A. Duras are making the trip thanks to the USEA's Holekamp/Turner Young Event Horse Lion d'Angers Grant, which helps the highest scorer of the USEA Young Event Horse 5-year-old Championships to travel to Le Lion as a 7-year-old if the horse obtains the proper CCI2* qualifications.
D.A. Duras, a 7-year-old Dutch gelding imported from the Netherlands as a 4-year-old by his owner Debbie Adams, has already completed one CCI2* at Bromont in June, where he finished in eighth place. Looking to his breeding, he's by the Dutch stallion Numero Uno and out of a Dutch mare by Quattro B.
Monte Classico is a fairly new ride for British-based U.S. rider Katherine, who just completed Boekelo CCIO3* this past weekend with Longwood (congrats!) and now heads to France for Le Lion.
Katherine acquired the ride on Monte Classico over the summer from Bettina Hoy and has since completed the CIC* at Ardingly with the 6-year-old German Sport Horse gelding, who is by the Westphalian stallion Monte Bellini and out of a Saami xx mare. Click here for a detailed looked at his breeding.
Looking to the rest of the entry list, World No. 1 Michael Jung is returning to his first FEI competition since winning the European Championships last month at Blair Castle despite riding with a broken leg. He later revealed that he broke a piece off his tibia in his fall at Burghley with fischerRocana FST, requiring surgery.
Rocana herself is a Le Lion graduate, having won the 6-year-old championships in 2011 before going on to become a World Equestrian Games team gold and individual silver medalist and adding a Rolex Kentucky win to her long list of accolades. This year Michael has two Le Lion entries we'll be watching closely.
His 7-year-old entry is Lennox 364, a Hanoverian gelding with an eye-popping amount of Thoroughbred blood in his pedigree. He's by the Thoroughbred stallion Sunlight xx and out of the Heraldik xx mare Heathers Pride, whose damsire is Star Regent xx. Click here to see his breeding.
Michael's 6-year-old entry, fischerIncantas, is equally drool-worthy. A Holsteiner stallion that has two CIC* wins to his name this season, fischerIncantas is by the Thoroughbred stallion Ibisco xx and out of the Holsteiner mare Ressina, by Coriano. Click here to see the breeding.
There are a number of exciting horses entered at Le Lion, including Lucinda Fredericks' ride Little Britannia, a 7-year-old British Sport Horse mare by the Selle Francais stallion Jaguar Mail and out of the late great Headley Brittania, the Jumbo mare that won Burghley, Badminton and Rolex during her storied career. Click here for the detailed breeding.
Click here to see the 6-year-old/CCI* entry list and here to see the 7-year-old/CCI2* list. You can also get a preview of the cross country course at this link. You'll recognize a certain very cool owl jump that course designer Pierre Michelet also used at WEG last year (though the fence ultimately was not used after the course was modified).
We'll be following along with all the action at Le Lion d'Angers this week, so keep it locked on EN.
Le Lion Links: Website, 6-year-old Entries, 7-year-old Entries, Course Preview